It's December, it's cold and we're in Northern France. We could almost smell the waft of mulled wine in the air and we were lured to Lille for our first ever visit to a European Christmas market. We were ready to get into the Christmas spirit and get our hands around a mug or two of something warm and inviting!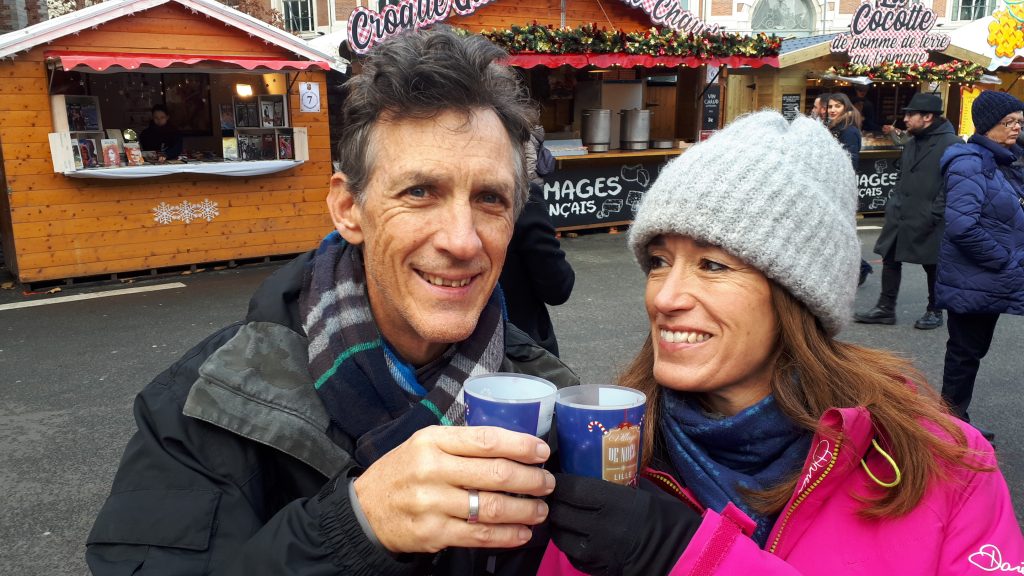 The night before we had driven to Estaires and spent the night in a small motorhome aire in a quiet residential area backing onto gardens right in the heart of a nice looking town.  Well laid out and landscaped with just 3 bays, the aire had full services and everything we needed including a picnic table in each bay which we may well have used if it had been warmer.  Lille was a 45 minute drive away and after a peaceful night we headed that way.  We had found a large car park online on the Allée des Marronniers just in front of the Citadelle de Lille and we arrived to find that the car park was huge and mostly empty and cost 1 euro an hour to park.   Leaving Buzz in his spacious spot, we took a walk, setting off to find the market and discover what else Lille had to offer.
Apparently Lille is well known for its cake making (a subject high on my personal radar!) and we soon came across the historic cake shop and tea room Méert.  It's been making the most delectable and delicious cakes and patisserie here since 1849 and by the opulent interior and tantalising window displays you could just tell it was luxurious.  We later discovered that it was so successful and popular that it became the official supplier to King Leopold I who would indulge in its famous gaufre fourrée – thin oblong waffles filled with a Magagascan vanilla cream, butter and sugar with a scrumptious chewy finish.  The window was filled with other delights too which had 'eat me' written all over them and it was very difficult not to.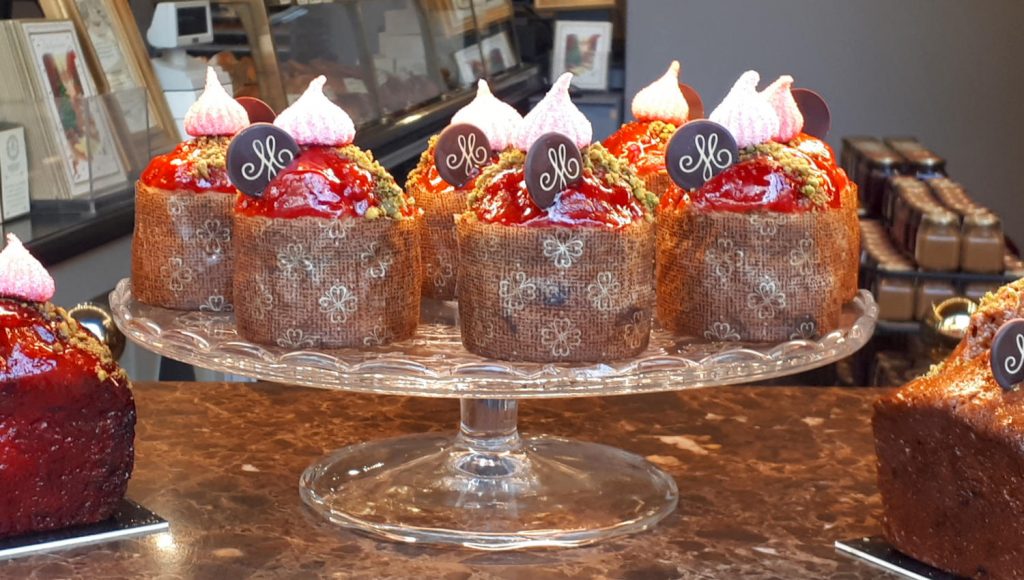 Tempted as we were, we didn't try one though because there is another pastry we had read about that we must try in Lille, the Merveilleux and we soon found it.  In fact we found rows and rows of them lined up beautifully in the window of Aux Merveilleux, another luxurious shop and tea room with gold ornate table legs and dazzling chandeliers.  Merveilleux means 'wonderful' and they absoutely were – light as a feather mounds of melt in the mouth meringue mingled with whipped cream and generously doused in chocolate flakes – yum!  They are available in individual and sharing sizes – sharing!?  What's that when it comes to cake?  The side of the shop also has a viewing window where you can see the staff furiously beating the meringue in a bowl and piping out shapes for some other equally tasty treat.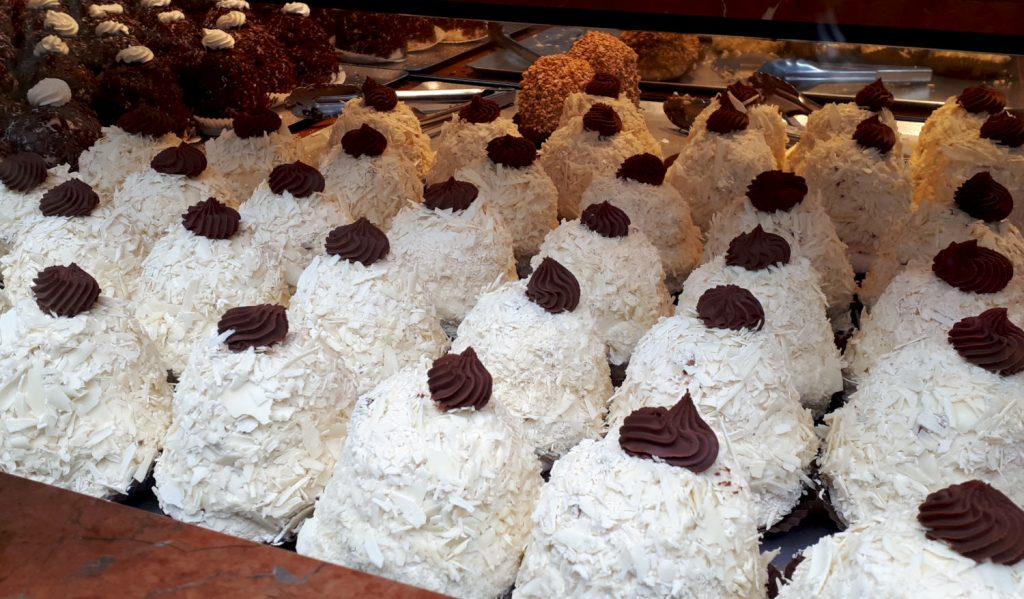 Anyway, moving on  we couldn't stand around staring in cake shop windows all day, (much as I would have been happy to) there was still the mulled wine to find in the Christmas market, although it was still quite early and the lights hadn't been turned on yet so we took our time and explored a few of the streets first.  We decided to walk towards the Lille belfry tower, a 104 metre Unesco World Heritage listed tower attached to the city hall, with a view to climbing it to get a view over the city, but when we got there it was closed.  We definitely seem to have developed a knack for going to places on the one day of the week when they are closed!  Telling ourselves that it was a long way to climb and it wouldn't be a very good view on a bit of a murky day anyway we carried on and came to the historic Porte de Paris, an impressive triumphal arch that used to be an entrance through the city walls but now stands alone, a gateway to nowhere.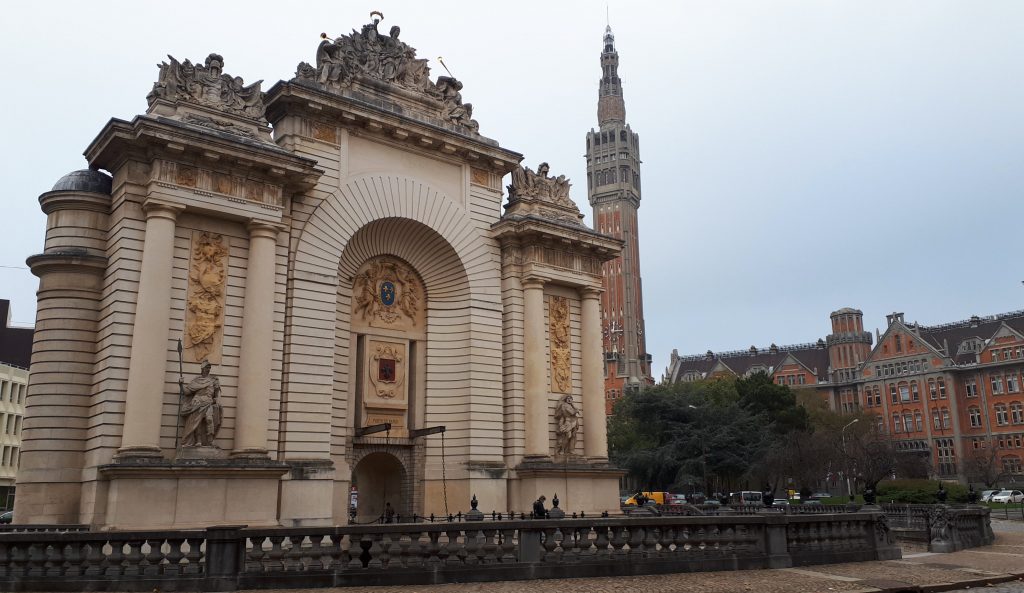 Lille was once under Spanish rule and the The Vieille Bourse, or old stock exchange, built by the Spaniards in the 17th century is one of Lille's must see grand buildings.   Painted in bright red and orange, the building features ornate arches each with a crest representing a particular mercantile guild, arranged around a central courtyard with 24 individual 3 storey merchant houses. These days the building regularly hosts a sprawling second hand book market as well as regular, spontaneous chess games amongst the locals who turn up to play on many an afternoon.    As well as old books, atlases and dictionaries there were antique newspapers, comic books, posters and maps and you could easily spend a couple of hours here rummaging around for a hidden treasure.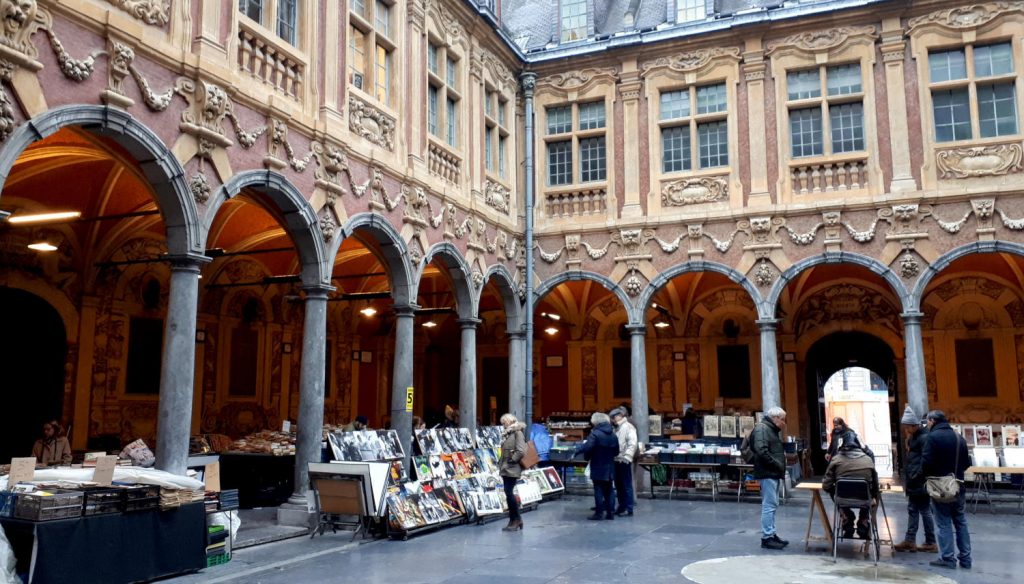 Walking on we followed the sign for the Palais des Beaux-Arts of Lille, the second largest general museum in France (after the Louvre). It was completely covered in scaffolding and was obviously being rennovated so it wasn't exactly looking its best.   Time was getting on now and the lights were being turned on so spurred on by the thought of a warming cup of Vin Chaud we finally made it to the market in Place Rihour and went to the first stand we saw, bought a refillable cup, quenched our thirst and warmed up our hands.   The Lille Christmas market isn't particularly big but was still perfectly formed with all the essentials for a good market.  The food and drink on offer was endless with mulled wine, either red or white flavoured with Kirsch, Framboise or Poire William, hot mulled apple juice, a variety of beer and big copper pots of steaming soup.  For something more substantial there was a particularly good looking stand selling boxes of sliced potatoes mixed with various tasty toppings, smothered in hot melting camembert, reblochon or goat's cheese which looked and smelled absolutely delicious.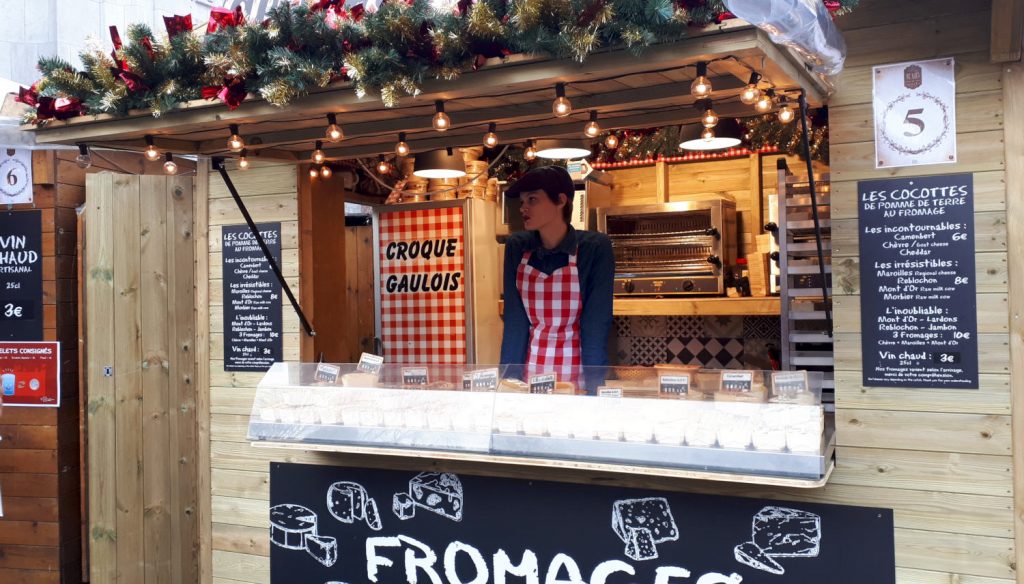 After spending time in the market it was starting to get really cold and even the mulled wine wasn't hot enough to warm us up for long so it was time to get back to Buzz, retracing our steps so we could pick up another couple of Merveilleuxes to take back with us for a late night treat – after all, you can never have too much wonderful in your life!