As we drove from Andorra over the Spanish border it wasn't long before we noticed the difference in road surface. We weren't aware of it at first but suddenly noticed that everything seemed noisier and rattled more! A hairpin drive to the top of Cardona took us to its castle built on the orders of Count Wilfred I The Hairy early in the 9th century!  What a handsome chap he must have been!
When we visit places like this we usually check Google satellite images to check out the parking situation but it's not always entirely clear and impossible to see height barriers.  It's often also out of date and what appears to be parking has often vanished.  As we drove up the hill we both honed in on the large motorhome sized lay by right on a hairpin bend and decided that would be our spot which turned out to be a good decision. We put the kettle on, had something to eat with a wonderful view before walking the rest of the way.
The town lies in a precious salt valley so the castle was primarily built here to protect it from pilfering by outsiders. The carefully guarded 'white gold' provided an inexhaustible source of wealth and power for the then Viscounts of Cardona who became so powerful they were regarded as kings without crowns.
The castle is now a Parador, a hotel in preserved and rennovated historic building, and a very nice one too. It was just a short visit a worthwhile one as we made our way through Catalonia.
Carrying on, the distinctive, jagged tops of the Montserrat (serrated) mountains came into view as we neared our next destination, the Monastir de Montserrat.  We thought we'd found a nearby motorhome aire but after parking up, noticing the mountain still looking quite far away and rechecking our location we realised we were still 20 minutes drive away.
The last part of the drive was beautifully scenic as we wound our way higher and higher. With awesome views across Catalonia the monastery is spectacularly sited and can be reached by road, cable car or funicular. The views of the amazing mountain top and vast open vistas on the drive up were incredible but difficult to photograph so you'll have to take our word for it and go and see for yourself.
We arrived early afternoon and it was totally packed but you can't see that until you take a ticket and go in through the barrier. There's a lot of parking but it was virtually full and we were lucky to find a space just as we were on our way back out thinking we would have to leave and come back early the next day. We had a slight panic when we put our ticket in the machine and it wanted to charge us 21 euro rather than the 6.50 it should have been, deciding for itself that we were a coach! Luckily there is a manual payment counter just before the exit so we went there instead and paid a human the correct amount!
For us it was all about the setting and we found everything a bit too false and obviously set up to make as much money from tourists as possible. Fair enough I suppose but it did spoil what could have otherwise been quite magical. The highlight was the interior of the monastery itself which did feel very authentic. Definitely worth a visit for the setting alone.
For the night we moved on to Art Cava Cellar Con Battle at Vilafranca del Penedès. This beautiful vineyard kindly provides motorhome parking overlooking its vines for the night, with the outline of the Montserrat mountains in the distance. The evening was pretty and peaceful with a gorgeous night sky changing from blue to pink to orange. We had a good feeling about the sunrise so set the alarm to make sure we were up for that too and we weren't disappointed. We got out to take some photos and you could smell the soft scent of sweet grapes in the air. Simple pleasures like this while spending life on the road are unbeatable and cost nothing.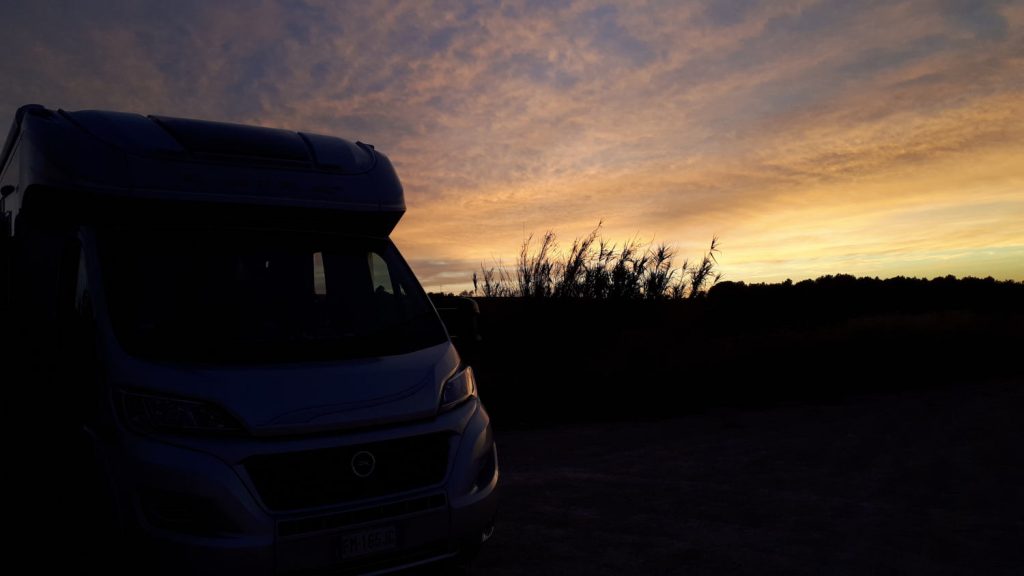 After breakfast we set off further South towards our last stop off before our final leg to the Costa Blanca to meet up with friends. It was a fair drive of around 400km so when we found a beachside motorhome aire about halfway along we made the most of it and parked up for lunch right next to another Laika motorhome.  We didn't stay long but it seemed like quite a pleasant place at El Grao de Castellón  (N 39.97979, E 0.02292), free with full services and a minute's walk to a lovely, long white sandy beach.
Our aim was the stunning town of  Alcalá del Júcar and a fabulous drive through the Júcar Gorge. Approaching the town from above we eventually descended down a dramatic twisting road deep into the valley.  We didn't realise until we got there that it's actually a 'Pueblos mas bonitos de España' – one of the most beautiful villages of Spain.
The town sits snugly in a bowl shaped dip surrounded by rugged cliffs, sheltered from the wind, with houses and series of tunnels dug into the rock face. There is motorhome/mixed parking right at the bottom just a couple of minutes walk from the centre of the town with a river to the side. In the centre of the town there's a lovely riverside park area where several people were painting the scene and some restaurants and shops here and there. It was quite late when we arrived so we sat in a busy bar having a drink with the locals and retired back to Buzz for the night ready to look around properly the next day.
From the town you can look up and see dozens of cave dwellings carved into the soft limestone. An old bridge crosses the river and the restored castle sits right at the top.  The streets lead up through the town to the castle in a jumble of impossibly narrow, oddly angled and cobbled routes.
Unbelievably there were cars dotted here and there but how they managed to get there we couldn't imagine!  2.50 euros got us in the castle, originally a medieval Arab fortress, which is quite small but interesting with a lot of information on its seemingly long history and the history of the town and The Cuevas del Diablo, a long series of caves gouged into the cliff sides.
After that it was time to drive the gorge and we almost chickened out when we turned into the narrow road and tried to interpret the sign showing falling rocks and using words like minor, limited and risk!  Determined to continue we carried on and hoped for the best and actually it was mostly fine with just the odd narrow stretch or overhang.
Along the route we came across a couple of groups of wild mountain goats leaping about with astonishing agility on vertical rocks.  We pulled over and watched them for a while and probably only saw about 4 other vehicles on the whole 35km or so route from to Alcalá del Júcar to Alcozarejos.
It didn't quite have the drama or scale of the gorges of Tarn or Verdun but it had its own unique charm and we virtually had it all to ourselves which made it extra special.  Do come if you're ever near.  The town is very welcoming, the atmosphere great and the drive quite a thrill!
Lovely as it was we had to go. We had a birthday celebration to get to, so onwards we went …..