We'd heard great things about the Aachen Christmas market in Germany (just past the border with Belgium) and were keen to visit but the only motorhome aire we could find in the city was in the environmental zone and only low-emission vehicles with a green badge or an exemption certificate are allowed to enter.  Not having either, we took another look at our options and found a convenient Park & Ride alternative in nearby Waldfriedhof.  Arriving in the morning we drove into the car park and it seemed to be quite small and completely full and there was barely any room to manoeuvre in it and definitely no room to park.  Having a bit of a moan about how small it was we were just about to give up when we suddenly spotted a sign at the side of the road on the way out for 'wide parking' and were relieved to find a nice, big open area just perfect for motorhomes and it was virtually empty too.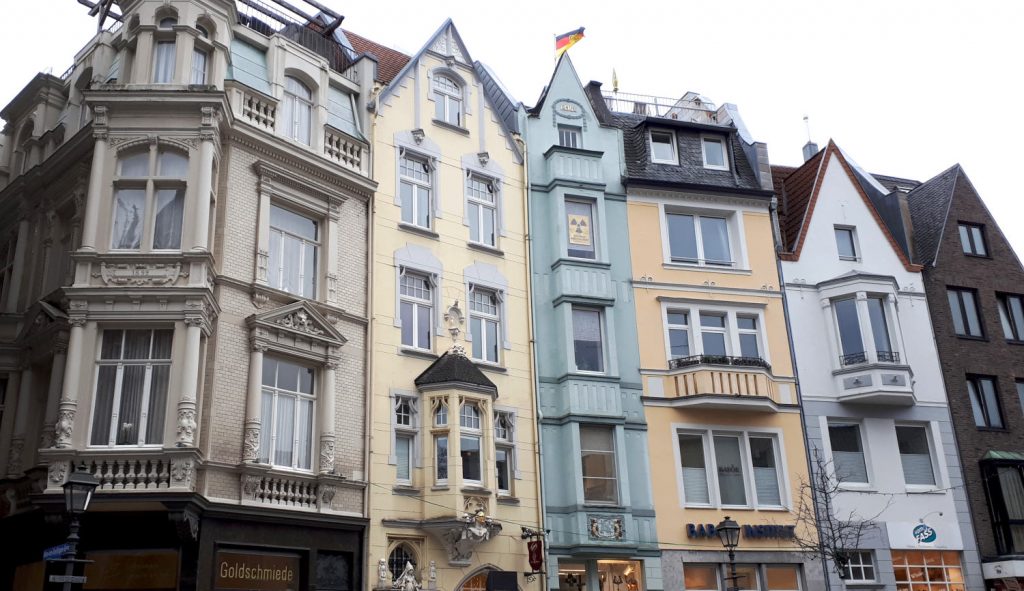 Waiting just a few minutes for the bus, we paid our 5 euros for 2 return tickets and settled down to watch the world go by as we made our way to the city centre.  We hopped off in a busy looking area and started our wander towards the market, immediately enveloped in the Christmas spirit, seeing some festive market stalls and just following the crowds.  We liked the feel of the old city straight away. It had a welcoming, cosy feel about it even though it was cold with a pretty market spread around in different areas with the main hub having the backdrop of the huge 1,200 year old cathedral which was the very first site in Germany to be listed as Unesco World Heritage with a rich historical and architectural as well as religious significance, having been the site of the coronation of 30 German kings The most famous being Charlemagne (Charles the Great).  The market smelled wonderful and it wasn't long before we were enjoying a ceramic boot mug of steaming mulled wine and a foot long Kohlwurst in a bun (shared), swiftly followed by a bowl of currywurst!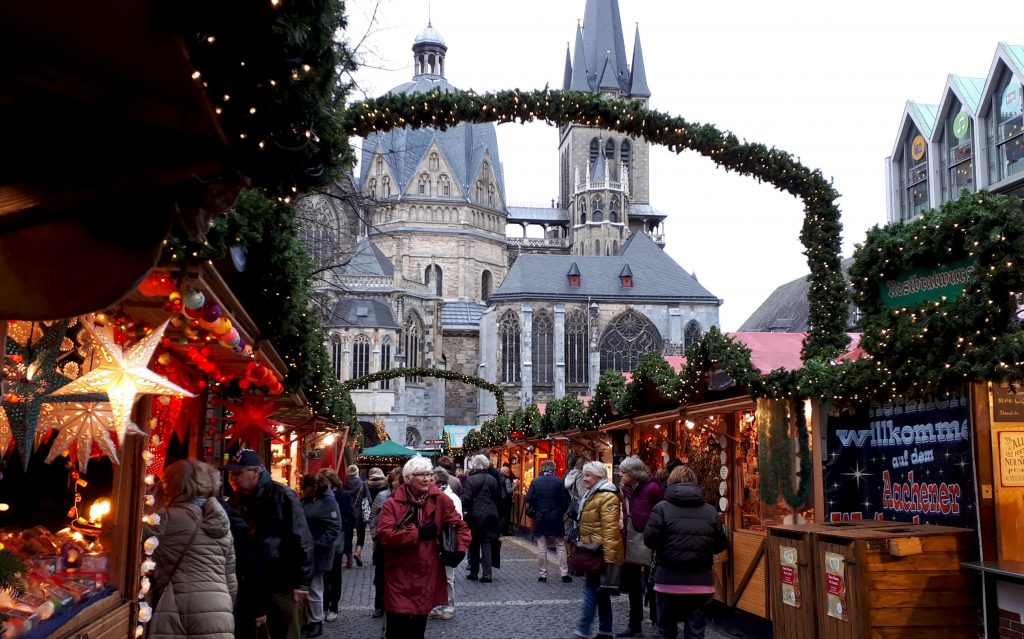 Feeling warmed from the inside out we took a walk around the streets noticing the attractive architecture and several interesting fountains. One particularly unusual one was the "Kreislauf des Geldes" ("money cycle") with a round central basin and several bronze figures around the outside passing money around. It is meant to represent avarice, greed, patronage and begging and is fed by the thermal springs.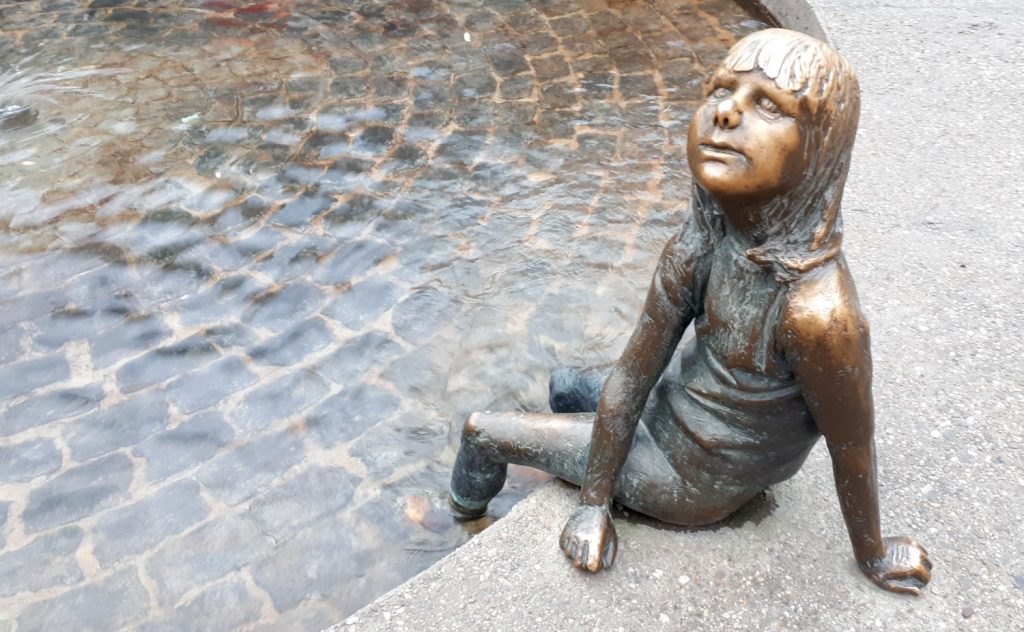 We decided to go into the cathedral and were surprised at the unusual interior which was really quite striking.  We weren't able to take photos with flash and it was a bit dark so we can't show you here but it's definitely worth a look inside if you ever visit.  It must have had the tallest stained glass windows we'd ever seen in long narrow rows and a lustrous almost mosaic like finish on the walls in gold and blues all the way to the ceiling.  The only thing we didn't like was how strangely cold it was and we ended up rushing around a bit wanting to get back outside so we could warm up……. Speaking of which, we soon found ourselves perched on a couple of bar stools in a snug, old-fashioned German pub, The Goldenen Einhorn which was absolutely packed, warm and welcoming with a genuine, friendly atmosphere.  The perfect place to enjoy a local beer.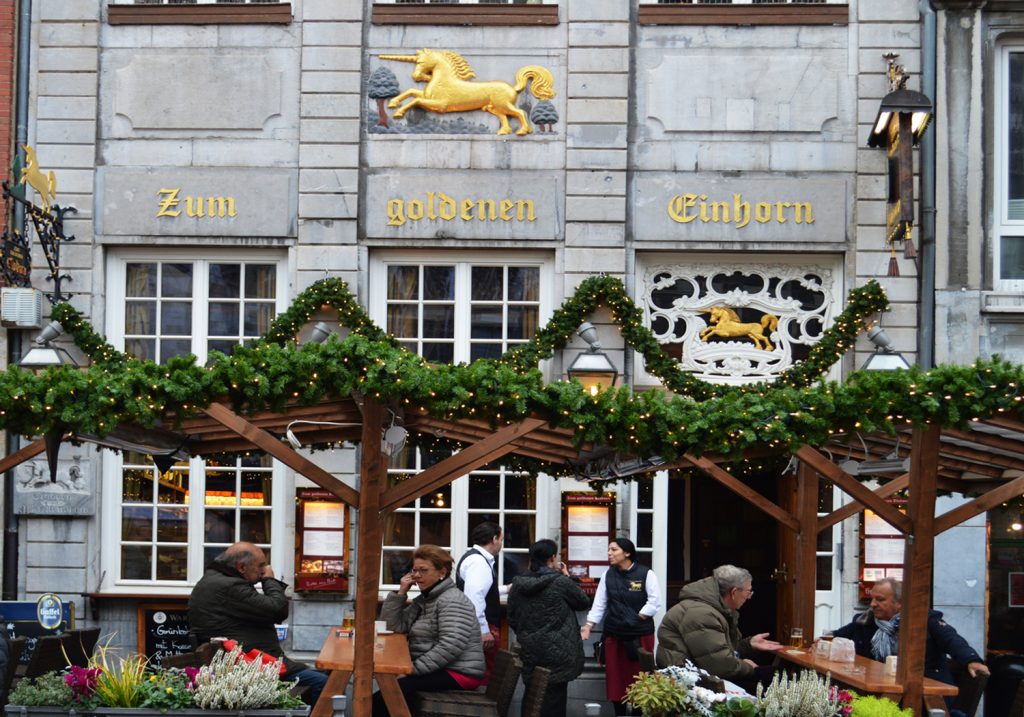 Making our way back to the market later we had just enough room to try a sweet treat and chose a 'tete a chocolat', or head of chocolate. It sounded intriguing and looked a bit like a smooth walnut whip so we both had one and found them to be full of sweet, soft meringue with a thin waffle base. Very nice but a bit too sugary.  We also bought a packet of Aachener Printen, a type of  German gingerbread biscuit originating in the city, to take back with us.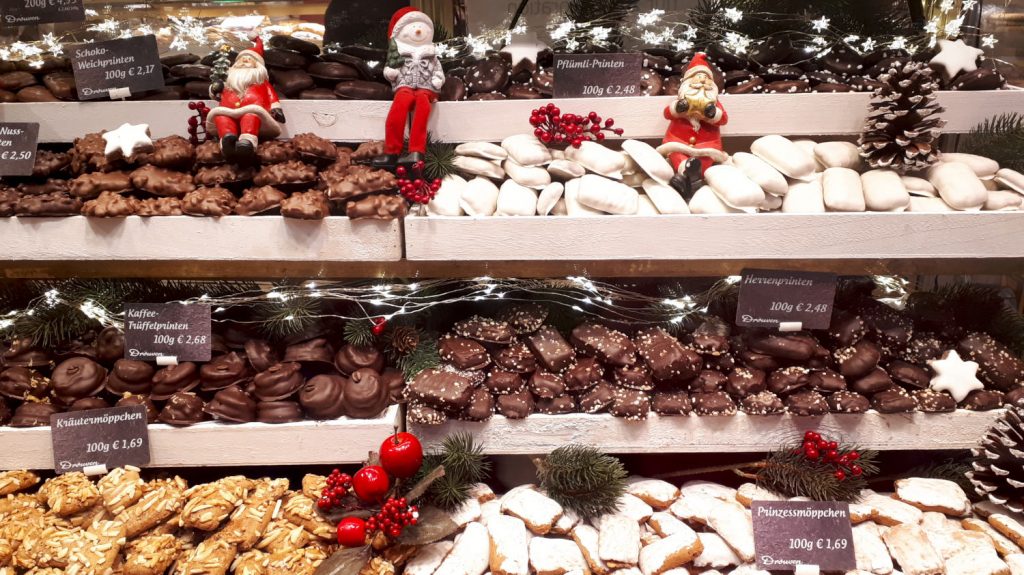 We saw lots of nice little gifts on offer from little wooden soldiers, metal reindeers and colourful paper lanterns to nutty nougat, cute Christmas decorations and hats and scarves but we went 'home' empty handed, apart from the gingerbread, having just indulged in the food and drink.  We liked Aachen very much and would definitely come back given the chance at a different time of year. It was a much larger market that the Lille one and we enjoyed it much more.  The atmosphere was great and city big enough to walk around and not too sprawling.  The mulled wine was pretty good too …..