We were treated to more lovely countryside scenery as our motorhome tour took us towards the historic town of Badajoz near the border with Portugal.  The free aire was perfectly positioned right by the banks of the Guadiana river and park and there was plenty of space.  We wasted no time in getting parked up and setting out to discover what the town was all about.  To get there we had to walk through the old St Vincent Gate, one of the original main entrances to the city for over 2 centuries.
This led us to the Puente de Palmas, the 16th century bridge across the river.  The bridge has been destroyed by floods many times over so has been modified and reconstructed resulting in it looking quite different to the original humped back design of old.  Its current structure has not been changed since 1876 though and it still looks in good condition and is a very pleasant way to walk into the city.  Closed completely to traffic and pedestrianised and nicely paved in 2013 you can have a slow stroll over, looking down over the park and the many gaggles of geese with their fluffy ducklings.
They add a lovely countryside feel to the place but actually are causing quite a problem.  There were originally 50 geese here which appeared in 2015, (nobody knows for sure from where) – now there are 500 of them and there are worries they will bring disease and without predators themselves become a threat to other naturally local wildlife. We also spotted terrapins basking on rocks in the river, another invasive and potentially harmful intruder to the area.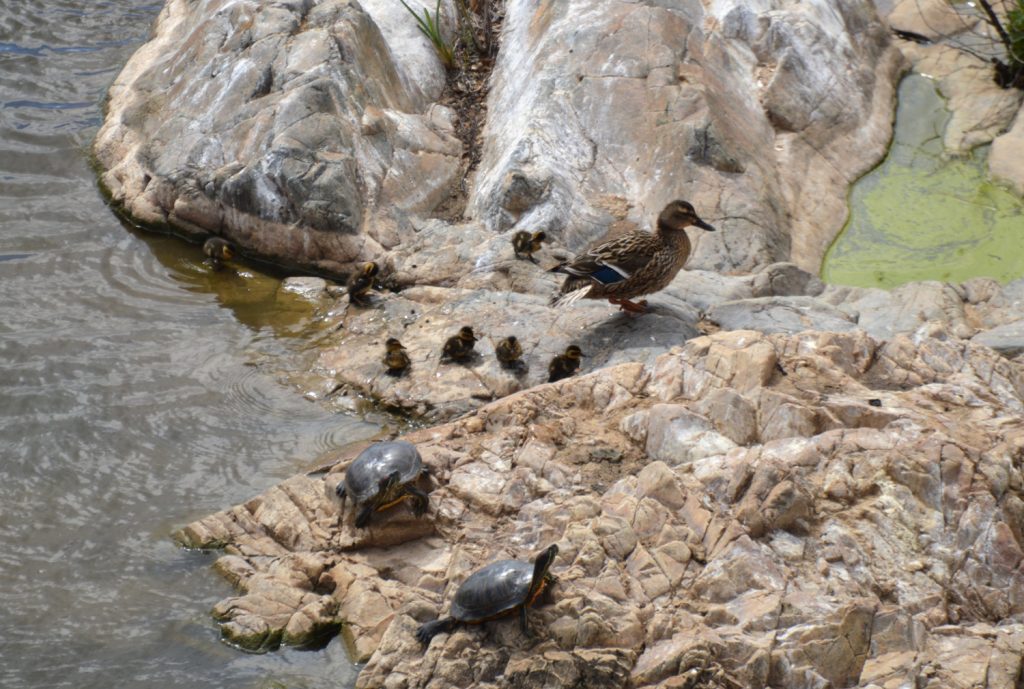 As we got near the other side of the river we became aware of the shrill sound of whistles being blown constantly. We could see a crowd of yellow jacketed people ahead and once we got close could see they were trainee policemen having whistle training!  Taking it in turns, they had to stand out in the road, whistling randomly and waving at traffic who all seemed to be totally ignoring them.  It was actually quite comical and some of the trainees themselves appeared to be trying hard to keep a straight face casting sly smirks at each other.
The walls of the 12th century Moorish Alcazaba were just along the road and we found an entrace soon walking up along the walls coming across the Horca Tower.  It is said to have been the place of execution, where people would be hanged and afterwards became a house for a while. The whole fortress site is huge, covering around 8 hectares and is the largest in Spain.   Continuing our walk around the ramparts there were superb views on all sides and we soon came to the next tower, the Torre de Espantaperros – curiously translated as Scare Dogs Tower or Dog Frightener Tower. We've read mixed information about the meaning and reasoning behind the name so we're not entirely sure about it but we like to imagine it housed a pack of snarling dogs ready to frighten to death anyone who dared approach!
Coming down off the wall to walk around the town we descended into the intriguing Plaza Alta. A huge town square bordered one side by Moorish inspired buildings with a deep red and white facade. These are mostly private homes with an enviable outlook and no doubt quite costly.  The square is usually quiet but used to be a busy market square and still occasionally hosts a market or two for special occasions.  On the other side, painted more subtly in beige and white are some of the city's 16th century ancestral homes with an attractive arcaded frontage with steps leading down onto the square.
City exploration is thirsty work and the hunger pangs were kicking in.  We found a friendly looking, casual restaurant with a few people in so went in for a drink and bite to eat. Unfortunately for Julian whose eyes lit up when he saw the barman approaching with a plate of tapas, they were an unidentified fishy concoction with a smear of tomato paste on a small piece of bread.  As it happens, it was unfortunate for me too, as it seemed to be more like a tapas of fish bones than actual fish. 0/10 for that one!  Luckily our actual lunch was very nice and we were very happy with it.  Refreshed and full we carried on wandering, exploring and admiring the sometimes colourful architecture, the cathedral and eye-catching Giralda tower which is almost an exact replica of the tower in Seville.
Returning to the Puerta de Palmas, the gateway back over the bridge with its triumphal arch and two cylindrical towers.  We almost got ourselves run over standing in the street trying to get a good photo, causing plenty of finger pointing and tooting of horns by one particular disgruntled driver who obviously didn't understand the importance of a good photo opportunity!
It was about 5pm when we got back to Buzz and we had a cup of coffee then went back out again. It was too early to just stay in so we took a walk through the Guadiana Park staying on the same side of the river this time.  It's a nice park, planted up with dozens of palm trees giving it an almost tropical feel.  There are some walkways and cycle tracks winding through it which are obviously popular with locals along with a small cafe, some exercise equipment (which we passed on) and a small play area for children.
At the end of the park we crossed the road, spotting a slightly off piste track up the side of a hill opposite and just after we crossed the road we heard the clatter of hooves behind us.  Thinking we were hearing things we turned around to see 3 horses being led across the bridge and over the road.  After crossing, the men got on the horses and forced them up what looked like an impossibly steep hill they obviously didn't want to have to go up. It was so steep we were surprised they didn't all topple backwards.
Following our trail around the hillside we got a fantastic view of the Alcazaba we'd visited earlier in the day. It's always good to get a different perspective and a more distant viewpoint. It helps to understand how it sits on the land and how big it is which is sometimes hard to appreciate when you're in amongst it and within the walls.
After about an hour we took a different route back and got on with dinner and then stayed in for the rest of the evening.  Apart from the odd barking dog it was a nice, quiet night.
The next morning we needed to go to the bank.  Google told us it was a mile away so we took a walk getting some early morning fresh air, a top up of cash and made our way back to plot our next move.  For some reason it took us an absolute age to decide on where to go next and we dithered back and forth for about an hour before finally deciding on Marvao – a little hilltop town a bit further North with a recommended aire ……