It might be just a small village, but Betws y Coed, nestled in the lush green Gwydir Forest of Caernarfonshire has plenty to offer and is certainly worth a visit.   It is in the Snowdonia Forest Park and the name apparently means  "prayerhouse-in-the-woods".   We headed to the village car park where we'd read online that overnight parking was possible. It's quite a large space with a tucked away area at the back with a motorhome symbol on a sign which didn't exactly say what you could or couldn't do but it certainly didn't say you couldn't park or stay overnight so we did.  There were a handful of other vans and motorhomes that came and went during our time there, some staying overnight some not.  We're still not used to motorhoming in the UK so there is definitely some uncertainty but it was a spacious area and not busy so we just had to go with our gut feeling that it was okay.  We made sure we got up and out to buy a new day's ticket in the morning at 8am so it would cover us for the next day too.
The centre is dominated by a huge recreational green which seemed to be a popular place for families and couples enjoying games and picnics together.  There's a really attractive little row of shops and eateries in a small pretty promenade, all very tempting but we managed to resist.  The Betws-y-Coed train station is also here and includes a miniature railway and food coach. The high street itself follows the river and is packed full of B&Bs, Guest Houses and small hotels.  Several coach parties arrived too while we were there so it's obviously a popular tourist destination. We arrived on Sunday afternoon so although it was busy when we got there it soon quietened down and there were a lot less people milling about by Monday.
In the morning we woke to a beautiful, bright sunny day, so after a quick breakfast we packed up a flask of coffee and set off to have our morning coffee out in the fresh air.  Down in the town there's a historic bridge, the 1468 Pont-y-Pair (the bridge of the cauldron), so called because the waters flowing under it are said to resemble the boiling liquid in a witch's pot!  On one side it's possible to sit on the rocks overlooking the water, watching the gushing water flow by so we found a place to perch and sat there for a while enjoying our morning brew.
There are several walks you can take from the centre of Betws-y-Coed, some quite long, others not so. We liked the sound of walking to Swallow Falls as its an area of outstanding natural beauty and designated a site of special scientific interest.  The walk took us along the Llugwy river (one of the estuaries of the Conwy), through the forest on a meandering, leafy trail through the forest. The first part is a boardwalk, leading to fields set against the banks of the river which then leads through to the forest track.  It was a nice, shady stroll through the trees, up and down slopes, stumbling over big old raised tree roots snaking out from the base of huge trees along the water's edge.
It costs £2 to go into the falls site which we weren't expecting.  There are some raised viewing platforms for a great view of the cascade which is beautiful.  A few benches are dotted around but there's nothing else so don't expect a welcoming cafe or toilets!   We took the road route back and as we came back through the village we spotted a bakery with some Bara Brith cakes in the window – the perfect tasty treat for this week's Monday Bunday.  Cake in hand (very heavy cake I have to say), we made our way back to the motorhome before our ticket ran out and drove to nearby Llanberis where we parked in the spacious overflow car park (a field) and had a cup of tea and tried out the cake. Delicious, moist, fruity and spiced it was something we both loved.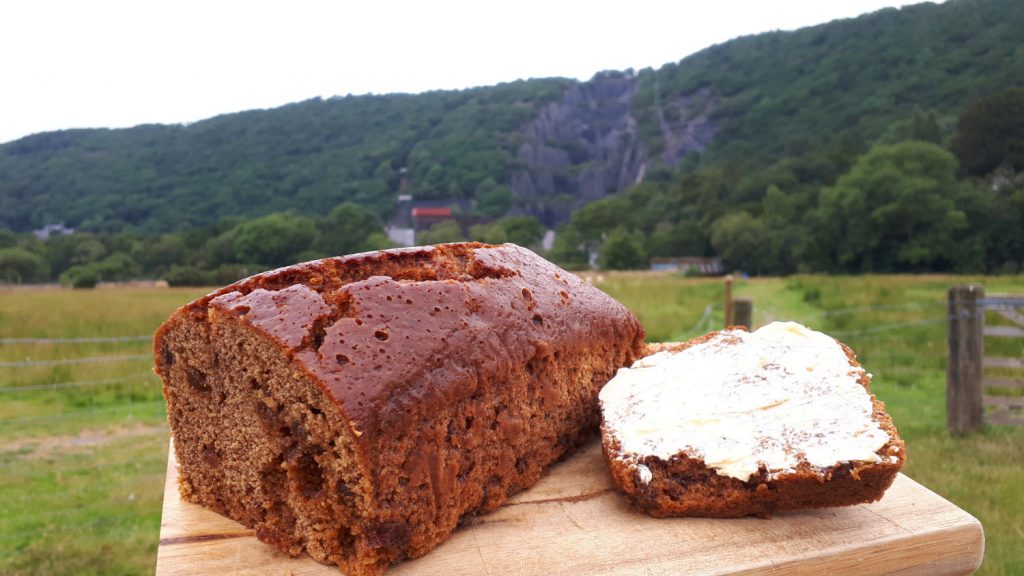 We noticed the National Slate Museum was nearby in the former Dinorwig Quarry which closed in 1969 and was once one of the largest slate quarries in the world.   Although we hadn't planned to go we thought it might be worth a visit.  Not only that but it was free, and you don't come across that many places of that size that are free so all the better.  It's not exactly the most exciting thing to do and see but there is plenty of interest including a giant water wheel, a huge engineers' workshop showing how they made all their own tools, a slate splitting demonstration and a little row of slate workers cottages shown how they would have been furnished over several hundred years.  The museum tells the story of the Welsh slate industry and keeps its history alive.
By now it was early evening and the next day we were due to climb Snowdon. So we set off to find somewhere to park for the night …..