For our next and as it happened our last UK mini trip we decided at short notice to head to Suffolk and Bury St Edmunds,. It was more to do with ease of parking and the promise of a food festival that at short notice we set off for Suffolk.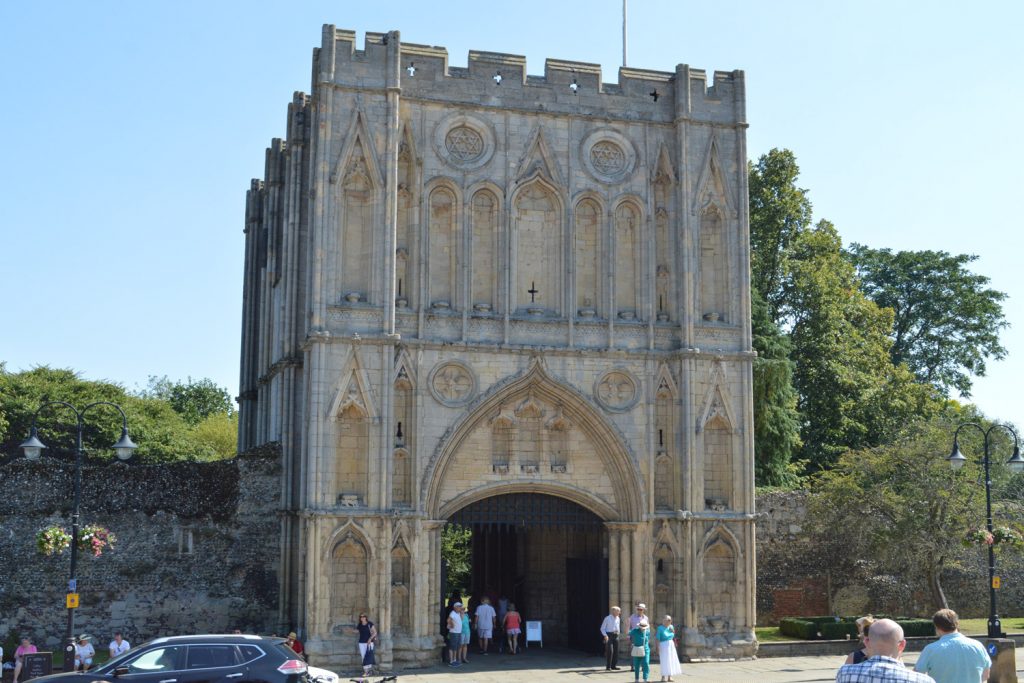 A sunny warm day got better and better as we headed past rows of snarled up traffic going the other way, hinting that today was our day and so it was straight to Bury St Ed's and the easiest town centre parking we have experienced in the UK (apart from Canterbury). We headed straight for the Ram Meadow car park where 5 spaces are set aside for motorhomes in the town centre and for the princely sum of £1.00 (after 6pm) you can stay the night until 8.00am from when the cost for day is still only £2.30. Well done Bury St Edmunds, other councils take note.
Once parked we strolled the 5 minutes into what is a really lovely town and the all enticing food festival. We found the town to be really pleasant and attractive with lots of old and interesting buildings interspersed well with the more modern ones.   It was all aided by the food on offer, and we spent time trying different artisan foods such as cheese from the excellently named Wobbly Bottom Farm and sipping samples of drinks. Always a great way to spend time, for us anyway. There were some interesting people and stands to visit with 2 notable ones for us being St Botolphs Brewery and George's Bakery.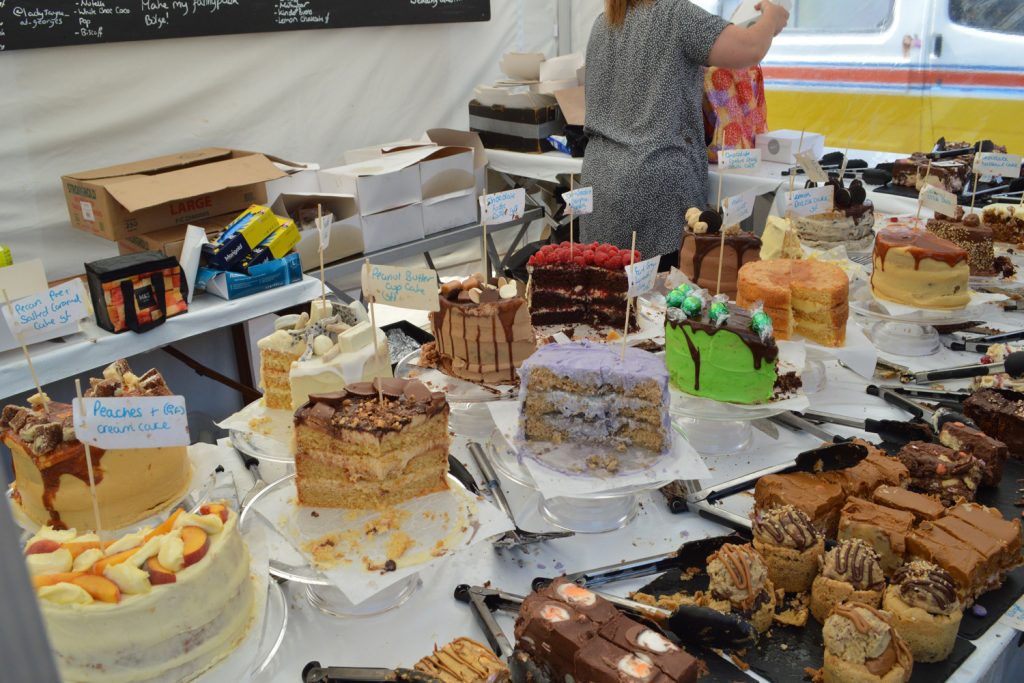 George's in particular is apparently sought after whereever they appear and it is not surprising with the most amazing, wide range of cakes we have ever seen. Far too many to name, suffice to say they looked delicious, albeit slightly sagging in the heat,  the only down side being the queue which was equally as big as his cake offering.  We chatted to the friendly couple behind St Botolph's Brewery sharing common ground, chatting about running your own business.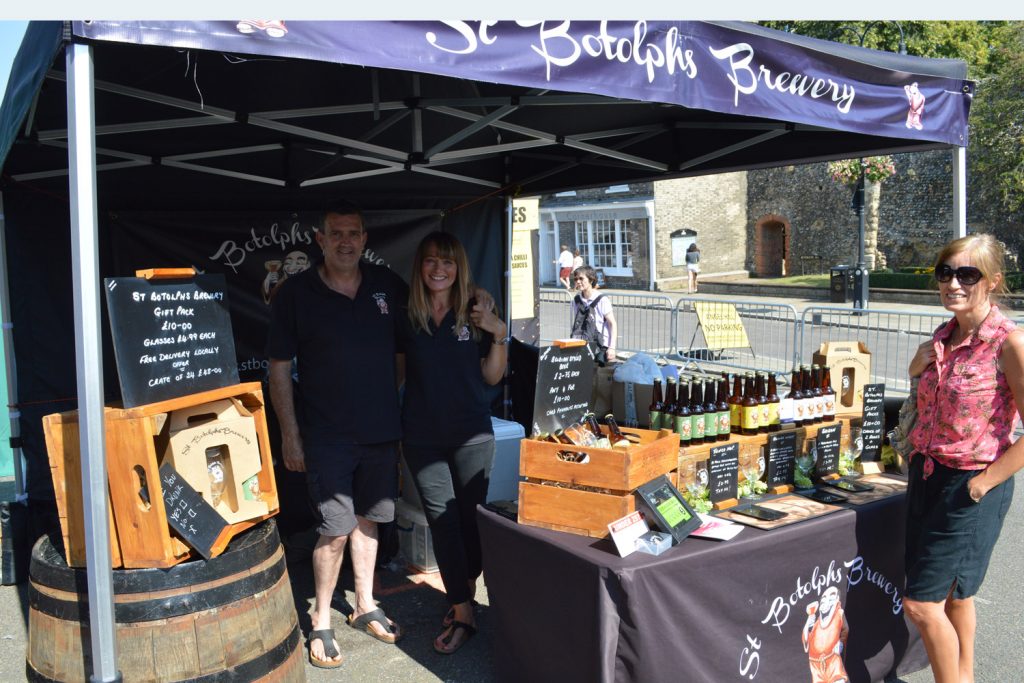 The town has 2 very picturesque churches/cathedrals, as well as being the home to the Green king Brewery which you can visit but was closed by the time we got there, so we had to make do with a cooling beer in a Green King pub of which there are plenty to choose from. There is a lot to see and do here so we won't go through it all but if you have never been then get it on your radar and pay them a visit. We rounded the day off with a gentle stroll through the park littered with the ruins of the old Abbey, enjiying the shade and wide green space.  We eventually found ourselves opposite the Fox Inn just 2 minutes from Buzz so dropped in for a last cooling drink only to find they had a quiz night on later. Not only that but they had an offer of buy 2 get 3 G & T's and this is where it got even better. The very helpful barman Paul was more than happy to reserve us a table for the quiz (even though we weren't eating) and for Marcella to have one G & T and bank it for later on the offer. Returning for the quiz later and the G & T's plus a couple of beers for me we had a great night and although we did come last actually did ok in the quiz with an acceptable score of 35 out of 55.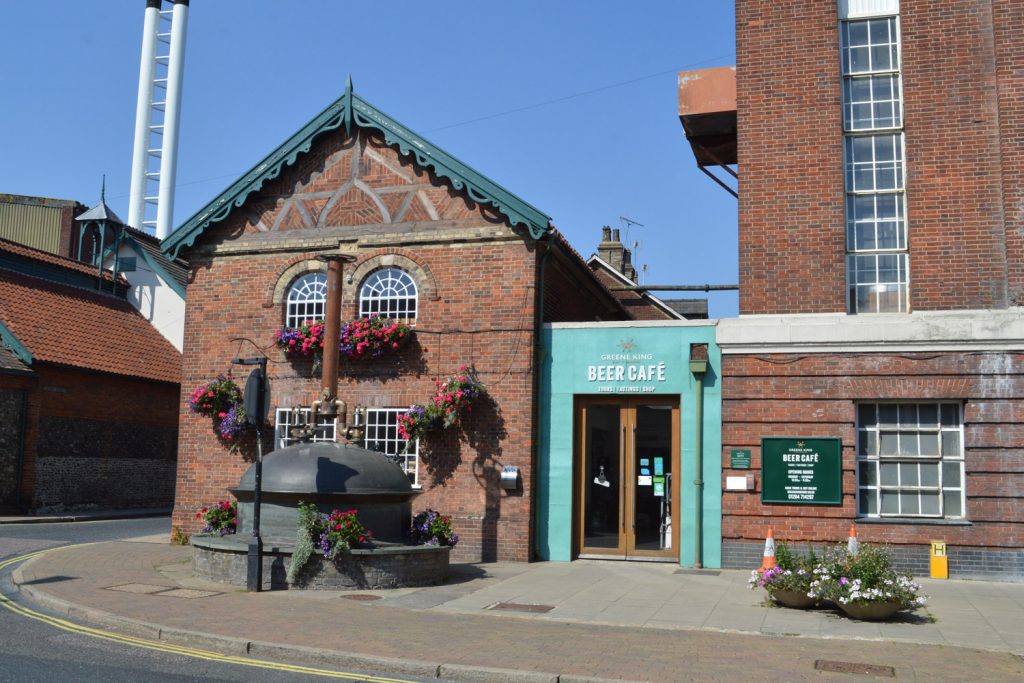 The following day after breakfast we headed for Lavenham a place I had visited once many years before, parking in the free car park under the shade of a tree.  We spent a pleasant couple of hours in this picture postcard town loving the half timbered buildings, historic streets and sights. Steeped in history this old wool town with it's oldest building going back to the 1400's is as good and pretty as you will find anywhere and again really worth a visit.  We got chatting to a charismatic local man who stopped to tell us all about an interesting building we were admiring, adding that he'd moved to the town to get away frim his ex-wife who he'd left in Bordeaux!
Lavenham not only has the 2nd highest number of listed homes in the country, it also has a claim to fame being a film location for several scenes in Harry Potter and The Deathly Halliows. A house in Water Street, the ancient De Vere House, featured as the house Harry was born in. It's an interesting street as water used to flow alongside it. A tunnel was built to divert the water which now runs in a channel below the houses and many have a trap door with direct access to it.
After that we made for Long Melford another old wool town, which was nice enough but Lavenham it wasn't.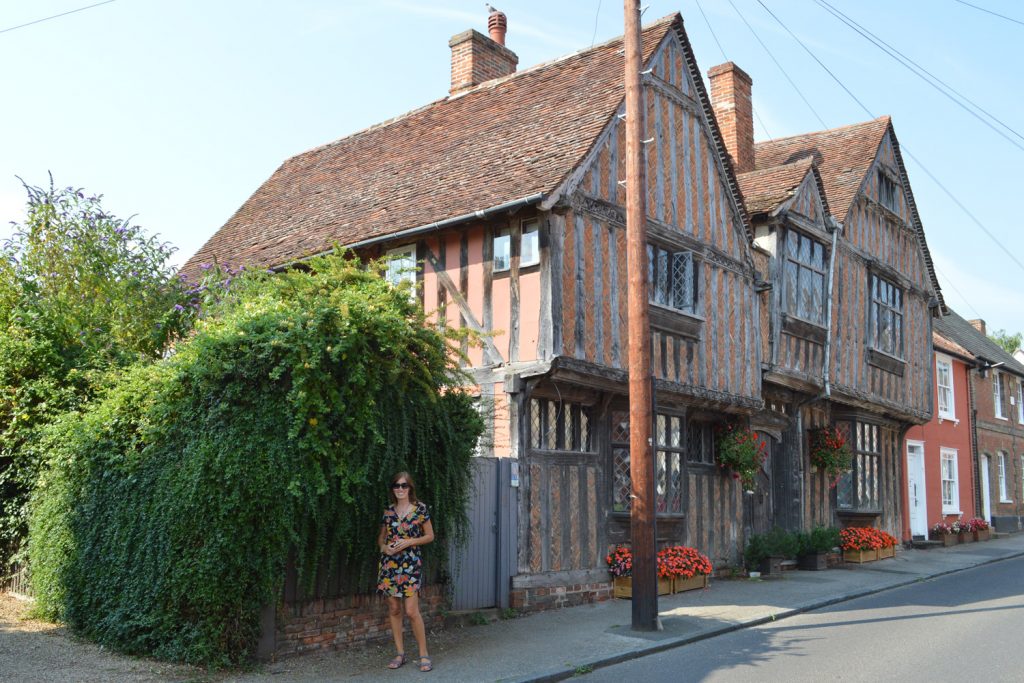 Our next destination was one we both wanted to do –  Constable country,  and Dedham just a stones throw away from Flatford Mill of The Hay Wain fame (well a short walk along the Stour). Once again well done to Suffolk council by providing a lovely big car park with reasonable overnight charge and a peaceful night's sleep. Such a beautiful place was perfect for a picnic so picnic packed we set off for a leisurely walk along the Stour to Flatford, which it has to be said all these years later is still instantly recognisable as the location for some of Constable's greatest works.
From Dedham we worked our way back in the afternoon via Shoeburyness and Southend to conclude our short but very enjoyable mini trip.