Our motorhome journey through the Black Forest continued. We were keen to see more of the black beauty of the Schwarzwald and some open views of the forested landscape.  We'd driven from Frieburg to Schauinsland where we planned to take a cable car ride the next day, parking overnight in the car park so we could make an early start in the morning.  The tickets were 13.50 euros return which we thought was quite good value, and we boarded our car along with two Germans and their little duo of matching sausage dogs who sat back basking in the sunlight through the windows looking very happy with themselves!
This is Germany's longest loop cable car and the incredible 3.6km journey lasts 20 minutes, as you glide to the top of the forest with the stick straight, tall spruce trees towering upwards below you. Soaring above the Black Forest treetops we climbed higher and higher and finally got to see the stunning panorama of the Schwarzwald and Rhine valley in all its glory at an altitude of 1,284 m . The weather was on our side and the blue skies just enhanced the overall beauty of the scenery surrounding us.  Although bright and warm, it was a bit of a blustery day and the higher we rose the windier it got, but the cable car was well stabilised so although we could see the trees swaying below us we could barely feel it.
At the top the restaurants and cafes were full with people enjoying big Black Forest breakfasts. We'd had ours so didn't indulge but began following one of the many walking trails to the tall and extremely windy observation deck which you can climb for even better panoramic views.   The steel platform has 85 steps of open steel, supported by 3 huge douglas fir legs and as you go up it gets narrower and narrower until you reach the triangular platform at the top.
At the top there are various trails you can follow across the plateau and several museums including a mining museum to visit.  Our walk led us to the perfect picnic spot and the ideal place to unload our flask of coffee and Kit Kat snack.  Even better, we remembered the cups this time!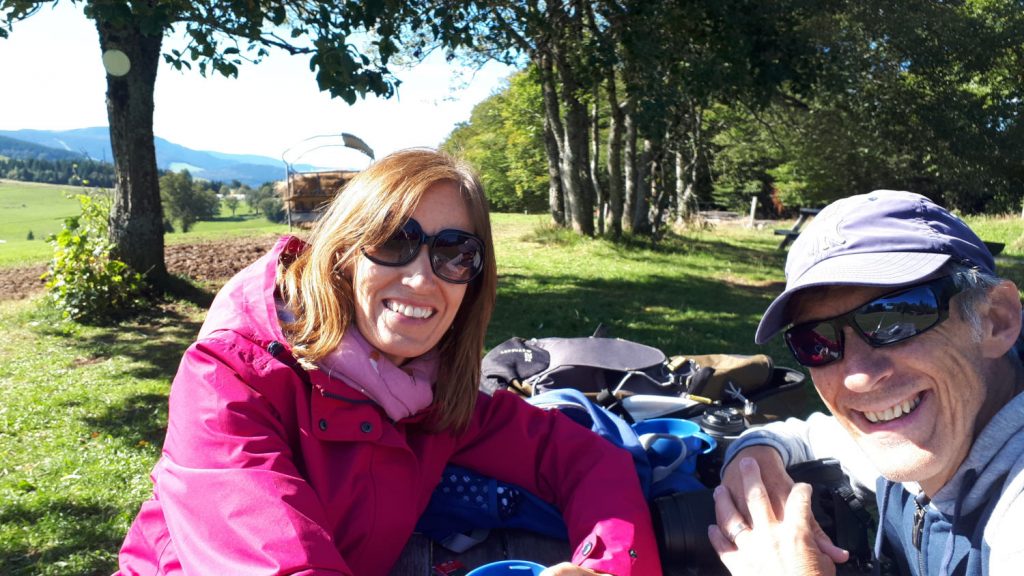 On the way down the scenery somehow looked even more beautiful. It's strange how things can look so different from another angle.
We couldn't come to the Black Forest without trying a local slice (or two if we're honest!) of Black Forest Gateau. Light as a feather chocolate sponge layered with airy whipped cream and a scrumptious layer of boozy Kirsch soaked cherries.  Not wanting to restrict ourselves to the obvious we also managed to polish off a thick slice of juicy raspberry flan which wasn't too bad either.
It's not every day you're driving along and just happen to come across a bi-annual straw sculpture festival!  That's what happened though as we drove through the town of Frohnschwand, the huge display of sculptures in the field next to the road catching our eye. Darting in at the last second to take a look we were really glad we did.
For the last 20 years creative groups of local townspeople have competed with their huge rustic creations made of all natural materials which are then kept on display for almost 4 weeks. Each day they check and maintain their masterpieces hoping for the people's vote. The winner receives a coveted cup to keep for 2 years until the next time.
It's well and truly harvest time and along with the straw competition there was a large farmer's market.  A never ending array of pumpkins, squash, gourds and all sorts of other similar strangely shaped, coloured and textured varieties that we don't know the name of were on display in their hundreds in the field opposite the straw sculptures. Ranging from tiny golf ball sized round ones to huge long 'banana squash' they were all available to buy from 1.50 euros upwards.  There was a huge line of people waiting to pay and we ourselves took two little squashes to take 'home' and cook in Buzz.  How is it that a silly shaped squash is enough to put a smile in your face? Well it did ours anyway!
The day had really warmed up and we were happy to see that the local brewery was also on site along with stalls offering kaffee, kuchen, all sorts of wurst, sauerkraut, potatoes and meatloaf as well as a farmer's market shop.  We opted for a couple of glasses of the local brew, Rothaus, which went down very nicely in the afternoon sun, while all around us people milled around carrying armfuls of pumpkins and scoffing sausages.
What a great day.  A magnificent cable car ride and an unexpected find of something we've never seen before, all washed down with the local brew. Can't ask for more than that.