Our motorhome tour took us to the beautiful Belgian city of Ghent (Gent) next.   Having stopped and spent the night at Grimbergen we had gone to sleep with rain forecast for the next day so we weren't expecting to spend long looking around. However we were pleasantly surprised to wake to a dry if not murky day, getting there as quickly as possible to make the most of it.
We had read and heard that Ghent was a pretty medieval city with lots of lovely streets to wander and sites to see and we weren't to be disappointed, leastways not by the city though the weather was to be a different matter. Deciding again to use the park and ride we parked at the motorhome parking area in Driebeekstraat. This has just been newly fenced off with a barrier and will soon become chargeable, though not yet, so we were able to park for free. Although it is not actually at the P & R Gentbrugge it is just a 5 minute walk and probably a little safer as well as having full services available. It may be better to use the P & R car park in future once it becomes chargeable.  At Gentbrugge we took the No2 line tram into the city centre which cost 3euro each (for which we needed change).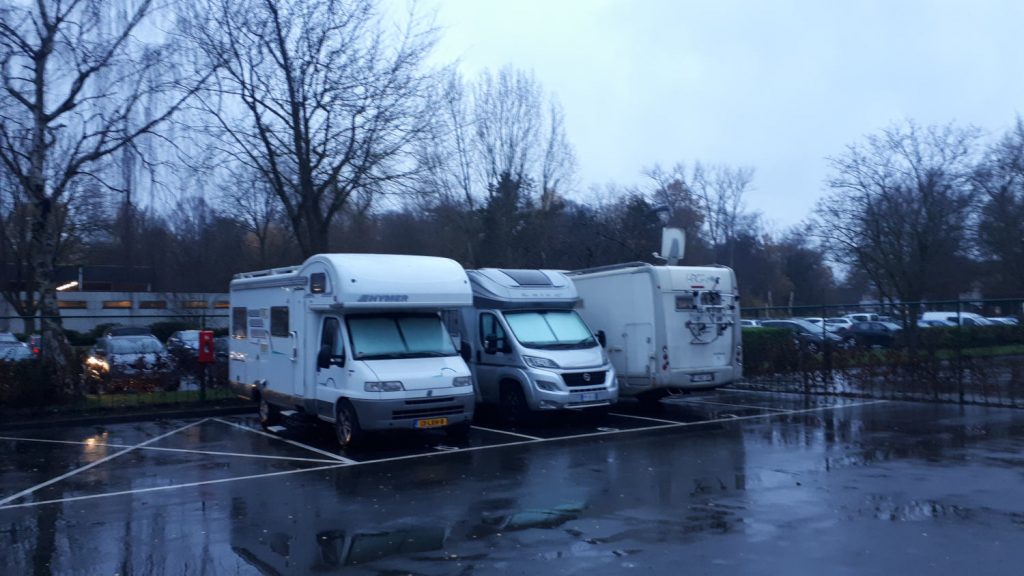 Getting off the tram at Brabantdam we took a leisurely stroll up Kouter, a small square with an old bandstand and full of Christmas trees for sale, ranging from tiny to tall. Then on towards Koophandelsplein and the river Lys with it's pretty bridges and walks. From there we mad our way up  Veldstraat towards Korenmarkt and the picturesque heart of the city. We carried on up past Korenmarkt up towards Vrijdag Markt, stopping and admiring the attractive buildings as we went. We came across a small square Groentenmarkt where there were a few stalls selling local produce including one selling genuine cuberdons where we got talking to the stall holder who enjoyed telling (in perfect English) us about the traditional Belgian sweets and how they came about. In Vrijdag Markt we stopped ducked into a coffee shop as a respite from the rain and sat and enjoyed a coffee and a small bun. The rain was drizzling relentlessly and we were relieved to be inside and even more pleased when the coffee came with another small complimentary Choux pastry.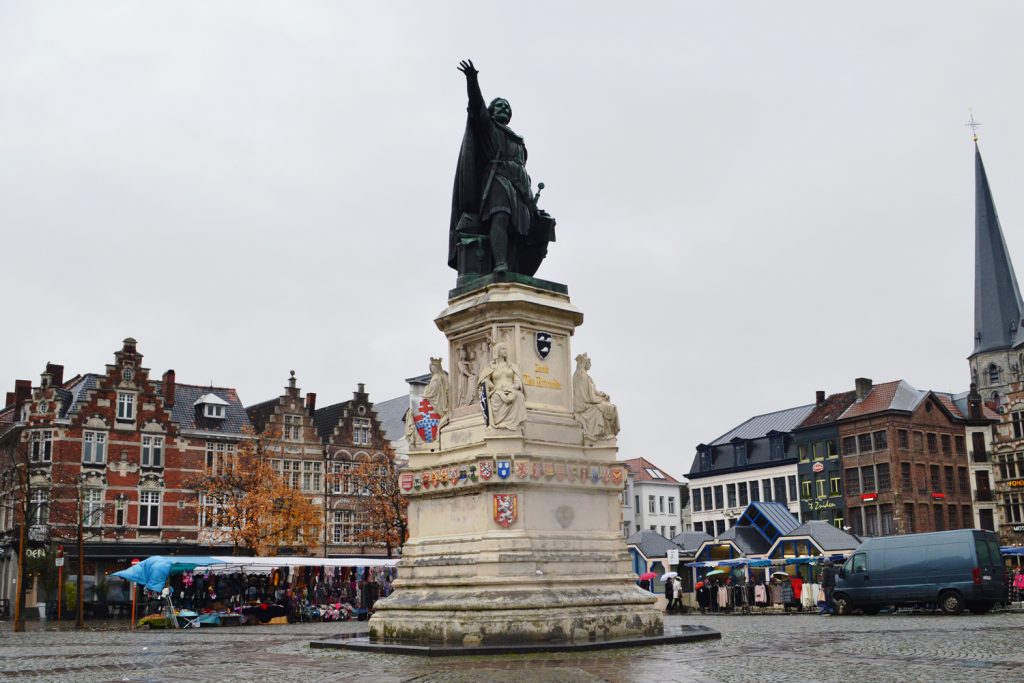 By now the promised rain had well and truly settled in with no desire to let us enjoy the rest of the day dry so we had to brave it heading towards the Holy Food Market. An old church converted into a food hall selling a range of freshly prepared food and drinks as well as becoming a night club twice a week!  The market had a warm, welcoming atmosphere and was really more like a food hall for sitting, eating and enjoying the surroundings rather than for buying and taking food away.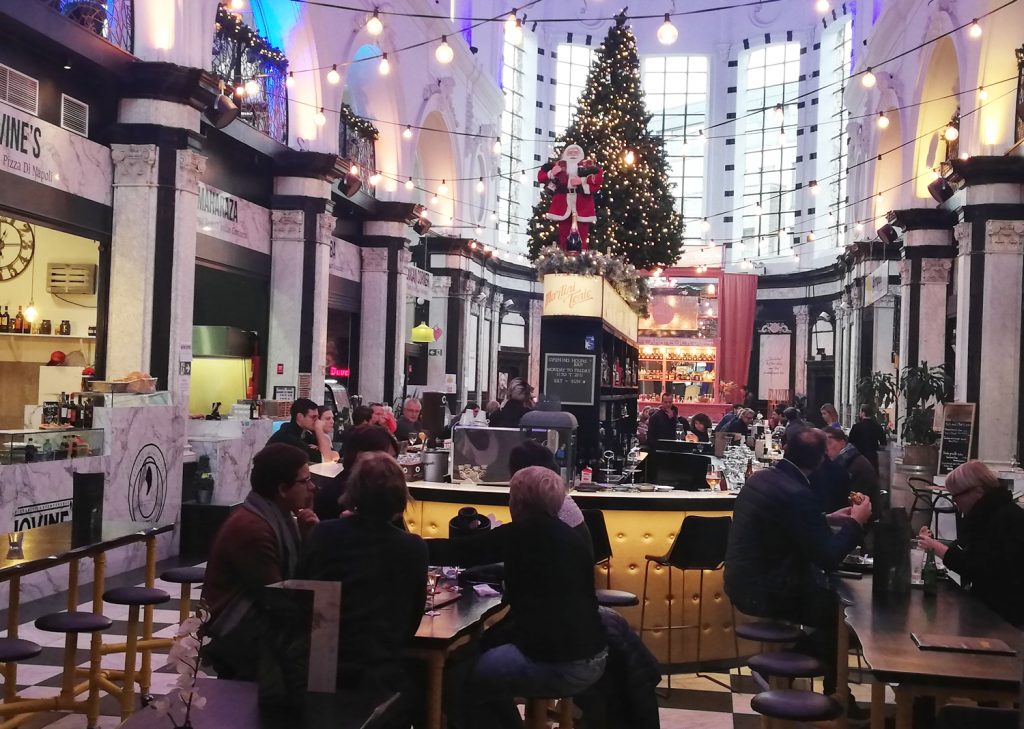 Carrying on we headed back towards Saint-Jacobs (St James Church) next to Vrijdag Markt, before heading for the Tourist information that is next to probably the oldest building in Ghent, Gravensteen Castle, the Castle of the Counts.  Originating as a fortified site in around 1000, it was rebuilt and further fortified in 1180 by Philip of Alsace to let the locals know who was boss. It has a history of torture as well as becoming the home of the counts of Flanders and has subsequently been used as a prison, mint and cotton-spinning mill. Being fully restored between 1893-1903 it is an imposing building sitting at the confluence of 2 branches of the Lys River.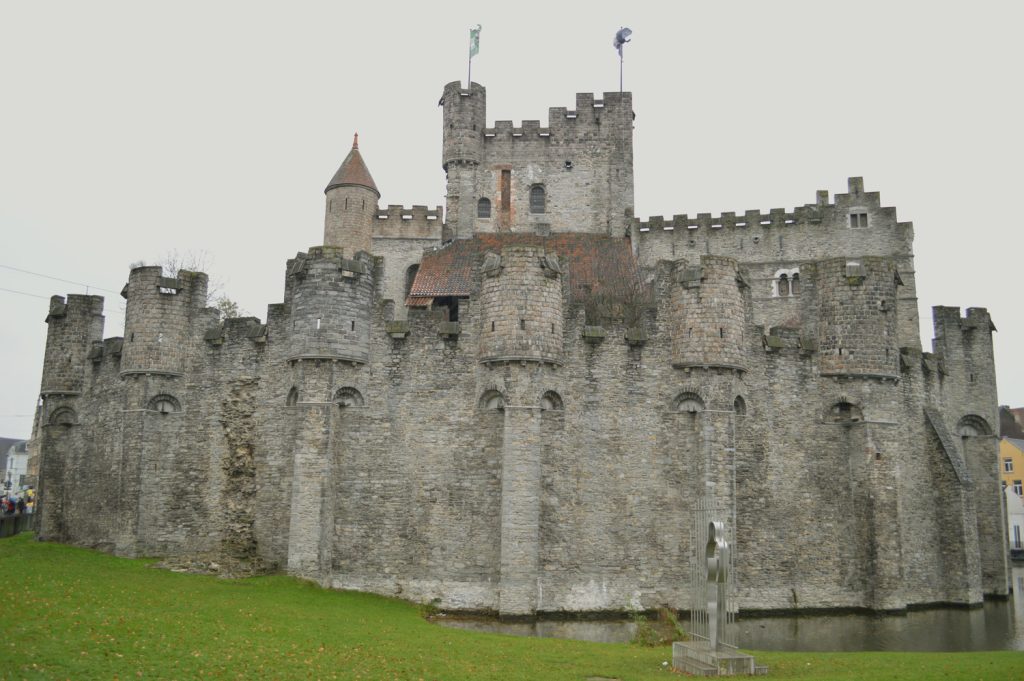 From the tourist information office opposite we walked down the west bank of the Lys towards the bridge at St Michaels said to be the place to take a photo of the 3 towers – St Nicholas church, The Belfry of Ghent and the 3rd at St Bavo's Cathedral. The Belfry being the tallest at 320ft built between 1313-1380 it houses 54 bells which can be programmed to play arias, luckily and somewhat unusually for us we didn't sleep within earshot of its bells.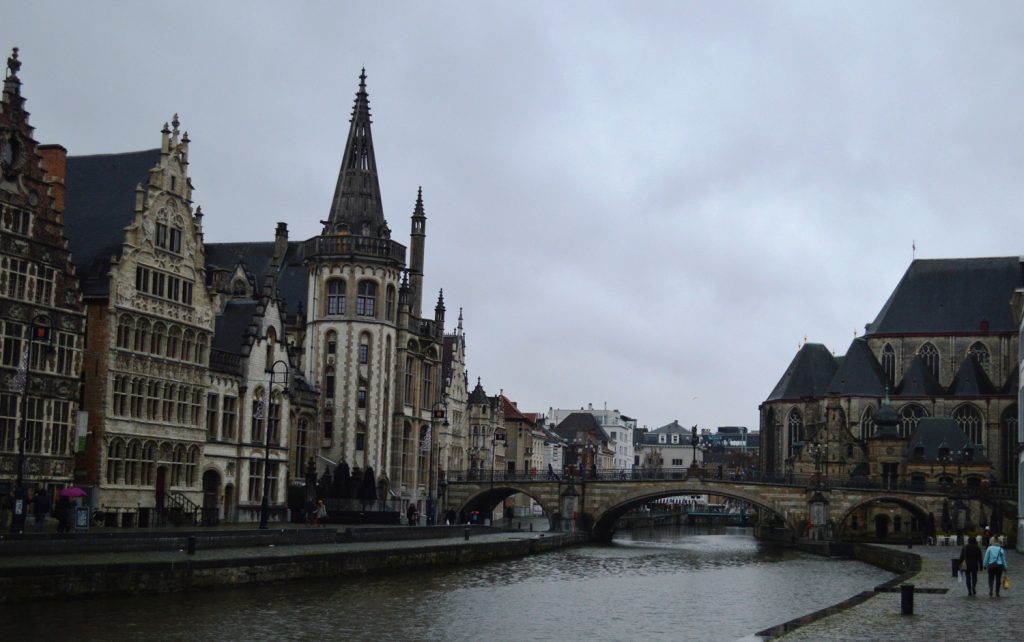 St Nicholas church is interesting in that it has been cut in half with a wooden wall separating the still in use house of worship and what amounts to a church hall. When we visited there was an antiques and bric a brac market on, which was odd as you could look through locked doors into the church.
We went from St Nicholas to St Bavo's which while being a magnificent building was like walking around a deep freeze being very dark and very cold inside.  Suffice to say we didn't stay long and headed out into the rain to warm up and find somewhere for what was now a late lunch. We found a small modern café close by that was quiet enough to get a table, both of us having a mozzarella and pesto panini washed down with a Belgian Vedett beer and very nice it was too.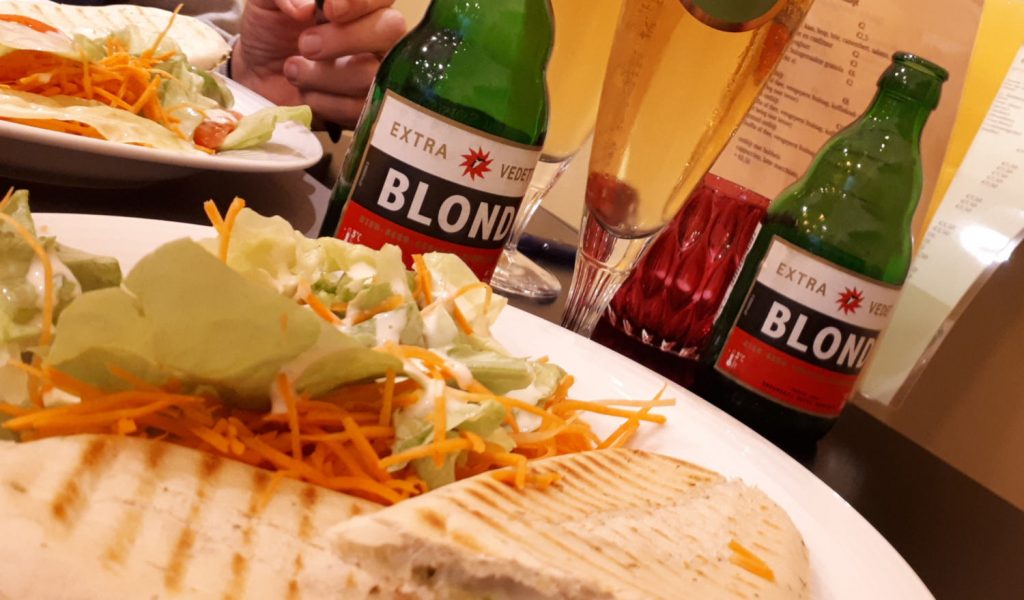 Still raining we decided on one last stroll to Werregarnstraat – Graffiti street. The street has effectively been handed to the local graffiti artists to paint as they like. The street is regularly painted out in plain blue to create a blank canvass for the locals to daub on all over again.  Interesting as it was we were now wet and starting to get chilly and we felt it was time to leave this lovely city and head back to Buzz.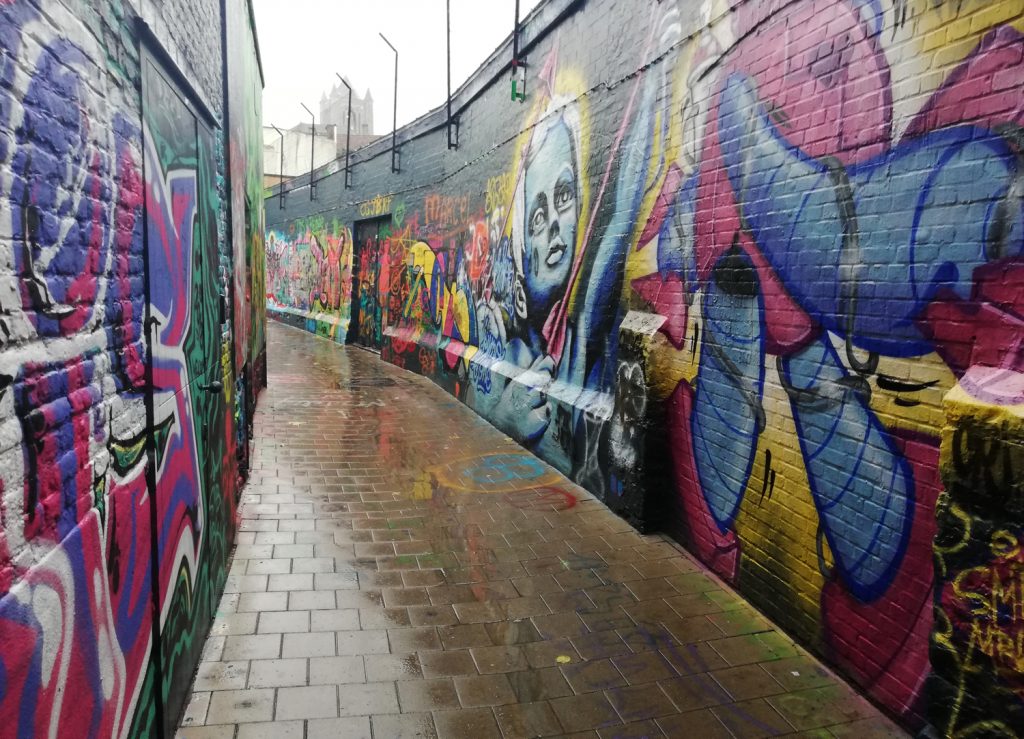 We felt it was such a shame to have not really had the weather to fully explore and like so many places we will go back one summer and really enjoy this great place. One of the prettiest places we have been to and full of history too.