If you're new to motorhoming, like we were just a few months ago, you might have concerns or apprehensions about finding places to park, stay and spend the night while travelling.  When you're going on a tour, exploring an area or a whole country, it's nice to be flexible and not have to think too far ahead.  Changing your mind as you go is one of the joys of motorhome travel. The freedom is incomparable to other types of travel and the choices are endless. Saying all that, if you personally feel more comfortable having plans in place then you can do that too. There are no rules!
Either way we all still need to know how to find those places to stay.  When we first set off in the summer we would usually have an idea where we were going 3-4 days in advance.  Often we would source a sleeping spot first and head that way, the overnight stop almost dictating the places we would visit.  We always tried to get there quite early, convinced that if we were late there wouldn't be a spare place.  If you've never motorhomed before it takes a while to get used to the fact that you can go wherever you want, stop when you want and not have to book it.  On the rare occasion you do turn up and there is no space you can just move on, it's not the end of the world.   It wasn't long before we became much more relaxed about it and these days we often don't even turn up until the evening and virtually always find a space first time.  So …. the first and most important thing to say is 'Don't worry – you WILL find a place to stay.
First let's talk about purely day time parking.  It's easy to look up car parks online for visiting towns and cities but it's not always obvious whether they're motorhome friendly.  They are often far too small so we've learnt to put Google on satellite view and zoom in which gives you a good birdseye view of the space available.  You can often see other motorhomes parked which is always a good sign.  The other consideration is height barriers.  There's nothing worse than finding the perfect car park and not be able to get into it!
We've recently found a good online resource Parkopedia, which helps solve those problems.  You just search for your chosen destination eg Florence, Italy, and it will bring up a list of parking options.  The information it gives it really useful including walking distances, opening time, pricing & payment options, height barrier information and  park & ride details if available.  There is also a handy option to search for street parking too.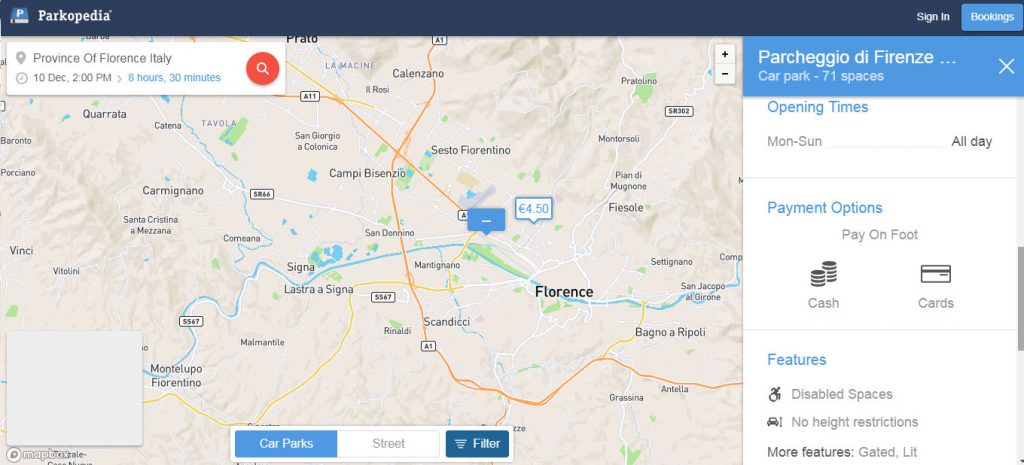 Now how to find places you want to stay and sleep – parking for day and night.  These are the options we have used;
Campsites
Aires
Wild Camping
Car Parks
Street Parking
CAMPSITES – We've only stayed on campsites a handful of times when we've felt we needed a couple of days' break from travelling and moving on. It's great when you want a comfortable place to settle for a while, spread out a bit, take stock and enjoy a particular location.  There are thousands of campsites throughout Europe providing spaces and services for motorhomes. You can easily find campsites online just by performing a simple search or you can join a club, often receiving discounts and other benefits with membership.
AIRES – These are basically rest stops and parking areas where you can park and spend the night in your motorhome and we have used them so far in France, Italy and Belgium. They are often free but some do charge, particularly the ones in large towns or cities and with better facilities. We have stayed in very small aires and very large aires, some with no views some with lovely views, some in towns and cities some in the countryside. An aire can be just a simple car park with dedicated campervan spaces or it can be landscaped with sectioned out bays and its own picnic table!  They do vary quite considerably.  You might find full services for you to deal with your fresh water and waste or you might find none at all.  Some provide electricity to all bays or just from a central point and some have no electricity at all.  So how do you find the type of aire you need?
FRANCE PASSION SITES
France Passion – fancy spending the night in a vineyard or on an olive farm? This book tells you where you can and it's always free!    Again organised by area, you get a map and membership card that lasts for a year.  We've parked at a cheese producer, in an apple orchard, at restaurants and wine producers.  The sites are often in quite rural areas and rarely offer facilities but perfect for a quiet night if you don't need water or electricity. Buy the book and you get a year's membership plus members area on the website.
WILD CAMPING
We've only wild camped a couple of times in the mountains, where we pulled a way off the road onto clearings.  This was mainly because the scenery was so beautiful we didn't want to drive away!  If you feel comfortable, there are no signs telling you not to and you have everything you need it can be a good option.
Its useful to know that in most European countries including France, Spain, Italy it is perfectly legal and accepted when parking that unless it states otherwise you can 'stay' overnight in your motorhome or camper van. That does not mean 'camping', which is the outside use of picnic tables & chairs, deckchairs, awnings or sun loungers. One important thing to remember is that you should treat the area and locals with respect and not make a nuisance of yourself, just basic common sense really.
There are plenty more options which we have used on the odd occasion. Unfortunately there is not one complete resource so while some information will be doubled up, or appear everywhere you look, other information might only appear in one place so you have to be prepared to do a little bit of digging sometimes.   Once settled in the motorhome for the night with the windows closed and the blinds down you are cocooned in your own cosy little world so even if you're just in a car park or plain motorhome aire, you have all your home comforts and don't even notice where you are.  Of course it's always much better to park somewhere with a beautiful view. Nothing beats opening the windows to that in the morning!