Our motorhome travels continued North towards Clermont Ferrand, but heading first to a nice looking campsite we had found in the ACSI book at Hotel de Plein Air Le Chanset  in the small town of Ceyrat in the Auvergne-Rhône-Alpes region of France. Being off peak season now and a lot of campsites being closed we were pleased to have found an appealing place to stop for the night in what looked like an attractive, leafy setting. Driving up to the gate, we pulled over and went into the reception only to be told that they were in fact now closed until Spring! We couldn't believe that we had yet again turned up to another campsite we couldn't get in and explained that the ACSI book listing said they were still open. Seeing our disappointed faces and taking pity on us they decided to let us in as long as we left reasonably early in the morning and were quite alright about it, but they hadn't realised their listing in the book was wrong and were clearly quite annoyed about it as they had paid a fair amount to be in there.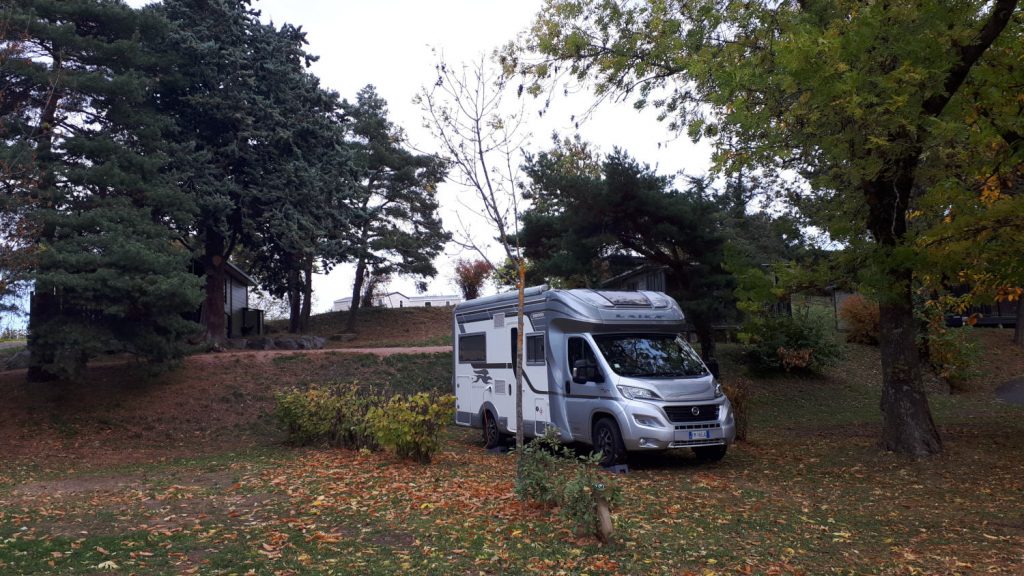 Relieved to be let in we had our pick of the pitches and found a peaceful spot amongst the autumnal trees, got plugged in, put the silver screen on and just about got tucked up inside just before it started to pour with rain! After a restful night with no interruptions, not even a church bell, we woke up to more rain and a white sky. Julian braved the walk over to the shower block (to make sure he got his money's worth!) but I chose to shower in the motorhome and then we left the campsite and went on our way.
Approaching Clermont Ferrand we kept seeing glimpses of the huge black lava church, the Cathedrale Notre-Dame de-l'Assumption, in the distance and as we drove towards the town it came in and out of view several times. How something so big can suddenly disappear is a mystery but one minute it was there and the next minute it was gone! Driving through the town we saw plenty of parking spaces on the road but ended up driving too far and having to come round again. The second time around we parked Buzz on a wide road with a parking meter, paid about 4 euros and set off on a walkabout.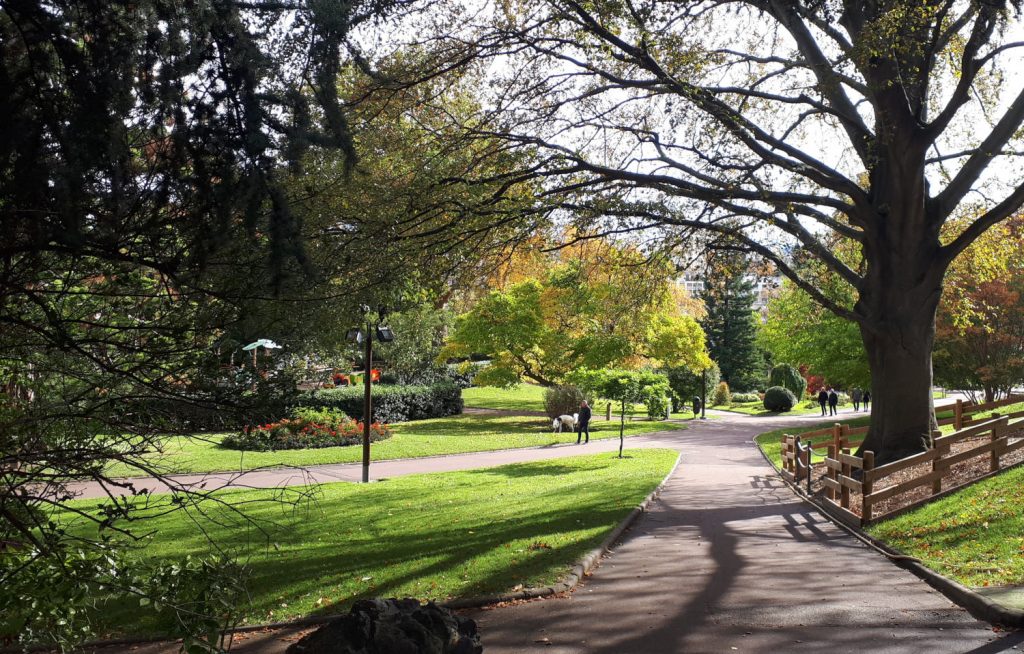 After walking past a lot of building work and demolition sites we came to some huge wrought iron gates which led to the Jardin Lecoq which was a pleasant green city park, nicely landscaped with a pond, fountain and lots of swans and ducks. It seemed to be a popular place for dog walkers and dozens of university students all sitting out having their lunch.  The park is 37 hectares and has a few intresting sights such as the puzzling 'The Memory of Toads'  sculpture by Mark Brusse and the Porta du Domaine, an original ancient castle entrance.  A lot of the town seemed quite unremarkable without any particular character and our first impression was slightly underwhelming. Carrying on we came to the Cathedral, the attraction Clermont Ferrand it probably most known for. Built in black lava rock from the nearby town of Volvic (as in the water), the church is really more grey than black and apart from one side facing the Place de la Victoire, is completely surrounded by other buildings with roads leading off in every direction which is a bit of a shame because you can't easily appreciate it in all its glory or get a good photo of it. The facade is quite striking nonetheless with a mix of 12th century Romanesque and 13th century Gothic architectural features. Reportedly the interior is graceful and lighter with 12th to 15th century original stained glass windows, but unfortunately it was all shut up and we couldn't go in so we can't really comment on that.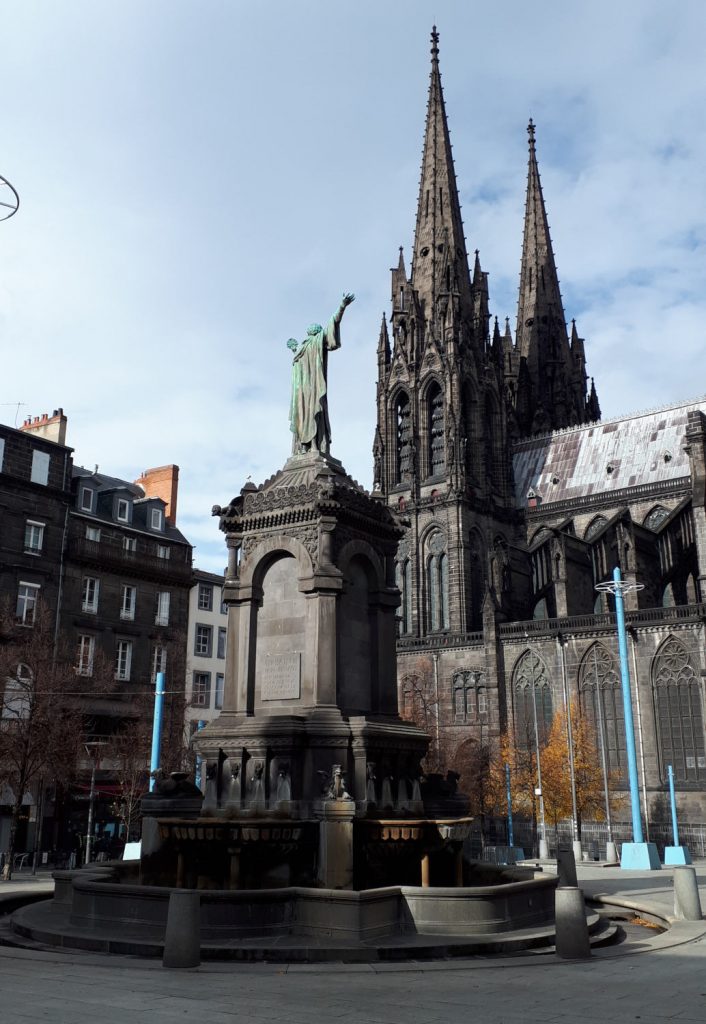 Leading down the hill from the front of the cathedral, the Rue des Chaussetiers in the old quarter gave us much more of a sense of the history of the place with dark timbered shop fronts, cobbled pedestrianised paving and a much more ancient feel. The city has a lively commercial centre and is a busy student town so there was plenty going on and a wide selection of cafes, shops and restaurants to stop at.   Another appealing part of the town was the main town square, the Place de Jaune, a huge open area and heart of the city which seemed to be getting set up for some sort of event. The square is home to an impressive theatre building, water feature and huge equestrian statue of Vercingétorix by sculptor Bartholdi.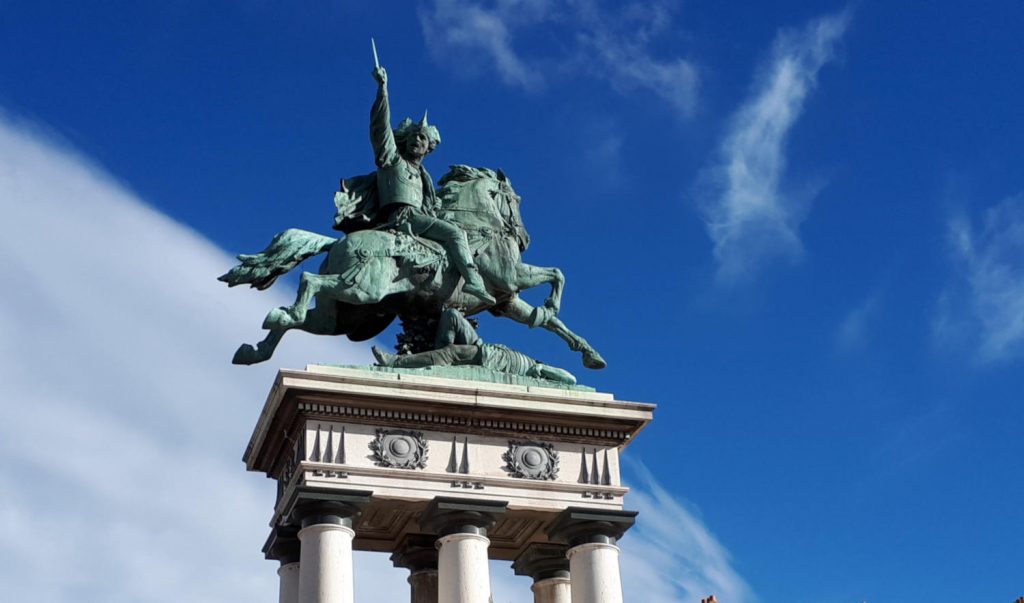 We had intended to explore a bit more but came full circle to our starting point and just didn't feel the enthusiasm to go further in a different direction. Parts of the town were interesting but it just didn't really 'grab us' so we decided we had seen enough and it was time to move on. We hadn't eaten and so went back to the motorhome and sat in the van having a late lunch before setting off again, covering quite a few miles and not stopping until we got to an Aire next to lake Virlayat, arriving in the dark at St Amand Montrond.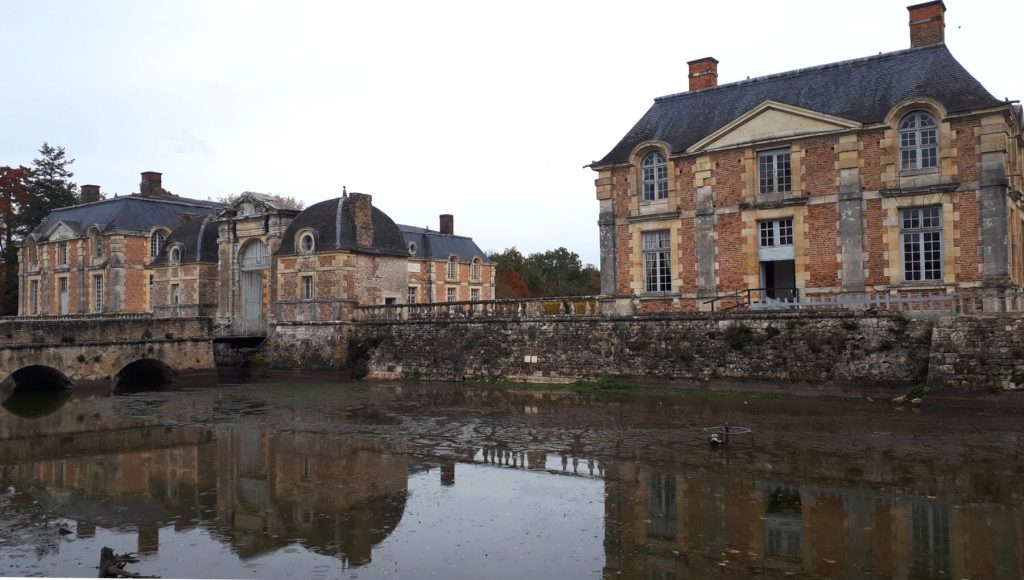 Next day was more driving, stopping briefly at Chateau de la Ferte Saint-Aubin. The chateau looked interesting and offered cooking demonstrations in its historic kitchen followed by tastings of madeleines which sounded extremely appealing – but only on Sundays (which it wasn't) and in July and August. There are also 15 furnished rooms, stables and saddlery to explore along with a children's miniature wooden village, mini golf, giant snake & ladder and chess games and mini animal farm! Not bad for a 9 euro entrance fee or 6 euros for kids. After a short stop and lunch we carried on to an aire at Courville-sur-Eure, ready for our visit to Chartres the next day.