We often use Camper Contact for motorhome parking and it directed us to a massive car park at our next destination, Cala de Mijas, the little coastal town and one of the original Costa del Sol fishing villages. When we arrived there must have been 50 or 60 motorhomes already there, all lined up in two long rows – obviously a very popular place. We managed to find ourselves a slot and made the most of it. It's not really our favourite type of place to stay but actually we ended up staying 2 nights as it was very quiet and convenient.   We'd spotted a big Aldi opposite so we walked over, did some shopping then came back to bask in the sun for a couple of hours – that is until a huge French van turned up, squeezed in alongside us and cast us in shadow!  Our cue to go in and get dinner. Next morning we woke up to an expansive open air market all set up in the car park in front of us. We hadn't heard a thing!  It was mainly food, pottery, clothing and accessories which was quite handy for Julian who needed a new belt, opting for a stylish Spanish special at the bargain price of 2 euros!
We'd been planning to cycle along the coastal promenade, where there's a boardwalk (part of the Senda literal de Malaga) for 6km along all the way to Marbella.  But when we got there, the first thing we saw was a big sign stating 'No cycling on Saturdays and Sundays'. Seeing as it was Saturday morning, that was very bad news for us.  Not only that, you are also not allowed to cycle between 11 and 2 or 4 and 7 on a work day!! So basically a cycle path you can't cycle on.   We walked along pushing our bikes for a bit but soon got fed up with that so headed for the nearest cafe to drown our sorrows in a cup of coffee, enviously eyeing up the enormous slices of cake delivered to the two English women sitting in front of us.  Afterwards we chained up the bikes and went for a wander. There are plenty of cafes and restaurants here, a restored Moorish tower, beach front bars and a long sandy beach with a few rocky features here and there.  After dinner we walked back into the town and went to one of the many bars for a couple of drinks to end the day.
The actual town of Mijas, the pueblo, is up in the hills about 20 minutes away, so the next day we drove up not quite sure where we were going to park.  We ended up high above the town after following a sign for 'tourist bus' parking which took us up a steep road to a huge open area in what looked like an old quartz quarry.  It was a long walk down to the town so we didn't want to stay there but it did give us the opportunity to have a short walk around, crunching over the sparkling rocky ground and getting a fantastic view back down all the way to the sea.
The town was quite compact and apart from a multi story car park with an entrance way about half the size of Buzz, the only option for us seemed to be the coach parking area. It was fairly quiet with just a couple of coaches in so we decided to take our chances and park there, hoping we wouldn't cause any problems.  Following some fancy tiled steps upwards we came out right in the middle of town in a pretty street not knowing which way to turn first.  We turned left and found a big open plaza, the Plaza Virgen de la Pena, with a central shaded circle lined with horses and carriages and shops and cafes around the outside.
Mijas is famous for its donkey taxis and there must have been about 40 donkeys lined up with little carts, waiting to take people wherever they wanted to go.  Most of them looked bored and half asleep and there seemed to be almost more donkeys than there were visitors.  Exploring further we found some delightful, dainty streets, splashes of colour everywhere from bright blue flowerpots to stand-out ceramics and donkey decorations.
You wouldn't go hungry here, with a choice of eateries, up steps, on terraces, tucked away in alleyways and dressed up with smart black balustrades, tables on terraces and a tempting selection of tapas and other tasty treats.   We didn't stay for lunch because we'd got lunch back in Buzz but we did visit one of our favourite Spanish sweet shops – Sabor a Espana.  We see them all over Spain and have discovered that they always have a demonstration of melting toffee and pouring it over nuts, with lots of tasters and samples of nut brittle and nougat on offer. All utterly delicious!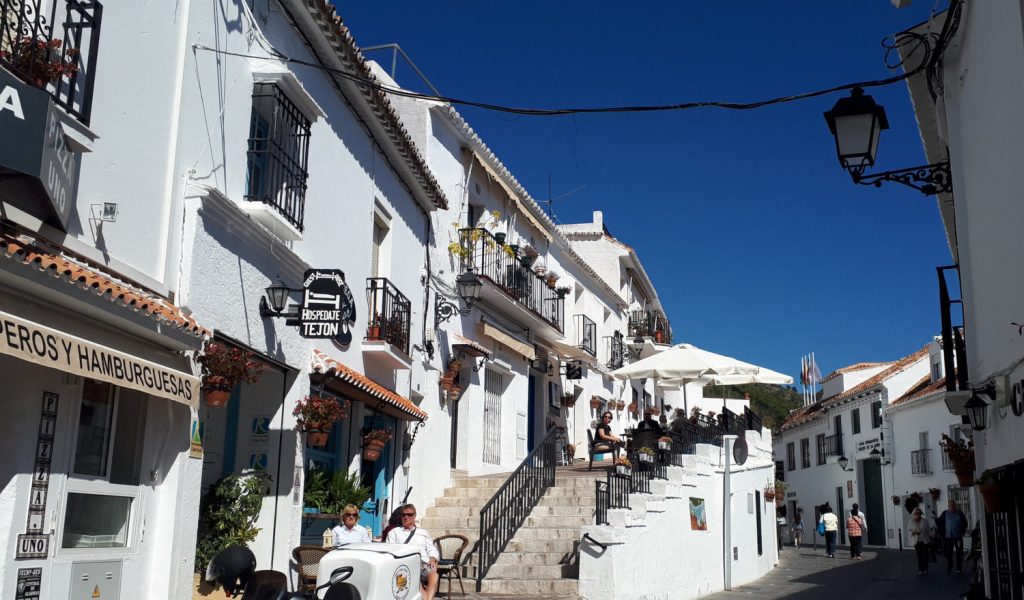 Mijas Pueblo is undoubtedly very much aimed at tourists but not in a cheap and tacky sort of way. It has a lot of charm and character with a friendly atmosphere too.   We liked it a lot and enjoyed the walk around the panoramic walkway, fortress walls and the Parque La Muralla with views across to Fuengirola and the sea.  We preferred the hill town to the coastal area but both have their attractions and we'd happily go back to both – as long as we didn't want to cycle!