The Alps to us and I guess a good many people are all associated with and about skiing, with snow covered mountains and ski resorts, so in truth we weren't really sure what to expect which was actually a bonus making the whole experience a real journey of discovery.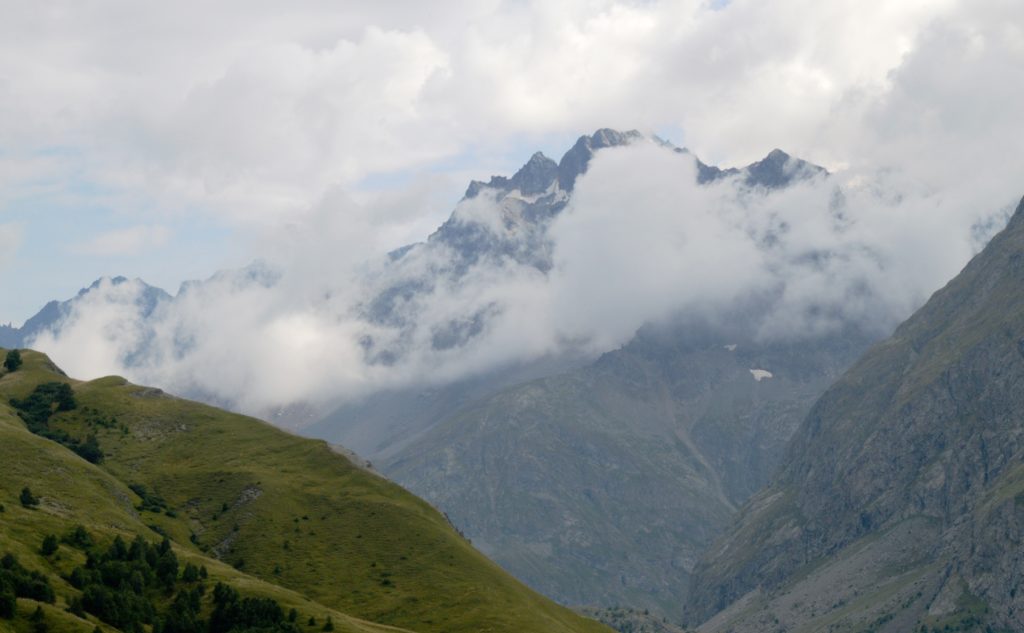 Yes there were snow capped peaks though currently only on the very highest mountain tops at the heart of a long hot summer, but what there also were, were tree lined slopes topped off with awesome craggy peaks, towering cliff faces and lush valleys with rivers flowing through often thundering down rocky river beds with white water crashing off and over giant boulders. These are the sights you don't see when skiing and it is every bit as fantastic.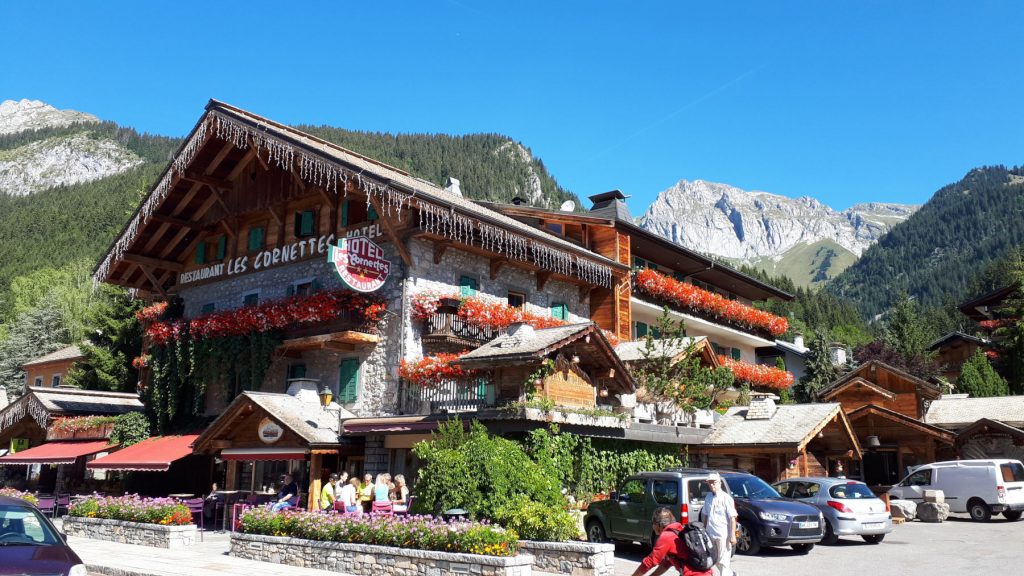 But that's not all – the Alps take on a whole new identity in the summer with sparkling blue lakes of crystal clear waters and pastures interspersed with towns and villages all wearing bright summer flowers, everywhere turning into a summer paradise teaming with walkers, cyclists and tourists just enjoying the beauty of some of these Alpine towns. With people sitting and chatting in the bars and cafes, the Alps were every bit as vibrant and busy as the ski season. Just more laid back, no frenetic rushing for the ski lifts to catch the best snow, just a slow meander (except the cyclists) to breakfast, swim or wander the towns and lakes.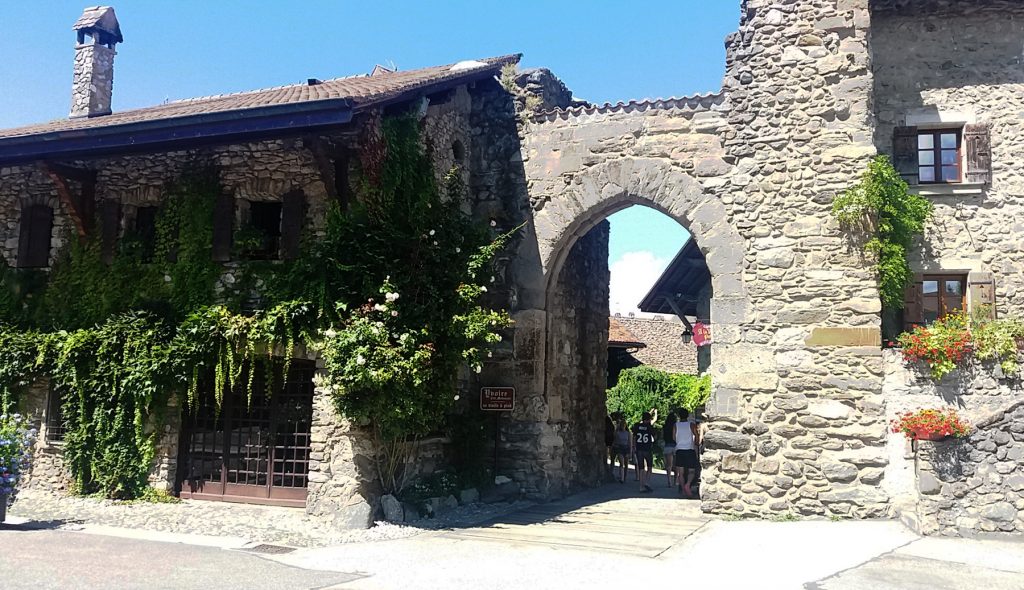 For us our Alps adventure really began in Excenevey, a nice quiet little village on the shores of Lake Geneva (Lac Leman) with a lovely lakeside walk and beach that would happily grace any seaside resort except for the mountain backdrop. We stayed there overnight in a small but perfectly placed Aire, right next to the church and yes they do ring the bells early in the morning – 82 times to be precise!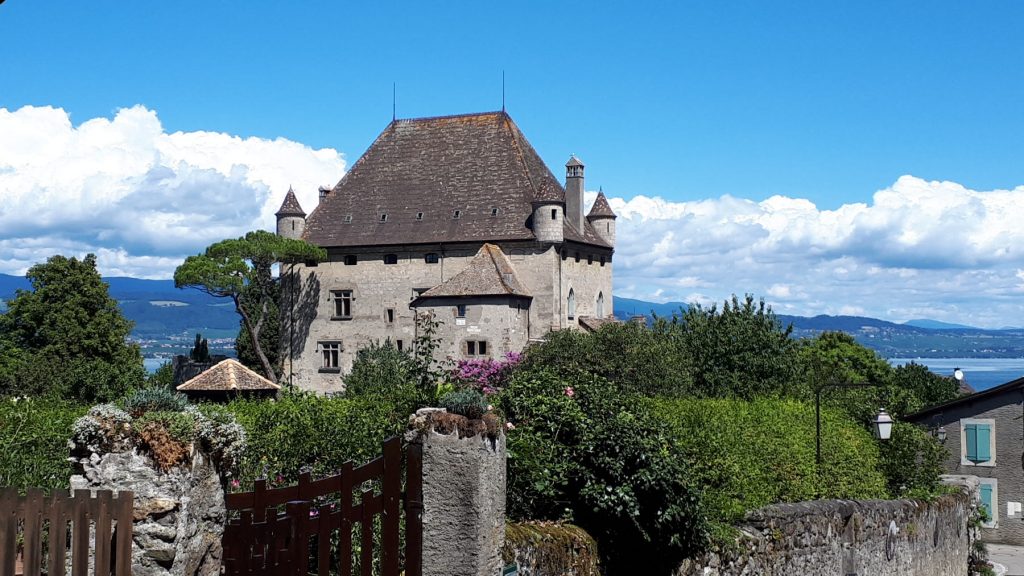 The next day we cycled the 3km to the next village of Yvoire, which is completely different with an old walled 14th century part of the village housing a maze of little narrow cobbled streets, lined with art shops, local produce, restaurants and cafes. As you make your way around you slowly work towards the two little harbours and lakeside chateau with a picturesque garden and sitting around the harbour sipping a coffee is just a delight. On our ride back we stopped in at Le Domaine-de-Rovoree-la-Chataigiere an old chateau on a fortified site going back hundreds of years and enjoyed a very pleasant stroll around the grounds down to the lakeside and back.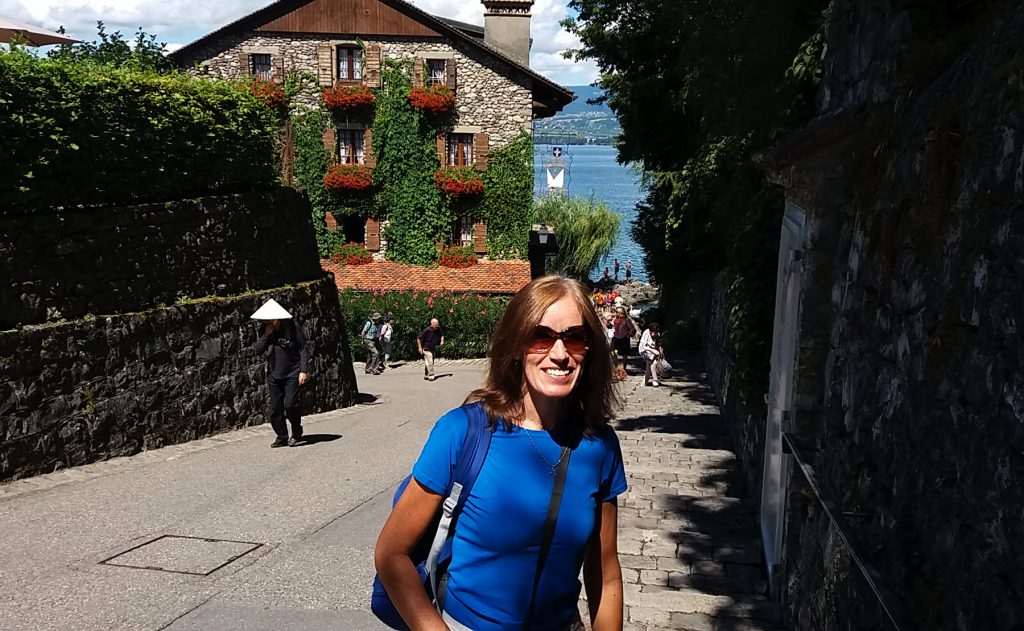 Our next port of call was to be Thonon Les Bains but it wasn't to be after searching in vain for somewhere to park we gave up and headed for the next place on our list fortunately not very far away, Evian Les Bains, and to be honest it was probably the better option. Yes it is the source of that famous water and a stunning, elegant little town full of historical character with a modern edge. This popular lakeside playground is centred around the Evian resort and casino with a massive yacht harbour and some eye-catching boats – one of which is the unique Evian resort high speed catamaran Evian One. You can also visit the Evian museum and as you would expect find a stylish street café to enjoy a coffee and pastry while watching the world go by. Evian is both relaxed but lively, energetic yet laid back and beautifully scenic at the same time, so put it on the bucket list and make sure you go.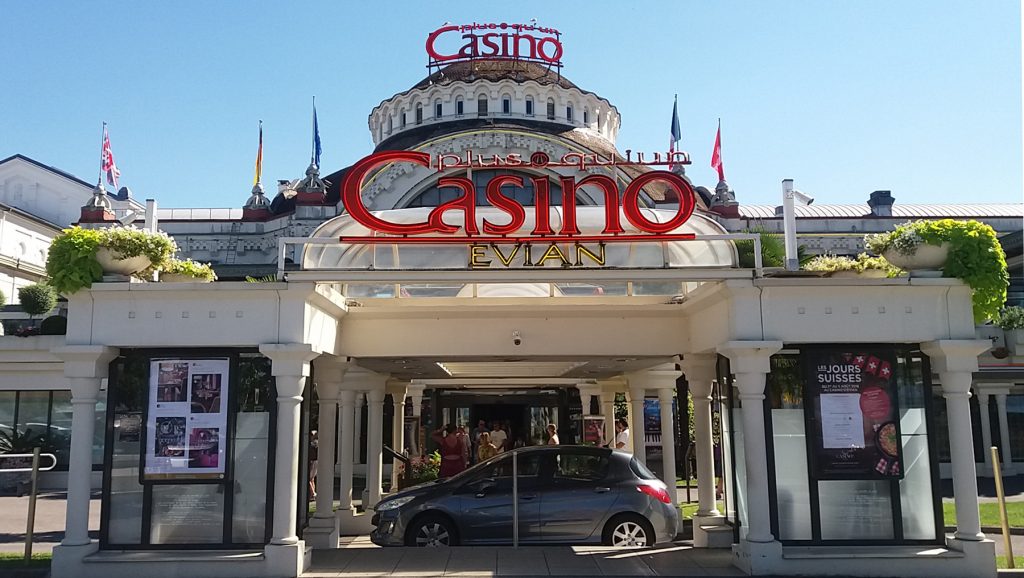 From Evian we felt it was better to find parking away from the busy resort and headed for a ski station for the night at la Chapelle-d'Abondance for a bit of height and a cool night and we are glad we did. Abondance and la Chapelle-d'Abondance were lovely mountain towns with gorgeous wooden chalet style buildings looking pristine and absolutely bedecked in dazzling summer flowers.   An early morning stroll around the village proved to be a must (stopping off at the bakery for a couple of freshly baked pan au chocolat) before departing for Annecy Via Cluses.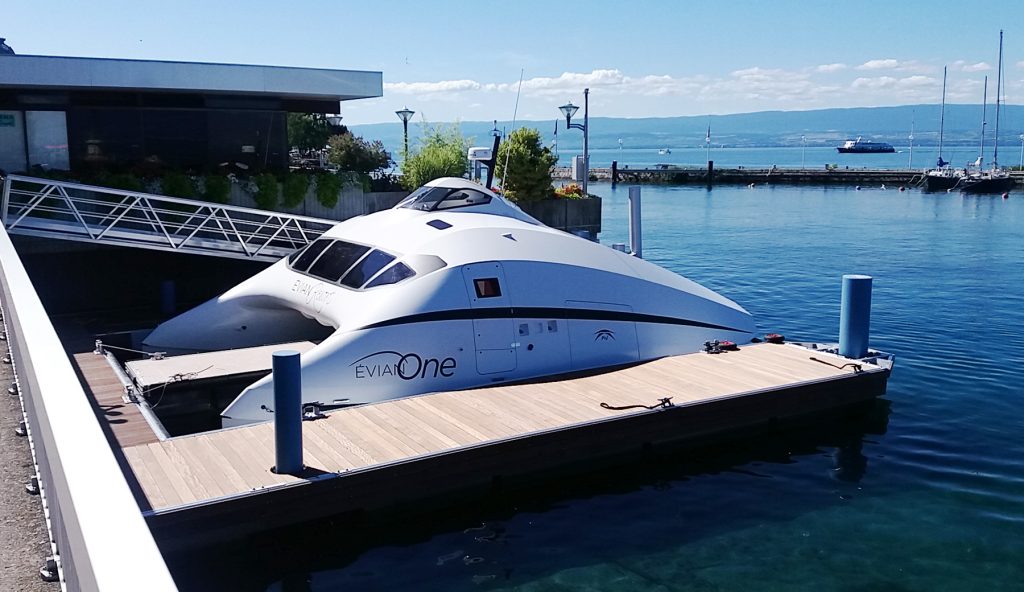 Cluses proved to be a little disappointing so we didn't stay long before continuing to Annecy which on the other hand was fabulous but absolutely rammed being a Sunday  and hot at that. Annecy sits at the top of the Lac d'Annecy, curved around the sparkling lake running back into the hills. It is another of those lovely old seaside style towns but sat on a lake. However arriving late in mid afternoon we struggled to find anywhere to park and decided to head out of town for the night returning in the morning, so we headed approx 10km to la Balme-de-Sillingy which led to another tale of what not to do which we have already posted on FaceBook @theofficeisclosed so we won't go into it here, suffice to say the next morning we headed back to Annecy.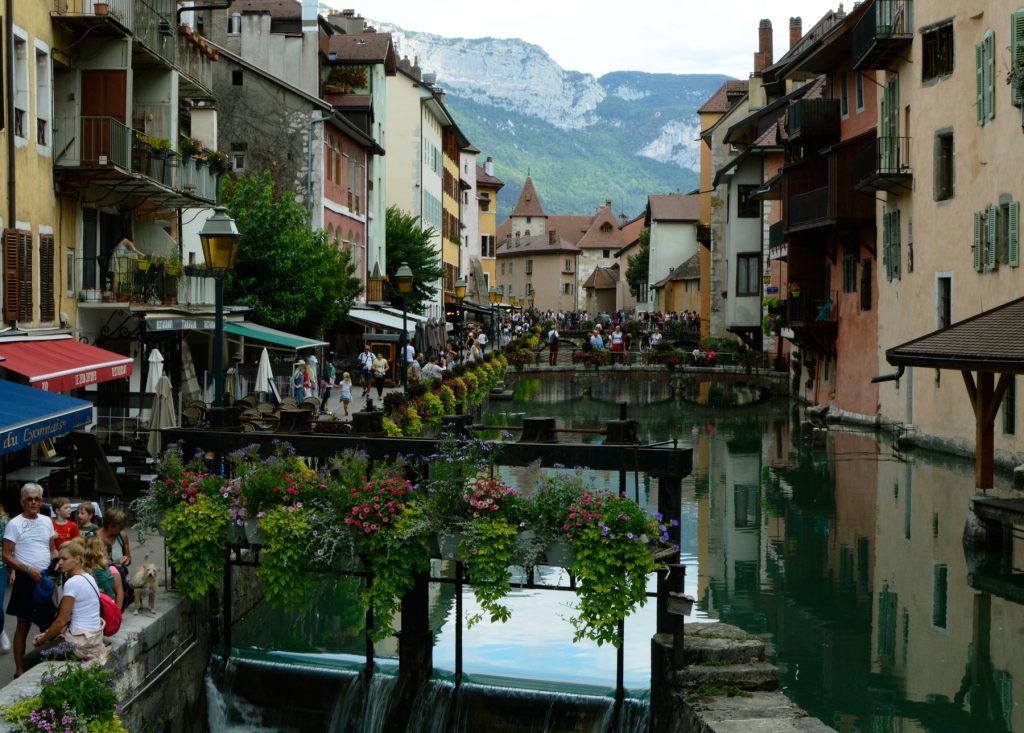 This time we parked up got the bikes off and headed out to explore this lovely town the highlight being the old medieval quarter criss crossed with little canals and flower laden bridges. It's ideal to take your time to stroll around soaking up the ambience stopping to window shop or have a lovely cooling gelato from one of the many local shops that produce their own in a vast range of flavours. Possibly the best known building is the Palais de l'isle, a tiny 12th century prison with its corner pointing towards the bridge, sat in the middle of the Thiou canal.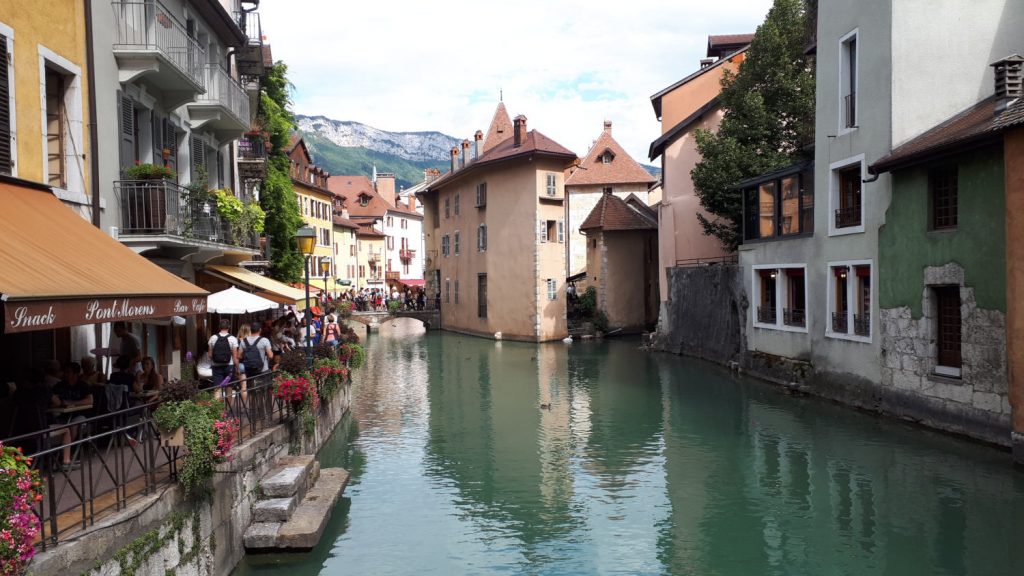 The other not to miss building (and if you fancy training those calf muscles) is the Chateau d'Annecy sat high up on hill above the old town with great views. If you have had enough walking then head to the lakeside where you can relax on the beach, have a swim, hire a boat or pedalo alternatively you can book yourself onto a river excursion for a sightseeing cruise around the lake or if you're feeling particularly wealthy book one of the lunch or evening dinner cruises for a unique dinning experience. All in all Annecy is a fabulous place to take a short break or longer if you want to use it as your base to explore the Alps.
Moving on towards Aix les Bains we decided to spend a night at a ski station, so back up the mountains we went! Ascending to around 5,000ft above sea level we made our way to a free parking area at Le Revard, a mountain in the Bauges Massif  in the Savoie region of France.  There's something about the air and quiet in a mountain car park that you just can't beat.