As we neared the Southern end of the Romantic Road near Füssen we were treated to tantalising glimpses of the beautiful Bavarian Alps, pulling into a peaceful parking spot with lovely mountain backdrop for the night before carrying on.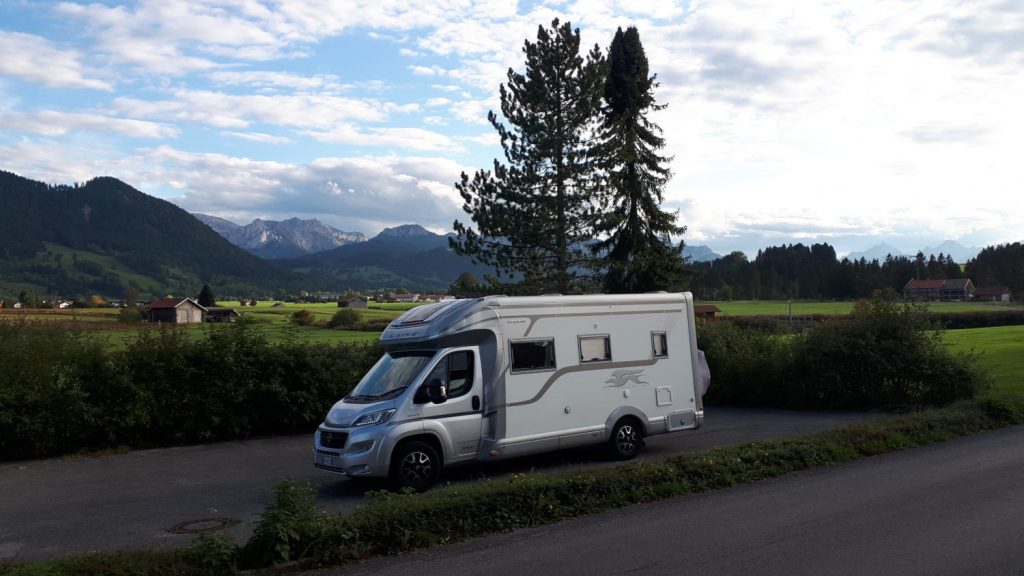 Next morning was grey and drizzly so we decided we may as well embrace it and go for a wet drizzly walk, not realising what a treat we had in store. We'd driven up to within sight of Neuschwanstein Castle and after going to look at a cable car ride that we decided against, curiosity as to where a hiking trail went led us on a wonderful waterfall trail through the gushing waters of the Pöllat Gorge.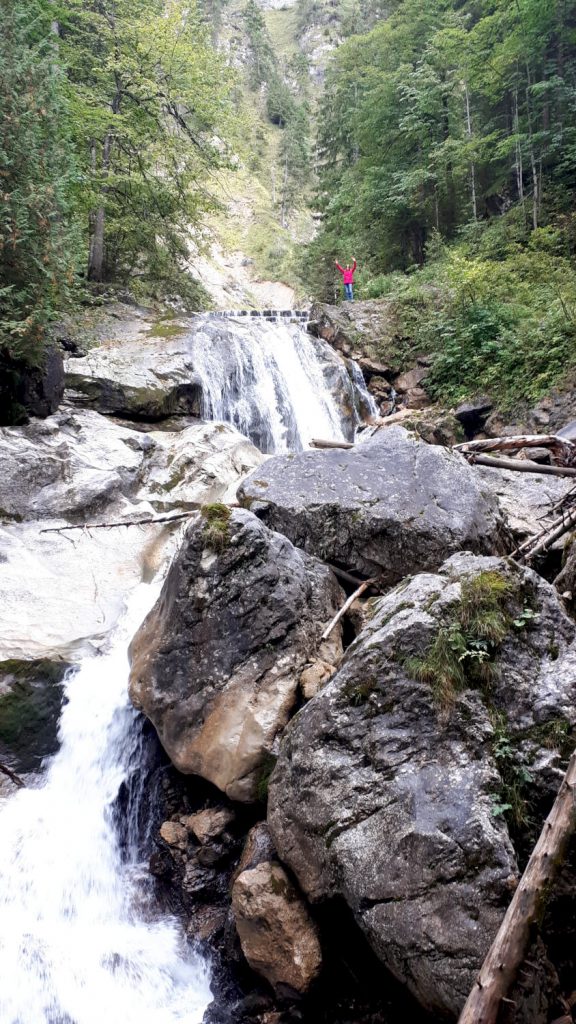 It was only re-opened earlier in 2019 after work to heighten the walkway after flooding and rockfalls so we were very lucky to be able to follow the suspended metal path through the gorge alongside the thundering cascades.  The hiking trail is prone to various natural hazards including rockfall.  300square meters of rock were blasted away for safety with a protection net put in place to contain any future rockfall.  The trail (one of many) eventually led through woodland getting steeper and steeper and at the top we could gaze up at Marienbrücke (Queen Mary's Bridge), sky high and spanning the gorge above.  It is from here you get the best view of the castle and in another 15 minutes or so we were there.  Suddenly there was the castle in all its glory and what a sight it was.  It was late in the day though and the sky was white and our full visit was to be the next day so after taking a few photos just in case the weather was worse the next day, we retraced our steps and made our way back to Buzz.  We'd found out you could park nearby next to a little church so that was where we spent the night, waking to a crisp but misty morning with promising blue sky.
Getting up extra early, we drove to our on road parking space we'd checked out the night before, nearer the castle, having breakfast afterwards knowing we were all ready to set off to get to the ticket office before the crowds.  You can book ahead but we hadn't and after walking the 15 minutes to the ticket office we got tickets for an English speaking guided tour at 10.10am.  From the ticket office it's a 1 mile walk uphill, and quite a steep hill at that, to the castle entrance.  You can always get a horse and carriage ride as an alternative, but we decided to get some exercise and take the long slog up!  As you round the corner there's a viewing deck where you can walk around to get a view from below, up to the castle entrance gate.  There's a fair bit of scaffolding in place at the moment but even so, the castle still looked majestic and quite magical up on its high perch.
The tour inside the castle was incredible.  Photos are not allowed inside which was disappointing but at the same time probably just as well because they wouldn't have done it justice.   The moment we walked in we were instantly impressed as we were led through lavishly decorated hallways with decorative stone carvings of dragons, butterflies and fictional beasts. The walls were painted with rich reds, blues and yellows, the ceilings low and arched.   The whole interior was lavish but cosy with dark heavy wood doors and intricately carved furniture, exquisite silk brocade embroidered furnishings and curtains, 13ft tall brass chandeliers and glowing glass lanterns.  Swans feature heavily in the decoration as Neuschwanstein actually means 'new swan stone' and comes from one of Wagner's opera characters, the Swan Knight of which King Ludwig II was a particular fan. The magnificent throne room dazzled with gold paint and huge murals topped with a stunning golden sun on the domed ceiling.   The richly painted and decorated Singers Hall, has no less than 600 candles suspended from brass chandeliers and you can just imagine how spectacular that would have looked when they were all lit up.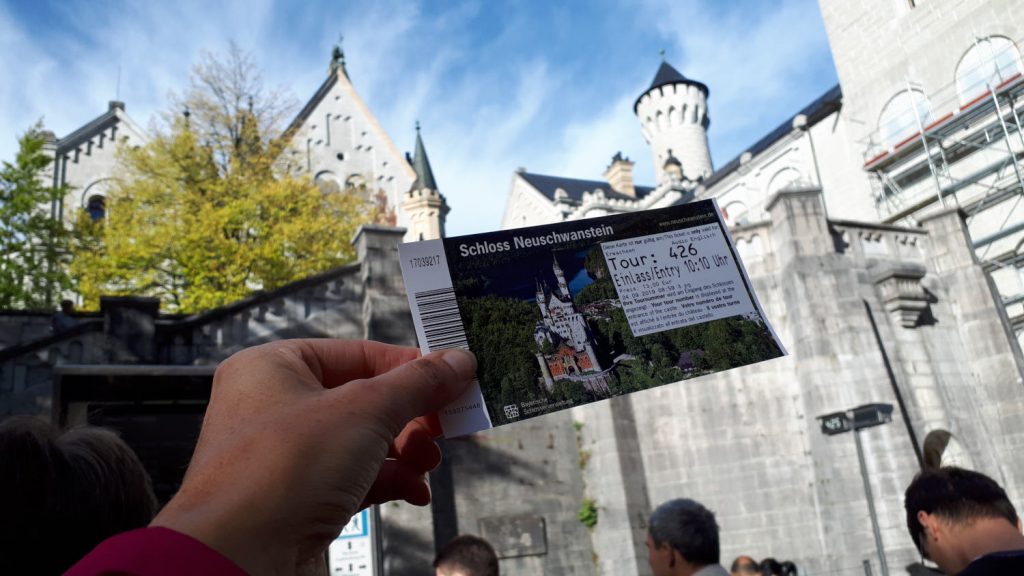 After the tour we came out and walked again to the Marienbrücke.  This time the sky was blue, the sun shining and the castle perched on the top of the rock looked just like it came straight out of the pages of a fairy tale.  This whimsical and wonderful creation was commissioned from the spirited imagination of King Ludwig II in 1868 so he could live out his fantasy of living like a medieval king, surrounded by fantastical Romanticism and Byzantine opulence. It'a built in white limestone with elegant tall towers and pointed turrets and it's easy to recognise that this was the castle that inspired Walt Disney to create Sleeping Beauty's Castle in Disneyland.
Marienbrücke was named after Queen Mary of Prussia, King Ludwig II's mother.  There is a lit up sign alerting you to the number of people on the bridge at any one time.  It seems that it can fit 400 at once!!  Luckily for us we only had to share it with about 90 people.  400 would be a really tight squeeze that we're thankful we didn't have to experience.
As an added bonus there's also a beautiful view of another castle below, Hohenschwangau, the place where the little King Ludwig II grew up as a boy.  You can buy a combined ticket if you want to go and see this one as well.
We could go on and on about how special it was but we have a better idea – go there, it's amazing!