An amazing year for us finished last night with the perfect ending and a fabulous French feast. We had arranged to spend New Year's Eve in the Dordogne with my brother and his wife before continuing our motorhome journey South. We were consequently all invited to my sister-in-law's sister's house instead to enjoy a meal and evening with them and their friends.  Having made good progress, we arrived in Riberac sooner than expected which we were very pleased about, as we had been promised roast pork and crackling dinner which we were really looking forward to. We weren't to be disappointed and after a long, slow cook the pork emerged from the oven soft, juicy and topped with the tastiest, crispiest crackling we've ever eaten – delicious! Accompanied by some good wine and finished off with homemade chocolate mousse we relaxed, put our feet up and had a quiet evening before a short walk back to Buzz for the night.  We woke to a misty morning and a chilly zero degrees, but the walk back up the hill to the house soon warmed us up. As always my brother had already braved the elements and been out to the boulangerie for some freshly baked bread and croissants before we got there. Breakfast was followed by a lazy morning, sitting, chatting and generally catching up before it was time to eat again for lunch which was thickly sliced bread with tasty pate made by the local butcher.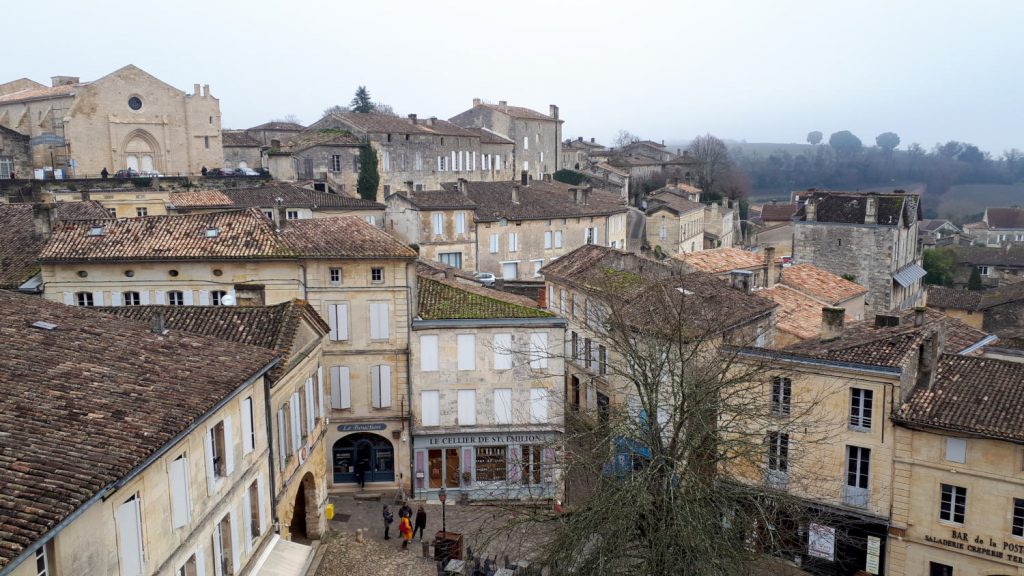 It was then time to leave so we set off in a convoy for an hour and a half's drive to the beautiful Unesco listed town of St Emilion, on the way to our destination for the night. We didn't have long but we were instantly charmed by the town, its attractive yellow stone buildings, old abbey and numerous wine shops.  We would love to come back here for a proper look around and have made a note to visit on our way back through when we return to England.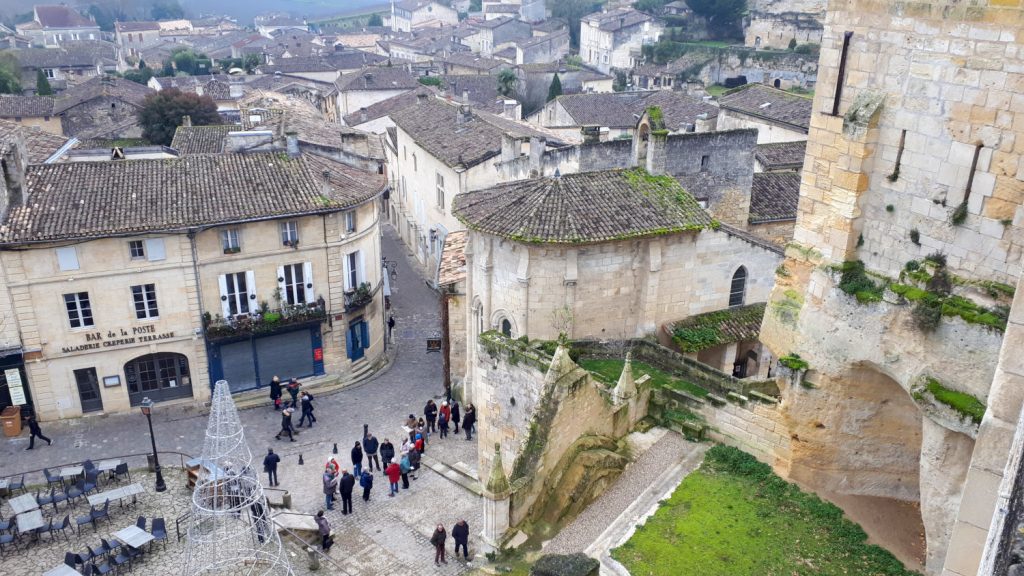 Leaving the town, we had about a 20 minute drive along winding roads before we arrived in Cessac, a small rural village surrounded by countryside and farmland. A narrow road and track led us to the house and garden where we were able to find a nice flat spot to park Buzz just a few steps away from the front door. We weren't quite sure what to expect having only met our hosts once several years ago and not knowing any of the other guests but we had nothing to worry about and were welcomed like old friends and instantly made to feel comfortable with a kiss on both cheeks, a bottle of beer and a seat by the big open fireplace.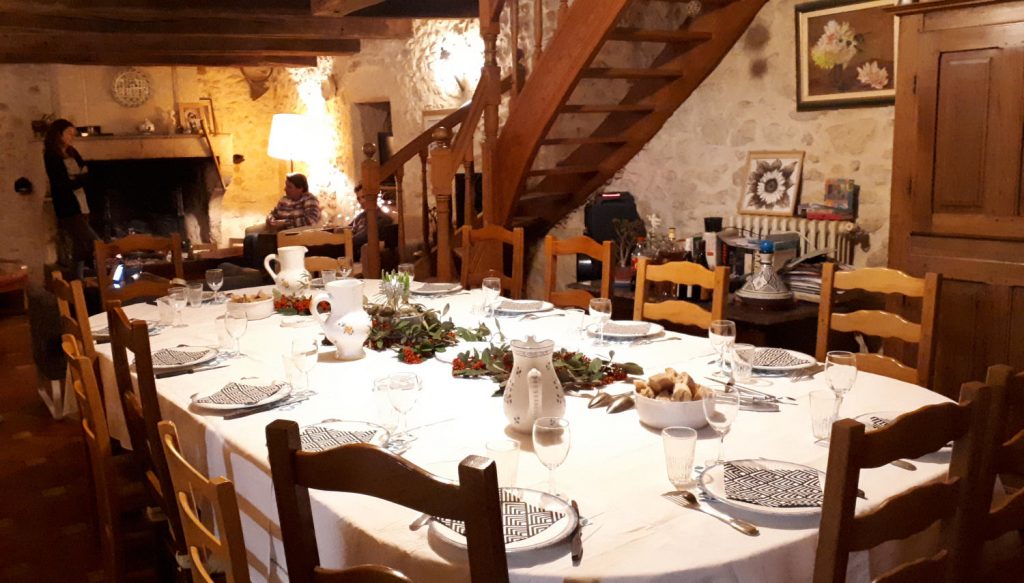 The large dining table was beautifully set out with 12 place settings but at that point we had no idea of the feast to come. But first the drinks! When we arrived there were several bottles of red wine warming on the mantel above the fire and as each guest arrived further bottles were added totalling 11 at the last count! It wasn't long before it was time for aperitifs with a choice of Ricard, port, whisky or wine. As we sat enjoying our drinks a breast of duck hung on a hook at the back of the fireplace slowly smoking and an enormous pallet of walnuts were put down ready to be cracked. Not long after a grate was put over the fire to cook the main course – two big joints of beef which were simply seasoned and left to smoke and lightly char.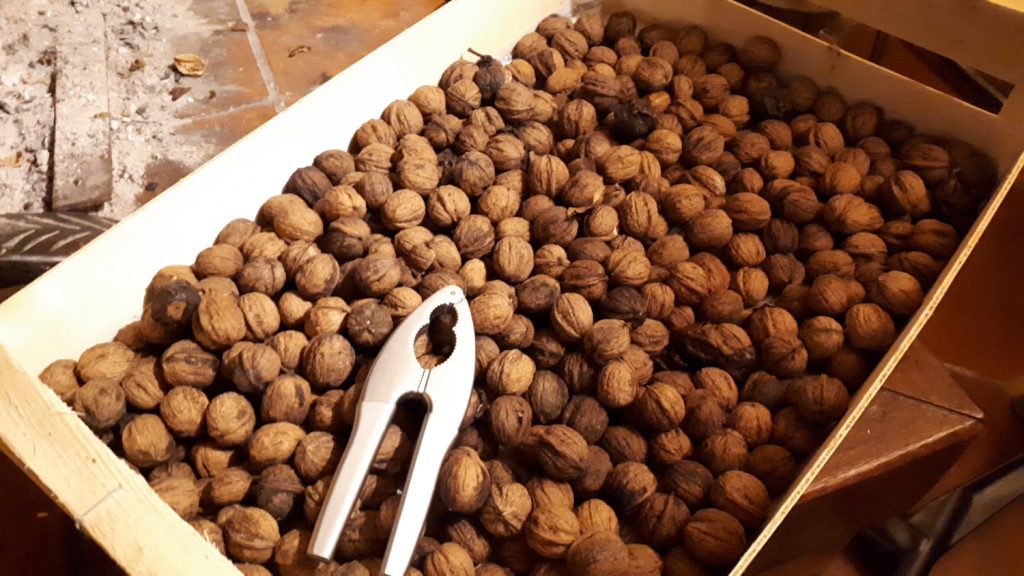 It was soon time to eat, starting with nuts, cured sausage and some already prepared maigret duck which was absolutely delicious. This was swiftly followed by a huge array of tempting canapes including prunes wrapped in bacon, mushroom pate on toast, leek and bacon tart, chicory with goat's cheese, sausage rolls and smoked salmon blinis. But there was more! We all moved across to the table and were presented with a table laden with seafood – juicy king prawns, bowls of whelks, giant crab claws, platters of freshly shucked oysters, bread and homemade mayonnaise. It was about at this time that the belts needed to be loosened as we weren't even half way through!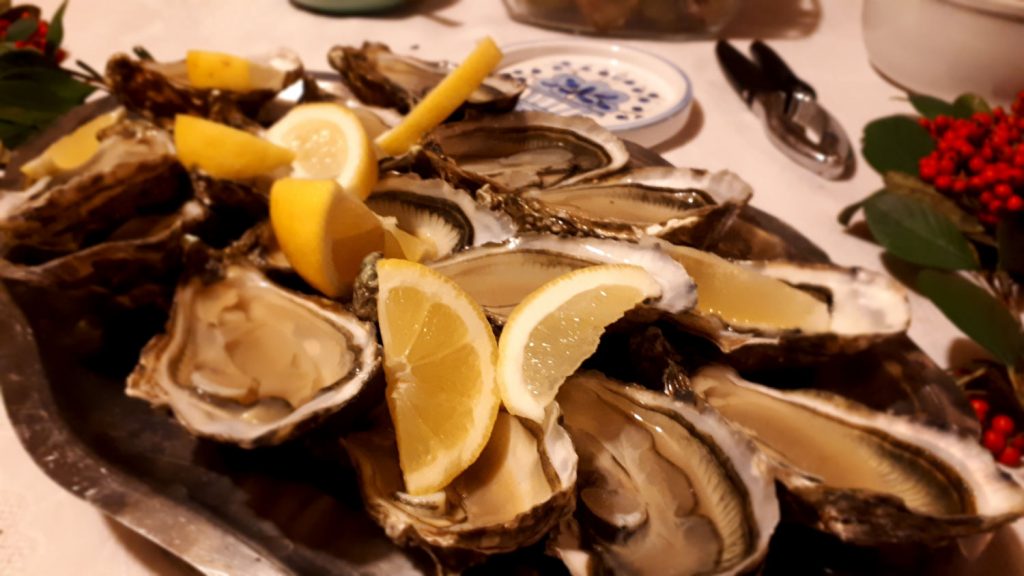 Luckily for us there were plenty of English speakers around the table so we had a good chat and got to know everyone. Just as well because if we'd had to rely on our famously poor French we would have had a very quiet night! Next it was time for the beef, seasoned and cooked to perfection, or as we told our host Michel, 'magnifique'! After the main course we were surprised to be served a cup of ice cream sitting on top of a generous serving of Calvados. Known as Trou Normand or the 'Normand hole', it's traditionally served as part of a large meal to cleanse the palate and freshen the appetite. So, appetite refreshed it was time for cheese. Several cheeses were served including one we were warned not to touch – apparently if you touch it you can never get the smell off your hands! By this time we were feeling absolutely full to the brim and couldn't quite believe it when pudding came out in the form of a fruity jelly and mousse log which looked delicious but we had no room left for it.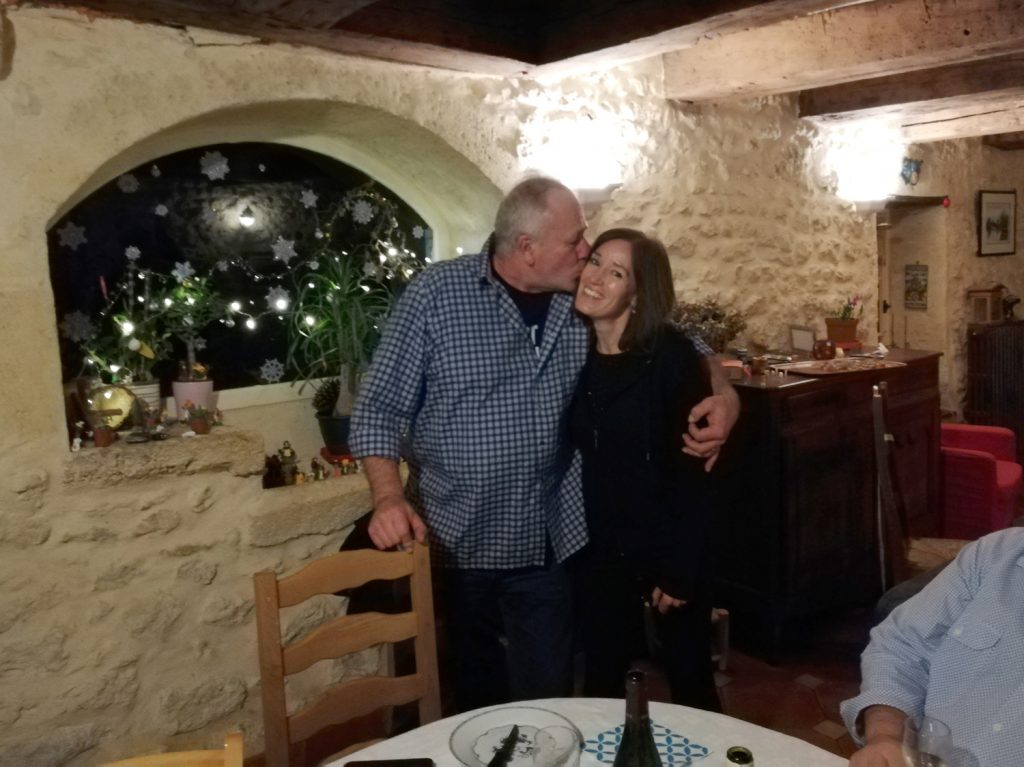 We were all so busy chatting and eating that we actually missed midnight but we soon realised and the champagne corks were popped, glassed clinked and celebrations enjoyed until about 2am when we finally gave in and decided it was time for bed. Being in the countryside we had a perfectly peaceful night until we were woken up just after 10am by Michel rocking the motorhome from side to side and shouting 'Good Morning', no doubt wondering if we were ever going to get up! We quickly got ready and went back to the house and immediately started eating and drinking again, this time coffee, toast and homemade apricot jam.  We were nearly convinced to stay for lunch knowing how good the food and company had been but the road was calling and we planned to reach Spain before it got dark so we stuck to our plan and left soon after.  We couldn't have had a more memorable and enjoyable evening to see out 2018 and set off into 2019.    Bonne Année everyone!  Wishing you all a happy, healthy year full of fun, adventure and all the things that make you smile! xx