After a quiet, cosy night in the motorhome we woke to a clear but cold sunrise over Cordoba.  Although Spain is much warmer than the UK in January, it's still chilly first thing in the morning and then again in the evenings.  Taking our time, we enjoyed a leisurely breakfast to allow the sun to warm the air up a bit before heading to explore. We moved Buzz first, a few hundred yards to a more public spot for security and set off towards the old city on foot.  A short walk took us to the Guadalquivir River, Andalucia's longest river. (Absolutely no idea how to pronounce that so don't ask!)  Its entire 408 mile length sits within Spain, stretching from Jaen in Andalucia, passing through Seville and ending at Sanlúcar de Barrameda, on the Gulf of Cádiz.  Spanning it is the old Roman bridge, the Puente Romano, where we paused to take a few photos of the bridge and its tower housing a small museum, the Torre Calahorra.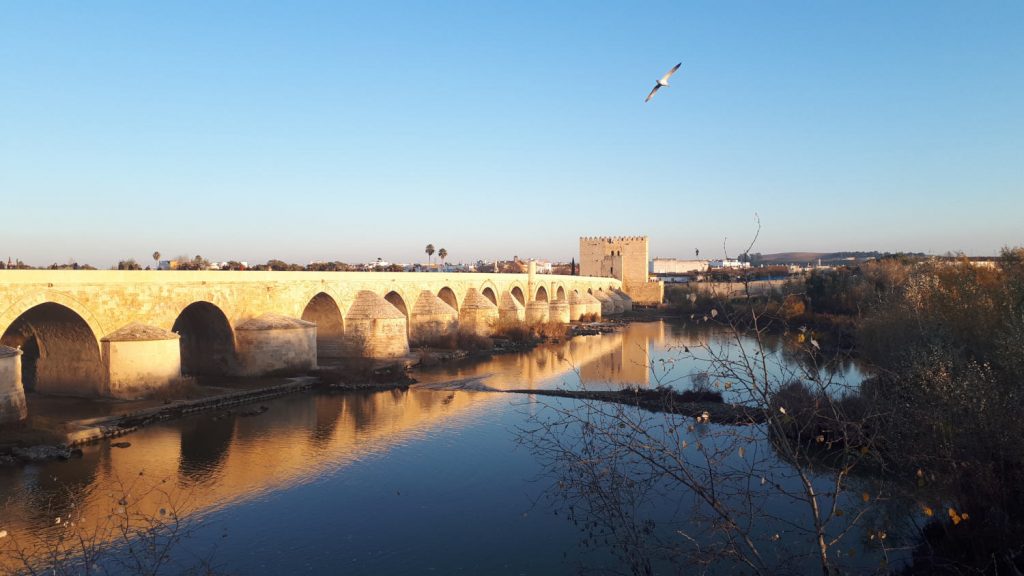 The picturesque stone bridge has been rebuilt and renovated over the centuries, today being largely medieval with many different shaped and sized arches and leads into to the historic centre. From the bridge you can see the bell tower of the Mezquita Cathedral and the old large water wheel, probably the biggest we have ever seen and built to pump water from the River Guadalquivir to the gardens of Alcazar.  As well as being part of the city scape it is home to several cats who seem to like its warm wooden panels to sleep on and soak up the sun. At this point we should apologise for the amount of times we will use the words lovely, stunning, beautiful etc, but that's Cordoba!
Walking from the bridge and up Calle Torrijos it was a short stroll past fragrant orange trees and horse and carts waiting to offer tours of the city to get to the magnificent Cordoba Mezquita Cathedral. There are several entrances to the orange tree courtyard inside the ancient walls where the orange trees were placed as a continuation of the columns in the prayer hall.  Don't be tempted to try them though, these oranges are thick skinned and bitter.  Perfect for making marmalade but not for picking off the tree and eating. And yes, in case you're wondering, we DID try one!  Over the years a lot of restoration work has been carried out and the cathedral was declared a UNESCO World Heritage site in 1984 and in 2014 a site of outstanding universal value.
One of the great beauties of the Mezquita is the classic Moorish plaster work and restrained yet stunning design alongside the bold, ornate Catholic elements. The air of peace and tranquility inside adds to its draw, its large, cool open hall and arched columns with alternative red jasper, granite and marble creating a stunning effect as far as the eye can see. The vast interior seems to go on forever.  The cathedral's roots go back to the 6th century and the site of the Basilica of St Vincent, although the current building dates from 786-788. The original Aljama mosque was built by Abd Al Rahman I and changed many times as well as changing dedications before finally being dedicated as a catholic temple in 1236 from when it continued having Christian additions built until the 17th century.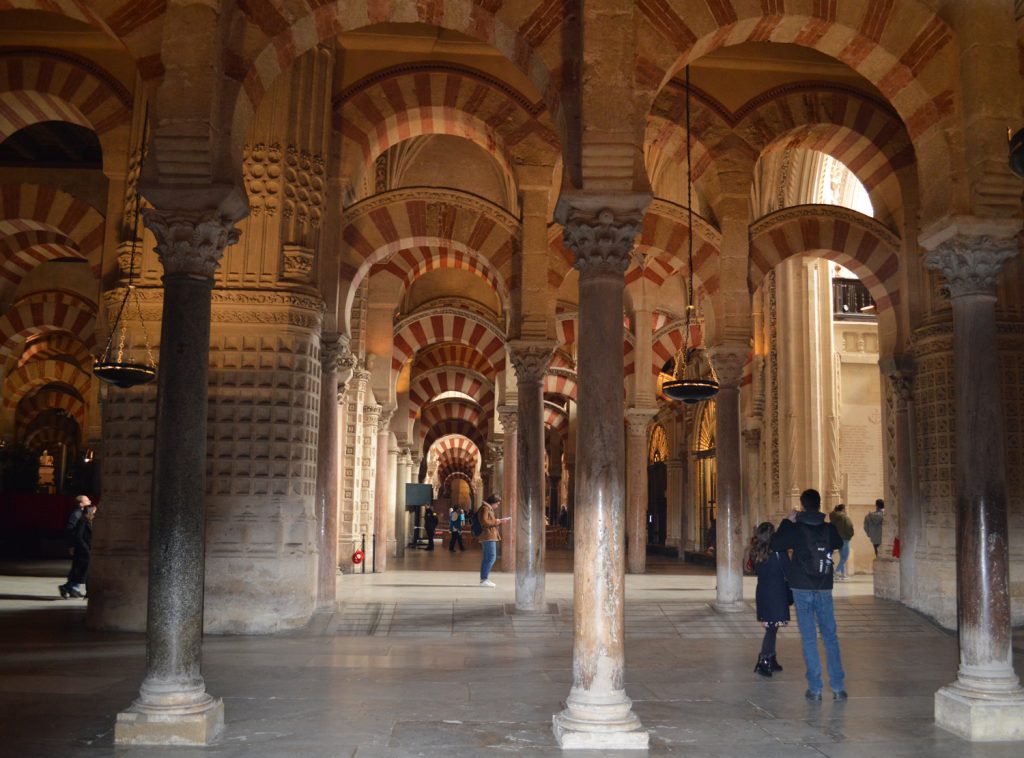 At the back of the building you can enter the strong rooms housing the Catholic processional items taken out on special religious occasions and paraded through the streets. The most impressive of which is the processional monstrance of Enrique De Arfe which was made in between 1513 and 1518 when it was first used. Standing about 8 ft tall this silver and gilt treasure is stunning if not gaudy in its intricacy and is an amazing sight.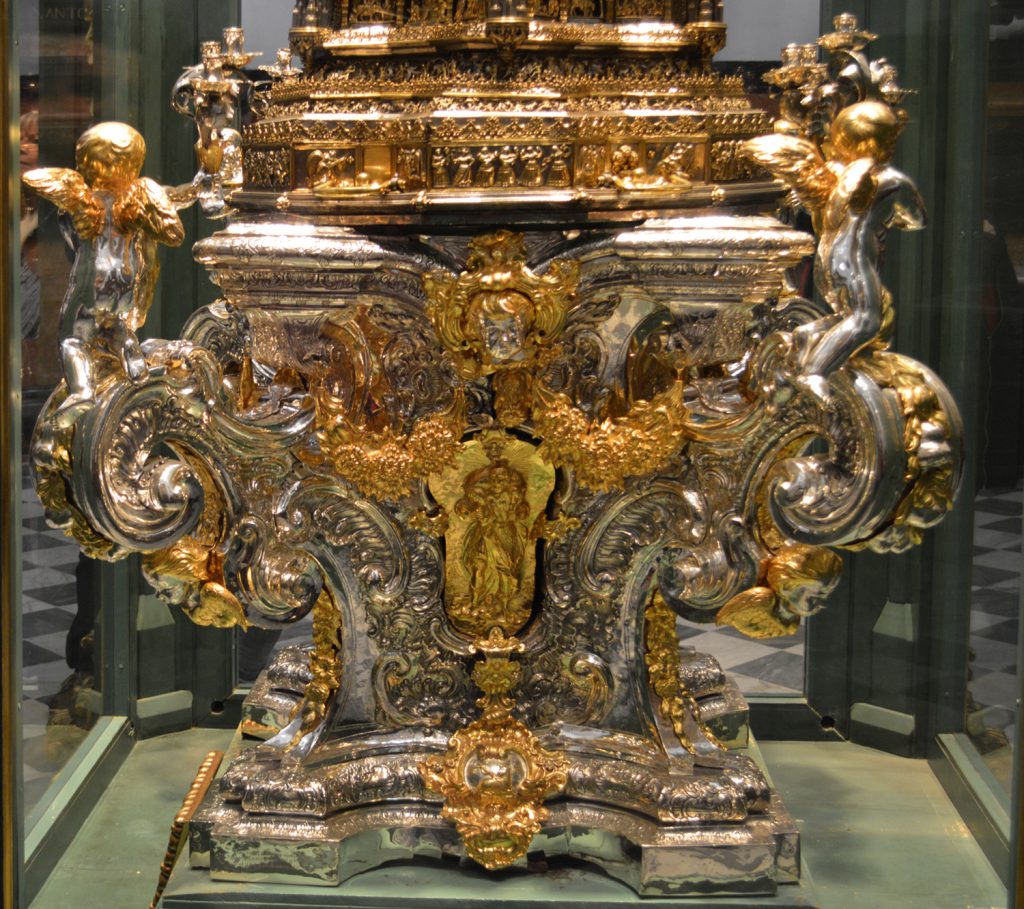 Emerging from the cathedral it was time to wander the streets of the old Jewish quarter. Whitewashed walls with orange, blue and green paintwork alongside black balustrades gave it a really Spanish feel. As with all these places the shops were a bit touristy but colourful and inviting all the same. The well-known Calle de las Flores is a narrow street lined with flower baskets, currently bright red poinsettias, lined up all along its length which was very pretty but rammed with tourists (like us!) all trying to get the perfect picture.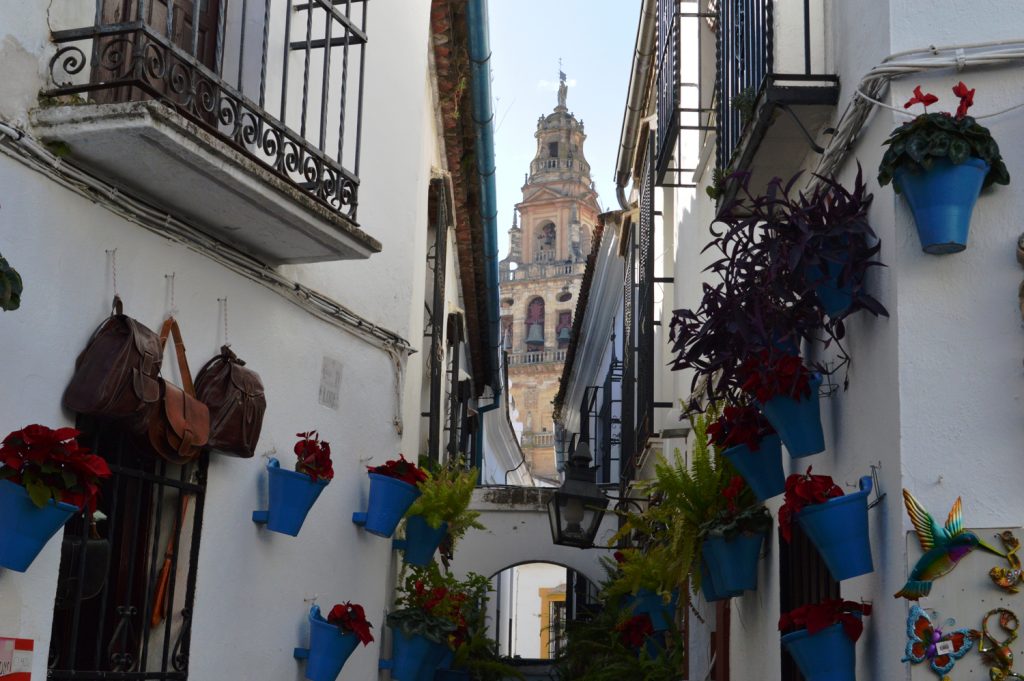 There were plenty of little eateries and we found a small cafe for a cup of coffee before carrying on. In one shop there was someone in a Santa hat (it is only just past Christmas) stirring a big copper pot of boiling hot caramel and walnuts, dripping it on the counter to test its readiness before pouring it out in a steaming, bubbling heap and spreading it out to set into a hard nut brittle. Little samples on the counter confirmed it was delicious!
Set behind an attractive courtyard filled with yet more orange trees, the fortress of the Alcazar de los Reyes glowed yellow in the afternoon sun. Built in the 14th century this atmospheric palace of the kings was a pleasure to walk around but surprisingly busy. After queuing for a few minutes for tickets (5 euro each) we walked through the main gate which led to the formal gardens. More orange trees lined the water terraces and flower beds which were planted with equally orange marigolds. Inside the building was white and tranquil and we could easily imagine how it would have been a cool haven from the searing sun in the height of summer. It was a bit of a struggle getting up the stairs to the tower and walls as the same narrow steps and winding staircase are used to get both up and down and there wasn't much room for manoeuvre. We could hear several disgruntled mutterings as people pushed past each other to try to move along. It was worth it though for a pretty panorama over the gardens and Cordoba beyond.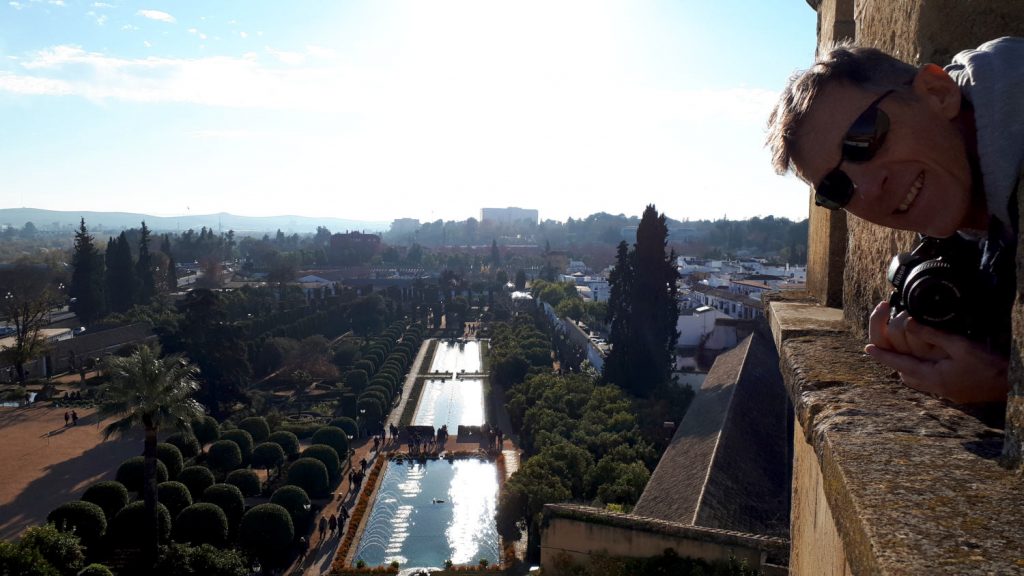 The view spanned across the arena sand school for the Royal Stables next door where we could see a couple of horses being put through their paces. The stables were created in 1570 by King Philip II who was a keen horseman with a desire to breed pure thoroughbred Andalucian horses. The very best stallions and mares of the royal stud were housed here in what are now historic stables. Having left the palace we walked along to the stable yard passing by a couple of performers in costume walking one of the beautiful horses along the street. The stable block itself is not used any more but is free to visit. Built in a military style to compliment the fortress there are many boxes along each side separated by iron railings with a high vaulted roof and sandstone columns. It's also home to a fair few ancient carriages which were in various states of repair and really interesting to look at. The riding school, the Cabellerizas Reales de Cordoba put on shows several times a week with dancing horses showing off their various disciplines to music, alongside Flamenco dancers which must be quite spectacular. We were lucky enough a couple of years ago to see the equally impressive Lipizzaner horses in London and that was an unforgettable experience so we didn't go to this one but if you've never seen such a sight it's a must see.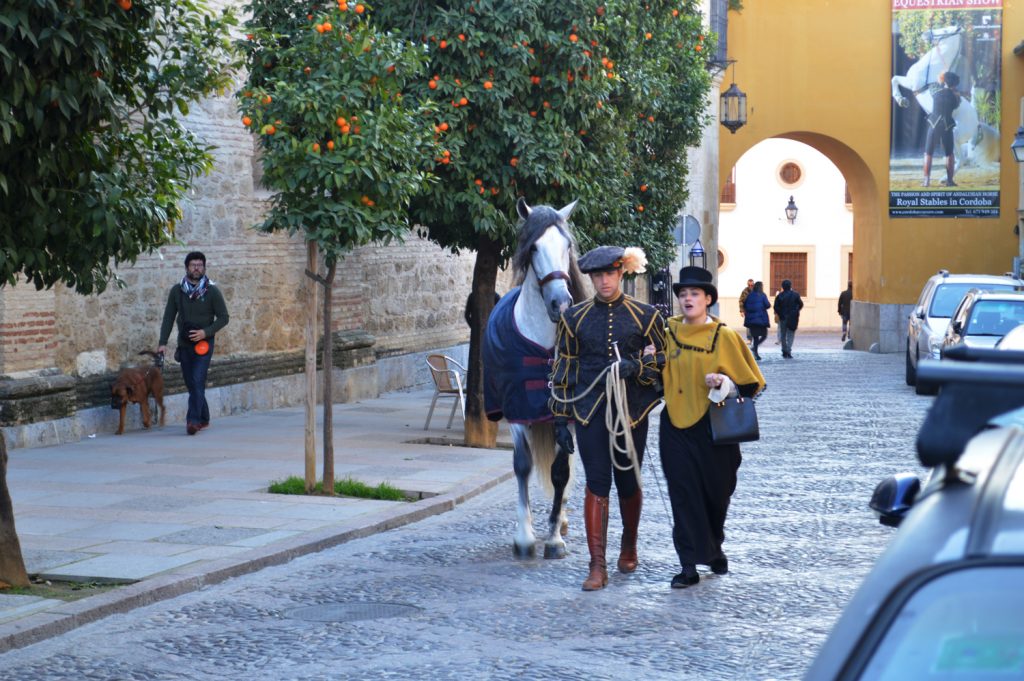 By now it was about 3 o'clock and we still hadn't eaten so it was time to seek out something tasty for lunch. Typically the Spanish have lunch between 2 and 4pm so without noticing we have already slipped into the Spanish eating timetable! On the west side of the town there's a pleasant green area with pathways for wandering away from the hustle and bustle and it's here we came across the Victoria Market – an indoor street food hall with dozens of counters all producing freshly cooked food from huge pans of paella to small plates of tapas. We opted for a couple of Spanish dishes to share – Albondigas Champignon (mushroom meatballs in a cheesy sauce) and a platter of potato and chorizo with a fried egg. We would have taken a picture as it looked really good but it wasn't until we had greedily wolfed down half of it that we thought about it and it didn't look quite so good by then! As ever the food hall was warm, busy and full of amazing aromas. There are also several outside area and indoor bar areas where you can just sit and enjoy a drink. A nice place to spend an hour.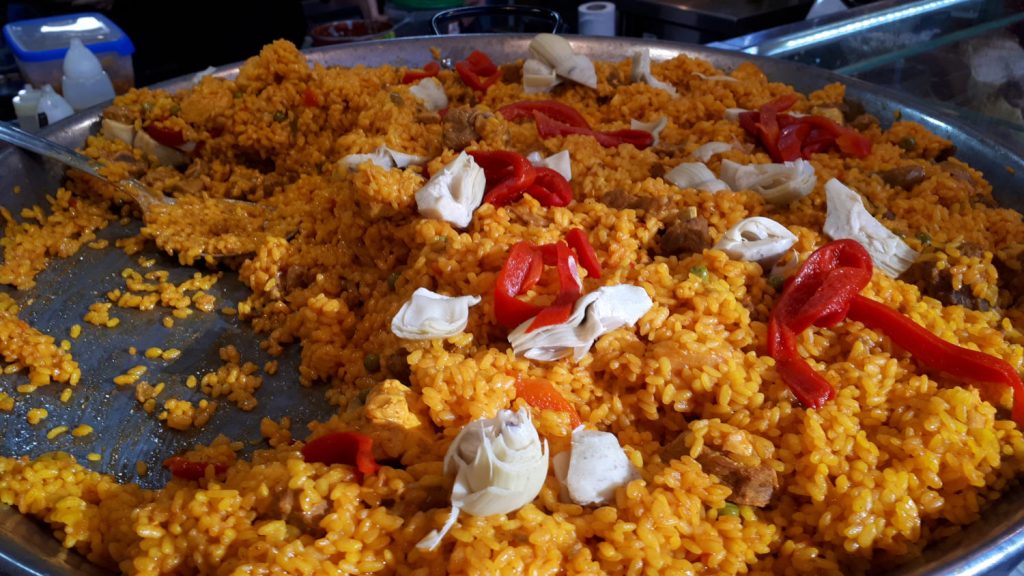 The gorgeous afternoon glow of the sun had started to descend on the city by now and when we made it back to the bridge to cross back over the reflection on the water was just beautiful. After crossing the bridge we took a walk along the riverside, soaking up the last of the warmth of the day before taking a lazy walk back to Buzz. Cordoba is a fantastic city, full of character and charm and even though we've visited so many places it's one we'll definitely remember with affection.