Our visit to the city of Bergamo, a World Heritage Site since 2017, was only a short flying visit on the way to the Dolomites. However we found this to be a pretty city of two halves,  the newer town sitting down on flat plain and the old medieval town perched picturesquely on a hill looking down on it's younger sibling and over the plain beyond.
As time was short we chose to restrict our visit to the old town,  the Città Alta, only as it looked prettier and sounded more interesting.  A hard walk up the long, steep and uneven footpath wound its way around the back of gardens growing apples, figs and all sorts of other delicious fruits we couldn't quite reach. We could have taken a less demanding walk but the very helpful car park attendant, who armed us with a map and the suggestion of a 24km bike ride (which we politely turned down!) told us the difficult option was the most beautiful.  There is a funicular that runs up to the old town but we had a good few slices of focaccia to burn off anyway so were happy with our choice.  Although the walk was hard the far reaching views on the way up made it worthwhile.
On arriving we came to the old Venetian wall that still surrounds most of the town having done so since the 1500s, protecting the city centre. Being extensive with a 6000km perimeter and largely intact it makes an impressive sight dominating the skyline from below. There are towers, bastions and 4 main city gates into the town, again pretty much intact and beyond them a historic Italian town with Roman ruins, narrow cobbled streets, lots of piazzas and plenty of shops, restaurants and Renaissance churches.  The bell tower houses the bell which still chimes 100 times every evening at 10pm (hard luck if you wanted an early night!) which was in the past a warning that the city gates were soon to close.
We just decided to stroll around taking in the sights and sounds of this busy little town, stopping to peer in the windows of the many tempting bakeries and delis admiring the delicious looking pastries and fresh pasta on offer.  We did succumb to a Pane Al Fichi which was like a misshapen scone full of figs which tasted wonderful.  Our favourite streets were Via Bartolomeo Colleoni and Via Gambito both full of food shops selling lovely local produce and lined with little cafés, which ran into Piazza Vecchia, the hub of the city, with it's neoclassical facades and collection of attractive, ancient buildings including the local Biblioteca, Duomo (Cathedral), Duomo museum, Palazzo della Ragione and Basilica as well as a couple of restaurants.
Wandering around some of these towns can sometimes be bewildering with a constant bombardment of old and often stunning architecture and Bergamo old town is no different, it would be impossible to describe everything that catches your eye, suffice to say we loved the town but didn't really get to see it all. There is a second funicular which runs up to San Vigilio Castle and over 4500 hectares of parkland as well as the four city gates of which we managed to see two.
There are also several museums and a large part of the city wall which can be walked. We did walk down by a different route having entered by the Sant'Alessandro Gate and leaving by the San Giacomo gate and it's lovely view over the new part of the city, although saying new does it a disservice, as it too is old.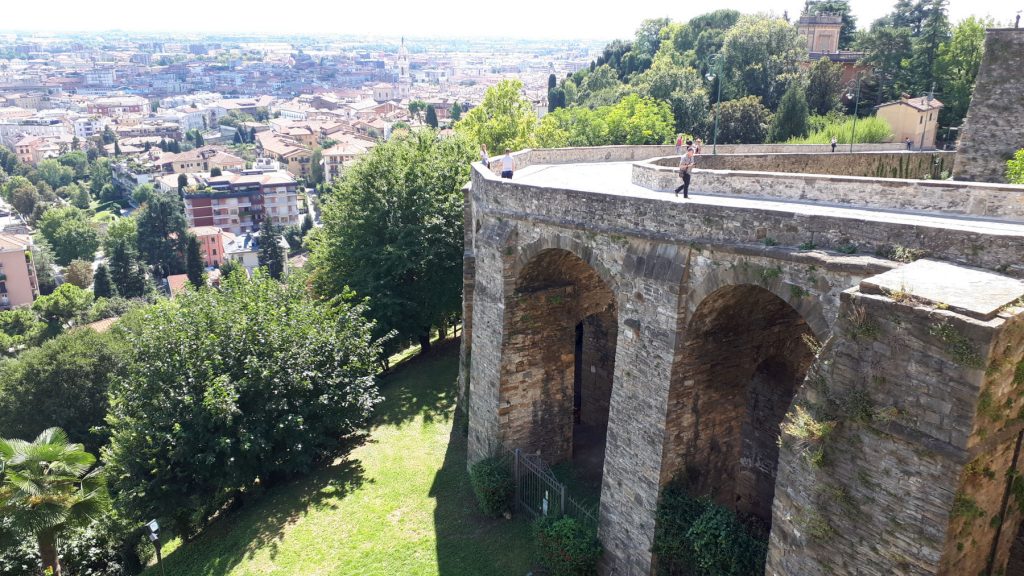 As we drove away we both felt we would have liked more time to really explore the city but we had to make a call at the local Laika Dealer ARDN to fix a minor problem with our water heater which they did very quickly and efficiently getting us on our way again in around 30 mins.
Our main reason for not staying longer was the desire to get to the Dolomites before a predicted weather change and forecasts of rain to come giving us just 2 days to drive the Grande Strada delle Dolomiti (Great Dolomites Road) before it turns into a slippery nightmare. With that in mind we headed to Ponte di Legno around 2 thirds of the way from Bergamo to Bolzano the start of the route and at 1200m a good warm up for the driving to come. After a pleasant if somewhat cooler night we headed to Bolzano and on into the Dolomites but that's another post……