Our visit to Lake Como didn't get off to a particularly good start.  We left Arona after a night of thunder, lightning and torrential rain followed by a morning not much better. Sleeping in a motorhome with rain pounding down on the roof is no joke but luckily there's an easy solution to that – ear plugs – which are an essential item on any camper's packing list!  Waiting in vain for the weather to break we got itchy feet and set off on the drive to our next destination – Como.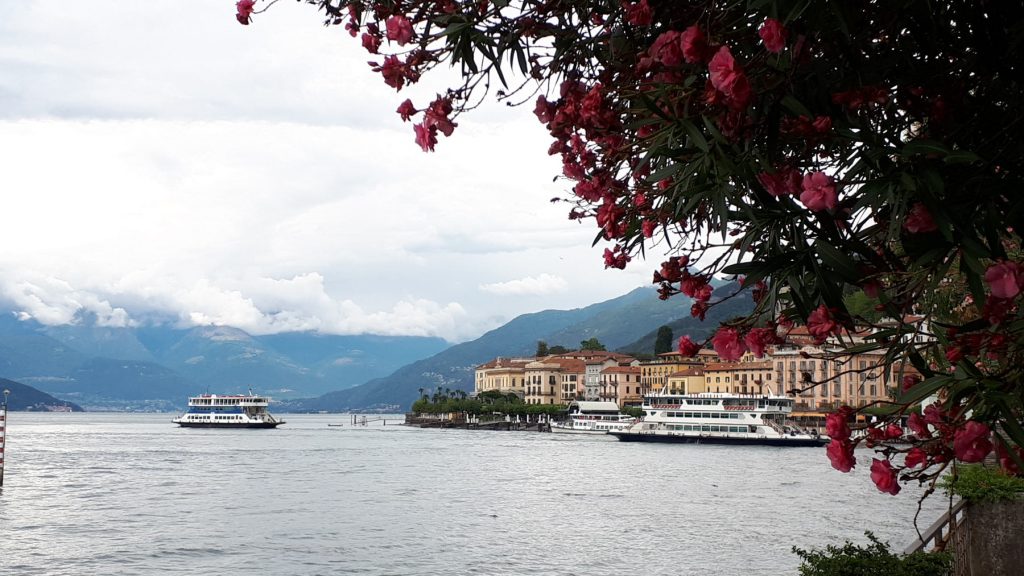 This legendary destination evokes thoughts of glamour, elegance and style that we were keen to experience, so we made our way with great anticipation.  Unfortunately the rain followed us there and didn't give up until 3pm the next afternoon.  Luckily the motorhome aire we had found was cheap to park and 1 euro in the electricity meter lasted us the whole time we were there so we took the chance to catch up with emails, work on the blog and sort out our photos.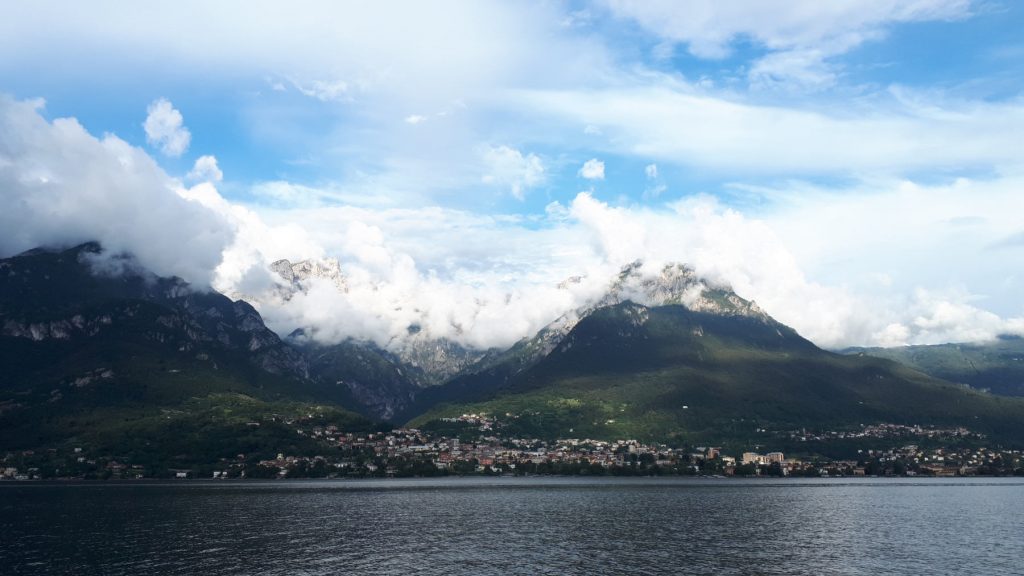 When we finally emerged from the van it was good to stretch our legs and we enjoyed the 20 minute stroll into Como town, walking through the remains of the old town walls through the open air market and towards the lake.  Rounding a street corner the 15th century Duomo (cathedral) appeared majestically before us, dominating the piazza in both bulk and height with a dazzling white marble facade.  Taking 3 and a half centuries to complete, the elaborate cathedral features a fascinating mix of gothic, rennaisance and baroque architecture, making it interesting both inside and out. Visitors are signposted to go through the side entrance, the curiously named Door of the Frog – apparently so named due to a sculpture of a frog trying to catch a butterfly which no longer remains. Inside was dark and dramatic, housing treasured tapestries and sculptures, opening upwards into sky high ceilings and stained glass windows.  Adjoining the Duomo we found the medieval town hall Broletto with its wide arches and interesting pink, grey and white stone giving it an almost striped effect. Once an important administrative centre closely linked to the Duomo, it now serves as a conference and event space.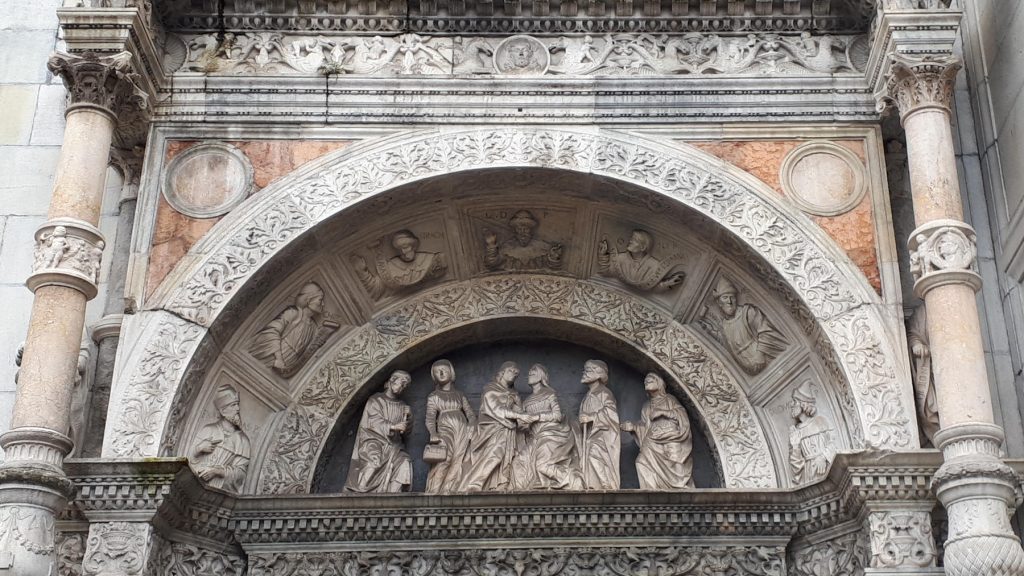 Back outside the lake beckoned, a few hints of blue sky were just starting to appear through the clouds and the air was getting warmer.  Without the sun the lake looked green reflecting off the hilly tree covered surroundings, each hillside scattered with houses perched on steep narrow roadsides. Green areas and parkland feature beside the lake and the boats in the little marina bobbed up and down in the water with larger ferry boats and water taxis coming and going. On the hill in the distance we spotted the bright yellow of the funicular train which travels up and down a vertiginous slope to the tiny town of Brunate.  Coming across a pretty piazza with small market taking place in the middle, we took a break for a cool drink and unexpected free plate of nibbles while people watching and happening to see a wedding party coming out of the church opposite. Walking back through the town it seemed the streets were suddenly full, with everyone venturing out after being shut up in the rain.  There is a good mix here of new and old, and it was a pleasure to stroll the streets in the unexpected hustle and bustle. It was not to last though and seeing the sky turn grey, we just made it back to the van before the next downpour.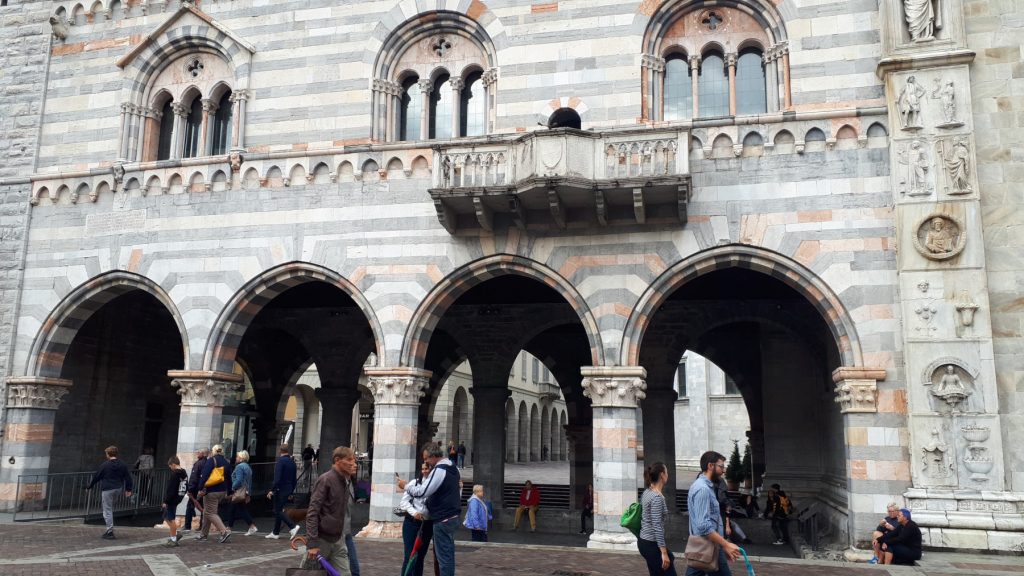 The previous night in the aire was rather noisy as we were close to a busy road so we thought we may as well move on towards our next town so we were ready to go the next morning.  Our parking spot was right opposite a small lake near Lecco and after dark we were treated to an unexpected firework display on the far bank which somewhat made up for the drizzle of rain.  We moved on closer to Lecco in the morning, took a 20 minute stroll to the ferry terminal and bought ourselves a round trip to Bellagio for our first boat trip.  As we are on a long trip for several months, rather than just a week or two's holiday, we have to be careful with our budget, rather than do everything on offer so this was to be our one and only boat trip. The sun was still holding back but we sat outside on the deck at the front of the boat for the 1 and a half hour trip, stopping at several little quays along the way.  Along the route little hamlets with multi coloured houses in every shade of yellow and terracotta were dotted on the slopes with churches and larger villas here and there, making for a picturesque, scenic journey.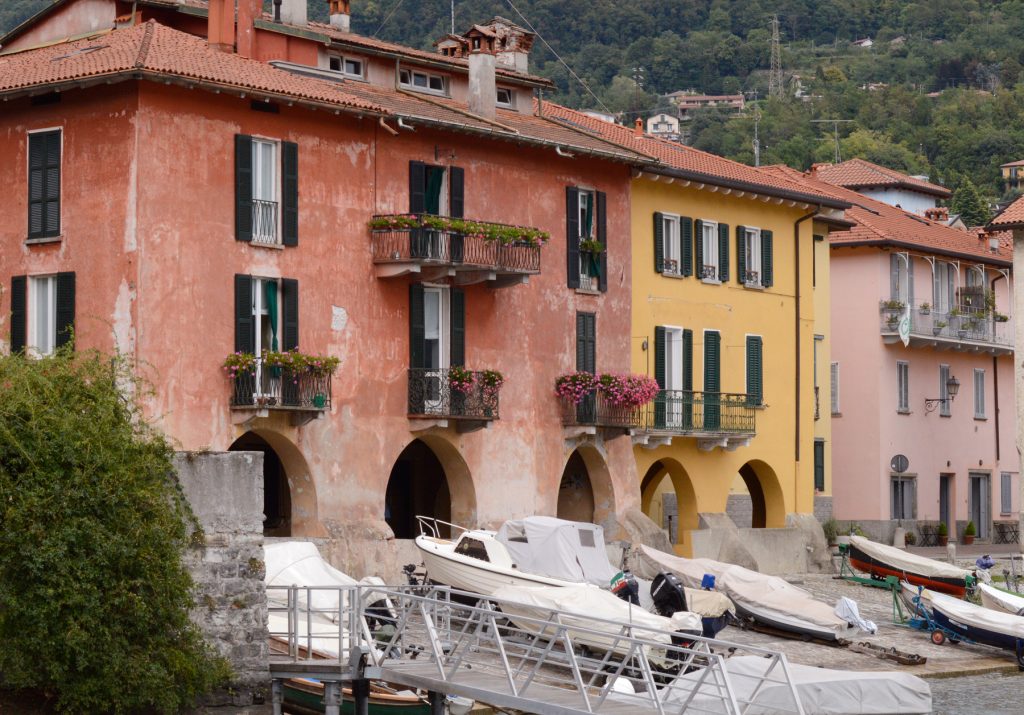 Bellagio lies on the point of land where the wishbone separates and came into view as we rounded the final corner. Home to stylish residences and grand hotels, the town oozes class and invites you to saunter along the shore side promenade, sip cocktails along the piazza, fill up on aperitivo and treat yourself to gelato – most, if not all of which we intended to do!  Leading upwards, every few feet, steep, pebbled alleyways snake skywards, lined with boutiques, cafes and silk shops.  Climbing the steps we discovered even more alleyways, mini crossroads, each packed with enchanting little restaurants clinging to the pathway, lopsided tiny tables and chairs teetering at whatever angle the pathway required. In Italy it seems no slope is too steep to be able to cram in an eatery of some sort! Wandering past it was hard to resist the delicious waft of freshly baked pizza and the sight of glistening gelato in every colour and flavour imaginable from bright, tangy mango to rich, creamy tiramisu.  We finally succumbed and after a late lunch, sat people watching at the waterfront, we rounded it off with a double stacked gelato cone which was the most mouth-wateringly delicious Amaretto and dark salted caramel ice cream we have tasted in a very long time. We would have taken a photo but there was just no time – gelato like that has no time to stand around, it just needs to be enjoyed there and then, no hanging about!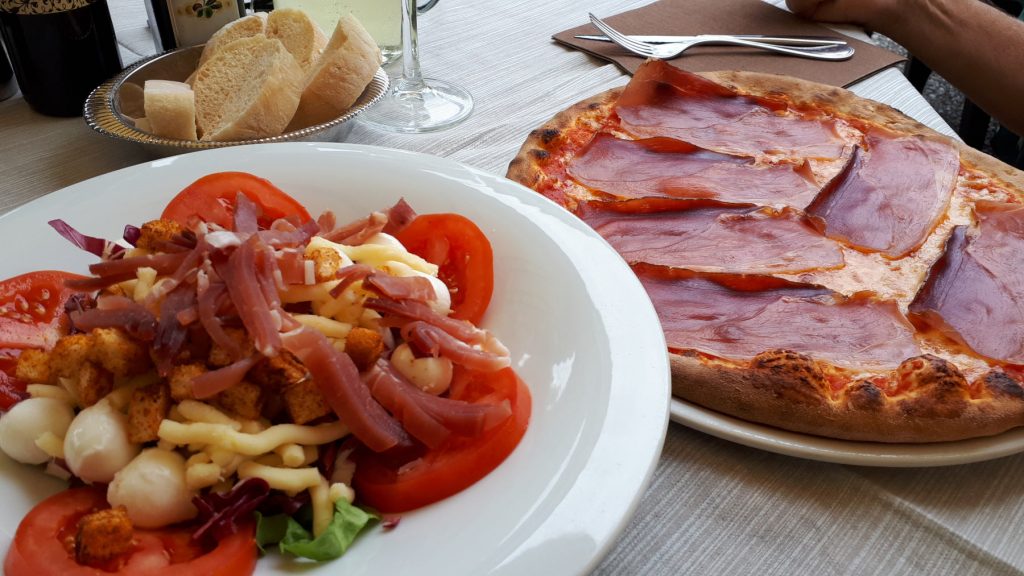 There happened to be a craft market along the end of the piazza that day selling a whole range of hand made wares and artwork and as we strolled along the sun finally showed its face.  Each stall was colourfully draped with yellow organza with olive wood boards, silk goods, jewellery and accessories on offer.  Nestled amongst the pink blossoms on the trees and plants alongside the front, it was a cheerful sight.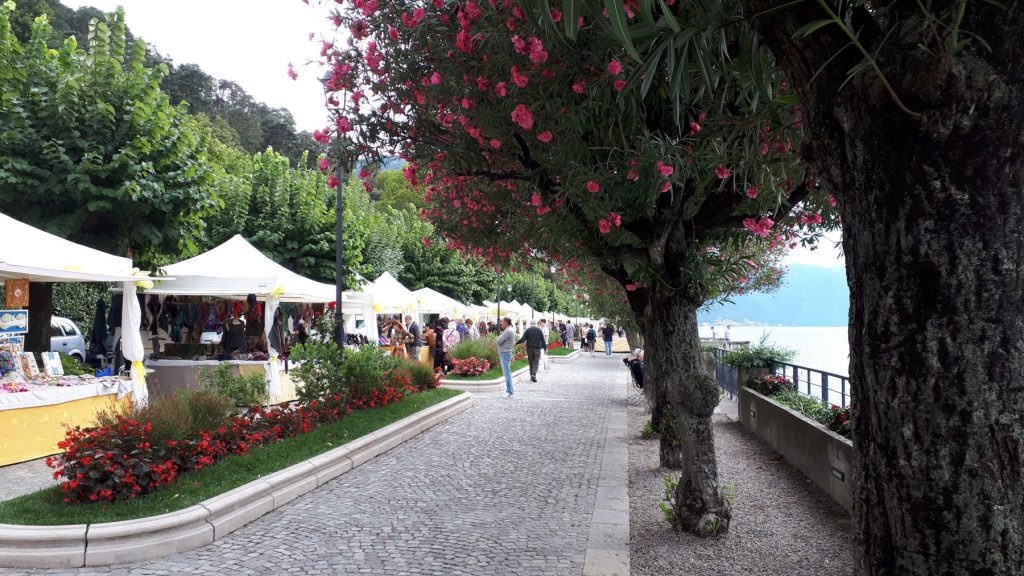 Boarding the boat on our way back, full, happy and relaxed we sat inside for the late return trip and reflected on a day well spent and the end of our visit to Lake Como.