We were both looking forward visiting Jerez and looking at the options we felt it would be better to stay outside the city and get a train or bus. We opted for Puerta de Santa Maria, sitting between Cadiz and Jerez, getting into the city would be an easy 10 min train ride and there looked to be plenty of parking available.
Arriving in Santa Maria just before mid day we headed straight for the station with its nice big car park and parked Buzz without any issues, heading straight for Jerez or to be more accurate Jerez de la Frontera. Walking into the station for some bizarre reason we both looked at the departures board believing we had missed the 12.50 train before realising there was another at 13.06, so got our tickets and headed to the platform. It was only on the platform that we realised it was actually 12.00 not 13.00!! With a train due in 10 minutes, apart from our not even knowing the time the ten minute journey is easy and cheap.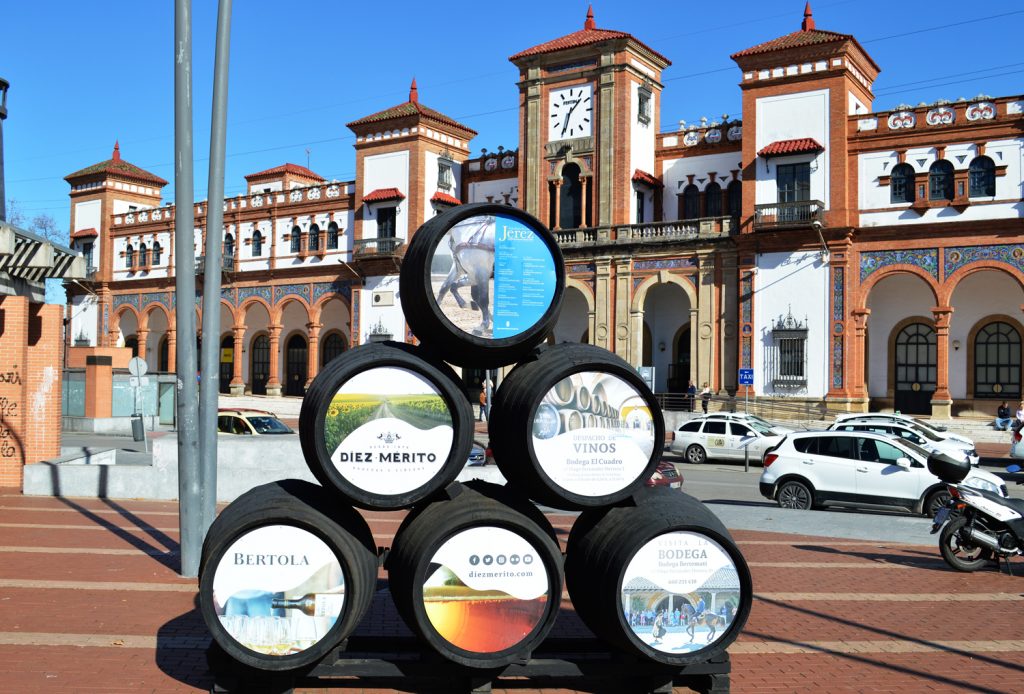 Once there we orientated ourselves and headed off towards the city centre and our friend the Tourist Information office around 20mins from the station in the Plazza De Arenal. Armed with maps and plenty of info we set off to explore.  The Plazza is close to the Alcazar and Cathedral. We spent a couple of hours wandering around looking at the interesting buildings, streets and Plazas including a stop for lunch, knowing we would be back tomorrow for a yet to be confirmed Bodega visit it was more of a cursory look. On first impressions we felt a little disappointed as having been to Ronda & Cordoba we expected Jerez to be similar in style. It isn't and on reflection it was a bit harsh as Jerez is Jerez not anywhere else and as we found out over the next 2 days has its own charm.  We took a stroll back to the station via the Bodega we were to visit the next day, to check the route then back to Santa Maria. At this point we hadn't decided where to park for the night although Google had offered up a nice looking option beach side, which in the end turned out to be perfect.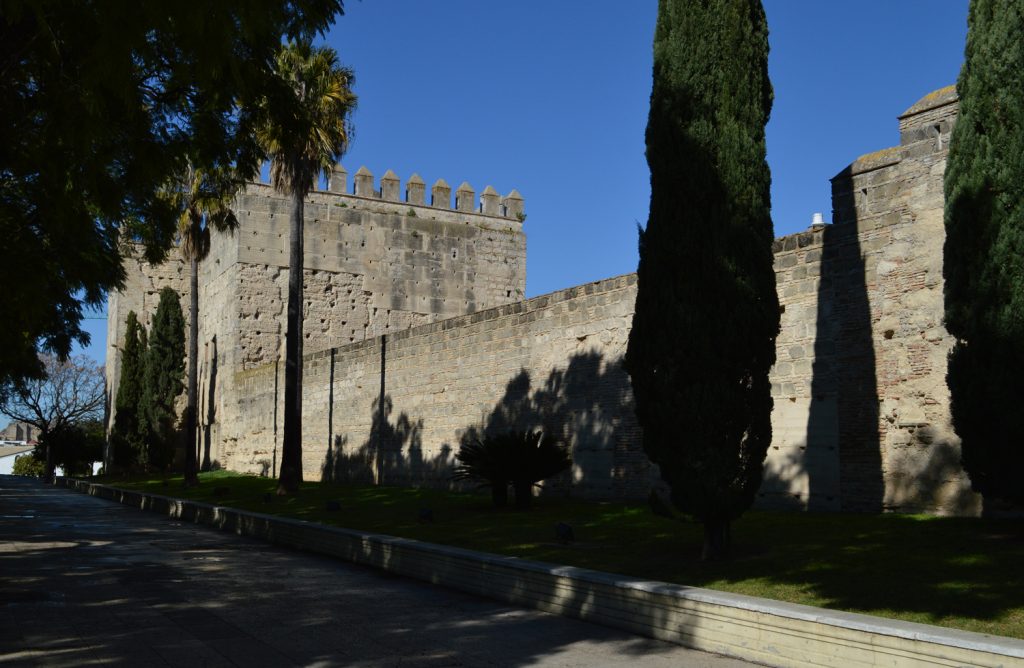 After email confirmation of our Sherry Bodega tour to Diez-Mérito, we set the alarm for an early start. After a relatively peaceful night except for the fishing boats heading out at goodness knows what time we woke, had breakfast and headed back to the station. This took a bit longer than planned as the town market had appeared and set up closing our route back and as is the way with these things there were cars parked everywhere but we arrived just in time for our train. A short walk in Jerez found us at the Bodega Diez-Mérito perfectly timed for our visit, where we were greeted by Maria who asked us to wait in a sunny inner court yard full of orange trees and doors going off in all directions. At this point there were just the 2 of us and we thought we were waiting for some more visitors but as it was there was just us and a couple of minutes later Maria arrived to take us on the tour.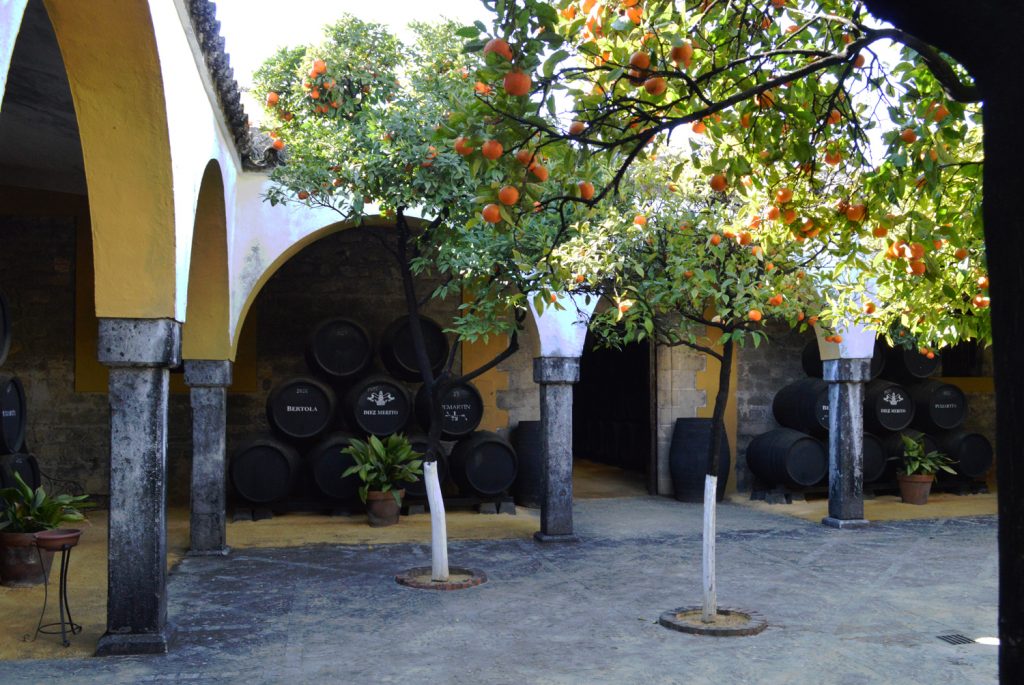 Diez-Merito dates back to 1876 when the original wine company set up by 2 brothers, a third brother later joining the company at which time they were granted a royal warrant by King Alfonso XII and allowed to use the Spanish coat of arms on labels & stationary. The company changed hands a couple of times during the later part of the 20th century before being bought by a local family from Jerez the Esponosa family in 2016. At that time they also bought Bertemati a beautiful bodega dating back to 1760 which sits in the centre of Jerez where our tour was to take place.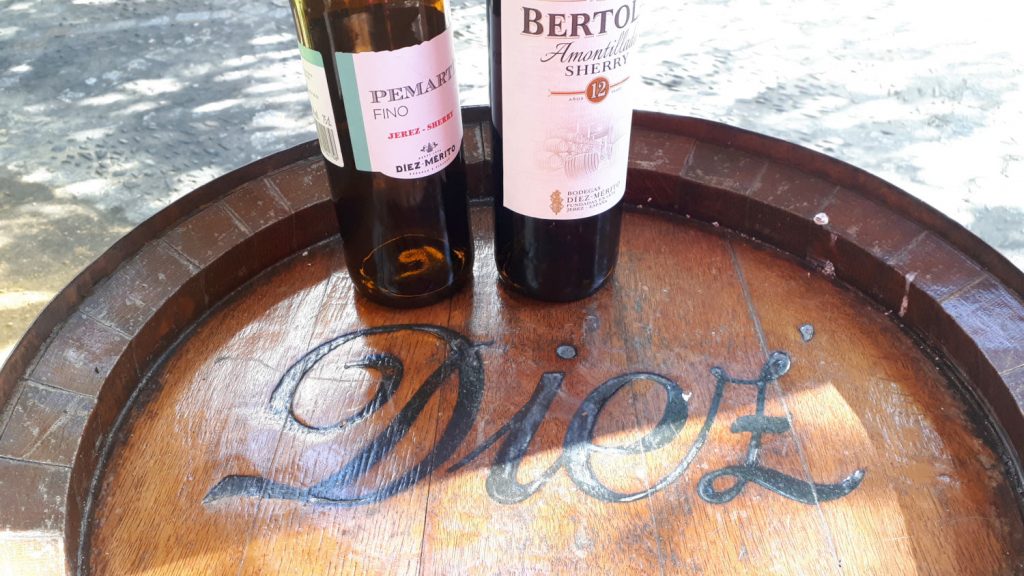 At this point just a quick word about why we chose this particular Bodega, as there are so many to choose from we turned to Trip Advisor and looked through a fair few including all the big names. One thing came across that a lot of tours including the bigger companies are all about publicity and not about the process of making sherry, also this was the only tour we found with no negative comments and as it also turned out was better value and there is a very good reason for that as you will see later.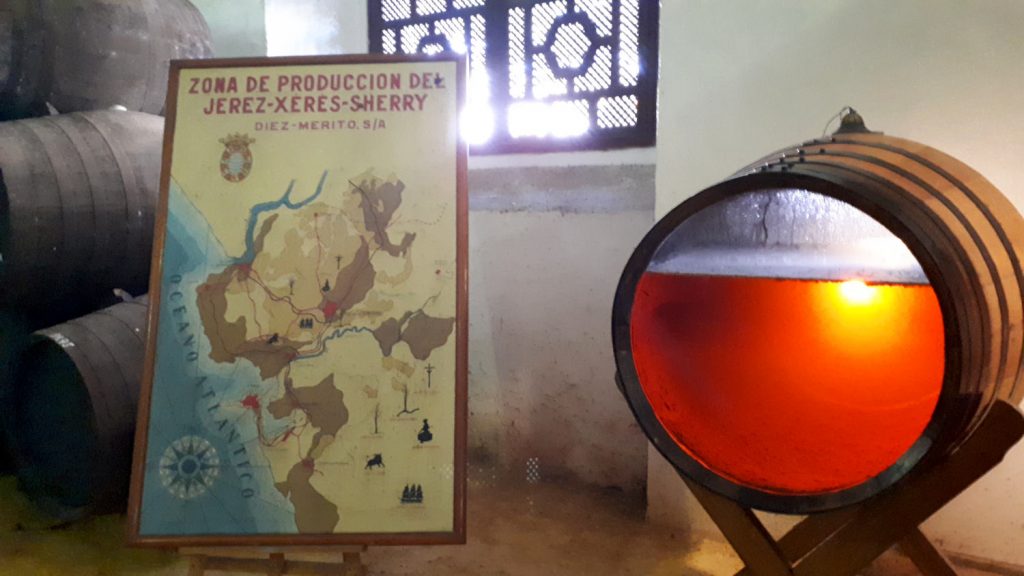 Our visit lasted around 70 to 80 minutes which was the perfect amount of time, had there been more of us it would have taken longer. Maria started with a brief introduction to the company and its history before walking us through the bodega explaining about the region, the process of making the sherry, its types and styles, the grapes used and how they differ from each other.  They also produce Brandy here and have their own 100yr old Brandy in its own crystal decanter and presentaion box.  At 100euro each it was a bit more than we wanted to spend!   They also have one of the oldest wines in the world Amontillado Fino Imperial whose Solera dates back to the beginning of the company in 1876. The Solera is the system of production where sherry is only ever taken from the bottom or most mature barrel (depending on the style being taken, lighter, younger sherries are drawn from the top barrels) only ever taking around a 1/3rd out at a time then being topped up from a younger barrel and so on. This means that the sherry in the bottom barrel always takes on the characteristics of the oldest sherry. The Fino Imperial Solera being over 130yrs old.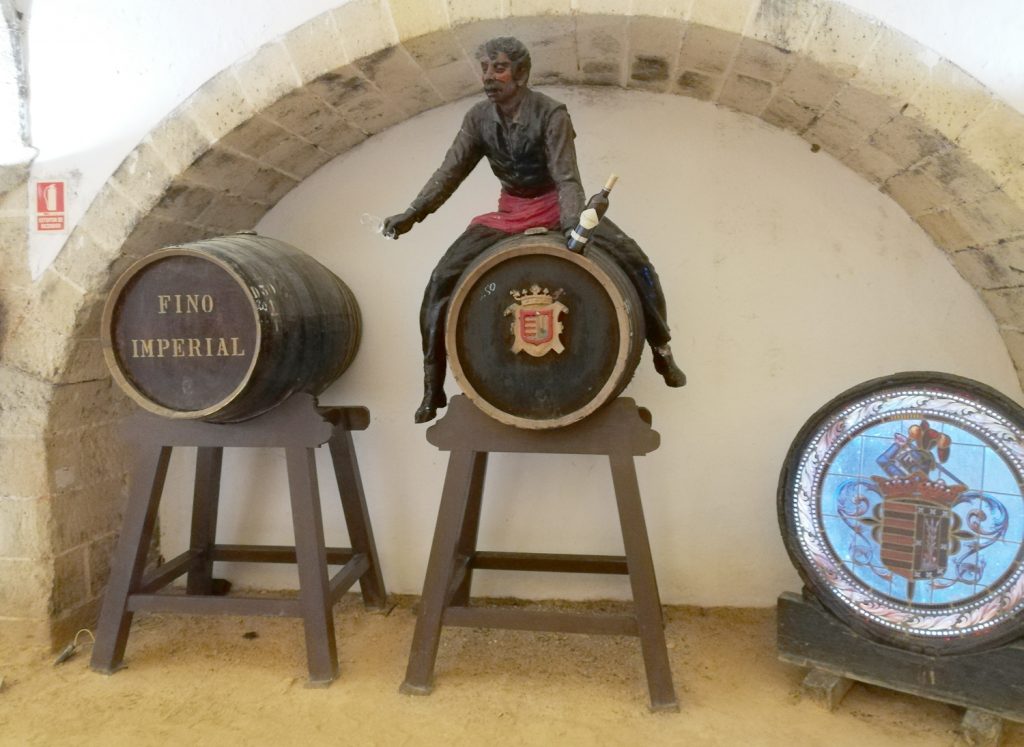 Maria was informative and helpful answering all of our questions as we walked and talked, she was definitely knowledgeable. After the tour we had the opportunity to try all 5 styles of sherry produced by Diez-Merito starting with the Fino finishing with the Pedro Ximinez and I have to say they were all delicious. We opted for the British style Cream sherry to buy, as we have some Montilla Moriles Fino & Pedro. We really enjoyed our tour and feel happy we made the right choice and while others may want different things from a tour we would recommend checking them out. We also found out later that Diez-Merito is the only bodega in Jerez that still picks all its grapes by hand for 2 reasons, firstly and most importantly they can employ 400 local people during the picking season bringing valuable work to the area (albeit just for the 4 weeks of picking), and secondly there is less damage to the grapes therefore producing a better more authentic product. For more information about visiting Diez-Merito you can view their website or Facebook page you can also book a more extensive tour in the UK at Benchmark Travel before coming out (advisable in the summer).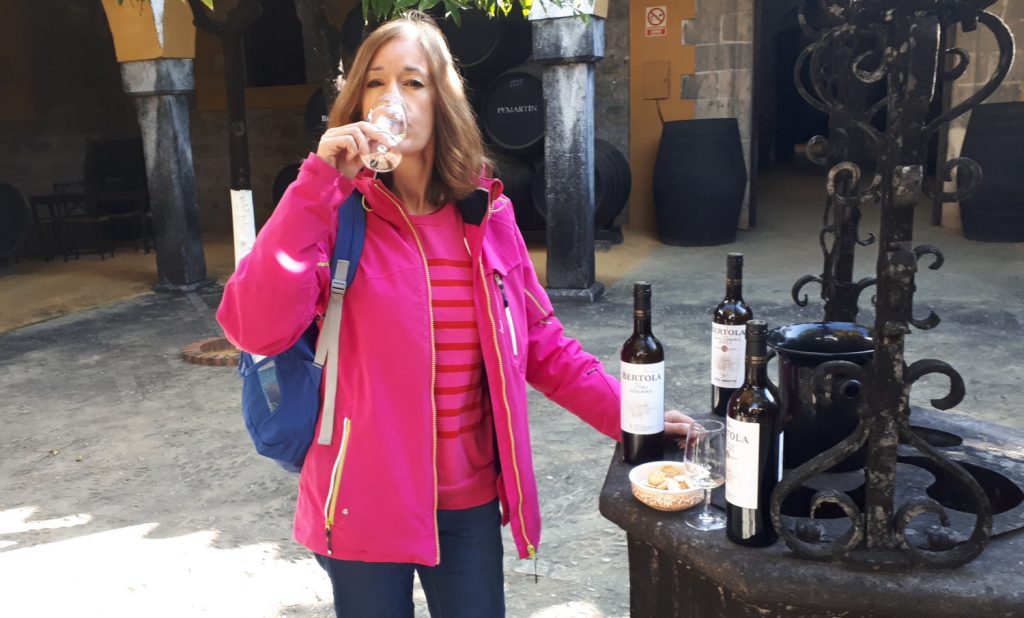 Well after our tour it was time for a sobering coffee and a walk around some of parts of the city we missed the day before. With a break in between for lunch, where we chose an artisan cervezaria, which was very nice although we actually opted for tortillas and cheese and some German sausages! In a Spanish bar, nothing like being authentic and that was nothing like being authentic. Later before heading back we walked to the Andalusian riding school where we had a visit booked for the following morning, our aim being to see if we could bring Buzz into town and park nearby as we intended going off towards Seville after the visit. We duly found a nice big car park just a short walk from the school, then set off for the station and Santa Maria back to Buzz on the beach for the night.