In the heart of Jerez is a hidden world of horses.  Home to 120 pure breed Spanish stallions, all trained or being trained in the intricate disciplines of dressage or carriage driving.  Tucked away just a few feet from the busy streets of Jerez de la Frontera is the Fundacion Real Escuela andaluza del Arte Ecuestre, the prestigious Andalucian riding school. Once you step through the grand entrance gates to the grounds you arrive in a different world.  A luxurious palace with feature fountain sits in the centre of a botanical garden giving you the first taste of what's to come.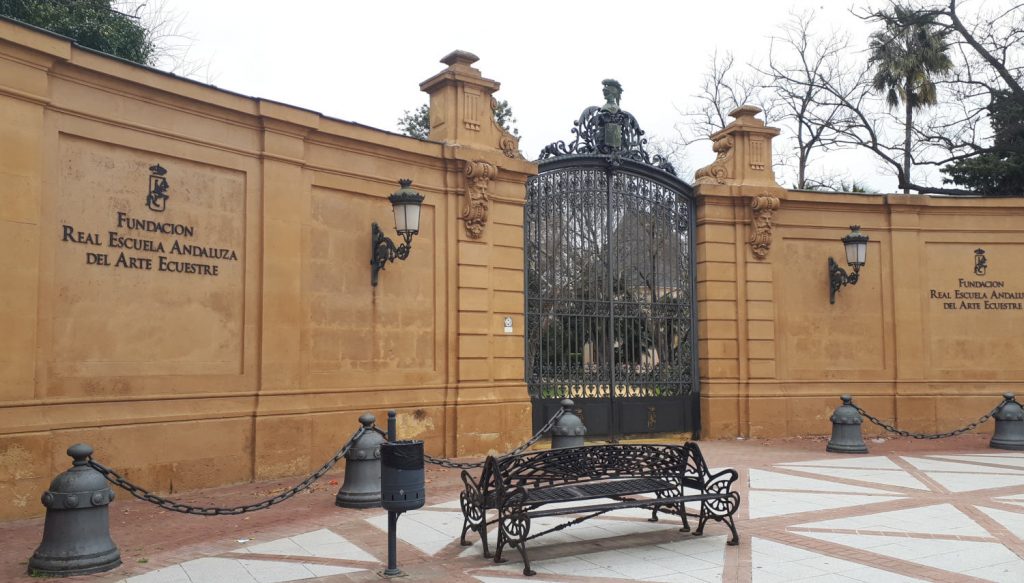 There's a calm, intimate atmosphere as you wander around and we felt more like privileged guests rather than tourists.  The sandy walkways led around the gardens to the warm up and exercise area where a gorgeous grey dappled young stallion was being lunged by a student and a handful of horses were walking around an exercise carousel.  Alongside there's a large sand school where we saw several horses being worked as well as a carriage driver practising at quite a speed.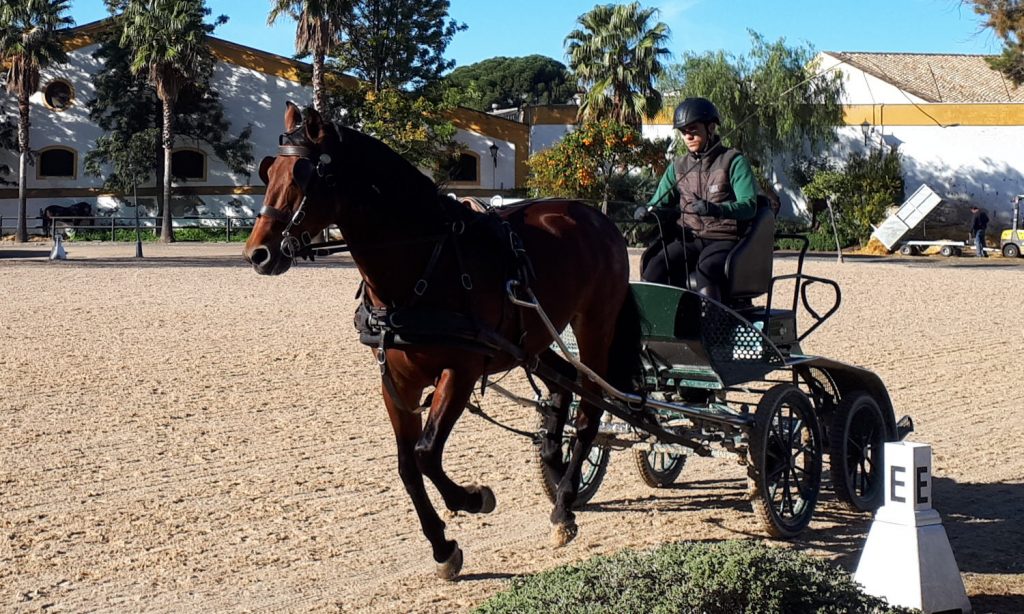 The horses here range from 2 1/2 years to 25 years old.  Most belong to the school but there are also some MOD and privately owned horses here, all undergoing training. The young ones start with basic training,  and gentle handling, moving on to lunging without tack, then with tack until eventually adding a rider.  They progress to being taught the difficult classic dressage moves and challenging, choreographed performance routines and jumps that the riding school's 'How the Andalusian Horses Dance' show is famous for.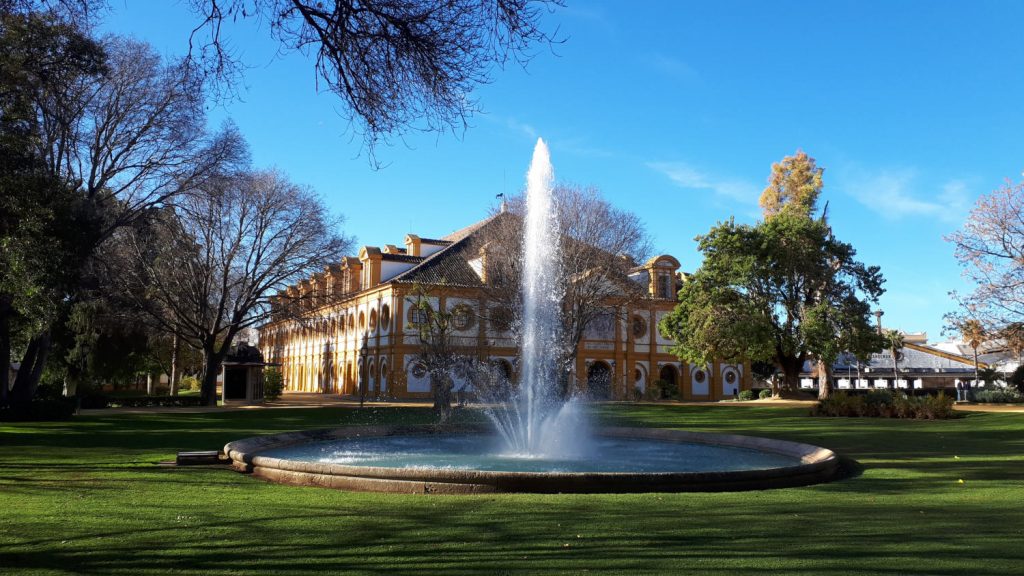 Each year 150 young riders from 18-24 years old apply for just 6 coveted places at this prestigious school.  The intensive course lasts 4 years and includes learning about the biology of the horse, its care, nutrition and needs. Every year each pupil is assigned a professional rider with his/her own set of horses and this changes every year so the student gets a completely rounded education with horses young and old, experienced and not.   At the end of the course, if successful, these riders are employed all over the world, such is the reputation of the school.  The students wear green and the professionals navy so as we walked around it was easy to see who was who.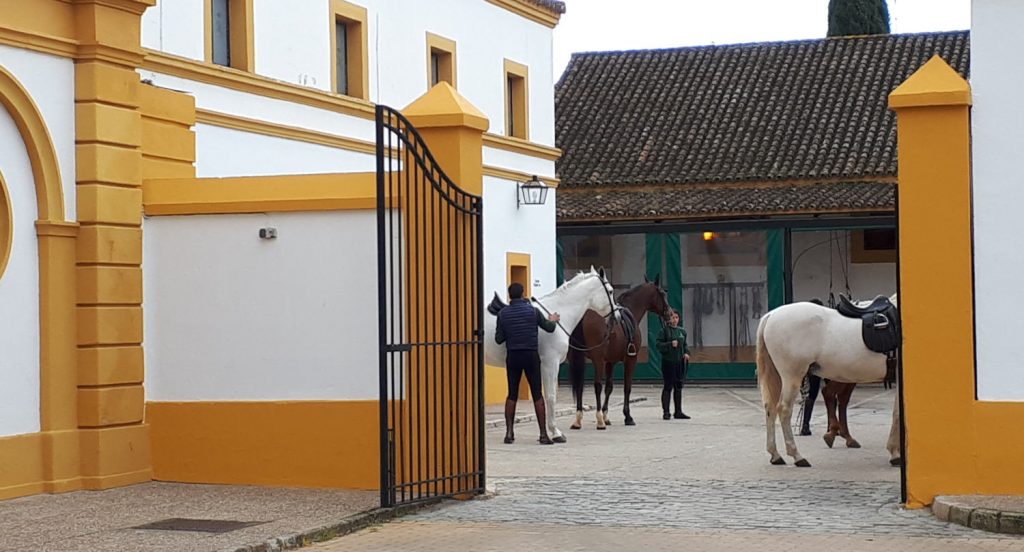 We were free to wander into the indoor arena (no pictures allowed) where a dozen horses and students were being put through their paces.    It was fascinating to watch the mix of experienced horses and riders, some obviously very confident and others not so, the professionals in the centre giving verbal instructions.  The indoor arena is also where the exams take place, being judged by 6 pro-riders, and if a student is unlucky their exam time may well fall when the school is open to the public and during the summer there can be as many as 500 spectators – talk about nerve-wracking!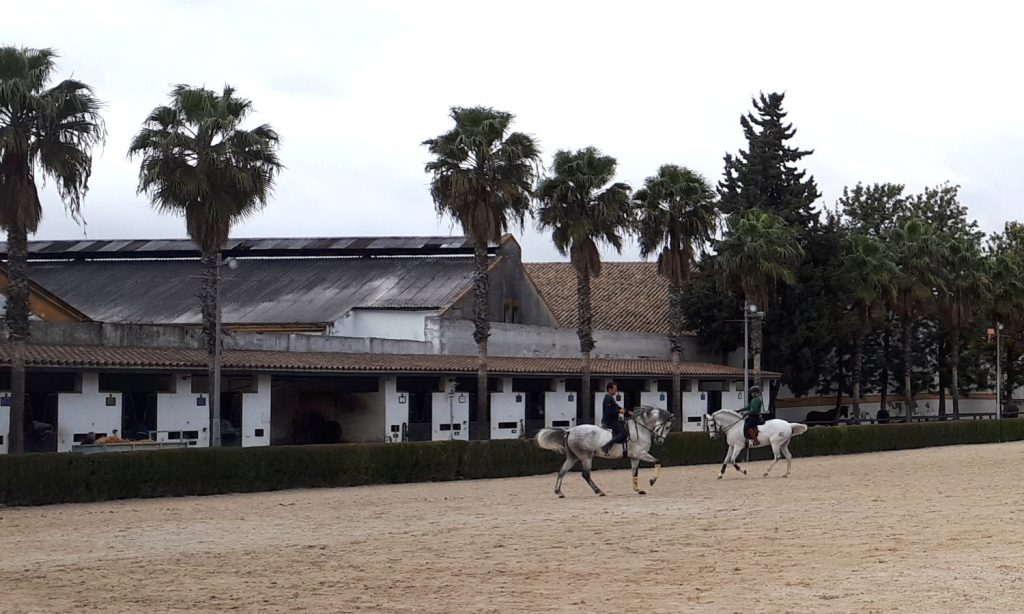 There's also an interesting history of the horse museum with plenty of information and videos in English.  In the saddlery workshop there's a display of how a Spanish is saddle is made in its different stages and two leather worker were sat working amongst all the leather, diagrams and partly made up bridles, decorative head pieces and more saddles.   The tack room is separate and housed in a tall, round building with saddles and bridles all the way around the bottom and decorative show pieces displayed and used for performances above.  One man has overall responsibility for ensuring each horse's equipment is stored correctly, kept in good repair and thoroughly cleaned and inspected after each use.  While training the horses are given a soft English saddle which several horses share. It is not until they are fully trained that they are fitted for their own Spanish saddle.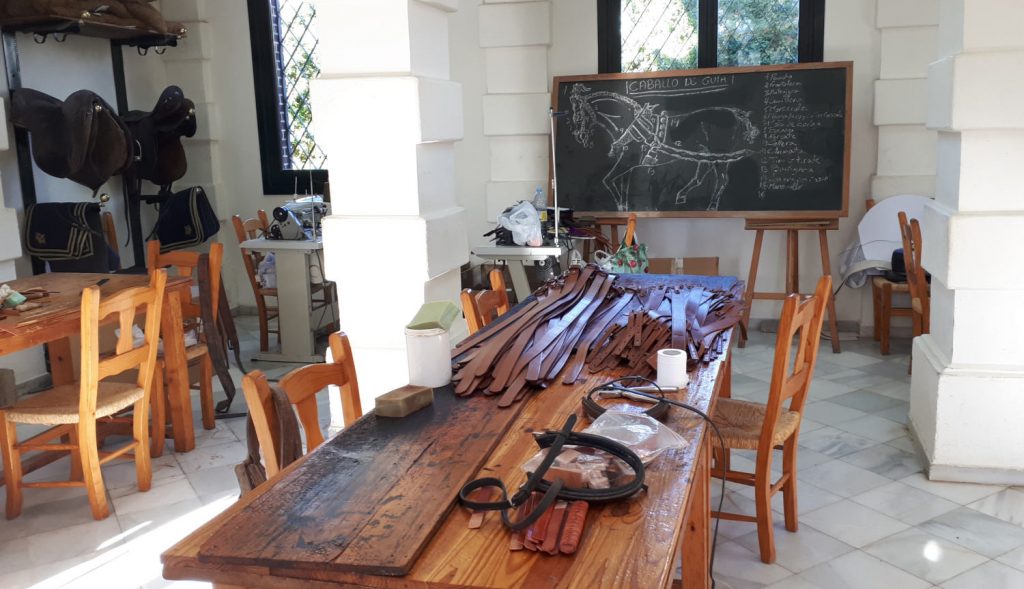 We were also free to walk through the high-ceilinged rooms of the palace, sparkling with chandeliers and tastefully painted walls.  We were then assigned an English speaking guide who took us into the stable area where interestingly the bays are separated from the greys.  Each horse has his own large stall with his name, mother and father's name, date of birth and owner on a metal plaque above the door.   It was a hive of activity in the stable area with horses being groomed, handled, tacked up and taken in and out for exercise.  Out the back is where the farriers shoe the horses – a local father and his two sons who have been working here for many years.  Not all the horses are shod and some just have two shoes depending on what exercise they are doing.  There's a fully functional emergency operating theatre here too and a vet on site at all times.  For such an exclusive school it all felt very friendly and personal, not at all stuffy despite the luxurious surroundings.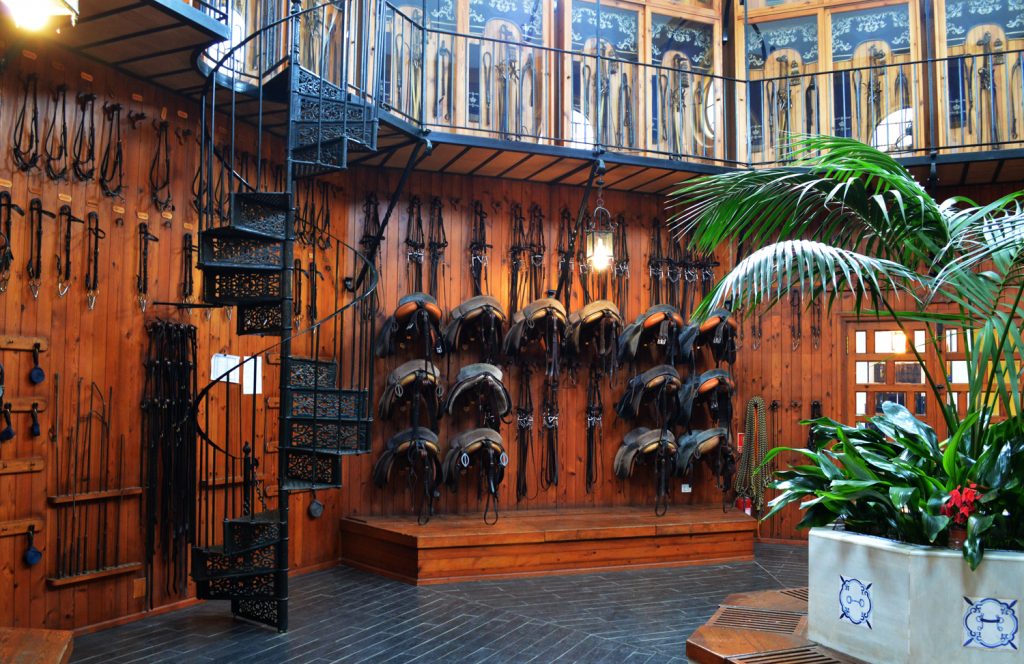 I've always loved horses. They have kind eyes with great intelligence behind them. These stunning stallions both powerful and muscular are mesmerising to watch. Their movements are both strong and somehow delicate, elegant and agile.  We left feeling uplifted with another unforgettable experience to remember and add to our growing collection.