We'd been waiting to walk the Caminito del Rey for about 2 years ever since we came across it when planning a few days away in nearby Granada.  Not far from Antequera it was to be our next destination and we were really looking forward to it. In the past it has been described as one of the most perilous walkways in the world with many an intrepid walker meeting their end along its dangerous path.  Set in one of the most scenic spots in the Malaga mountains it is now thankfully completely renovated and absolutely safe, clinging to the outside of the canyon rockface winding its way through some stunning scenery through the Desfiladero de los Gaitanes gorge.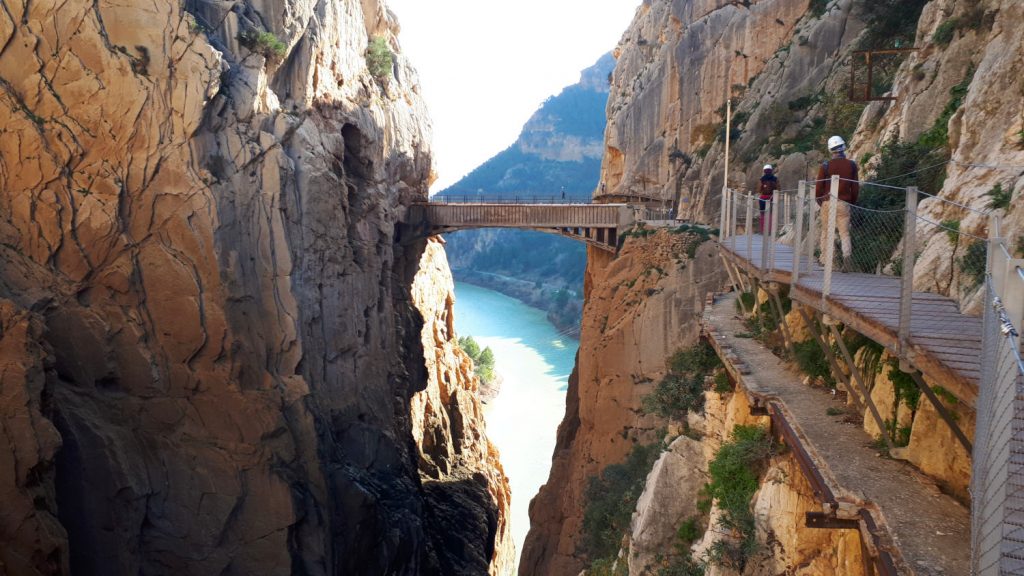 First we had to get there.  The path is linear so you have to park either one end or the other and then get the shuttle bus or train back to where you started.  We opted to park on the South side (the end of the walk) so we made our way to the rather small and busy car park, quickly realising that there was no room for us.  Luckily there was a space further up on the road side so we parked there instead, on a bit of a sideways lean, but otherwise fine.  The shuttle bus goes every half hour drops you off and then there's a 1.5km walk to get to the start of the actual start of the walk.  To get to the beginning you have a choice of a walk through a shorter but very small, slightly claustrophic, dark tunnel or a larger, wider, dimly lit one that is a bit longer.  We opted for the shorter one, dodging electric cables dangling above our heads along the way.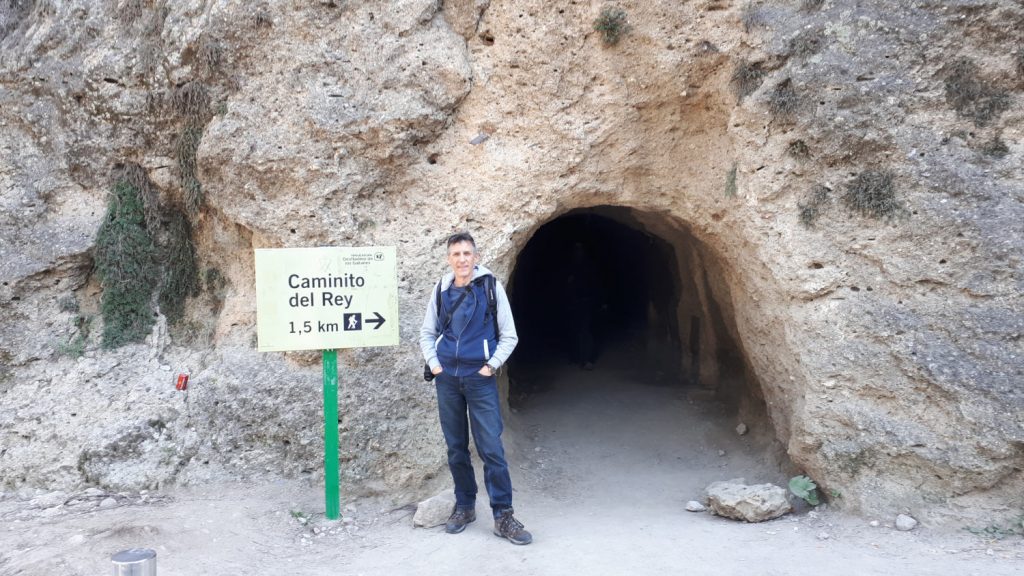 When you arrive at the real start there are a couple of toilets (thank goodness!), your last chance to go before you set off.  The walk is a still a good 5km from here and takes up to 3 hours depending on your pace and how long you linger. Issued with helmets and firm instructions that there was to be no turning back, no littering and no selfies on the bridge we set off with a group of about 25 others, slightly concerned that there were so many people.  We needn't have worried though, everyone seemed to space out and it didn't feel crowded at all.  The first park of the walk led us along a wide stony track through picturesque scenery dotted with fragrant pine trees, holm oaks and tall eucalyptus trees.  On the ground short fan palms splayed out mixed in with clumps of juniper scrub, brooms and rockroses.  The walk continues until you finally reach the elevated pathway and the opening of the gorge.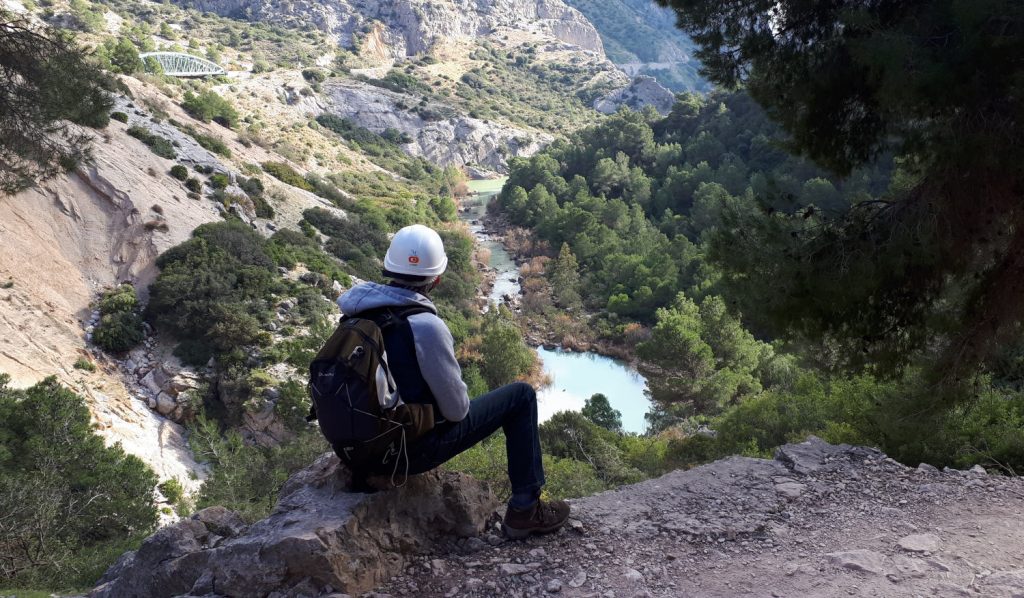 And then for the boardwalk, which is about a metre wide pinned on to the side of the rocks with a sturdy handrail on the edge.  As you walk along you get fantastic views both down to the green rushing waters of Guadalhorce river  below and up to the towering vertical gorge walls above you.  At one point we came to the Mirador Balcon de Cristal – or glass balcony, strictly limited to 4 people at a time. The dizzying view down to the gully below can be seen beneath your feet, so if you've got vertigo now isn't a good time to look down!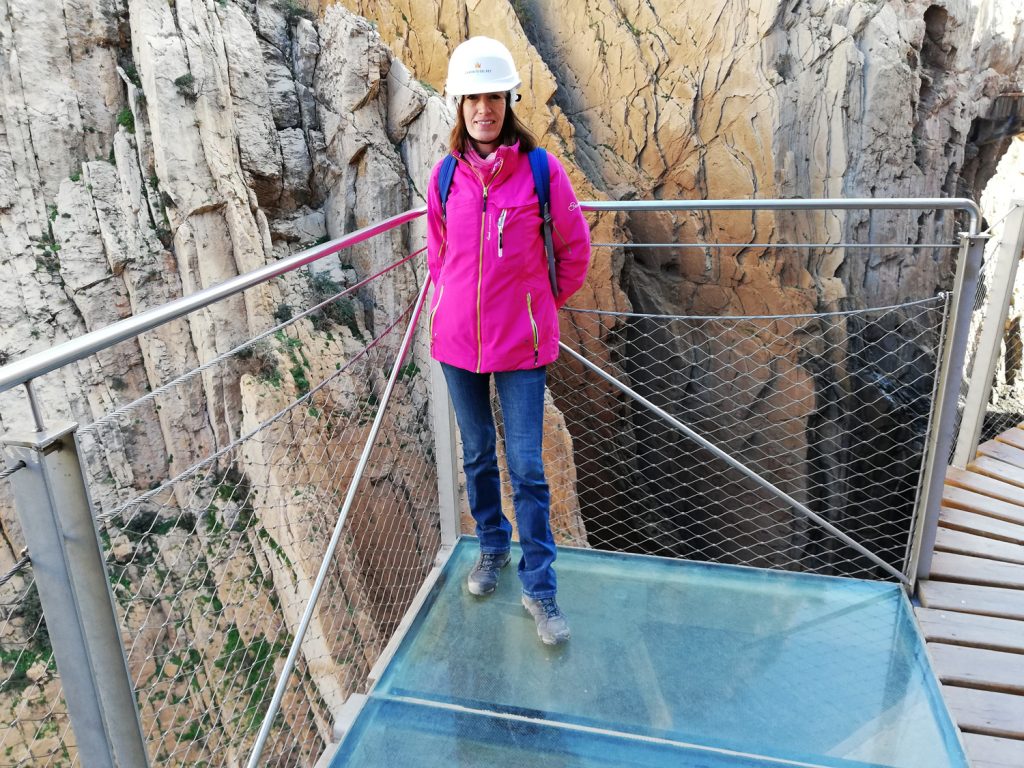 Dozens of vultures were circling above us, more than we've ever seen in one place. There conditions here are ideal for vultures and there are Egyptian and Griffon vultures as well as golden eagles and honey buzzards living here.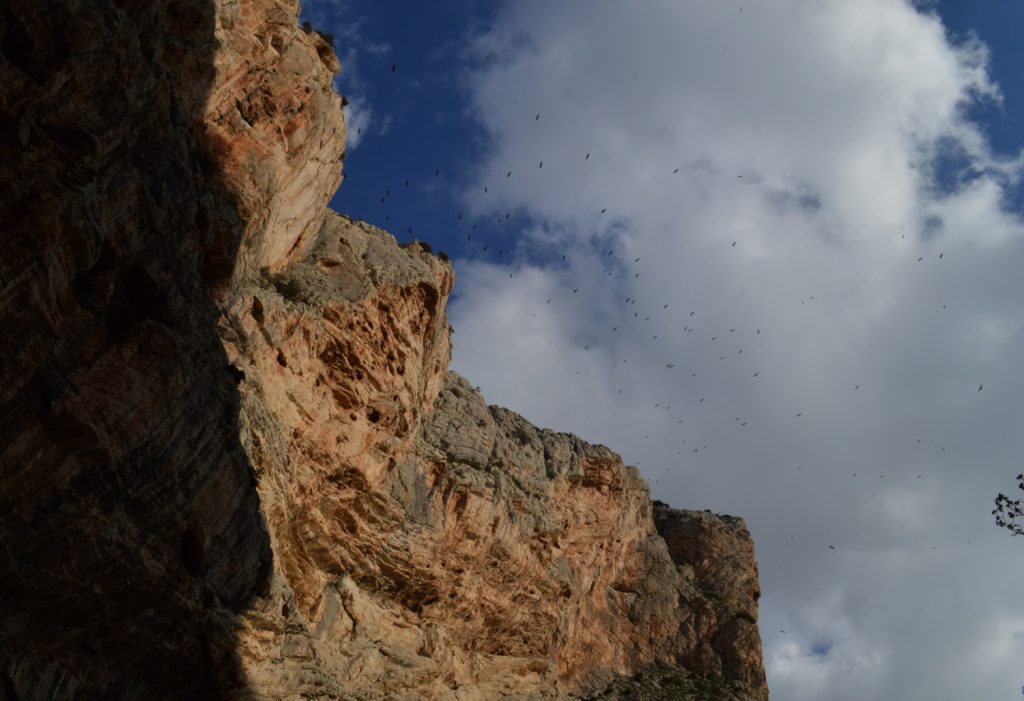 As you make your way around you can see the old, crumbling concrete walkway below. There was no handrail on parts of the walk in the past, its about half the width of the current path and must have been truly terrifying. It was originally constructed as part of King Alfonso XIII's project to create a hydroelectric dam system using the naturally sloping river forces in the canyon. The pathway was built to allow maintenance workers access but soon fell into disrepair and was abandoned only to be discovered by intrepid walkers, climbers and hikers who were excited by its challenge. Unfortunately it led to dozens of deaths over the years and was officially closed in 2000.  Later a 4 year renovation project saw it come back to life in its current form and become a major tourist attraction for the area of El Chorro.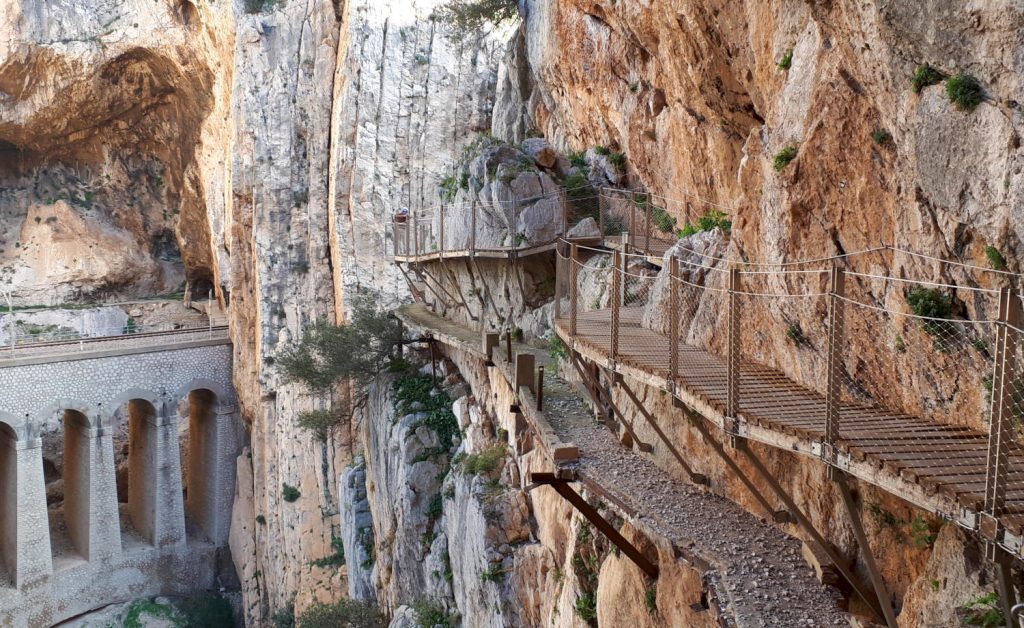 The visual highlight of the walk was coming to the narrow opening across the gorge and the suspended, bouncing bridge across it. The only downside was that as soon as we stepped onto it we were subjected to a fierce, bitter wind howling through the opening that was enough to make you shiver.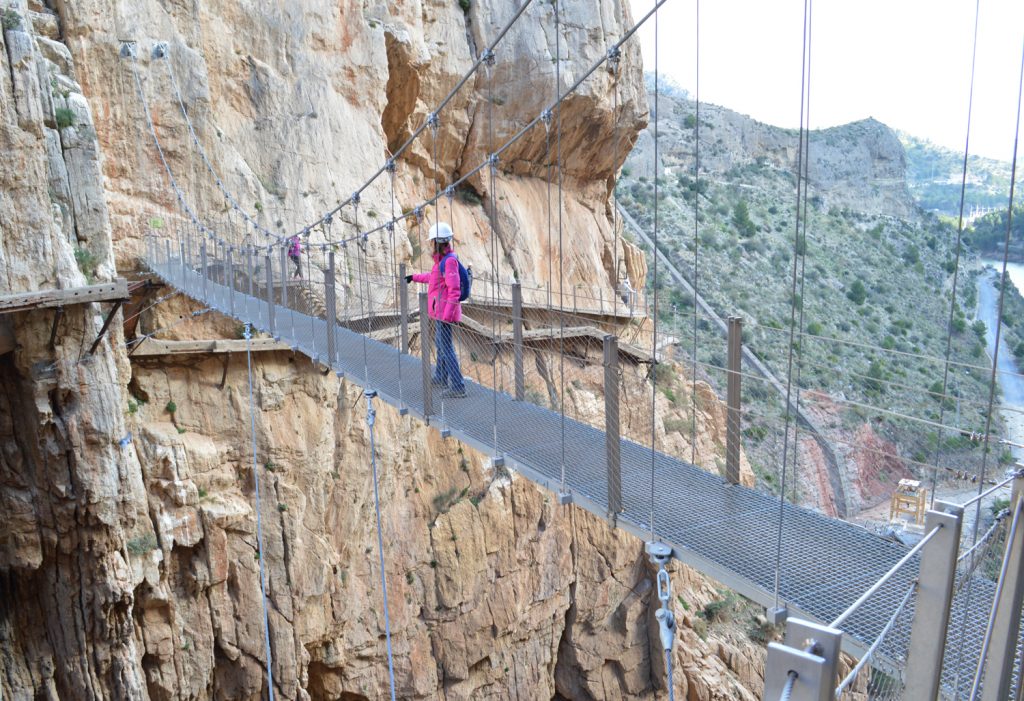 It was short-lived though and on the other side there were a couple of benches in a sheltered spot directly in the sun – the perfect spot to take a pew and get out our coffee and snacks while taking in the views in front of us.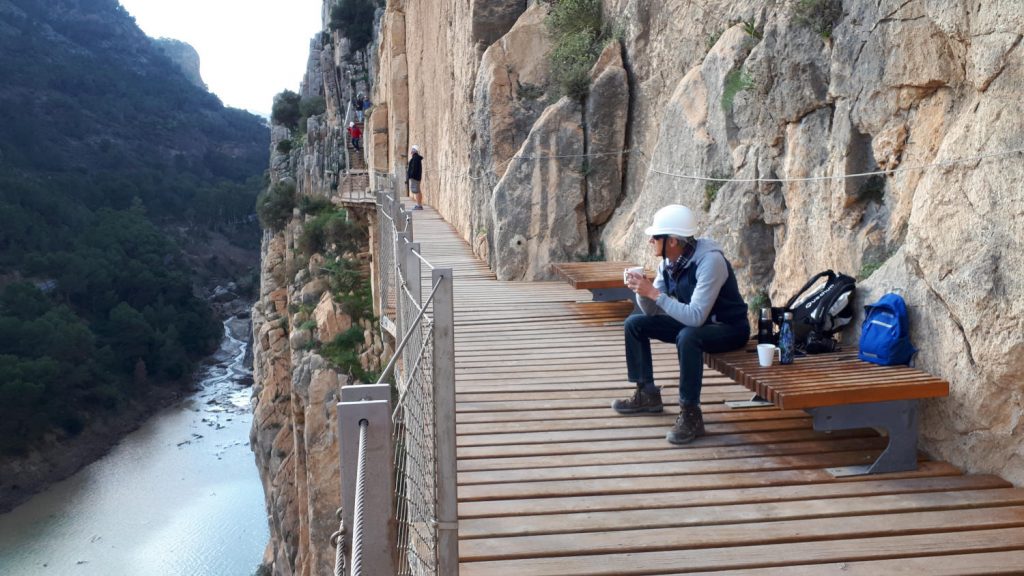 Pitstop over we carried on and finished the walk, handed in our helmets and went back to Buzz, pleased that we'd parked at the end and didn't need to wait for the bus.  The whole walk is around 7.7k in total with the rockface walkway comprising 1.5km of it.  There are no shortcuts, you have to walk the whole walk.  If you're afraid of heights, which we're not, the Caminito del Rey might be a real challange for you.  For us, although we enjoyed it, we were left slightly wanting. It was almost too safe. We obviously didn't want to be in any danger but the thrill we were expecting wasn't quite there.  Maybe it just didn't quite live up to our walk at San Rocco in the Parco de Portofino, clinging onto metal chains as we gingerly made our way around the steep mountainside.  We would still completely recommend it though, its a fantastic way to spend a few hours and the views are gorgeous, but it just might not be as 'scary' as you've been led to believe.