Sitting at El Chorro having just completed the Caminito Del Rey we decided it was early enough to head for Ronda starting as we often do looking for a good parking spot. With nothing in the aires book an online search came next, which also drew a blank so it was down to Google, maps and a satellite image search. This revealed a possible, a big car park on the edge of the city. Off we went in search of hopefully our parking spot for the night, arriving just after sunset. We found our goal which was perfectly acceptable and parked Buzz Laika for the night, after which we noticed some other motorhomes parked on the other side of the road behind some trees. An investigation revealed a smart new aire charged at 10euro/night. For those who prefer to park in an enclosed site it is perfect and much needed in Ronda, but we were happy so stayed put.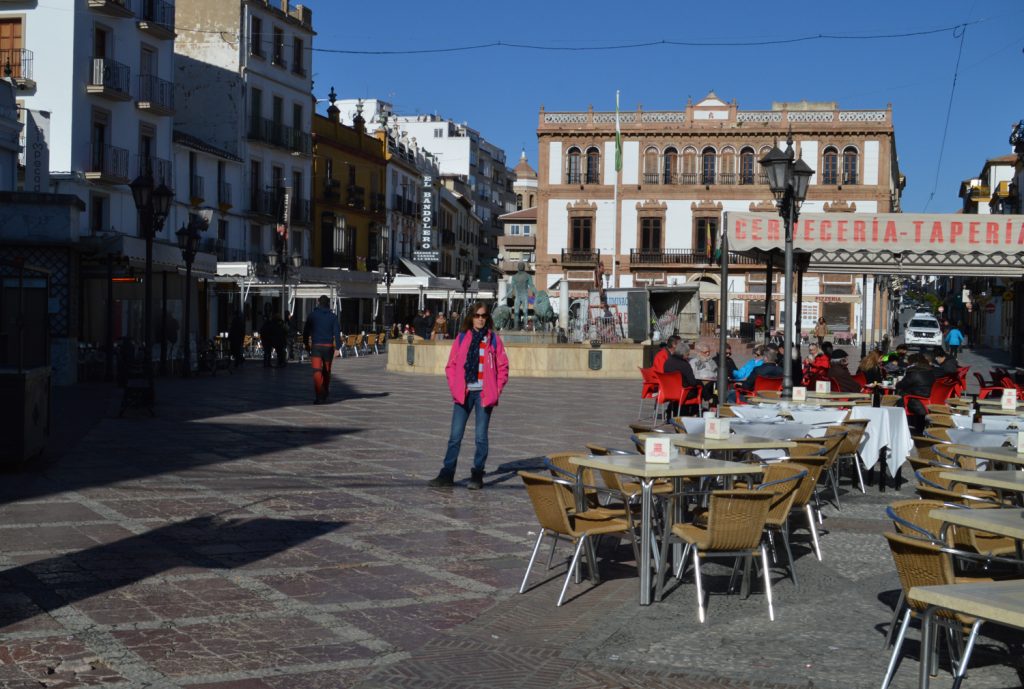 Morning brought a pleasant sunlit though still chilly walk 15min along the Avenida de Malaga into a busy city centre. For us it made a nice change to see plenty of people, as so often the smaller towns and villages seem deserted. There were a variety of shops open with lots of activity, giving the whole place a lively feel. As is our way we headed towards the tourist information office, although we did stop on the way at the Plazza del Socorro, sitting in the sun next to the church of Socorro for a cup of coffee before moving on. The Tourist office sits right opposite the famous historical Bull ring, now a museum in the Paseo Blas Infante. Armed with maps and information we set off towards the Mirador de Ronda and its stunning views out over the Rio Guadiaro Valley across to the Sierra de Grazalema. From there it is a short walk around the Parador Nacional Turismo Hotel, where we got our first look at Ronda's most famous landmark the Puento Nuevo (new bridge). The Puento Nuevo bridges the 120m deep gorge of the Rio Guadiaro, built between 1757 & 1793 its not exactly what you would call new but it is a spectacular sight and bridges more than the river. It bridges history linking the modern and ancient cities of Ronda. For Ronda is a city of 2 halves on one side sits the modern busy bustling centre and the other the quieter, ancient city brimming with history with it's cool charm.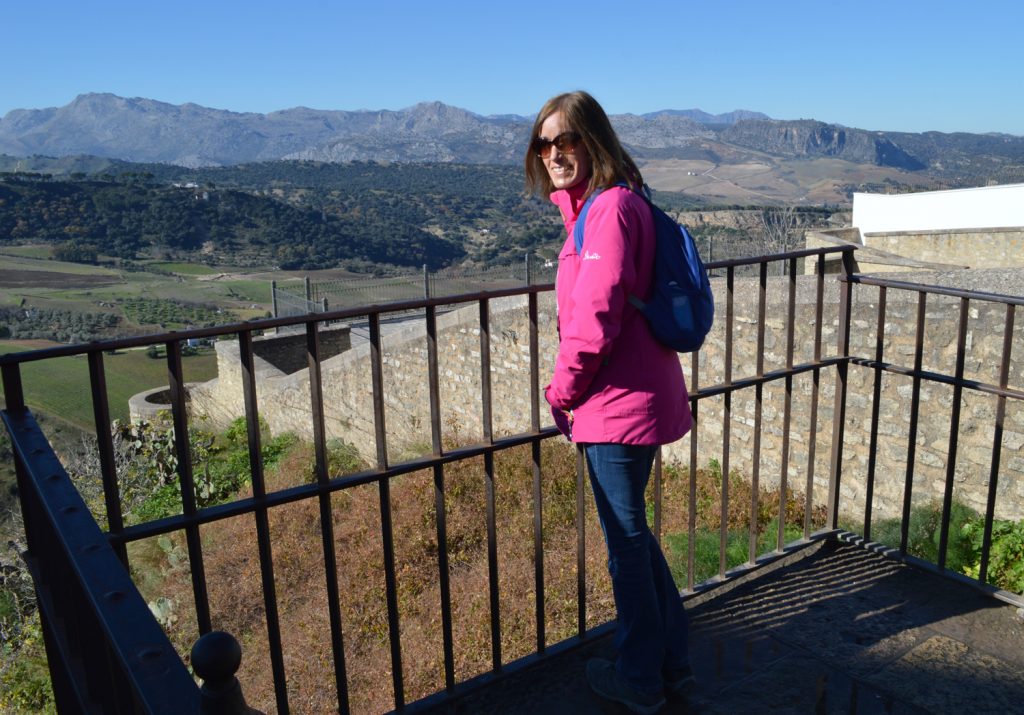 The old city is home to the majority of Ronda's museums and interesting older buildings, small shops, bars and smart restaurants whilst the new houses the busier shopping streets with plenty of bars, cafes and restaurants. After spending several minutes admiring the bridge we crossed over to ancient Ronda. It is noticeably quieter in the old town and the buildings are generally smarter in appearance. Spending time just wandering was a real pleasure as we searched for a view point of the bridge we had spotted people using, finding the footpath in the Plazza Maria Auxilladora. We set off down some steep steps heading for the view point that would reveal the best view of the bridge in it's entirety. ¾ of the way down you pass a walled view point (not the full bridge) full of rock and stone piles before getting to a large sign. The sign pointing out it is prohibited to proceed beyond that point due to the risk of death or serious injury. Naturally this being Spain the sign is adhered to by exactly no people and is totally ignored by all, so we followed everyone else climbing carefully down a worn slippery slope to the best view point of the bridge. In fact the place was busier than Oxford Circus on Christmas eve totally packed with people queuing to take photos, selfies and posing, not only that there were groups of climbers having just climbed it or about to do so. We took our place in the queue and unfortunately ended up behind young Japanese couple with the man having his photo taken by his girlfriend again and again in fact he seemed to go through every hand signal known to man, inspected and had retakes as needed. He then proceeded to video call someone and go through the whole process of showing them where he was etc, etc, etc. Eventually we got our turn took a few photos then headed off by which time the Japanese man was standing on a big rock to one side being photographed again. As we headed back up the path we passed a group of about 30 Japanese tourists on the way down, which we considered a lucky escape as we may well still be there waiting in the queue.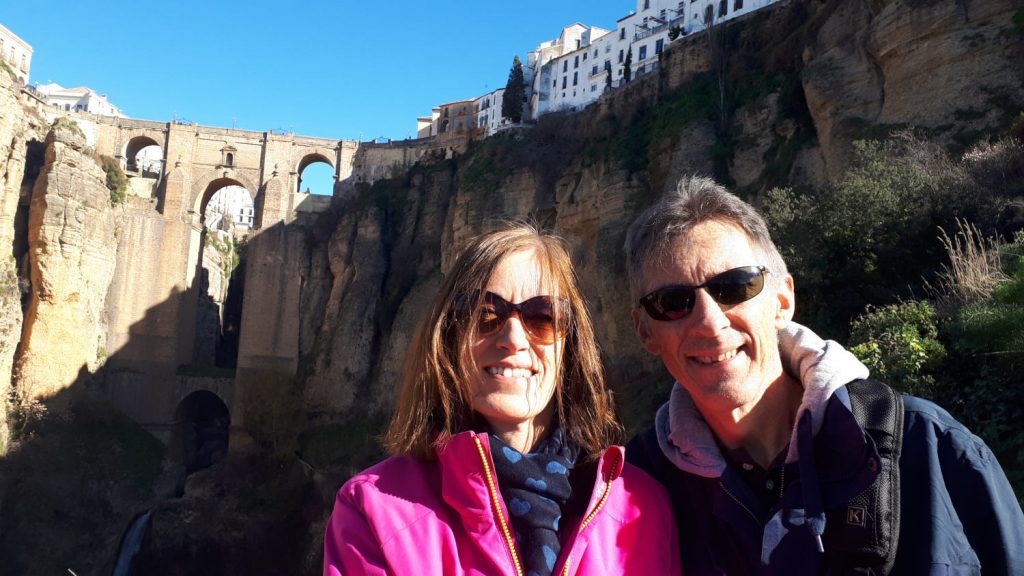 We spent another couple of hours exploring the streets and areas of both parts of the city, including a good twenty minutes in a shop we had seen in Cordoba, Sabor A Espana, tasting samples of nut based products, including Almond paste, various nut brittles, fudges and other similar delicious treats. At this point I have to note we weren't the only ones taking our time trying them out before heading off for a late lunch. As it was fairly late it proved difficult to find somewhere to sit outside in the sun as we did not want to sit indoors and miss the lovely afternoon warmth.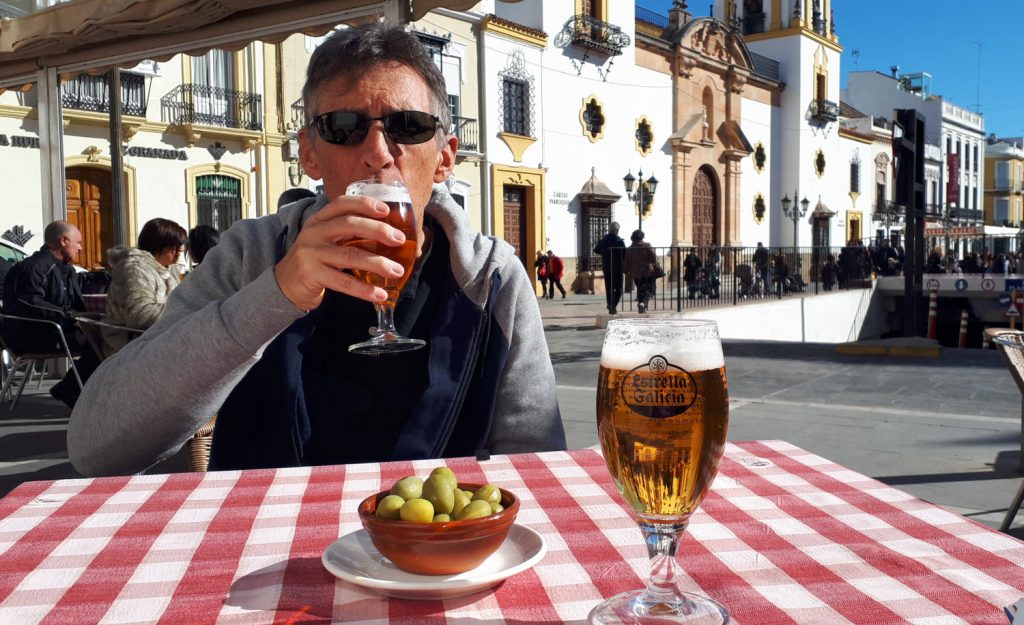 We eventually ended up back at the Plazza del Socorro where we secured a table with plenty of sun and ordered pizza and salad washed down with a beer. The food took a while but we were quiet happy sitting in the sun sipping our beers and the pizza was worth the wait. So with full stomachs and smiling faces we set off back to Buzz stopping on the way to buy a large Bun that looked delicious. And so it was, layers of puff pastry with a creamy custard filling. Still Ronda had one more amusing treat in store for us as we walked back up the Avenida de Malaga we spotted a sweet stuck way up in one of the neatly trimmed conifers lining the avenue, upon further inspection we realised it was from their 3 Kings parade obviously thrown out with a good deal of force. We spotted several more as we went along, they shall no doubt be there in perpetuity. Ronda was as expected a lovely city in a beautiful setting and a must for any itinerary to Andalusia.