The Mountains of Delle Alpi Apuane, are famous the world over for one thing in particular – Marble – for they are marble mountains and in particular white marble and variations of it, including the pure white marble used by Michel Angelo to carve his masterpiece and probably the most famous statue in the world, David.
The mountains are an amazing site with over 300 quarries operating in the area, the most number of quarries in an area of this size in the world. Together they cut and ship out of the mountains over 30,000 tonnes of Marble a month. There have been quarries in the area since Roman times some of which can still be seen. Carrara Marble comes in 2 types –  the ordinary white with smoky grey veins and marks or Calacatta Marble of the fine much sought after and very expensive pure or near pure white marble known as Statuario, which is much prized by sculptors. Only about 5% of the marble found is Statuario and is a jackpot for the companies that come across it in their quarries. It has to be said that the quarrying does scar the mountains but it is now highly controlled and the vast majority of the range is now a Unesco protected park, but that said it also creates its own stunning landscape.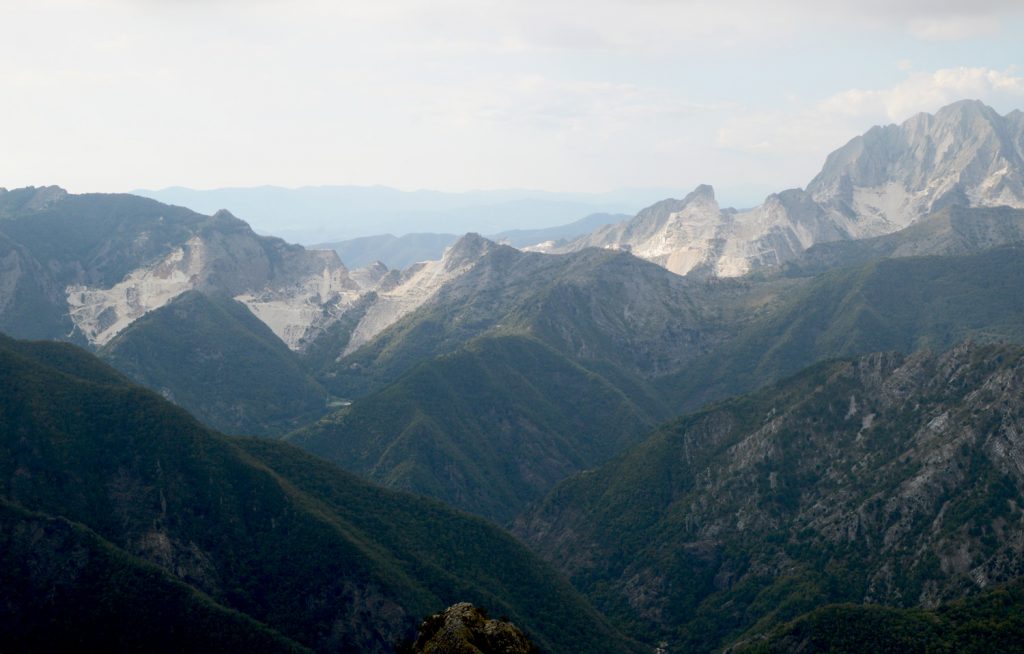 Our encounter with the mountains began with a drive from the coast near Forte dei Marmi from where we headed for  a small town at the foot of the mountains all the while passing marble yards, stocks and cutting operations. Parking in Seravezza for a while we walked around the small town being entertained by some temporary art installations suspended over the river in what was a pretty town, before setting off on a scenic drive through the mountains to the quarries further to the north.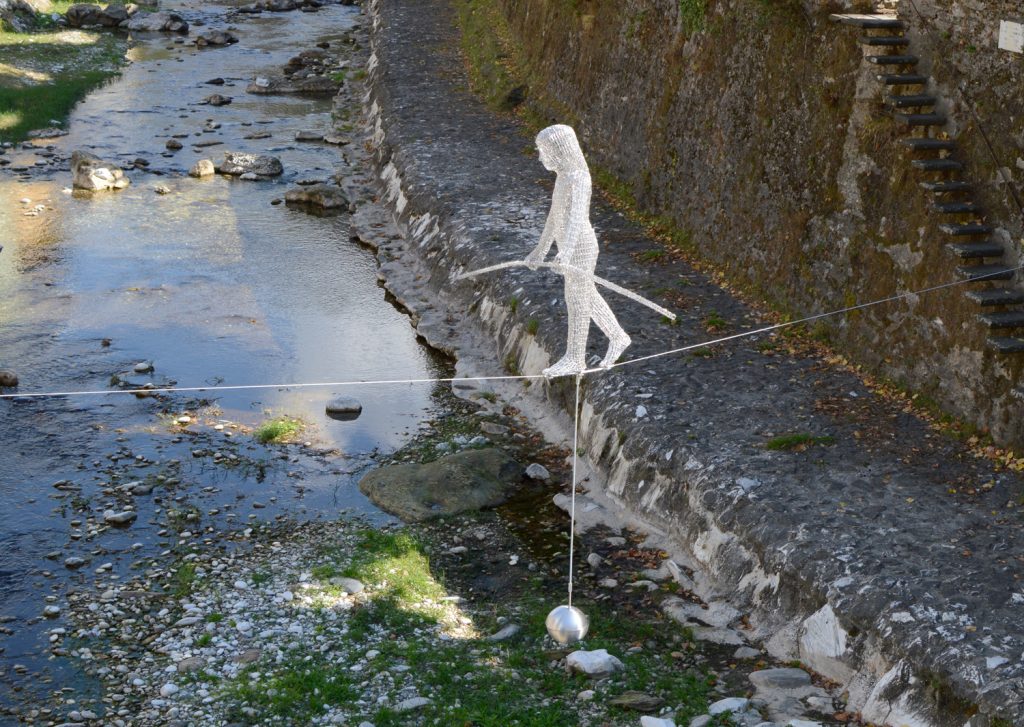 The route became increasingly narrow as we wound up into the mountains with several long very narrow tunnels. As always the mountains are stunning especially when you catch glimpses of the sea or villages hanging on the sides of tree studded hills but it comes at a price, extreme concentration as you round yet another hairpin bend knowing that large numbers of Italians drive at speed preferring the middle of the road to their own side of it, no matter how small the car. As we continued we saw more and more glimpses of the white scarred mountains from quarrying activity until we drove through another tunnel coming out right next to a quarry where we could stop, back up into a parking slot and get out for a look around.  The place was quiet having finished for the day but they had very kindly built a platform lined with marble blocks with marble steps leading up to a giant white marble picnic table offering stunning views across the quarry strewn mountain sides.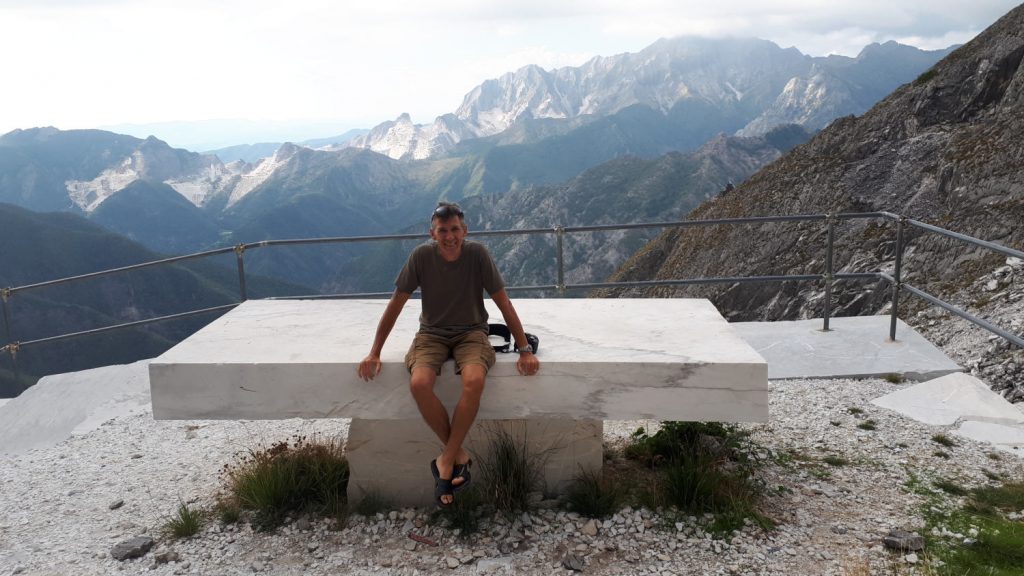 We drove on the passing lorries getting bigger and faster passing quarry after quarry until suddenly we came upon a sign for Rifugio Citta di Massa a small mountain hotel and bar perched on top of a hill, which we investigated.  Although it appeared to be closed the views were superb.   From there we were out of the mountains and back onto the coastal plain, having had an interesting and slow drive but really worth the stress of doing it.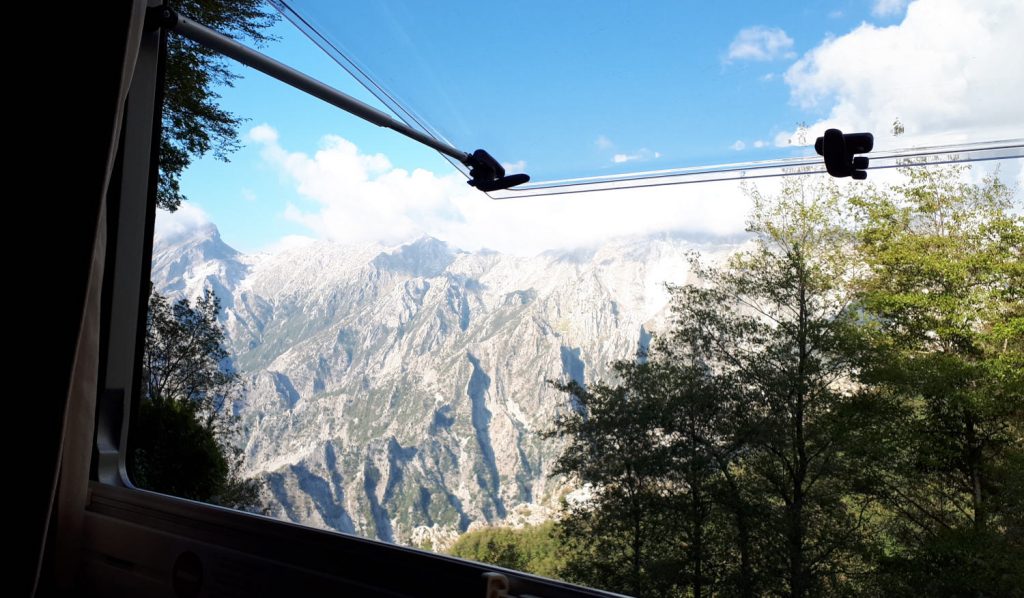 The next day we went on a thrilling 4 x 4 Quarry tour with Carrara Marble Tour at the Frantiscritti Marble Quarry, which we were both looking forward to. It's not a long tour but they get you right up into one of the big quarries up above some of the faces being cut where only licensed vehicles can go and a 3.5 ton motorhome would definitely not want to, or be able to go.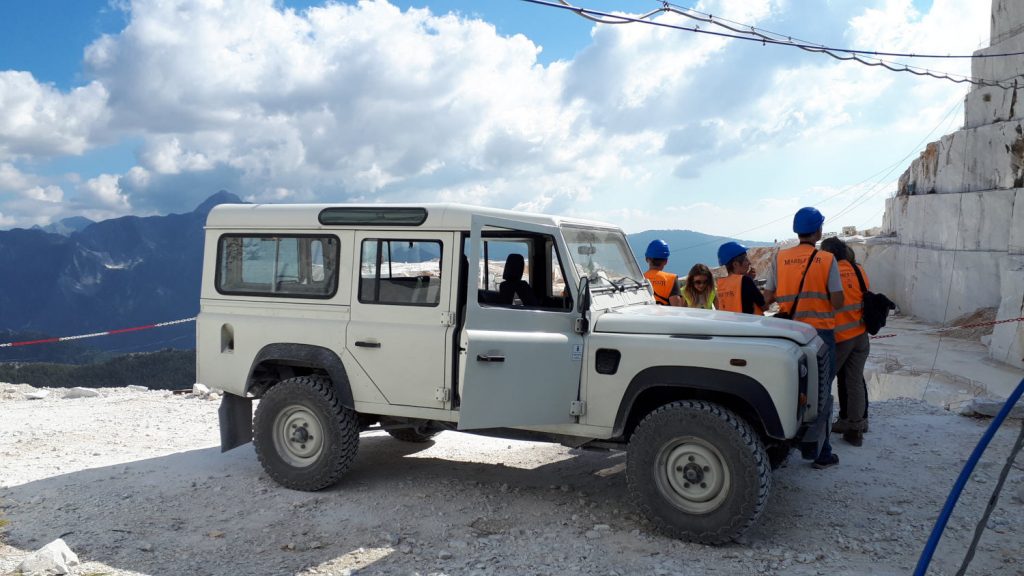 Luckily and unusually you don't have to book this tour in fact you can't unless you are making a group booking, now there's a reason for saying that! The previous evening to make sure I knew where we were going I put the address into google maps on my phone, checked the route, studied it (just like in the old days before sat nav and google maps but using google maps rather than an atlas) and I knew where we had to go so set off on the 20 minute journey into mountains.  We arrived at what I knew was a long road but not seeing any sign of the tour office we I thought it should be we carried on then decided we should put on the sat nav which promptly told us that we had another 30 minute journey ahead of us. So mumbling and moaning about not using it in the first place we set off down some very tiny and luckily one way mountain roads through the usual tunnels and switch backs, when she proudly announced we had arrived at our destination – except we hadn't, we were still in the middle of nowhere!! So after more searching and digging on line we found some different coordinates, put those in and were then told we had another 20 mins to go around narrow lanes, switch backs etc again luckily one way and this time we arrived at our destination a good 50 mins later than expected. The truth is we had only covered an extra ½ a mile but been all around the houses to get there as it is all one ways so the lorries can move safely at speed and they do move at speed shipping anything up to 35 tonne marble blocks at a time.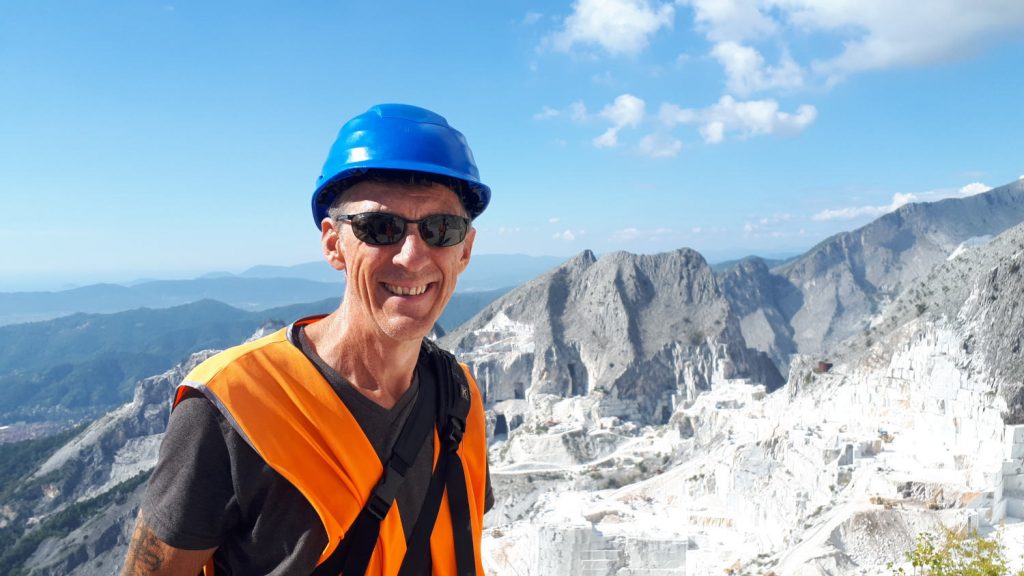 The trip was great fun and exhilarating lasting about an hour in total. They take you up into the Frantiscritti quarry (for which they have a special license)  in Land Rovers, hanging on for a bumpy, clattering ride up steeper and steeper roads, moving on to even steeper marble gravel tracks, the tyres slipping and sliding as you go, braking suddenly when faced with a giant marble laden lorry on its way down with a prized slab on the back. Part of the route is the exact route used to film the car chase in the James Bond film Quantum of Solace, the picture at the top of this page being the same part of the quarry shown in the film.  Once up at the top of the quarry they talk you through the history of quarrying in the area about the different types of Marble, how it's removed (the process of cutting it out of the rock face) and give you plenty of time to ask questions and take plenty of photos. This was followed by an equally ear-shattering, hair-raising fast run back to the bottom where there is a restaurant, Marble shop and museum and where Buzz was waiting covered in white marble dust as if someone had powdered his nose!  I have to say the Land Rover drive up and back was the first time I had been in one in over 30 years but it took me straight back to some of the wild places I have had the privilege to drive in and some of the pretty lumpy roads and tracks I have bounced down, great fun and a fun way to end our Carrara visit.