When travelling by motorhome you sometimes have to accept that there are some places you just can't go. In the case of the five villages of the Cinque Terre nattional park you can't even go by car.  These picturesque little places are wedged onto the rocky coastal hills and are only accessible by train, boat or on foot.  For once we had planned ahead and found ourselves a nice little campsite nearby at Deiva Marina with a free shuttle bus service to the nearby train station. We arrived on Friday afternoon and had three fairly snug places to choose from. It wasn't the most spacious of sites but it was very clean, convenient and perfectly positioned for what we wanted to do.  It also had a nice little supermarket just down the road and the wine supplies were getting low!  So, we parked Buzz jauntily under a palm tree and went off to top up on our 'essentials'.  A couple of hours basking in the sun came next followed by a nice long hot shower, a tasty motorhome meal and a few glasses of finest Italian supermarket vino blanco.
Next day the shuttle bus dropped us at Deiva Marina station two minutes away. From there we had to get a ticket to Levanto, a fifteen minute journey, and once there we could buy a Cinque Terre day ticket which allows you to travel between the villages as you please.  This is when the fun began!  We had been complaining amongst ourselves that once the shuttle bus dropped us off we would have to wait 30 minutes for our train. As it was, we didn't end up waiting around very long at all and only just made it onto the train.  Our first task was to get our tickets to Levanto from the ticket machine which luckily did have instructions in English. Even so, it was very slow and laborious and having selected 'return ticket' we got to the end and were asked to choose exactly what time we wanted to book our return.  Having no idea what time it would be we tried to backtrack to remove the return option only to be taken right back to the beginning to start again.  Thankfully there was no-one else waiting to use the machine as we were already 10 minutes down by now. After another couple of minutes we got our tickets along with a verbal instruction to 'validate your ticket' before going to the platform.  The validation machine was on a nearby wall with a large slot in which to insert the ticket.  Julian promptly inserted his ticket only for it to be eaten up by the machine and vanish never to be seen again with the machine now showing a red out of order button. Poking, prodding and pressing buttons failed to make it re-appear and a nearby German strangely dressed in a thick red fleece sauntered over to tell us we should have put it in the other way.  The 2nd ticket went in perfectly following this instruction and received a satisfying validation stamp so we just had to go and get a 3rd ticket and go through the whole process again. 2 for the price of 3 – great!
So on to the platform with now just a few minutes to spare we heard an announcement that the train to Levanto would be arriving on Platform 3, under the subway the other side of the tracks.  After a short hesitation we heard the message again and quickly getting up to move checked with the helpful German to see if he was going there too.  He was, so he, his wife and his dog all got up and followed us over to Platform 3.  Feeling relieved we just got up the steps as the train pulled in, but quite clearly travelling in the wrong direction away from Cinque Terre. Feeling very confused at this point we asked a fellow passenger and they said 'NO, this train is going to Levante, not Levanto'!  Apologising profusely to the German we all scurried back to the original platform, nearly got blown away by a high speed freight train and then finally boarded our ride to Levanto.  Laughing at our blunders and how at least we had got them out of the way early in the day I reached into my backpack to get out a packet of sweets, opening them upside down and scattering them all over the floor, so it seemed it was going to be 'one of those days'.  Fifteen minutes later after a journey mostly through tunnels we arrived at our first destination accidentally trying to open the door straight out onto the tracks and then dropping a camera lens cap right under the feet of the red fleeced German.  At this point there had obviously been words spoken about the 'calamity couple' and glances were definitely exchanged. Even the dog was smirking!
While Julian queued to buy the Cinque Terre day tickets I went off in search of the Ladies. Seeing a huge queue snaking out of the door I decided I could wait and was just about to turn away when a frantically shouting Chinese man came running along and about a dozen Chinese women turned heel and ran away after him, presumably late for their train.  This left just two of us in the queue and we looked at each other and smiled. Maybe things were looking up!
So now our visit really begins ….. There are five villages in the Cinque Terre – Monterosso, Vernazza, Corniglia, Manarola and Riomaggiore, with a short 2-3 minute train hop between each.  Deciding to start at the furthest village our first stop was Riomaggiore.  We got off the train and had a couple of minutes walk through a tunnel before arriving at the village centre, which then led on to the waterfront. Our escapades getting here had left us desperate for a coffee so we stopped briefly for a quick caffeine hit accidentally accompanied by a morning pastry and then carried on.  This tiny village is wedged into the hillside in a sharp V shaped inlet with colourful buildings rising up all around as if stacked on top of each other.  A small sloping boat dock leads out to the water, piled up with shabby little boats and boat huts cut into the stone walled arches on either side.  Up high perched on the rocks to one side there is a small restaurant which looks like it's barely clinging on to the edge.  The sea was deep blue and inviting with several tour boats gliding by.
Manarola was next and quite different.  Entering at the top of the village we looked down on the pastel painted street which steps led us down to.  As before, everything was crammed in to within an inch of its life but it was a much wider cove with a large rocky bathing area with space to sit, swim and for one tight trunked Italian we saw, dive!  Several paths were cut out in the side of the hill, one leading tantalisingly to a breezy looking restaurant with shady umbrellas just perfect for our lunch we thought.  It didn't look far and it wasn't but the sun was fierce in the cloudless sky and by the time we got there we were hotter than hot.  Although there was a bit of a queue we decided the wait would be worth it so we stood patiently for a few minutes until the waiter called out that he had a table for two. Everyone in front of us was in a three or four so we smugly moved forward to take the table only to find it was right before the umbrellas began with a direct line to the scorching sun.  We didn't exactly have many options at this point so ordered a focaccia and cold beer and prepared to roast!
Some time later we got to Corniglia, the next village, only to be confronted by a 5 minute walk alongside the train track and the make you feel hot just looking at it sight of hundreds of zigzagging steps up an immense hill to access the village. Once we got there we were so hot and gasping we had no choice but head straight to the first gelateria we could find for some energy giving cold comfort.  Moving on we came to a little square with cafes all around leading to a platform with a view of nothing very much.  Considering the effort we'd made getting there we were more than a little disappointed.
Vernazza was next and we had been told this was the prettiest place of all so expectations were high. Set in a more open rocky inlet with lower hillsides the village street lined with painted houses, shops and restaurants led down to the waterside with a fairly large paved square and a bright display of bar parasols giving it a cheerful feel. The pastel pink and pale yellow buildings stretched upwards with long narrow shuttered windows and shabby paintwork adding to its charm.  A church and bell tower stands to one side and there is a small sandy beach where people paddled in the shallow water.  We walked out past several boats to the end of the harbourside and came to the conclusion that while definitely very picturesque it wasn't as pretty as the other villages with steeper hillsides, but that's just a personal view.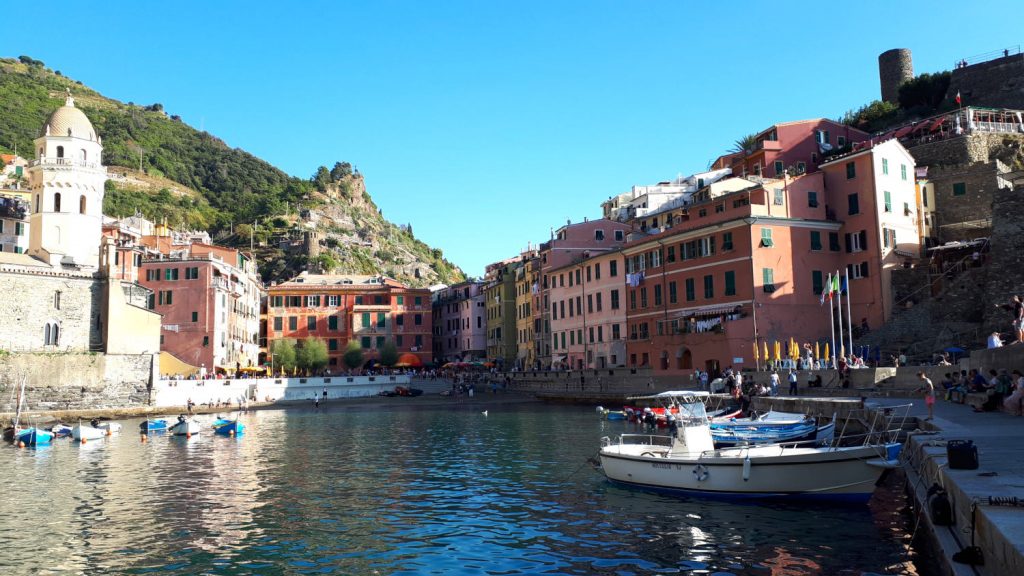 So on to the last village – Monterossa – and here we found a bright white pebbled beach with bright blue umbrellas matching the bright blue sea, with a short promenade leading further along to a high rocky path and a large shark fin shaped rock resting in the shallow water.  There were several smart looking restaurants along the front, one with a Michelin guide plaque and several other more casual outlets. By this time it was about 5.30pm and it had been a surprisingly tiring day. Treating ourselves to a last relaxing drink in a cafe with a terrace overlooking the sea we sat and enjoyed the lapping of the waves before heading home to Buzz.
Unfortunately the return journey was not without incident and getting into the front of the shuttle bus I shut the door behind me only to hear a sharp yelp – I had slammed the door on the hand of a German woman (thankfully a different one to the one involved in the morning's events) and she hauled herself into the back cursing and clutching at her throbbing digits.  We never saw the red fleeced German again – I think he was giving us a wide berth and I don't blame him.