We are back in France!  Spending the last few weeks in Italy, much of it in Tuscany, has been amazing but driving along the Ligurian coast these last few days we were starting to get increasingly frustrated.  The coast road has been spectacular in places when taking the high road and very scenic on the low road with views of the sea, pretty coastal towns and marina after marina. But, so often we were unable to stop even to take a photo and found ourselves in and out the other side of a town before we knew it.  On occasions we spotted somewhere to pull over but saw it just as we went past and it was then impossible to turn around.  Heading inland doesn't help either because then you start to rise up into the mountains and even if you can park there you are then too far away to get back into the town.  We did head inland one day looking for a campervan car park we had found online, pulled over on a wide road part way there behind another motorhome already parked, made a cup of coffee and started looking at our maps to try to work out where to go next when the local police turned up.  Luckily they went to talk to the Italian in front of us first and started writing him out a ticket. They then came towards us and we quickly tidied up our mugs and told them we were just stopping to look for the campervan parking and when they realised we were English they let us go.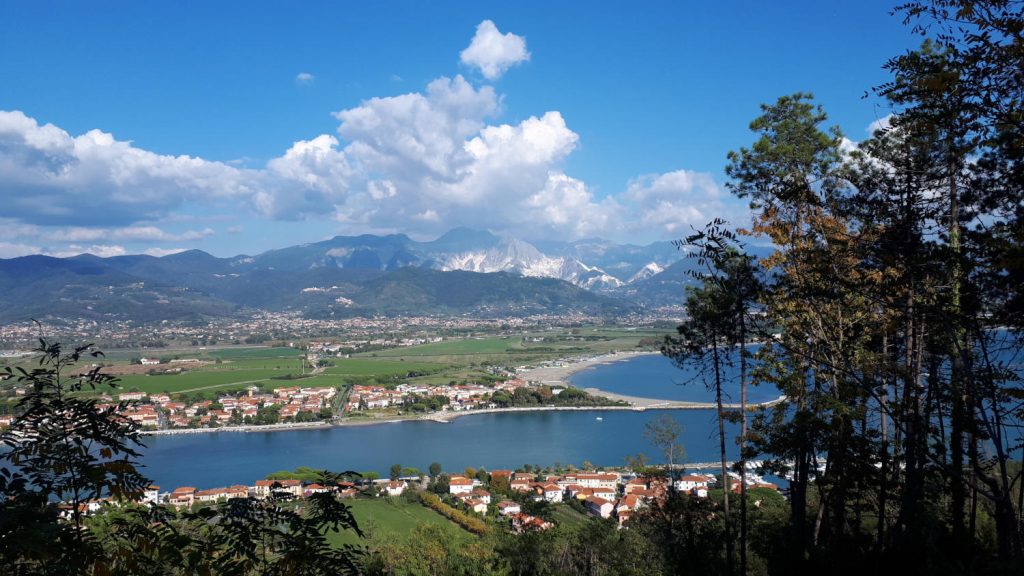 The coast road is also a bit too narrow for comfort in some stretches, suddenly leading off down a one way street with the classic Italian 'creative' way of parking not helping.  The streets are lined with scooters which stick out on one side and on the other cars and lorries stick out at all angles. The Italians don't seem to mind if a space isn't actually big enough for their car. If they can at least get a bit of it in, or just poke it in sideways, it seems to be acceptable.  Park on a zebra crossing? Fine. Park wedged between a lamppost and a potted plant? Fine. Park actually in the middle of the street next to the line of properly lined cars? Perfect!  When you're squeezing a 2.3m wide motorhome through these streets every centimetre counts and we have certainly had some tight squeezes. Then there are the T junctions – very tight turns, nearly always with a car parked right on the corner one side and then a bin, flower pot or post the other side preventing you from taking a nice wide angle on the turn.  Thankfully we (or rather Julian) has always managed to negotiate these hurdles without a single scratch or scrape and in some ways enjoys the challenge but it can be a bit irritating after a while and you can't afford to lose concentration for a second.  That's not to say we expect every road to be wide and motorhome friendly just for us of course.  We just have to accept it and move on, and that is the great thing about motorhoming – you can just move on. There is always another place to visit just around the corner!
So, we ended up driving from our last stop in Liguria, San Remo, past Ventimiglia which was absolutely rammed with traffic, up towards the mountains and away from the coast all the way over the border into France.  In no time at all we were over the French border with nothing more than a swift flag down, a friendly glance and smiles from the border police.  Immediately the road signs changed from the Italian 'Rallentare' (slow down) to the French 'Rappel' (reminder) and even the road surface was different. Once there, in theAlpes-Maritimes department in southeastern France our destination was the little hilltop village of Saorge, our route taking us along the pretty Gorges de Saorge with high rocky banks and a picturesque river at the bottom.  We found a couple of viewpoints and got out to take pictures but it was getting noticeably cooler by now, a bit grey, and rain was in the air.  It was a shame we hadn't made this journey earlier in the day.  Entering the town of Breil-sur-Roya we spotted a large parking area with a motorhome already in situ and decided that would be our home for the night.  Happy to be parked, we settled down with a glass of wine, got the dinner going and afterwards relaxed with a DVD.
Come morning it was time to take a look around what turned out to be a lovely little town sitting alongside the river Roya, a broad, shallow river with pastel painted shops and houses along its banks and the autumnal trees adding a golden splash of colour.  Crossing the river we noticed plenty of ducks but not a single fish and one particularly smug looking duck who had found himself a nice little rock in the middle of the flow to sit on looking down at his minions.
Walking up into the centre of the village we followed the signs to 'commerces' and before we knew it we were stood inside a tiny little bakery perusing the selection on offer, exiting with a freshly baked baguette and a selection pack of pastries.  Carrying on up the alleyway clutching our baguette and therefore looking very French we were approached by a Frenchman on crutches who started talking away and pointing at our bread. Seeing us look totally confused, he then asked if we were English and when we replied he said that we were lucky to have our bread and by the time he had limped there himself the bakery would be closed!
Getting back to Buzz at 12.30pm we decided to have an early lunch, devouring the baguette and saving the pastries for the afternoon and the next day's breakfast.  Some time later we arrived in Saorge, listed as one of the 40 most beautiful villages in France. Having looked it up online beforehand we knew it would be a bit of a tight squeeze in the motorhome and opted to drive North of the town to Fontan so we could drop back down on it from another road with access to the larger of the car parks on offer.
As it was we found a large lay-by just before the town where we pulled over to take a photo of the jumble of houses wedged on the hillside and views of the valley below.  We could see it was only a few minutes walk to the town from here to decided to leave Buzz where he was and walk up the rest of the way.
We would have to eventually drive up to turn around, but this way we could check out our options and the lie of the land first.   Entering the town, past the Mairie (town hall) we were immediately immersed in a network of little streets, twisting and turning up and down, over and under little bridges and walkways and round mysterious little corners, sometimes ending in just a single front door and sometimes leading to yet more passages and alleyways.  Rounding one such corner and thinking there was not much more to see we were surprised to find a pizza restaurant and little cafe with tables nestled against the wall, full of chattering locals enjoying a drink together.  This was our cue to stop for a refreshment and we exchanged 5 euros for 2 bottles of beer and sat listening to the lively banter and soaking up the friendly ambience.
Drinking up, we carried on up to the old Franciscan Monastery which these days acts as a writer's retreat. From here we had another scenic view of the village, able to see the way it is built in a concave shape around the hillside, along with the zigzagging roads cut into the rock face behind it before making our way back to Buzz, turning around at the top of the town and getting back on the road heading for Sospel.
A scenic 45 minute journey later we arrived in the pretty town of Sospel, parking Buzz at a specially designated motorhome parking area near the sports ground.  It was late afternoon by now and the sun was still out so we had a slow stroll along the banks of the river Bevera and took in the views of the old stone bridge.  Since the 13th century Sospel was on the salt trading route from Nice to Turin and traders would walk their salt laden mules across the bridge, paying a toll at the tower as they passed. There are colourfully painted houses lining the river banks and we noticed the falsely painted trompe l'oeil windows, window frames and shutters on many of them.  Deciding to call it a day, we ducked into a little supermarket to buy some jam to slather on our croissants in the morning and set off 'home'.
It had been a clear night and the next day it was still only 11 degrees at 9am, but was due to rise to about 22 later on.  Digging deeper into the town we came across an old washhouse, full with water, in a bit of a state but with some colourful wall paintings and what looked like washing powder on the sides as if it is still in use.  The road opposite the bridge led us to the enormous Cathedral St Michel, a hugely oversized church for a small town with an equally overly elaborate interior absolutely festooned with gold paint.  It was built after the Black Death, for the survivors to give thanks – not sure I would have been feeling particularly thankful living through that!
The baroque style church, with a faded yellow facade on the outside was stood up on some curving steps leading down to quite a nice cobbled old square which led away to the Rue St Pierre where the old trading arches can still be seen, although many of them have now been filled in.  Similar to the windows on the riverbank homes, we saw quite a few false doorways along the street. If you haven't got a fancy door, just paint one on!  A couple of pretty piazzas, a frescoed chapel and many more winding streets and we had just about explored the whole town.  It was a lovely little place but time to move on ……