With the Gorges du Verdon in our sights, our motorhome journey took us through several Provencal towns and villages, the most captivating being the ancient village of Entreveaux. It was by pure chance that we happened to be driving past and saw the picturesque village up on the hill the other side of the river, a beautiful old bridge and the citadel perched up high on the rocky spur. We hadn't seen this village in our guide books or online so as is often the way, the chance discovery without any expectations made for an unexpectedly enjoyable couple of hours while we explored it.
Entreveaux is a medieval village with a history dating back to the 11th century, nestled in the rocky hills on the edge of the River Var which winds around it. We initially pulled up along the side of the road to take a few quick pictures but when we got out and started looking around we could see the beautiful turquoise blue tone of the river water and the attractive little buildings alongside it and realised how pretty it was. It looked like just a 5 minute walk further along to the beginning of the town so we decided it would definitely be worth a look, so locked Buzz up, left him where he was and walked alongside the river until we arrived at the old stone bridge which is the gateway to the old town.
Approaching the bridge we stopped in the entranceway, the Porte Royale, and could see a plaque on the wall dedicated to the great architect Vauban who was instructed by King Louis XIV in 1690 to fortify the town, which he did with the defensive walls and citadel and the steep 800m zigzagging pathway leading to it. In 1542 Entreveaux was declared a Royal town or 'Ville Royale' as they say in France, by King Francois and there is another plaque attaining to this in the entranceway. Once through and across the bridge we approached the old drawbridge with its chains which used to pull the bridge up every night until the middle of the 19th century. With a washed out, aged yellow finish the two round towers either side of the archway are an enchanting sight and one of the most attractive gateways to an ancient village that we have seen.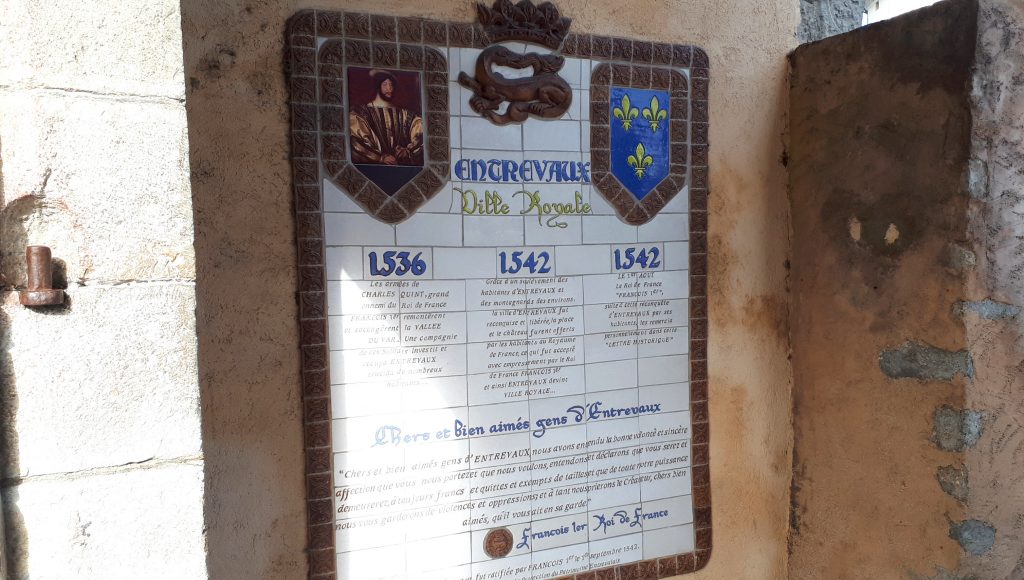 Just inside the gateway in one of the towers there is a tiny little prison where suspects, drunkards and delinquents were held, with a couple of plastic prisoners, a pile of straw and guard at his desk to demonstrate its use. It certainly looks very snug! Once safely past the prison, trying not to look too suspicious, we were faced with a small square and a choice of about 4 or 5 alleyways to choose from. Opting for the one that looked most appealing we set off and immediately got caught up in the tangle of narrow streets that so often awaits in these ancient villages. The tall buildings rise up all around, creating cool, shady passageways which are so thin no cars are allowed. In fact the entire ancient village is pedestrianised apart from the very first part where vehicles are allowed to come in for deliveries etc. We love these pedestrianised places where you can walk freely without having to keep moving aside for traffic as it means you can wander slowly, meandering along and stopping to take everything in, noticing all the details, like the old fountains, unusual door knockers and the soft, muted paint colours of the shutters and doors.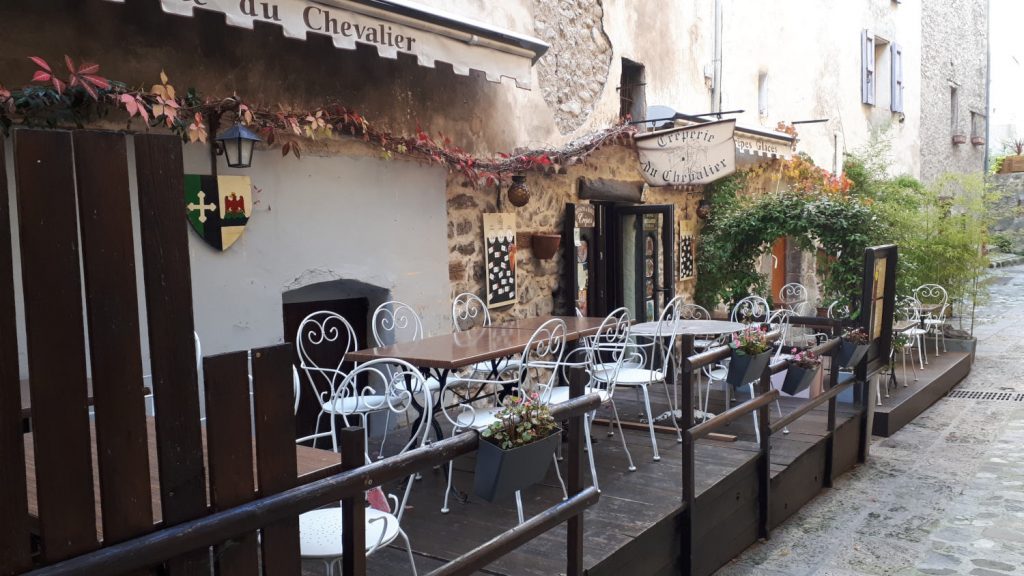 It was very quiet during our visit for two reasons. Firstly, and quite refreshingly, there are no tourist targeted shops here. In fact there are very few shops at all, just a bakery, grocer, local produce shop and a couple of eateries. The second reason is that there are only 785 inhabitants, so it really is a tiny town! There is one thing even a tiny town in France needs though – a disproportionately large church and there was a very ornately decorated one here. The Gothic church built between the 15th and 17th centuries has a rich and darkly painted interior, with deep red walls, dark blue ceiling and lashings of gold paint giving it a quite unusual feel and quite unexpected in this town of an otherwise gentler palette of colours. Walking on towards the back of the town we came through to the Porte Italie, part of Vauban's fortification and a frequent point of attack. It was well defended with a guardhouse, watchtower, two bridges and a courtyard with cannons which have quite obviously been replaced with modern replicas but do a reasonable job of demonstrating how it would have looked. There is a nice little garden running alongside with views of the river and a small play area for children too. We'd just about finished when we came across a sign for a motorcycle museum which led to a little archway, down some narrow steps into the downstairs room of one of the ancient houses where around 70 vintage motorbikes are displayed dating from 1901 to 1965. An interesting and unusual museum set up by an independent enthusiast.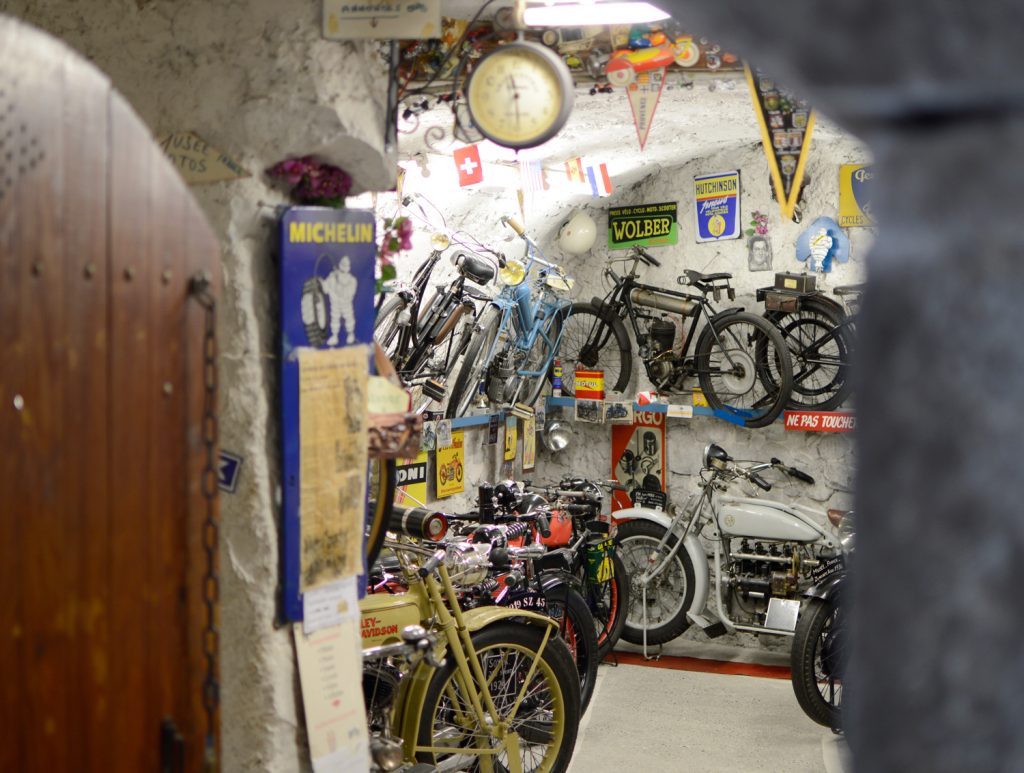 Having explored the village from top to bottom there was only one thing left to do – seek coffee! It was a nice sunny day but not too hot and we had seen a nice little restaurant just opposite the bridge on the other side of the road with tables outside and a nice view. Just about to sit down at the table we spotted a 'pattiserie' sign a bit further along and some other tables and chairs out in the sunshine, so lured in by the thought of a sweet treat to go with our coffee we made our way over there only to find it was an old shop sign and now in fact just a newsagent and basic coffee shop. With treats now off the agenda, the other place suddenly seemed much more appealing so back we went ordering a couple of coffees and enjoying them in the warm sunlight and our last views of the medieval bridge and towers.