The night before heading to Florence was spent at a small aire in Monghidoro in the hills some way north of the city, waking to a chilly start with low mist in the valleys. So it was about an hour into our journey that we actually caught a glimpse of the Florence skyline from the hills above the city near Fiesole and while the view was hazy the dome of the Duomo (Santa Maria del Fiore) was clearly visible dominating the city skyline in a spectacular fashion. Your eyes just can't help but be drawn to it with the rest of this gorgeous city fading into the background, if that was Brunelleschi's (the domes architect) intention he certainly succeeded. The rest of the Duomo is amazing but the dome really sets it apart.
Having had our first glimpse we headed up to Fiesole with its fabulous views over the city, managing to park Buzz near the top at  the side of the road and spent sometime taking photos and looking at the city skyline. Carrying on higher into the town we ended up following a parking sign into the tinniest of one way streets with an even tinnier car park at the end and spent some time turning Buzz around to extricate ourselves, much to the amusement of a group of older Italian gentlemen sitting having their daily chat. We certainly made their day and gave them plenty to discuss.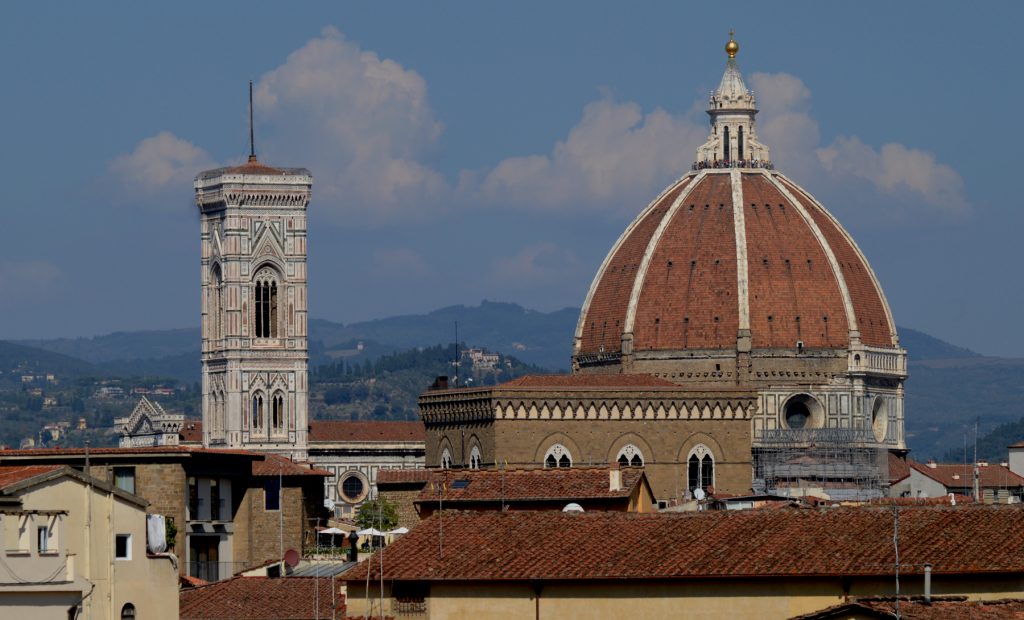 However we weren't going to be exploring Florence that day just passing through to an aire the other side of the city as the next day was the day of our planned and much looked forward to visit to the Laika factory south of the city in San Casciano. Now navigating around Italy is an interesting proposition at the best of times but getting around a big city as tightly packed in and as busy as Florence is not for the faint hearted especially when you are driving a 3.5tonne, 7m long, 2.5m wide box like Buzz that you don't own and is going to the home of the company that does the next day!! The logistics are simple – you need at least 6 pairs of eyes, 1 looking for the road signs which come and go from time to time and generally as you are about to drive past the turning they point to, 1 pair for the cars, busses, coaches and lorries and the last pair for the scooters that come out of nowhere cutting across you, up the inside, up the outside and if we didn't know better apparently from underneath us just materialising in front of you just as you are about to pull off. Lastly just to finish throw in the one way streets, 4 lane roads leading in 4 different directions that don't tell which way they go until you are on it and 3 lanes over, then you have some idea of driving in Florence. Well I am proud to say we got across in one piece without any detours and no flattened scooters, in fact we got across the river quicker than expected and were soon heading up the other side and out towards Galluzzo.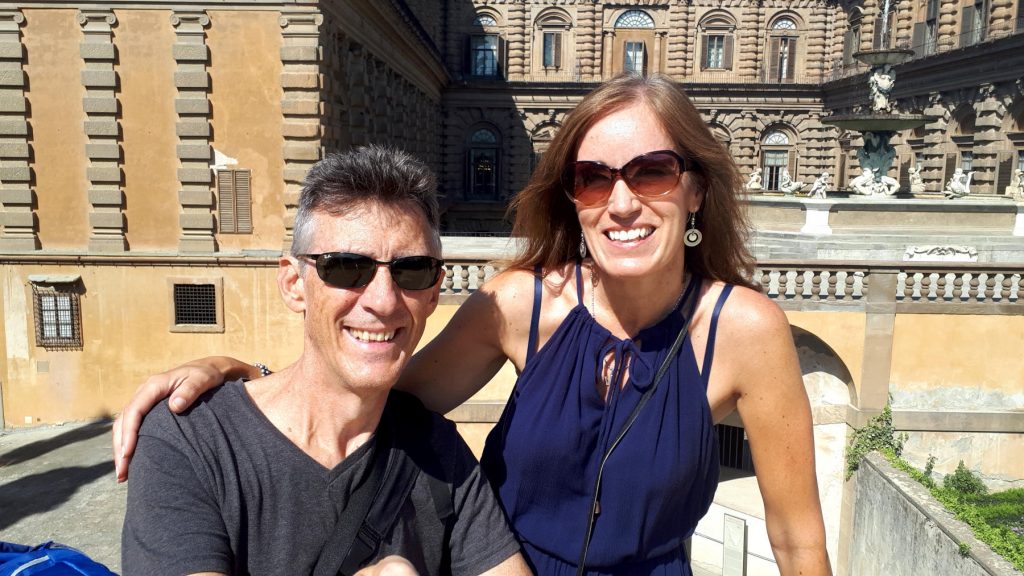 We drove up past Piazzale Michelangelo frantically searching in vain for somewhere to park without luck, then up the hill a few hundred yards we spotted a stretch of road we could get on and be off the carriage way, so turned Buzz around and parked up right in front of the steps to the church San Miniato at Monte. Feeling smug we got out took a couple of pictures of Buzz in front of the steps and headed down to the Piazzale for the best close up view over the city spending time looking around and getting some more photos of the skyline, before heading back. Although before we left we saw a pizza delivery scooter turn up at the statue of David – someone had ordered pizza to be delivered at the statue!!
At this point seasoned motorhomers will understand the philosophy that seems to prevail – that is, if you see a motorhome parked somewhere that you would like to park, it must be alright so you're going to take their lead and park there too. As we got back to Buzz a German registered motorhome did just that, squeezing in right behind us. At this precise point we suddenly spotted the amazing photo opportunity of Buzz with the Duomo dome behind him and as we snapped away our German neighbour looked on envious of the great view. From there we headed south to our chosen aire at Poggibonsi which was free with free electric hookup for an early night ready for our visit the next day as Buzz had an early appointment at the workshops for a check up before the visit.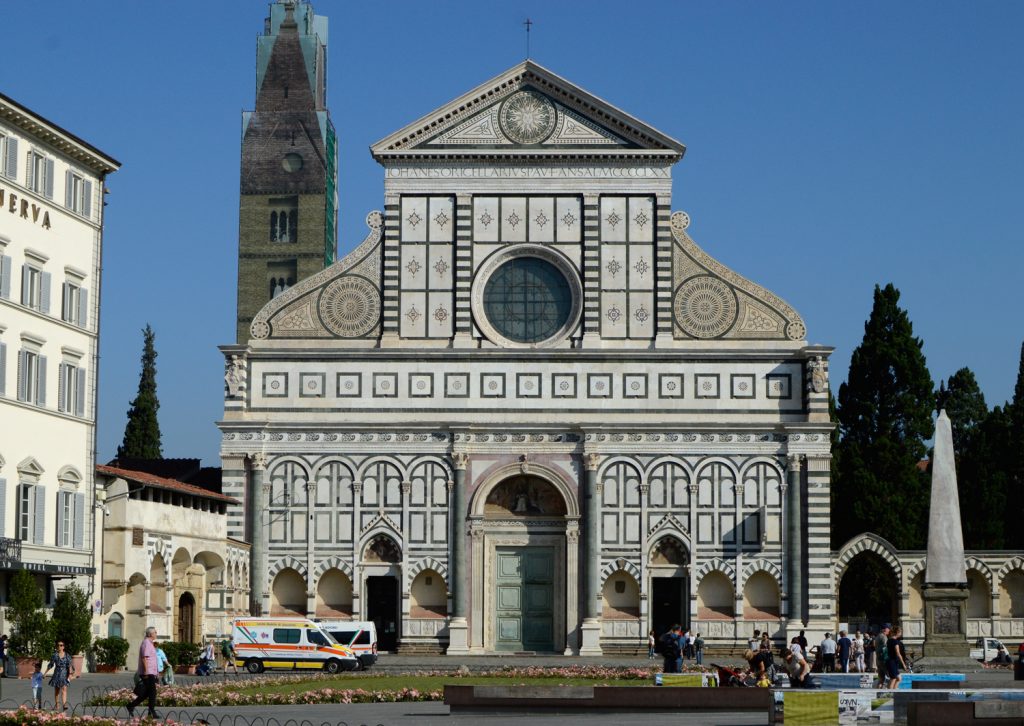 One of our concerns was getting into Florence and parking Buzz, something we discussed with Martina the export manager at Laika. She helpfully suggested parking at Galluzzo and getting the bus in giving us directions to a large free carpark and where to get the bus which turned out to be perfect so after a 20 bus ride we started our tour at the Piazza Santa Maria Novella.  Like the Verona card we have mentioned before Florence also has a visitor attraction card but Florence is much bigger and the card is a 72 hour card for 85 euro. What with our intention of doing it in one day and having to watch our budget we chose not to get one but would recommend it if you are doing a city break or a few days in Florence.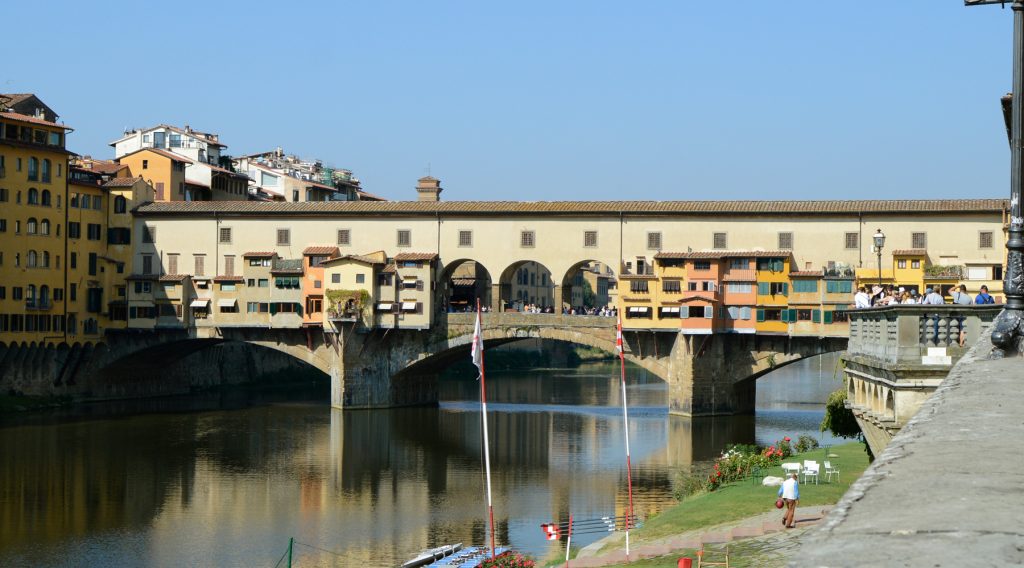 So Florence the city, what can we say that hasn't been written thousands of times?
The Duomo is absolutely enormous and stunning the Campanile and Baptistry equally so clad in their white, green and pink marble and the Baptistry doors particularly the eastern door. There is history everywhere you look, Roman statues, renaissance statues and architecture, the Ponte Vecchio its sides lined with shops selling their precious golden jewellery and expensive watches, the people vying for the best spot for a photo. The enormous Palazzo Pitti and Giardino di Boboli with it's cool shady paths dotted with Roman statues and modern and artwork.  What we will say though is that one of life's little pleasures that we like indulging in is people watching and a city like Florence gives you the best opportunity to watch and observe people, watch their little rituals when taking a photo, the guides leading their tour parties and watching people queuing to rub the nose of the bronze Boar Statue called Il porcellino a 17th century copy of a Roman Statue in Mercato Nuovo. As legend has it if you rub his nose you will return to Florence one day. Soaking up the atmosphere, watching groups chatter excitedly as they discover yet another beautiful statue, the monk in full robes taking pictures with his smart phone.  Then there was the Japanese couple I was sure I had seen before posing in the Piazza Republica. When I also saw their photographer I knew I had seen them on our trip previously (Turin I think), perhaps a couple on a protracted honeymoon with an accompanying photographer? Or may be 3 professional travel bloggers exulting their Japanese followers to come to Europe? Who knows, it does however highlight just how small the world can be sometimes.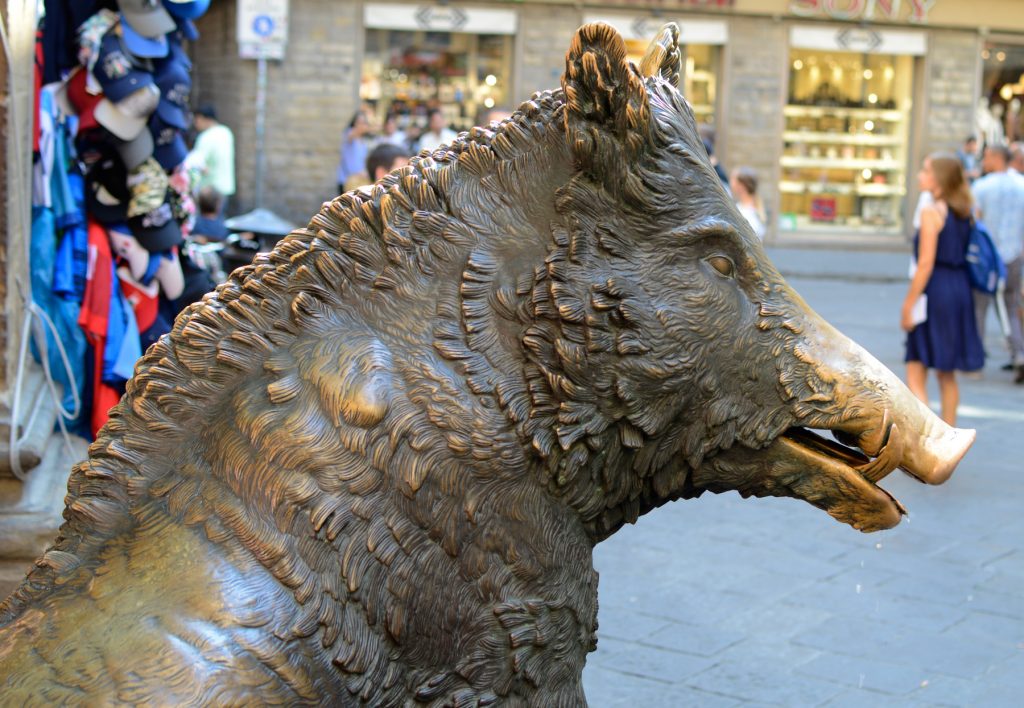 If we can give one piece of advice it is don't do Florence in one go, there is too much to see and take in, do it in a couple of goes, take your time to absorb it watch the people, look at and see the magnificent architecture, soak up it's antiquity, it's uniqueness. When you stand in the Piazza della Signoria outside the Palazzo Vecchio looking at the statues taking your pictures, stop for a minute and look at the detail and marvel at it – for example the stunning details in the bronze 16th century statue of Perseus beheading Medusa by Cellini and consider it was sculpted over 460 years ago.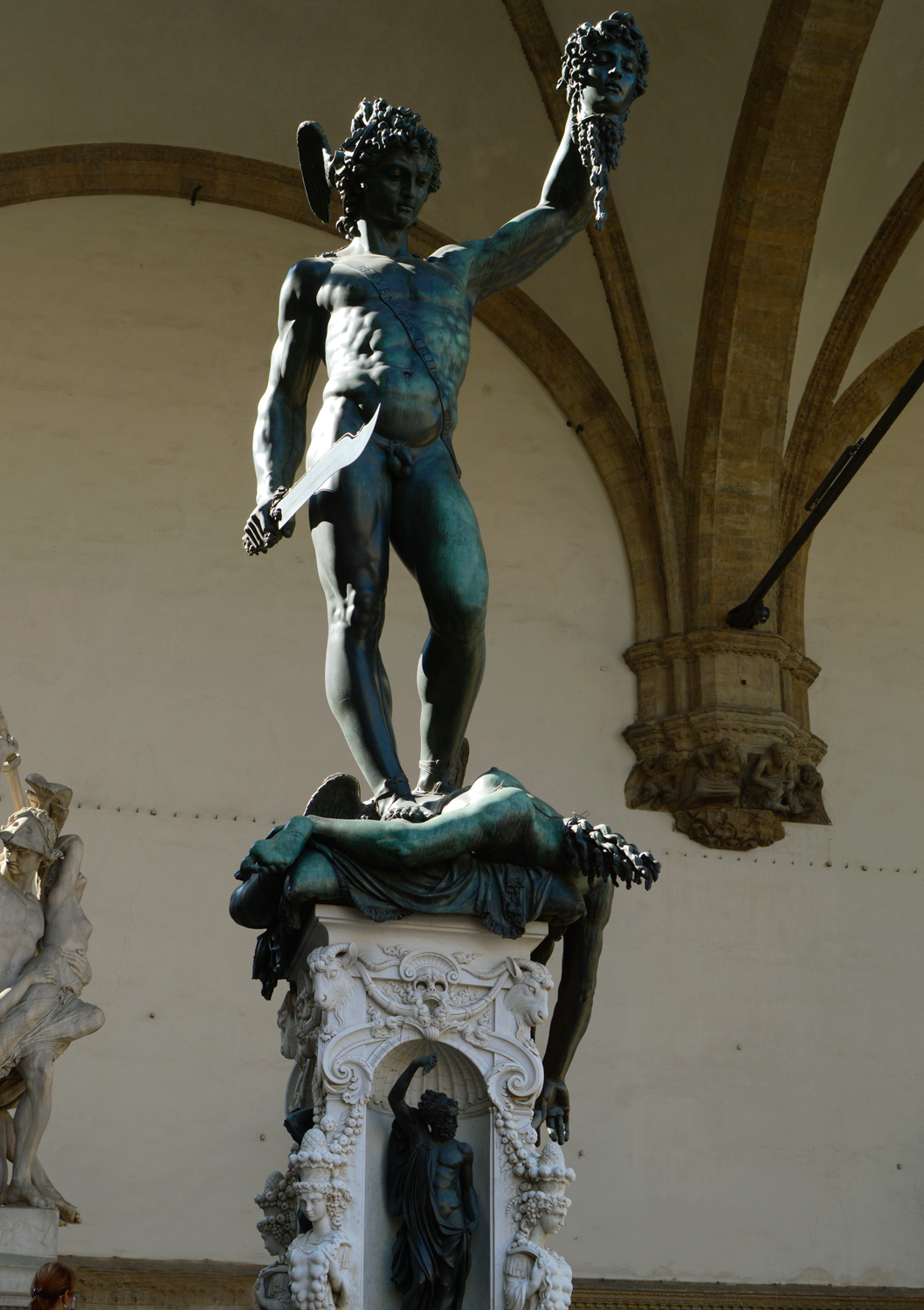 Florence, beautiful, amazing, enchanting – go and see it then go back and see it properly. We have yet to go back but I know we will see a completely different city when we do and we will love it even more.