One of the main things that make life that little bit more enjoyable is the ability to have a nice hot shower when you want one, which is one of our trepidations about motorhoming for months on end and one of the great things about Buzz. His Bathroom.
As you would expect in a 7 meter long home the bathroom is small but actually feels a bit like the tardis, having everything we need. A good sized sink, toilet, plenty of cupboard space and a good separate shower cubicle with a very good shower.
Obviously the other essential is hot water for such pleasures we have a Truma heating and boiler system, this much like a home system takes care of our hot water and heating and like home can be programmed ensuring we wake up with hot water and heating in the mornings. With a 10ltr hot water tank which is obviously not enormous but plenty big enough for the 2 of us and it stays hot, we can get hot water in about 15 to 20mins so tend to turn it on when needed rather than set the program.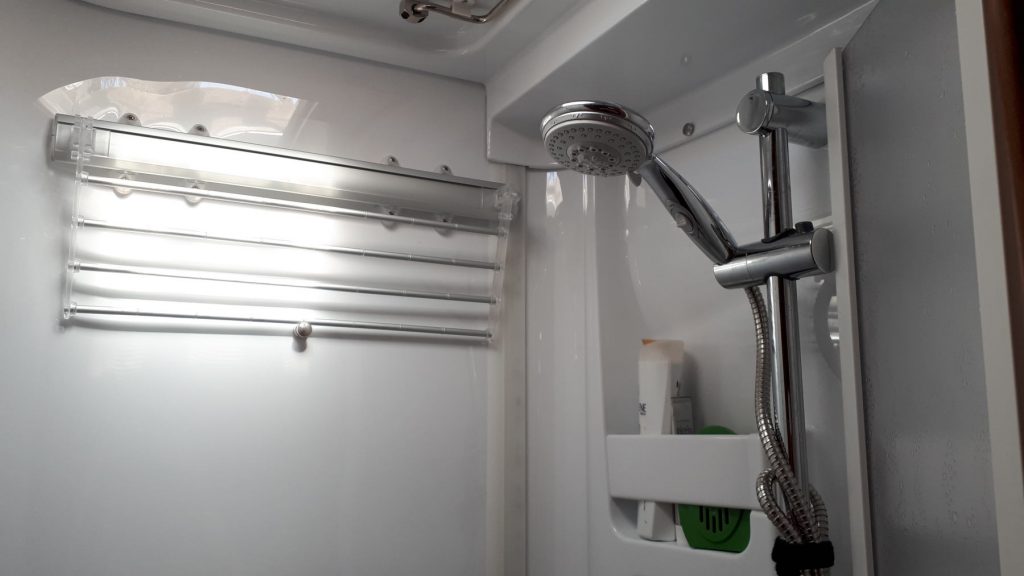 We also have 2 big mirrors one of which is a cabinet and an additional cupboard under the sink both with plenty of storage space. The shower has lots of shelves for your soap, shampoo, conditioner etc as well as 2 hangers for drying towels or a few items of washing. The shower head has 4 jet options and an on/off switch, there is an opening skylight to clear steam and LED strip lighting so you can see what your doing.
The toilet is a Thetford with swivel seat for easy access to the shower and leg room when using it with a flush and full or nearly full warning light, if we are not in a position to empty it we get 3 to 4 days before the red warning light stares at us daring us to use it. There is however still some space if needed.
One of the things that we were unsure about before our first trip was everything to do with the bathroom, getting clean, using the loo and emptying the cassette but we needn't have everything works well and with plenty of room in fact the shower is better than the one in our bathroom at home. The bathroom is well designed solid and well proportioned when you look at the space available, in fact one thing that Laika do is use larger bore drain pipes than most manufacturers so water drains quickly without any mess or risk of the shower tray overflowing and we have a stylish hanger on the back of the door.