After Cabo De Sao Vicente we turned our eyes north and the wilder less developed Costa Vicentina or the western Atlantic coast.  This is virtually all natural park (parque natural da costa vicentina), sitting between the Atlantic and the N268 with few towns and few access points to the coastline. We had read about Amado beach deciding it would be our first port of call, the thing about Portugal is that it is smaller than you think and in no time at all we spotted the turn off to the beach. Around 8km (4/5miles) down a pleasant but narrower road later we see the beach ahead of us and turn into a large car park find a temporary spot and get out to investigate. Walking down to the beach we both immediately turn to each other with the widest Cheshire cat grins, the view is stunning. After a quick initial look we move Buzz up to a smaller higher car park and get a slot overlooking the ocean getting set up before grabbing the camera and heading out for a longer walk.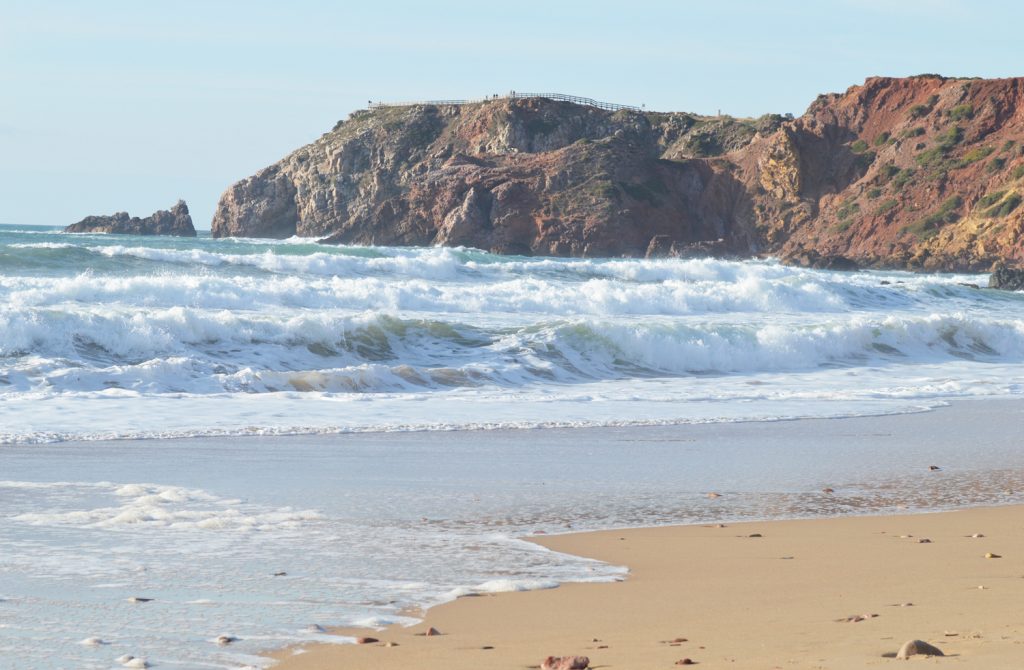 Walking down to the beach there is a boardwalk and a view point overlooking the beach, which is in two parts. A smaller empty beach on the right and a large curving beach on the left, hemmed in by tall sweeping cliffs at both ends forming a large cove. The scenery is stunning and the loud roar of crashing waves constant. There are also a couple of snack bar/restaurants and surf schools all wooden structures and perfectly at home in that environment that is it. It is windy as you would expect and the waves are huge, looking at them crashing on the beach and rocks at the end of the cove is mesmerising, impossible to turn away and not keep watching. Well it was for us, we love the sea and wilderness and this is both. After a while we tear ourselves away and head back to Buzz for a cup of coffee and to sit in the cab watching the waves continue to pound in, eventually watching the sun go down before dinner.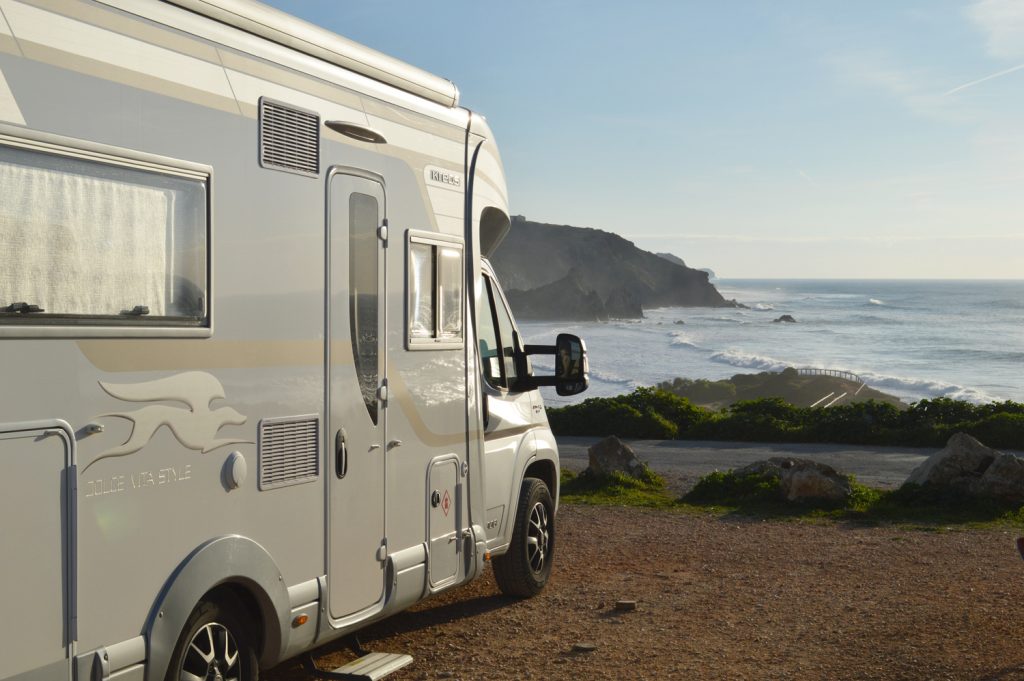 After a peaceful night morning brings a bright sunny day, at this point we would add a word of caution if you are a light sleeper you may need earplugs as the sea at night is very noisy however it is also rhythmic and didn't bother us at all. After an early breakfast and a visit from the police who are knocking on everyone's door, our turn eventually came along with a warning that sleeping here is prohibited (in fact anywhere within a natural park). Although they told us we weren't in trouble they did take our details, that said after a discussion with other motorhomers several said they were staying at least another night. It seems they have these occasional sweeps warning people off although no one is in trouble. After the excitement and a leisurely morning we head off looking for new views and walks.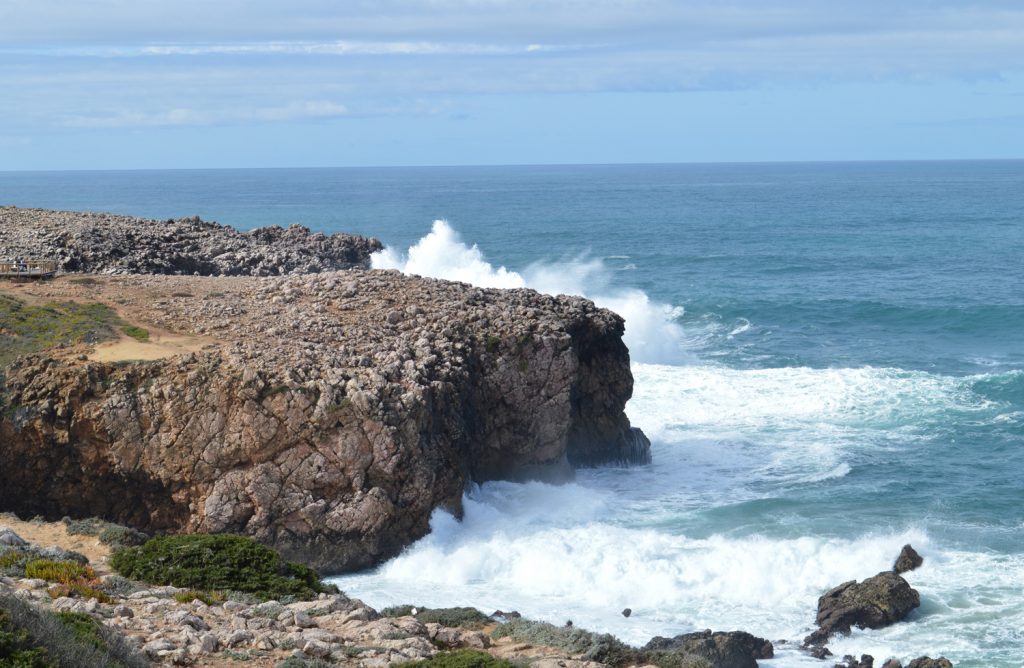 Next on our agenda is the Praia da Bordeira which has a large deep beach with river on one side and boardwalks out across the cliff tops.  We parked in a bit of a sandy, but firm, bumpy parking area back from the beach along with several other motorhomes. To get to the boardwalks you have to traverse a narrow rocky path along the edge of sand dunes from there you can access the beach or go up over the cliffs, we turn to the cliffs.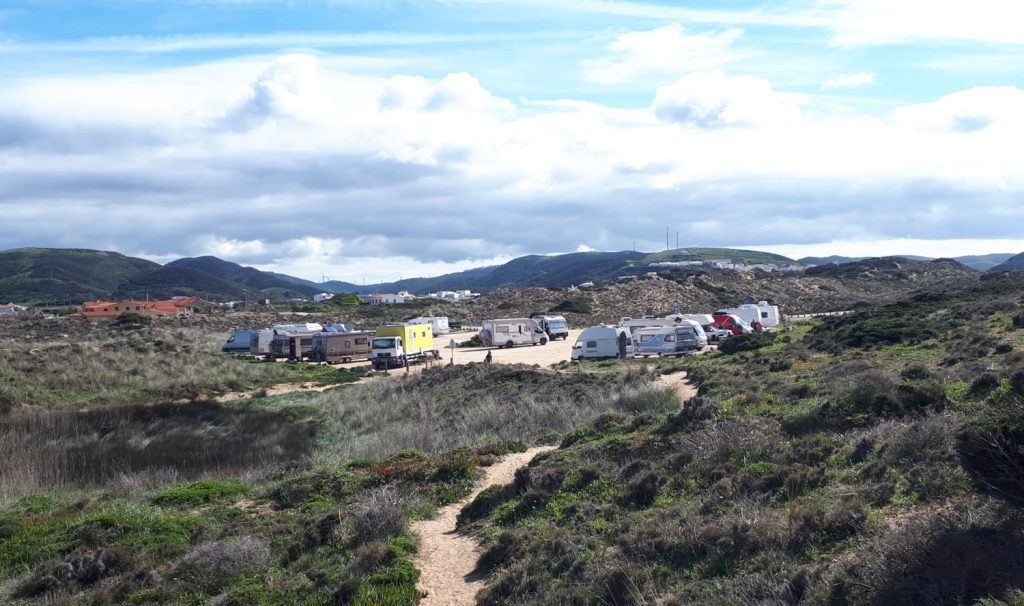 At the top there are lots of spits hemming in little coves, we walk from one on to the next watching waves which are bigger than at Amado. The massive waves crash into the base of the cliffs throwing up huge plumes of spray at least a 100ft into the air, understandably we spent a fair amount of time watching the waves crashing in. Eventually hunger got the better of us and we headed back to Buzz for lunch and knowing we couldn't stay it was time to move on.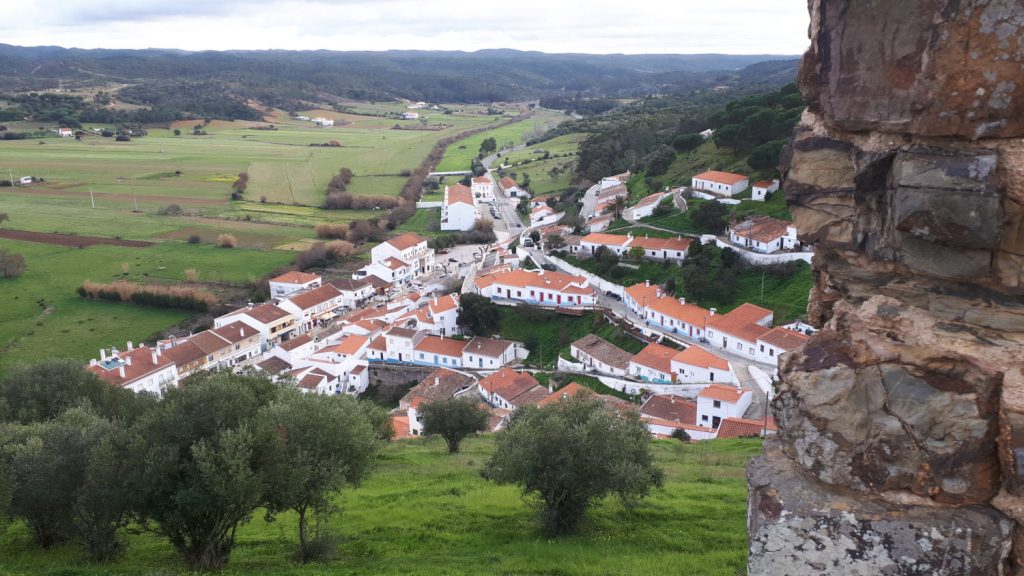 Our journey continued up to Aljezur a small town around 10km inland and one we had been told we could sleep at. After parking at Aljezur we went to explore what turned out to be an interesting old town with steep narrow streets and the remains of an 11th century Moorish castle perched upon top of a hill overlooking the town and surrounding countryside. As we made our way up to the castle through pretty streets, tiny houses stacked on up on the other, up the smallest steepest roads and alleyways we did what we often do which is to think about the difficulties of living in such an environment. Just getting furniture up to your house, where do they park if they have a car at all and if not how do they get out and about. The castle is basic but one of the best preserved we have seen in the area and the views alone are worth the trek up there. As it starts to get dark we make our way back to Buzz and something to eat, before locking up I get out to put our thermal screen on in the now dark parking place which is alongside a small river. White putting the screen on I can hear a lot of scuffling and squawking behind us, being curious wander back to see what is making the noise and am stunned by what I find. Go back and get Marcella out not telling her what it is (just like you now) and we both stand there gawping in amazement at what we see. Hundreds, yes hundreds of white Egrets roosting in the trees along the opposite bank of the river there are so many we cannot see how far they go into the night. We decide not to photograph and disturb them with the flash, we did try without but it was too dark.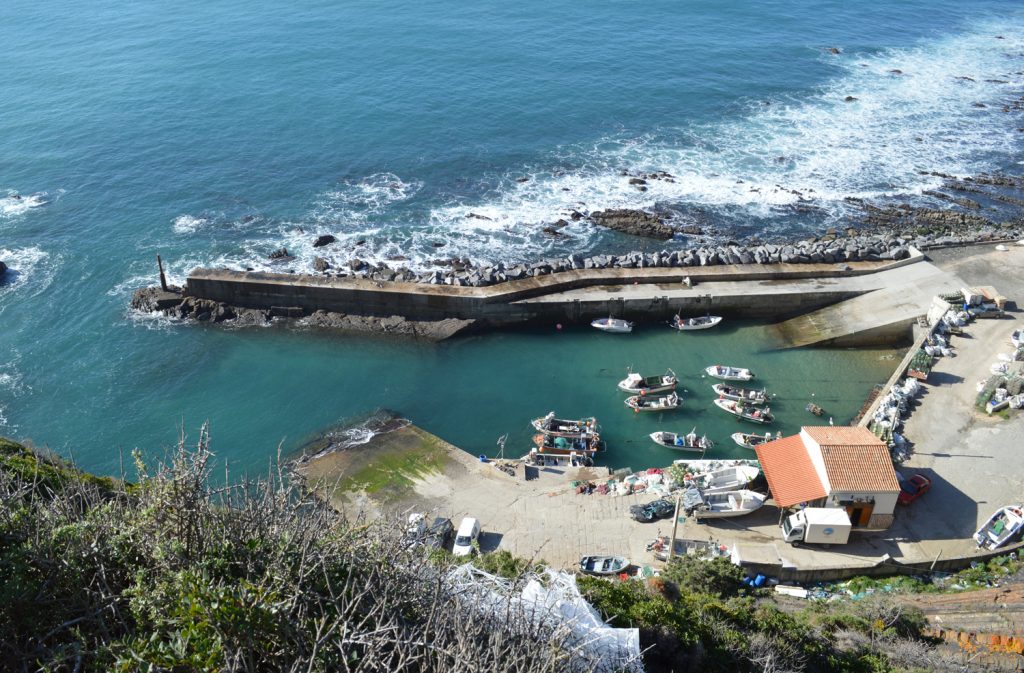 The next morning we are up and out early, heading back down the coast a couple of miles before turning towards the coast and the Praia da Arrifana another large sweeping cove with gorgeous sandy beach and a small slightly scruffy village sitting on top of the cliffs. However this is about the scenery and not the towns which does have some charm, so we spend our time walking the cliffs watching groups of surfers bobbing about in the water waiting to catch a wave. Walking out onto the promontory at the end of the village where a restaurant sits at the entrance to an old ruined fort. The information on the fort tells of how it was almost raised to the ground by the Tsunami that followed the 1755 Lisbon earthquake and how the surrounding countryside was levelled by the waves cutting the fort off. This at first reading doesn't sound too amazing until you realise the fort is probably 100 feet above sea level, the damage that would be done today were there to be an event on the same scale doesn't bare thinking about.
We head back to Aljezur for a look around the small market where I am offered a dried fig to try, for me this is like giving candy to a baby I have been hankering after some Portuguese fig cake since we got here. However Marcella doesn't like dried figs, then she tries one and the cake is duly purchased with a piece eaten with coffee pretty much straight away, delicious. Craving satisfied we move on to our last port of call in the Algarve Odeceixe, before going into Alentejo.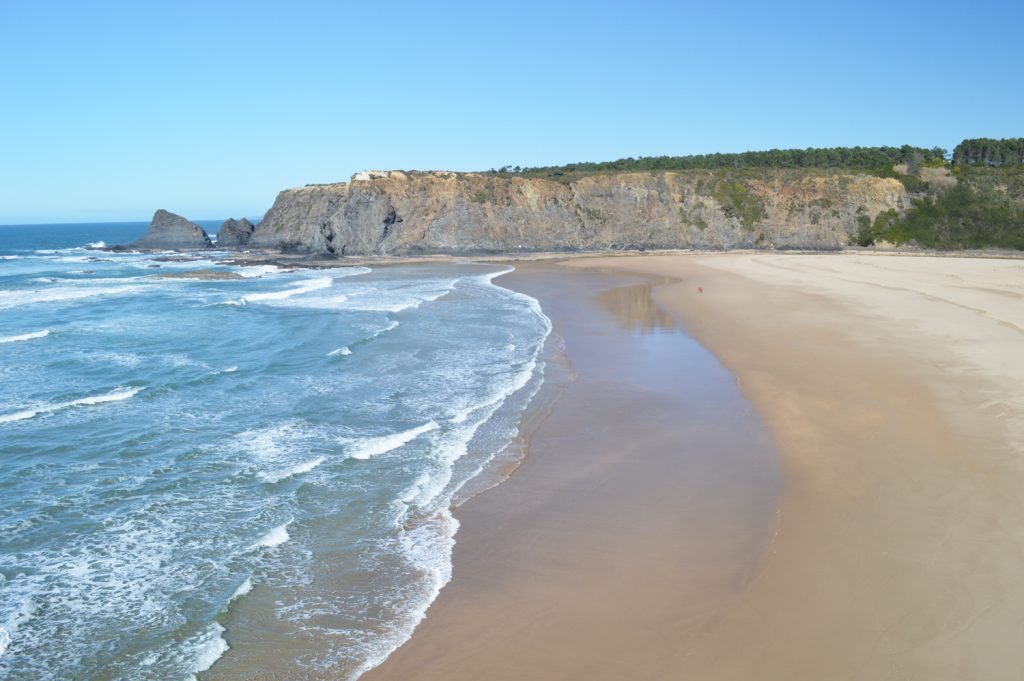 At Praia da Odeceixe we park up have lunch before going for our walk along the cliffs, once again the waves are even bigger crashing into the cliffs and rolling onto the deep sandy beach which is virtually deserted. Once again we spend time just watching the awesome power on display, power driven by the wind raising the waves from a seemingly calm sea. The gorgeous coves with their lovely sandy beaches, rock formations and the wonderful deep blues, pale blues and turquoises, we have truly been spoiled by this wonderful stretch of coast, more often than not alone with our thoughts and ever present grins we feel blessed and we know there is yet more to come. With that thought we head off going through the tiny pretty hamlet that hugs the hillside set back form the beach, more adventures await and we are keen to find them.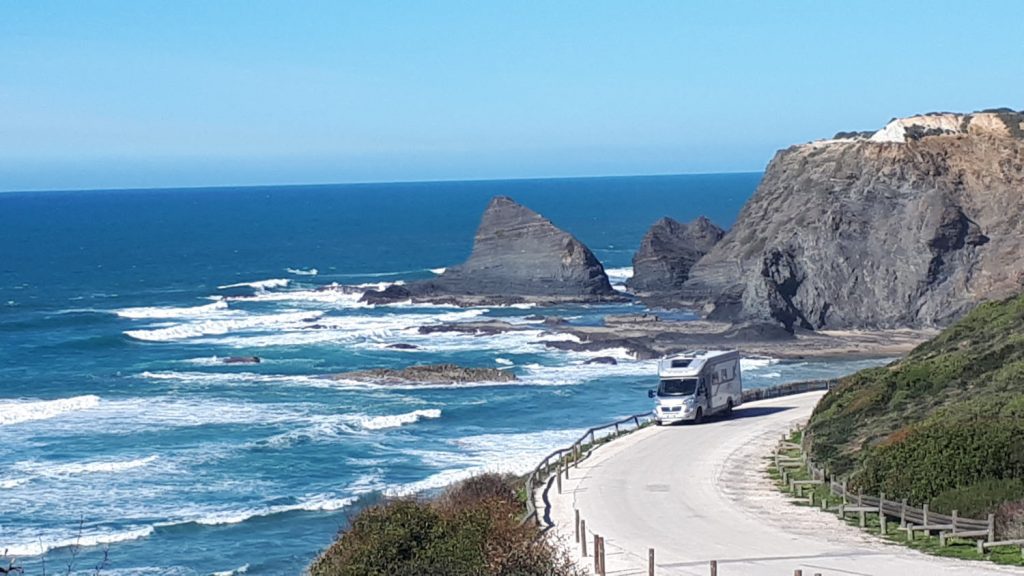 If you are in the Algarve and haven't been up the west coast then do you are missing the best the Algarve has to offer and it's all free, all that's required is that you respect it and of course enjoy it.