Continuing our motorhome journey along the Algarve we arrived at Alvor. A huge motorhome park awaited us yet again with dozens of vans all lined up filling a vast area, many with awnings, tables and chairs out, sitting soaking up the sun. It was all a bit overwhelming, but we noticed a smaller, less cramped area to the side, probably because it was a bit wet in parts and found a flat dry space and got parked up there instead. After a quick walk around the sun was going down and it was getting quite cool so we saved walking around the town for the next day.  Morning soon came and after breakfast we took a pleasant sunny stroll along the appealing cobbled harbourside promenade lined with a handful of casual restaurants and cafes trying to tempt us with another breakfast, drinks and then lunch.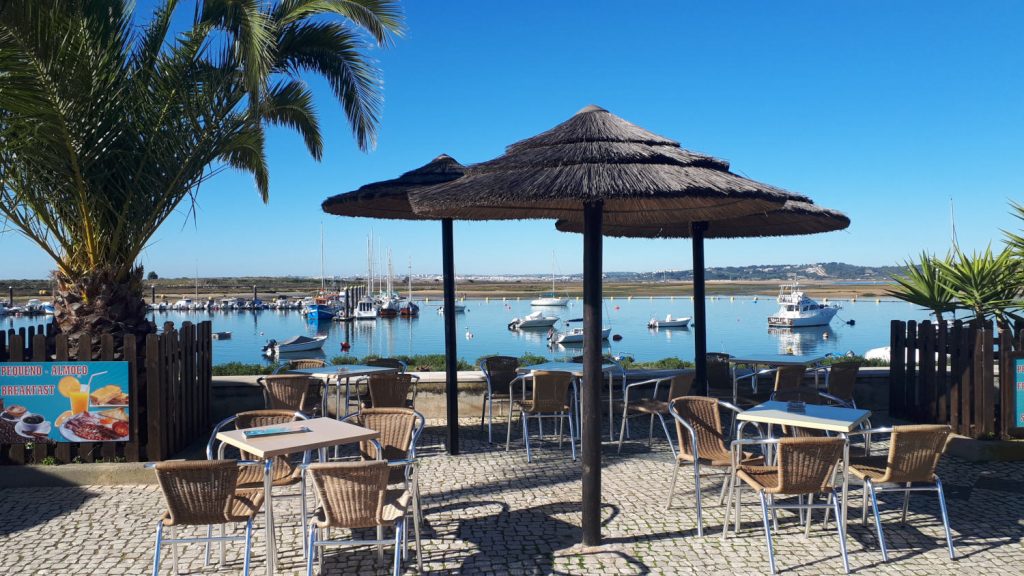 The pretty, tranquil little harbour was dotted with colourful fishing boats and it was interesting to see the fishermen sitting out with their octopus drying out on grids in the sun. Understandably most of the restaurant menus are heavy on freshly caught seafood dishes offering an array of fishy foods from octopus and razor clams to squid, monkfish and clams. As we have a bit of a fish phobic amongst us (except for chip shop cod and chips!), we tend to avoid these but it was all looking very inviting and smelling very aromatic (Julian would say 'fishy'!). The old town rises upwards, forking along two cobbled streets leading left and right, all lined with a surprising number of Irish pubs! We were planning to visit the old castle but somehow went up and down the town completely missing it. The town is small and quite appealing in parts with the usual selection of shops, most of which were closed. How these places ever make any money we will never know!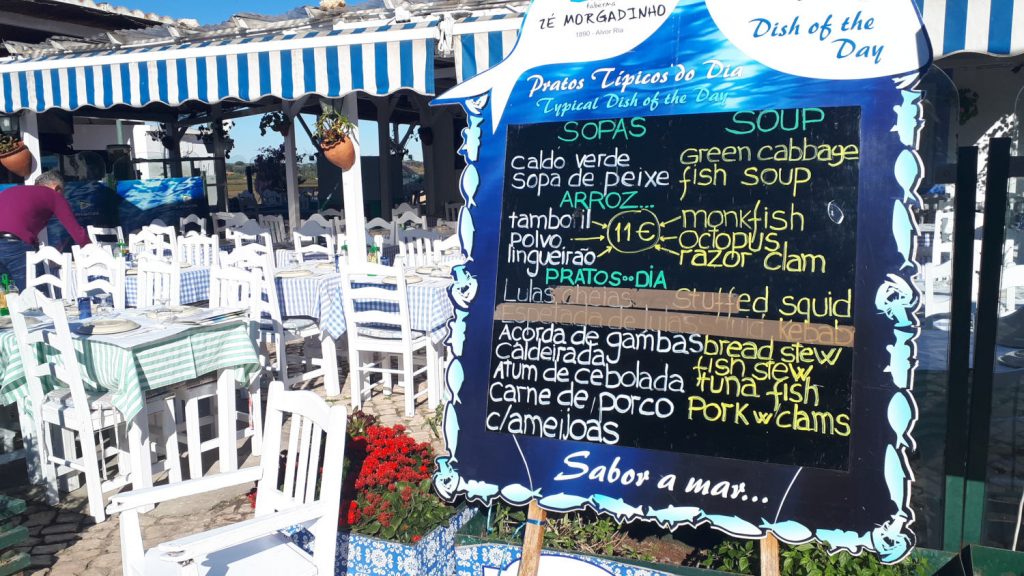 Alvor also boasts a fabulous long, sandy beach with a marked trail and winding wooden boardwalk leading out along the sandspits, popular with dog walkers and joggers. We enjoyed a long, lazy meander along as far as the little lighthouse, past a huge dredger clearing out the water and pumping the silt and debris away from the estuary. Walking back on the inland side the tide was out and we noticed several fishing boats beached on the sand. The scrubby land seemed to be home to several gatherings of goldfinch who were skittering about singing merrily to each other as we passed.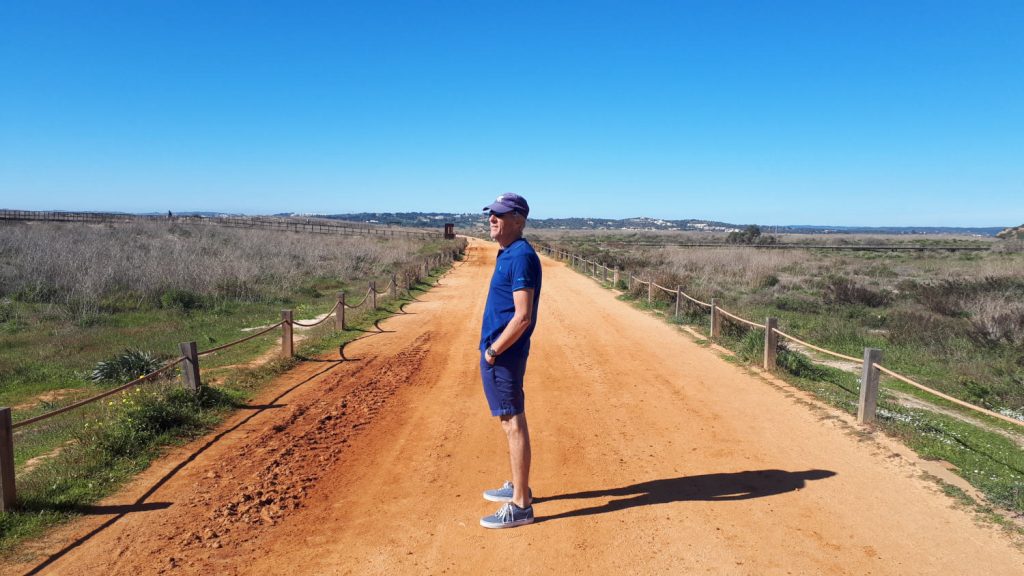 Half a day was enough for us in Alvor and we moved on next to the historic town of Lagos, reported to be one of the Algarve's most attractive towns. The old part is surrounded by tall 14th century walls and it is from here that many of Portugal's most intrepid explorers first left the coast in the search for the new world. Yet again we found ourselves in a massive car park and as we sat contemplating our surroundings we instantly recognised a British van driving in, in front of us. It was then that it suddenly dawned on us that they had appeared at every single parking place we had been to since we first noticed them at Gibraleon in Spain! We were just about to go and say hello when we saw them wandering away – strangely we haven't seen them since!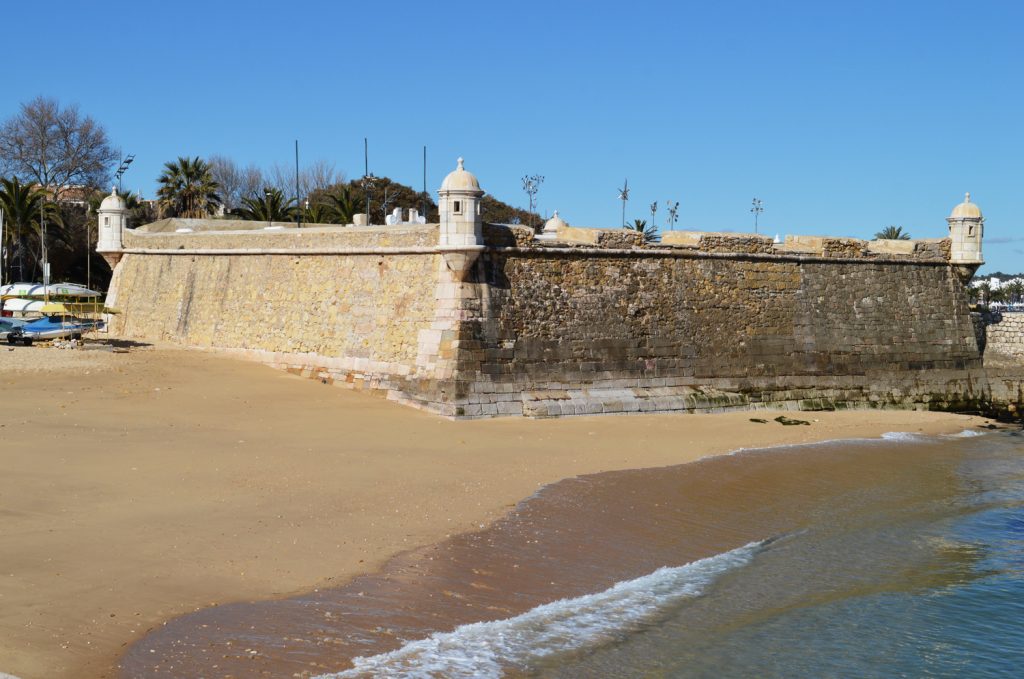 Setting off to take a look around and a short walk later we arrived in the spacious, quite smart marina. The first boat we saw was called 'Gin and Tonic'. The second thing we noticed was an estate agent called 'Marcela' – I think we're going to like it here! (Although they did spell my name wrong). Further along, a walk over the footbridge and along the river we passed a few market stalls selling mainly linens (the Portugese seem to have an obsession with tea towels and tablecloths) and as Europe's largest producer of cork, every conceivable item you can think of made in it. Belts, purses, bags, shoes, even hats – you name it! It has to be said that none of it was particularly appealing although we did notice some colourful painted cork plaques which were probably the best of the bunch.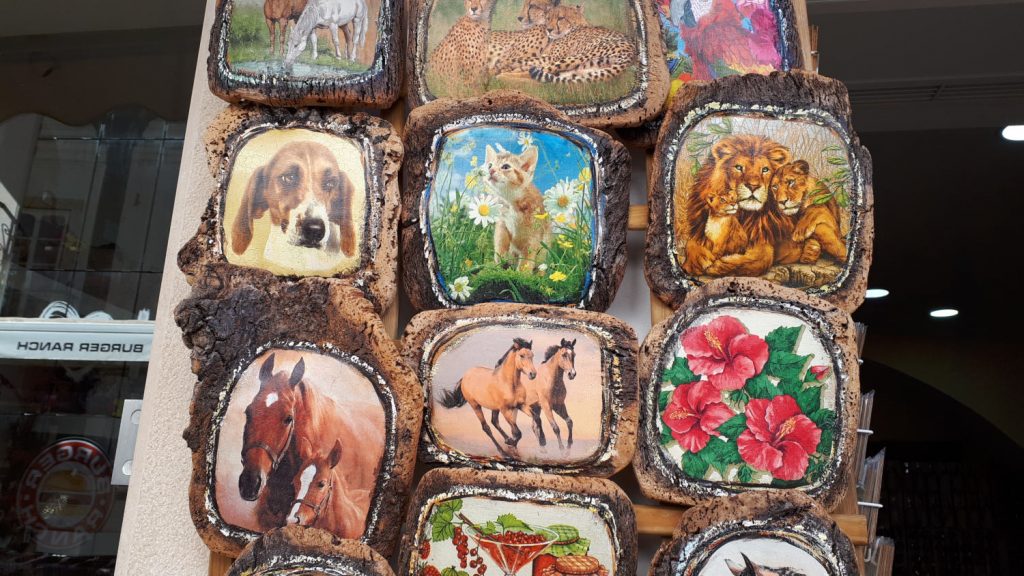 Further along there's an old 17th century fort overlooking the sea and a small, unremarkable yellow sand beach alongside. This beach led to another and another, and we found ourselves ducking through narrow or low erosion tunnels discovering one sheltered little cove after another, with an assortment of striking rock formations standing proud just offshore. On one beach we came across a wannabee rap star who was strutting his stuff, miming to music, being filmed by his other half, which was quite comical. I don't think we'll be hearing him on the radio any time soon! It seemed like you could keep on going and going but the tide was coming in and there was only about a foot of dry sand in some coves so we had to make a hasty retreat. Taking some handy steps up to the road conveniently led to a picturesque cliffside cafe so we took a pew with a view and had a coffee while enjoying the blue skies and sea breeze.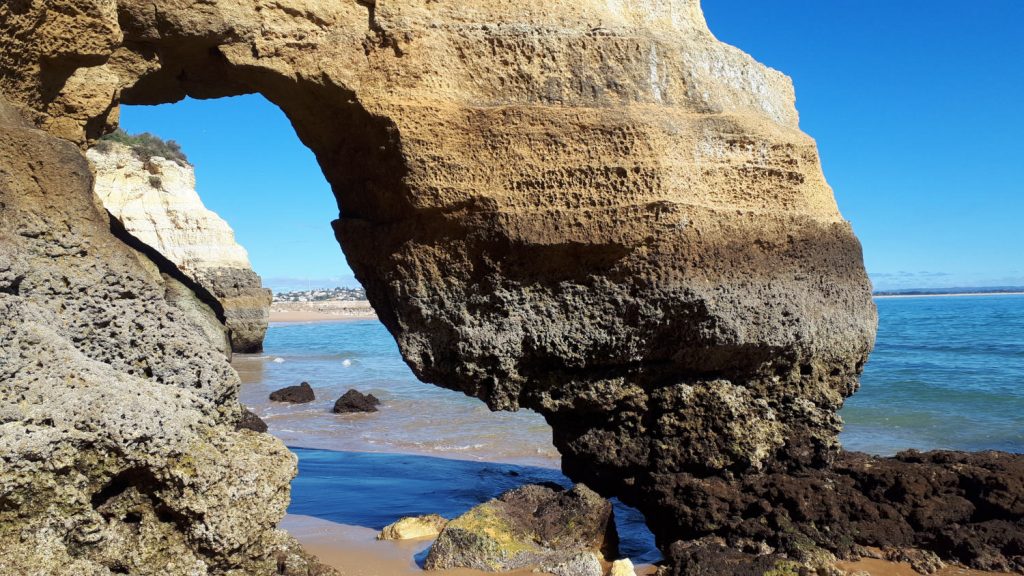 We walked back through the town which was nice enough, but we soon got to the marina and decided to have a light lunch at a cafe with terrace overlooking the bobbing boats before going back go Buzz. Back at the motorhome we got a few things sorted out and were just putting the kettle on when we heard a knock at the door. Two smiling faces looked up at us holding out a wooden tray laden with cakes and pies, telling us that they were selling their mother's home-made bakes! If you know us at all you will be able to accurately guess that this is not something we were able to resist, selecting a huge slab of chocolate cake topped with a strawberry to have with our coffee – perfect timing.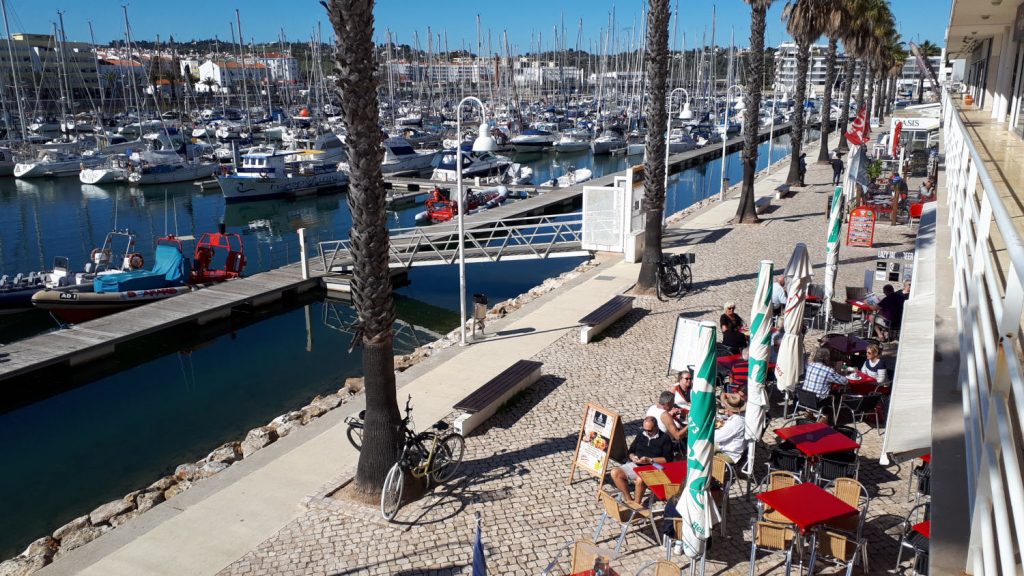 Our next stop was just up the coast at the headland of Ponta de Piedade and plenty of space to park the motorhome. We wandered over the green, bushy clifftop, scattered with cheerful yellow blooms and wild purple lupins via winding sandy tracks leading to the cliff edge. The afternoon sun cast its golden cloak over the yellow cliffs, the cool blue sea a stunning contrast. The fragmented, craggy rock formations never cease to amaze us, each and every one unique and thought-provoking. We could never tire of sights like these. The sea splashing in and out changes the scene every few seconds. Look away, look back and it's a completely different seascape.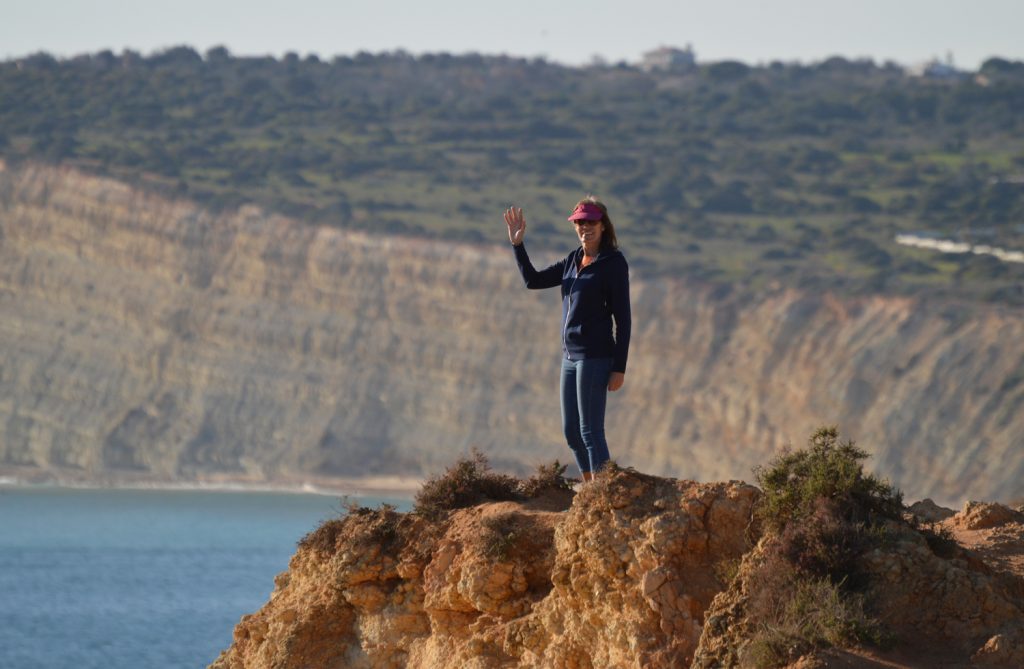 Needing to park up for the night we drove onwards to Sagres and parked in the large car park by the fort. We didn't notice at first but later in the evening we became aware of the loud rumble of the waves against the rocks. Rather than keeping us awake it was actually quite soothing and as we went to sleep it provided the perfect natural lullaby. The next morning 3 euros each got us through the massively thick walls of the immense Fortaleza and into the grounds and access to the circular walk out over the promontory. Over to the East was the Praia de Mareta and over to the West the Praia do Tonel.  Being the most South Westerly harbour in Europe we expected the walk to be windy but it was surprisingly sheltered which was just as well for the hardy fishermen perched precariously high on the 75m cliff tops hanging over with their fishing rods waiting for a catch.  In the middle sits the Chamber of Sound, a circular structure which winds round and round with a chamber in the centre used to measure the strength of the waves.  Ahead of us the sun shone and the sea sparkled, like a thousand sequins on an ocean gown.  The waves rumbled in and rumbled out, thick white frills of foam coursing to shore. It doesn't get much better than that ….. or maybe it does …..