From our dam side parking slot at Barrgem do Pego do Altar we decided for the next part of our Laika motorhome tour to push on north to Lisbon even though we had intended to turn east. The weather being warmer and drier than we expected and being so close we felt it worth doing. For Lisbon we decided to park Buzz at Corroios on the southern side of the river. We made our way to a free   motorhome aire next to the local sports ground, just 500m from the train station, giving us easy access to the city. Perfect, well almost. Time for a quick explore, shop for supplies followed by a brew sitting in the sun in the park then dinner aiming for an early start and a busy day.
One of the problems with an early start at this time of year is that the mornings can be at best cool and at worst cold, so dressing accordingly I went with long sleeves and jeans. A decision I would regret later before being glad on the way back in the evening. Yes evenings mirror the mornings, better too warm than too cold. Our plan for the morning started with a visit to the historic café in Belem where the original Pasteis de Nata was first made for a coffee and custard tart. However as they say no plan survives first contact and ours was no different, the kind lady in the station ticket office must have misunderstood us and advised us to get the metro after the train except the metro doesn't go as far as Belem . So without checking it out we set off following her instructions eventually ending up in Baixa a long way from Belem, deciding on coffee this side and going over to the other later. So finding a suitable looking café we went in for our morning coffee only to be drawn into an extra unplanned bun a deliciously moist Bolo de Arroz (made with rice flour) and unbelievably a bill of just 4euro for 2 coffees and 2 buns in a capital city. It has to be said we could have sat there all day eating their delicious looking bun/cake range which was extensive. Cheered up after our initial disappointment and suitably refreshed we set off to explore this fabulous city.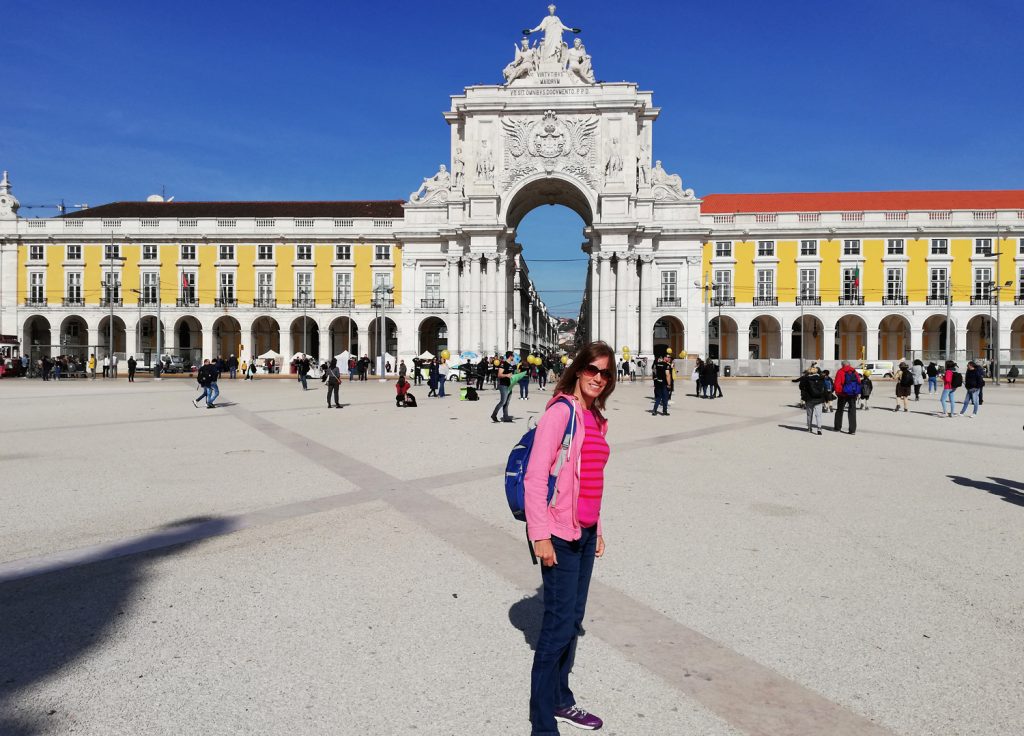 As we were in Baixa we carried on towards Arafama walking down to Praca do Comercio first the big open square on the shoreline before walking up to Se the cathedral, which is surprisingly simple inside. The Se houses a few treasures in the treasury which you can see by paying but having been in the strong room in Cordoba we didn't do. On past the cathedral we had what for us was an unexpected bonus, just to explain many years ago we visited Lisbon for a day while on a cruise and following this same route up to the views at Santa Luzia we witnessed and all stood amazed as an older lady parked her small car in an even smaller space in the street between a bottle bank and some unfortunate's car. Our first comments were "she's not going try and park that there is she" " Yep" and we stood watching as she methodically made the space big enough backing into the very heavy bottle bank then driving into the car in front, then back into the bottle bank, then the car in front, you get the picture. Eventually parked between the bent bank and bent car she got out locked up and walked off, quite happy with her work, well the thing is the bottle bank is still there and still showing the signs of that fateful parking display and yes we had to laugh.
Enough of that, we carried on up to Santa Luzia with it's view points across the river front and noisy bubbling square full of people having fun and is well worth stopping at for a beer to soak up the atmosphere. Which we did before walking around Arafama, a lot is made of the village atmosphere in Arafama and it is fun but we think there are better areas for seeing Lisbon in the raw. We carried on up to Castelo de San Jorge, which is extensive and very busy and if you have plenty of time worth the queue to get in, where you can walk the walls, visit the archaeological site, exhibition as well as a camera obscura showing all of Lisbon. We decided not to with other things we wanted to see carrying on exploring the city itself, we love walking around the streets looking under the skin of the city seeing it in the raw. We did however make our way to a tram stop to jump on one of the old historic trams around the eastern half of the city, cramming onto a tram on line 28. I ended up virtually sat on the tram drivers lap, yes they are very crowded and the drivers do have to drive these around the tight little cobbled streets climbing and descending around bends and curves and unlike the newer modern trams they share the road with everything.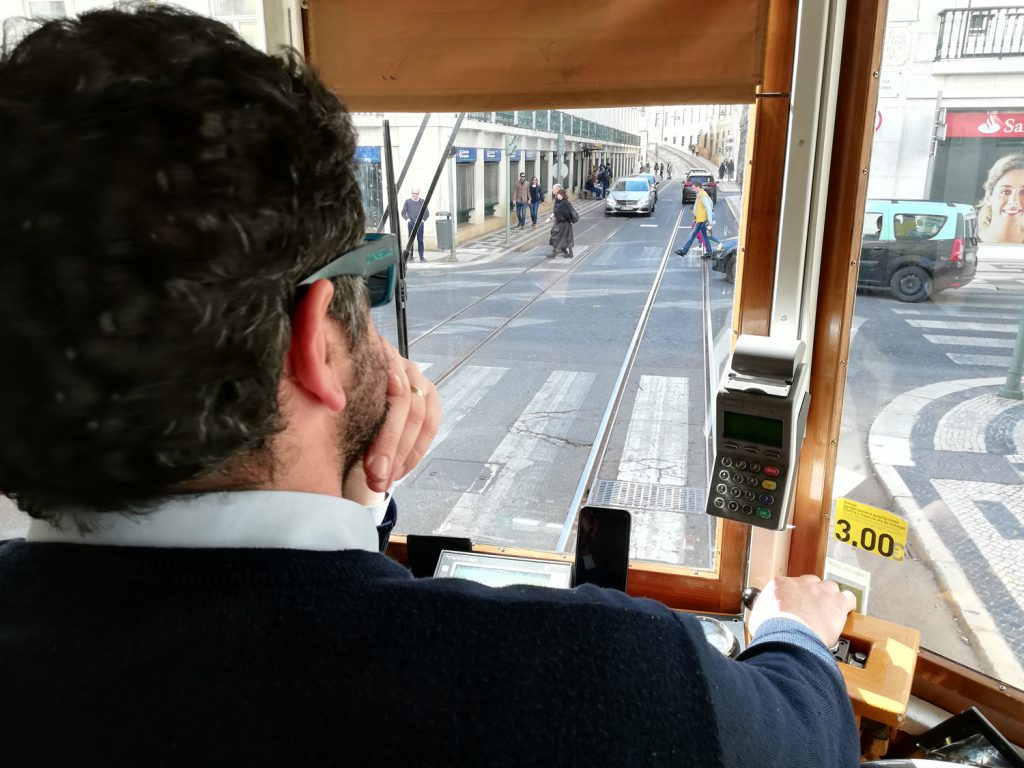 After our bone juddering ride we walked around the streets and squares of Baixa Chiado, with their shops, restaurants, cafés and artisan produce shops. Stopping to eat our packed lunch! Yes we brought a packed lunch, remember we had every intention of trying plenty of custard tarts. After lunch sitting in Praca Luis de Camoes we made our way to Cais do Sodre to catch the tram/bus to Belem, firstly visiting the Mercado da Ribeira, this is now a food hall sponsored by Time Out where you can get just about every type of food you care to try and if you are not sure where to eat then give it a go. Just remember it will be dearer than the little back street restaurants but it is lively and fun.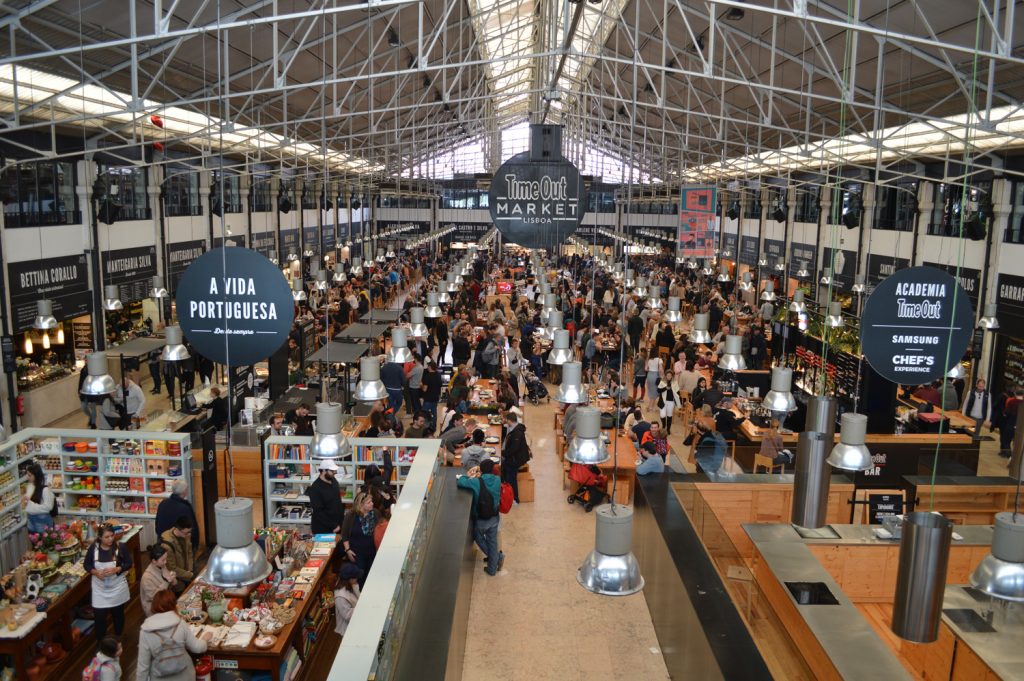 The trams were running late apparently due to an accident so a big crowd had gathered by the stops waiting for a tram or bus, when the 15 appeared as we were getting on I felt something not right behind me turning instantly to stop the pickpocket as he was trying to get in my backpack. He quickly scuttled off into the crowded tram empty handed though the zip was about ¼ way undone, you are always warned about such things and luckily I am very aware of my surroundings and feelings for anything unusual but we were extra cautious from then on. When you are aware of them they are obvious in fact one got on a different tram we were on I made it obvious I had seen him and he got off quickly. However Belem and the Pasteis de Nata was beckoning, once you get off the tram it is instantly obvious where the café is. The queue goes off down the street and just about everyone walking around has Pasteis de Belem bags or has a face full of custard tart as they walk.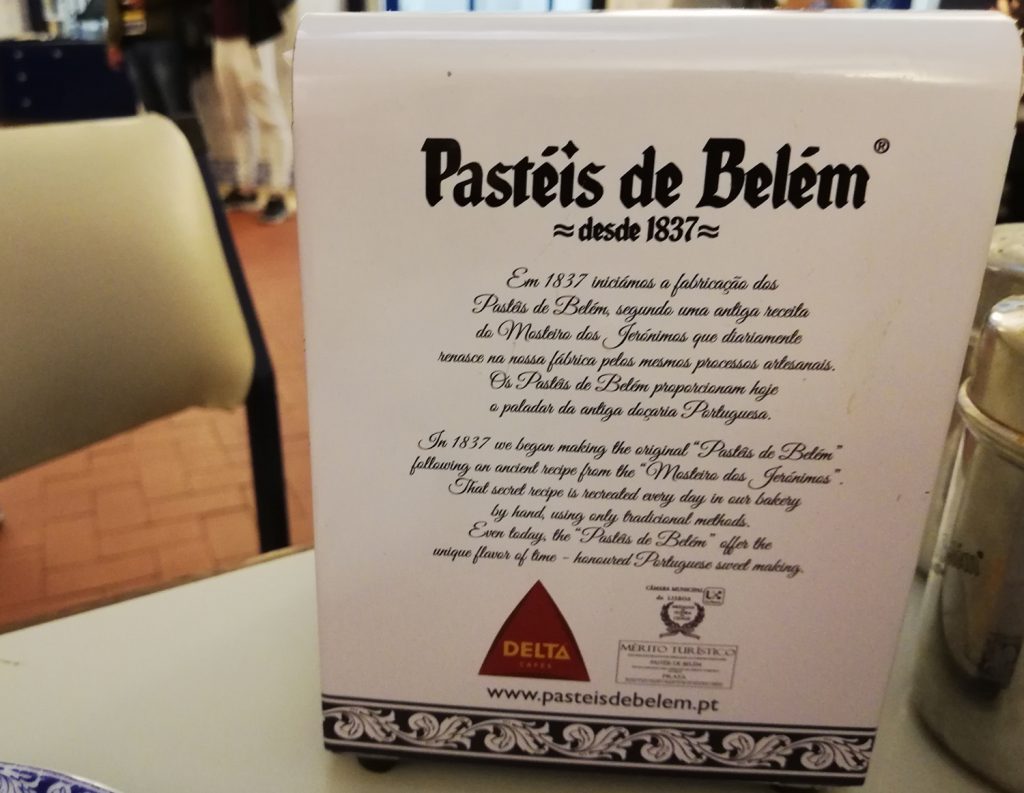 Luckily most of the queue is for the shop to take away their tarts so we went in to the café with its 400 seats, grabbing a couples seat as they stood up. I know the old saying would you jump in my grave so quick etc, well in this instance yes. We ordered 2 coffees and 2 tarts to eat and some to take away, everything came very quickly. The place runs like a well-oiled machine which is what it is, tarts are produced and consumed by the thousand. As soon as you sit down someone appears eyeing your seat enviously, eyes darting everywhere looking for an opportunity to grab a table. Anyway back to the custard tarts, yep this place has a reputation for a reason, they were delicious the pastry is so crispy and the warm custard is just divine. Eventually the eyes burning into you lead you to get the bill pay and leave, this is where the real shock comes. 2 Coffees, 4 Pasteis de Nata's and a bill of just 7.20euro, that's 4 cakes and 2 drinks for less than £7.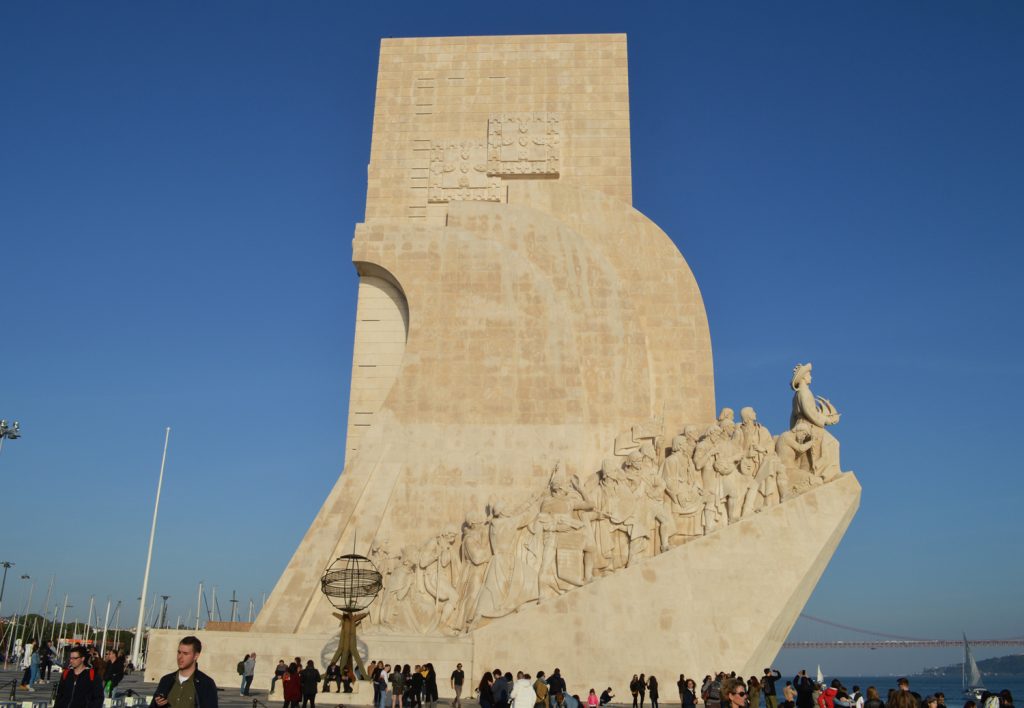 The rest of the afternoon was spent wandering around Belem in the warm sunshine, being trussed up in long sleeves and jeans I felt as if I was about to catch fire. That said it is so pleasant down that end of the city that walking along the waterside was a perfect end to the day making our way down past the marinas, bars and parks stopping at the Torre de Belem soaking up the views and atmosphere. Before long the sun was going down and we decided to make our way back to the station strolling up to the Mosteiro dos Jeronimos (monastery-Museum) to catch the tram back to Cais do Sodre, walk up to Baixa Chiado to catch the metro back to the train station at Sete Rois and back to Corroios and Buzz. We had to wait about 15 minutes at Sete Rois at which point the clothing choice turned back round to favourable.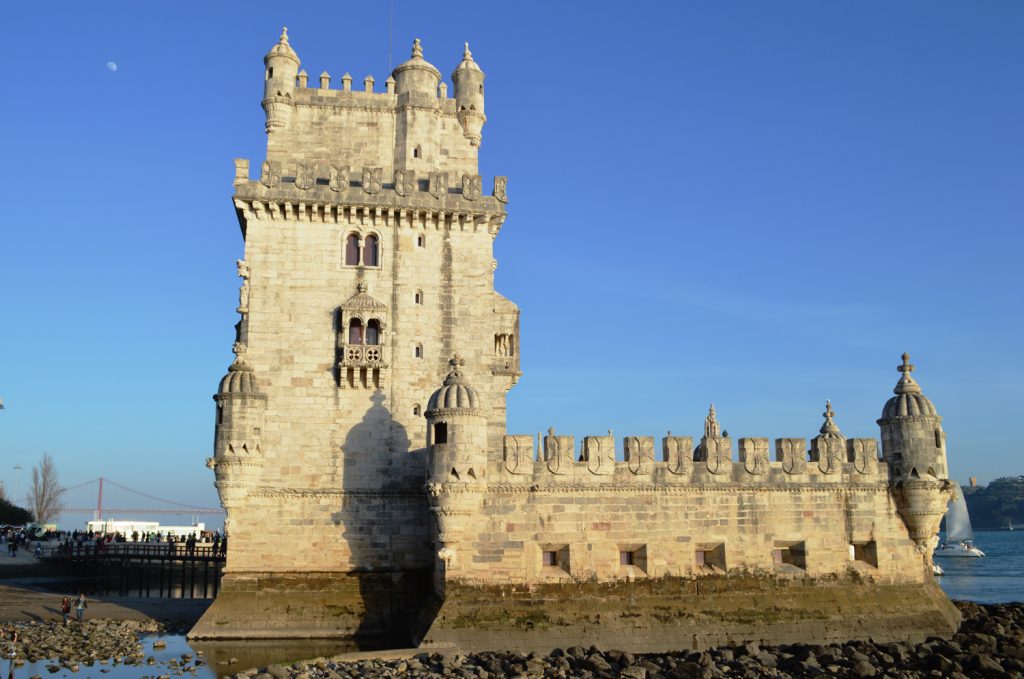 After a peaceful night we decided rather than catch the train we would drive Buzz into Lisbon and park at the park and ride by the ferry terminal at Belem where there were several motorhomes parked the previous day. Luckily we just managed to grab a spot at the pretty popular almost full car park and went of to finish our visit to Lisbon.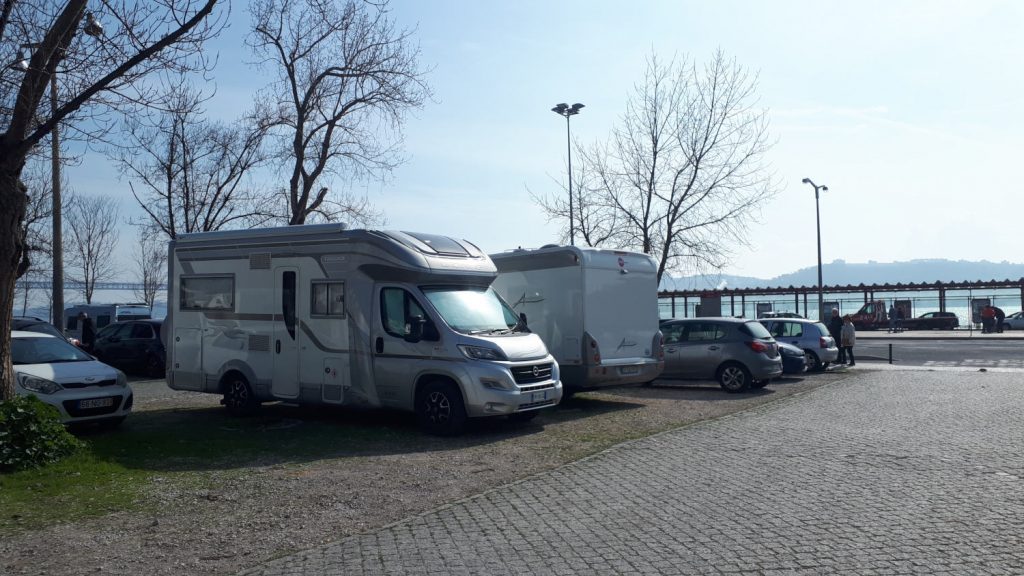 Aiming to dig into the back streets a bit at Bairro Alto and check out the Funiculars at Gloria and Bica but first a walk through the parks and gardens at Belem to the local craft and bric-a-brac market. After which we just caught the backend of the monthly changing of the guard parade at the Palacio de Belem before getting the tram into Cais do Sodre. We first walked back up to Baixa Chiado to the Elevador de Santa Justa but it was very busy so we walked on up towards the funicular Ascensor da Gloria but not before stopping for lunch in Rossio, it was cooler today and I had made the wrong clothing choice going for shorts and short sleeved top!!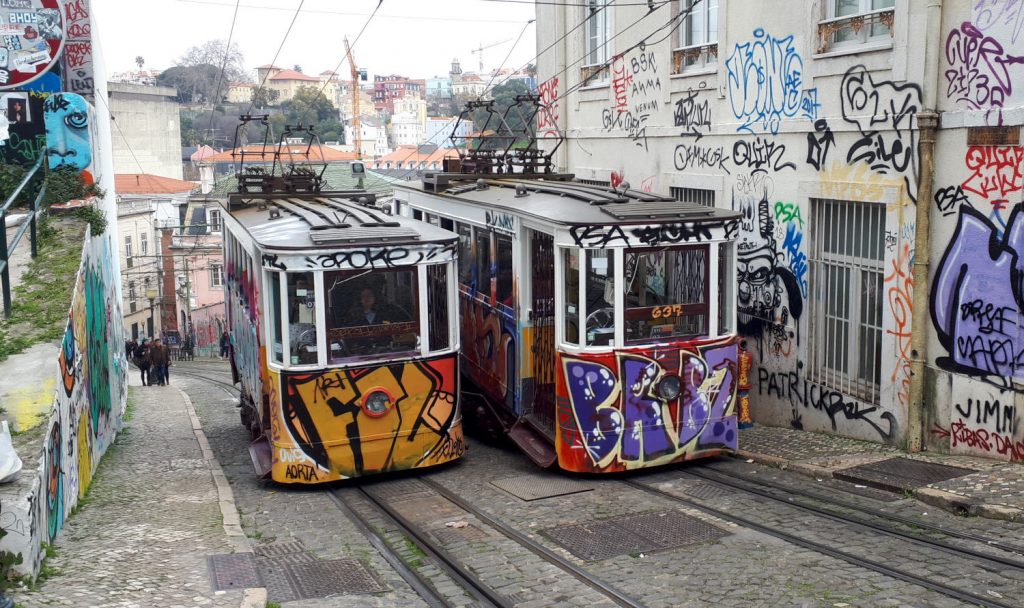 The funiculars are old and the first of their type having originally been steam driven but are now electric, they are more fun than practical the Ascensor da Gloria climbs about 260m. The street is covered from top to bottom in graffiti which seems to be tolerated or accepted and that includes the tram, the ride takes about 2 or 3 minutes. Once at the top we walked around the streets at Bairo Alto with the miradoure de Sao Pedro de Alcantara being a sort of high point as there isn't a great deal to see on that side. But the streets are Lisbon as it really is with lots of bars, Fado clubs and restaurants. From there we worked our way to the Funiculaire da Bica which was had much less graffiti and even had a little station at the bottom, again only about 250m in length it is more about fun than practicality. From the bottom we made our way back to the tram, the afternoon was drawing in as was the weather and with showers forecast we decided Buzz was calling. We had just got in and closed the door when it started to rain, light but wet nonetheless. After a coffee we decided we would move on as the weather didn't look good for the next couple of days and Lisbon is about being outside.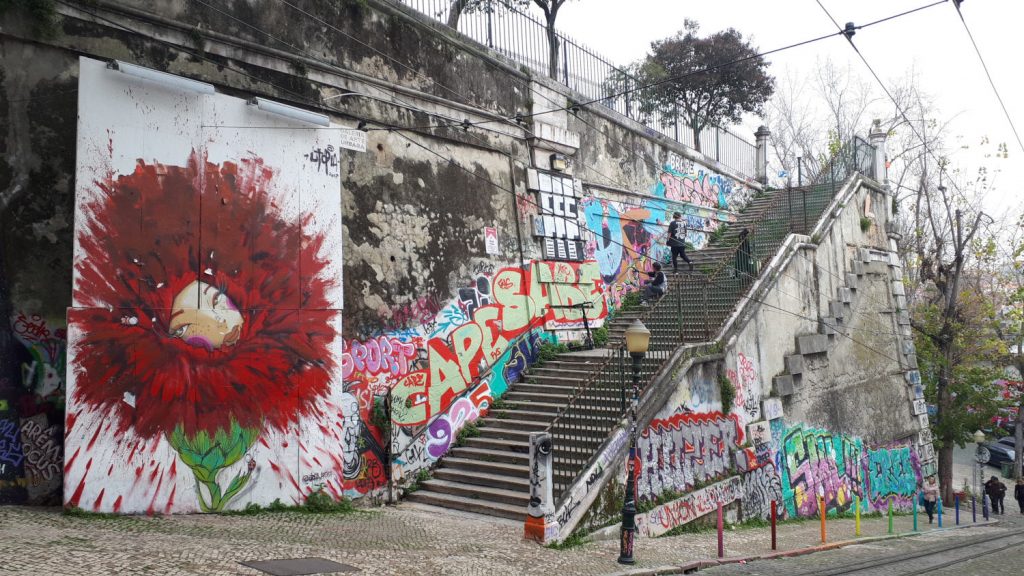 As for Lisbon we loved it, it has so much to see and do and we love getting into the heart of a place. We have seen many museums, churches, castles and the like but each city is different beneath the skin, behind the tourist areas the heart beats and that's what we love and Lisbon has a huge beating heart. It's another place we will revisit and certainly recommend it with or without a motorhome.