We could easily have spent another day or two in Lisbon but with 2 days of grey, possibly wet and miserable weather forecast we decided to move on. We'd never planned to travel so far North this early in the year anyway but it had been so warm we'd just kept going. We'll come back this way later in the year but for the time being we decided on a change in direction, sticking with our original plan to head back South and Eastwards eventually to Spain. Opting to head for Evora about a 2 hours' drive away we set off, giving the leisure battery a really good charge along the way. We'd located a large parking area just outside the city walls where we'd planned to spend the night. Arriving late in the afternoon it was clear that there had been a fair bit of rain and the unpaved parking area was all churned up, soft and muddy. Not wanting to get stuck in it we decided against it, driving instead a short way to the aire at Inter Marche. There's a service area here which we took advantage of and while it's not exactly a picturesque place to stay it was perfectly adequate and surprisingly quiet. We took the opportunity to pop in and do some shopping then went back to Buzz for the night.
The car park had firmed up a bit overnight and we arrived back there in the morning, finding a reasonable place to stop. It's right by the city wall so couldn't be any more convenient and it's also free to park. Evora always seems to come high on the list of 'must visit' cities in Portugal so expectations were quite high. The whole town has Unesco World Heritage protection for being the 'finest example of a city of the Golden Age of Portugal' and is rich in historical monuments. First formed by the Romans in 57BC the old city is encircled by well preserved medieval walls. Walking through with great anticipation we were expecting to be wowed but that wasn't the case. It was more of a slow build up of appreciation.
From the car park, we walked up past the bright pink painted Tribunal building and up to the huge Igreja de Sao Francisco. Eavesdropping on an English speaking tour guide for a couple of minutes we found out that it was completely restored 3 years ago, hence its smart outer appearance. There's a rather grissly sounding chapel of bones inside which is home to the remains of 5,000 monks moved from 42 separate cemeteries many years ago because they were taking up too much space! Inside there's a sombre message plaque reading ' Our bones lie here waiting for your bones'!
Evora's streets splay out from the central square, the Praca de Giraldo, with its 8 spout baroque marble fountain, imposing church and cobbled plaza with cafes and an arcade of shops to the side. Narrow passageways to the West lead down to the old Jewish quarter and a maze of alleyways and arches to the East take you to the more obvious of the town's highlights. Wandering onwards we eventually came to one of the major attractions, the Templo Romano, commonly known as the Temple of Diana. The best example of its kind in Portugal, it has 14 tall granite columns and while in a scenic setting with the church behind and small green area with terrace behind, it is slightly spoilt by having a road all around it and cars constantly passing by.
From the terrace viewpoint there's a wide vista and our eyes were caught by the Aqueduct do Agua Prata (Silver Water Aqueduct) in the distance. A stand out feature dating from 1532 it's a National monument measuring 20 m high. Walking out the back of the city walls we got as near as we could for a better look and then followed it back inside the walls along the street with little houses built into the arches.
We meandered through the streets, exploring the Jewish quarter and then back through the Praca 1 de Maio where there's an indoor market hall. A farmer's market is held here most weekends as well as a huge open air produce market every 2nd Tuesday (except Jun/Jul), but as is often the case when we get there, it was mostly closed! By about 3pm we'd seen everything there seemed to be to see and we realised we still hadn't had lunch. We walked back to Buzz, stomach's growling all the way and sat having lunch while checking where to go next.
Just a 20 minute drive up the stick straight N254 later we were in the small town of Viana do Alentejo. There's not much here apart from an interesting looking castle that we thought would be worth a quick look. Driving into the town we almost regretted our decision as the roads seemed to get narrower and narrower. Luckily they then widened out again and we got a perfect parking place right by the castle wall. A short stroll and 4 euros later we were inside. It's an unusual little castle with witches hat towers and pinnacles but really quite small. Unfortunately the perimeter wall walk was closed for repair so we didn't get up there for the views. There are a couple of chapels to look in, an information room and a small model of the site but the whole visit took less time than it took us to get there! Afterwards we drove out to the town's 'autocaravanas' area thinking we might stay there. It was perfectly fine, with full services available (not EHU) but we changed our minds and went back to Evora for the night so we were in a better position to continue onto Evoramonte the next day.
Next on the agenda and 26km away was the medieval hilltop town of Evoramonte. An ancient settlement with just 700 inhabitants surrounded by walls built in 1306 it's a small but intruiging little place. We were slightly concerned that we might have difficulty parking the motorhome but as we drove up the approach road we found a picturesque layby with a beautiful view over the Alentejo countryside, cork woods and olive groves.
We walked the rest of the way passing a freshly painted church which was a hive of activity with workers knocking, banging and clattering around. Following a steep rough track, then under an archway in the wall we emerged into the castle grounds and found we could climb the steps and walk back up along the perimeter. The views were even better and as we walked around we could see the whole 360 panorama stretching out all around us. The castle really is the highlight here, the town itself being very small and quiet so the visit didn't take long but we enjoyed it and would recommend it. There is a nice cafe if you wanted to sit for a while and it has a well-placed terrace with a wonderful view, but we had other plans. As we walked back down the hill to Buzz we noticed it was very quiet and the banging in the church had stopped. All the men were on siesta, lying flat out on their backs, seemingly utterly exhausted, where they would probably stay for the next 2 hours!
As for us, the sun was out and the view was gorgeous so we set out the picnic rug, made some lunch and treated ourselves to a lunchtime glass of wine. We sat there for a while watching the birds flittering about, sipping our Portugese wine, eating our rolls with Portugese cheese soaking up the Portugese sun – Bliss!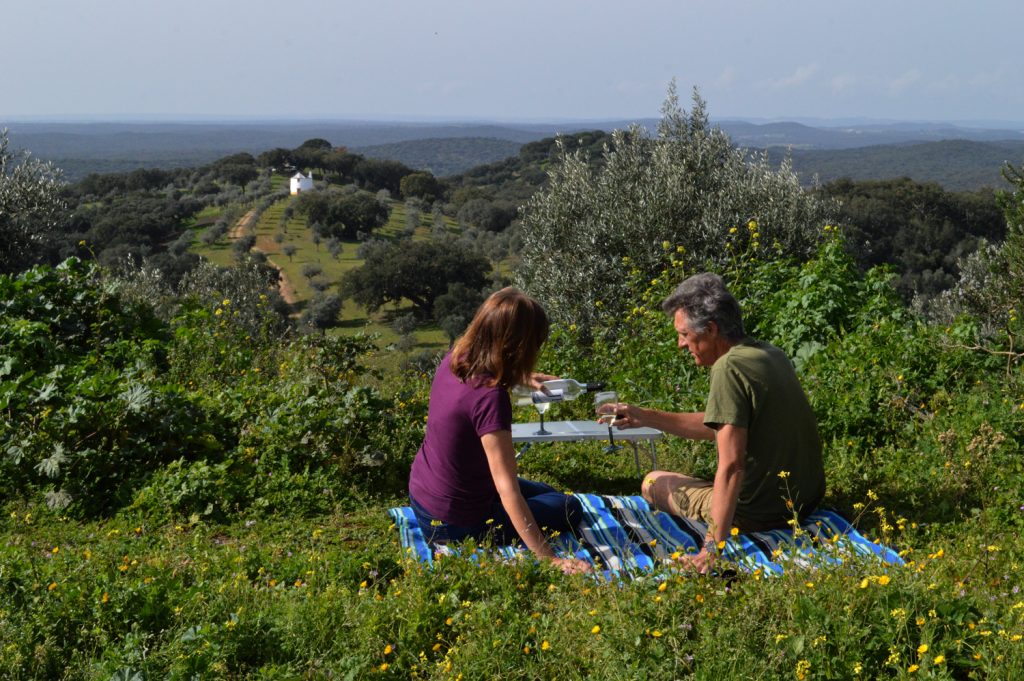 The town of Estremoz was our next destination and around 15k away to the East. We parked Buzz in the main town square known as the Rossio which is huge and flat and has plenty of space for motorhomes as well as being very central. There's a fantastic market here on Saturdays but unfortunately for us it was not Saturday. That said, if it was we wouldn't have been able to park there. It's another historic Alentejan market town surrounded by vineyards and olive groves and is famous for its marble production. Even the pavements here are made from marble. We hadn't realised before that after Italy, Portugal is actually the 2nd largest exporter of marble in the world, with 85% of that coming from Estremoz. Most of the Estremoz marble has a lovely pink hue which gives it a very attractive finish. The upper quarter of the town sits behind its 13th century star shaped ramparts and it's quite funny to see the ancient mixing with the current. Housing is so close to the castle that it even provides the perfect place to hang out your washing!
Inside the walls the stand out monument is the Tower of the Three Crowns (Torre das Tres Coroas) – a 30m tower made totally of marble. The original castle has been worked on and is now a smart Pousada (hotel) in a very nice setting with great views. We enjoyed strolling up and down through the narrow streets, admiring the tiny restaurants with single tables outside and looking at the local menus to see what delights were on offer. There's a nice feel about this place although, again, it's very shabby in a lot of ways. But that just added to its charm really.