Having seen all there was to see in Jouques we made our way back to Buzz and checked our route to Aix-en-Provence, our next destination. While in Jouques we had dropped into the tourist office to get some maps and the helpful assistant told us that we should not try to park in Aix town centre, but park outside and get a bus in which would be much easier. With the benefit of her wisdom and the choice of two car parks in nearbly Les Tholonets we set off feeling pleased to be armed with this new information, sure that it would make our lives much easier. However ….. arriving at the first car park we were faced with a 'PRIVATE', 'Authorised Vehicles Only' notice and it was clear that we would be unable to park there. Undeterred we headed off to the next one only to find another sign, this time saying 'No Camping Cars'! So, it turned out that our helpful advisor hadn't been quite so helpful after all. However …… sitting in the motorhome with maps, books and phones on our laps trying to work out where to try next, a grinning man came rushing over pointing at our registration plate and the right hand drive set up, asking us in French if we were Italian.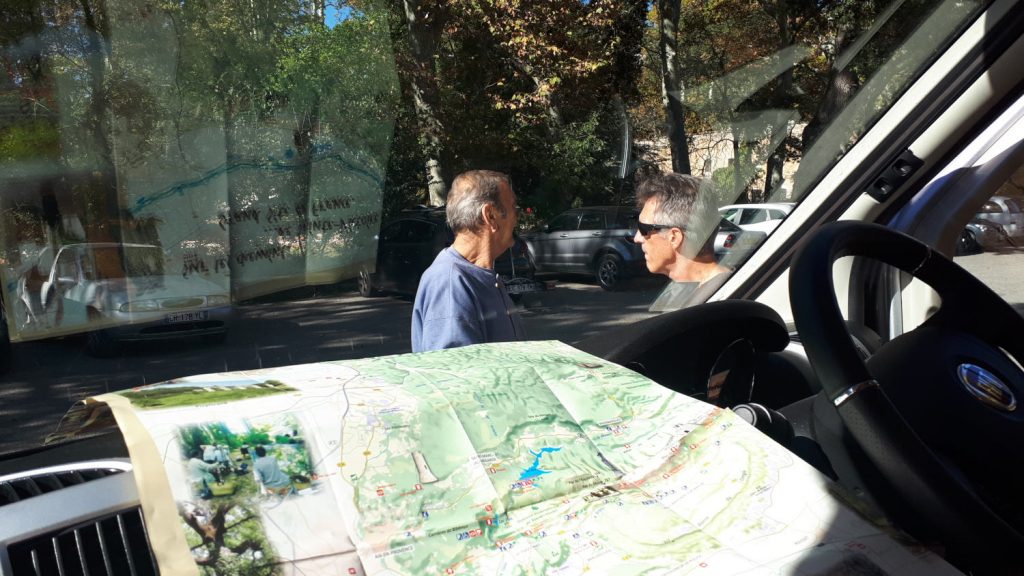 He was baffled, as they all are, when he found out we were actually English but carried on chatting away in French explaining, and us just about understanding, that he was Italian but had lived in Les Tholonets for 30 years. We took the opportunity to ask him if he knew anywhere we could park and he immediately trotted off calling out to the nearby council worker, apparently a friend, who was busy servicing the public toilets. After much 'Frenglish' discussion and gesticulating it seemed to have been decided that there was parking just a short distance away and the toilet man was going to lead us there. So we climbed back into Buzz and set off in hot pursuit of the toilet man who sped off up the road in his van, waving for us to follow. After a kilometre or two it soon became clear that we would not be parking in the town or anywhere on the bus route, eventually coming to a stop at the entrance to a campsite miles from anywhere, where we waved goodbye to our guide who turned around and set off back to where we'd all come from.
Not happy with our location we moved to a nearby lay-by and started the search all over again coming up with a different campsite in a better position which was on the bus route to Aix en Provence. We can't for the life us remember how we found it now but it is near Mère de Dieu Brûle, which means ' burnt mother of God'!!  It's marked by just a small sign with a motorhome and tent on the side of the road next to its slightly tatty entrance.  It was late afternoon by the time we reached it but it looked very pretty bathed in sunlight and full of pink and purple cosmos in full bloom. We couldn't see anybody as we drove in so decided to find ourselves a pitch and then walk to reception afterwards to pay etc.  Backing up into our chosen spot we suddenly heard a frantic shout and saw a hand waving equally frantically out of the reception building window.  Looking around and seeing nothing else going on, we realised the shouts and waves were directed at us and getting louder and more desperate the further back we went!  Leaning out of the window we could see the owner of the arm and voice now pointing and directing us to a different pitch and it became clear that the one we'd chosen wasn't available for some reason.  Feeling slightly chastised we moved over to the alternative spot just as the owner came out smiling and apologising for his dramatic response.  He had been on the phone and suddenly saw us and wanted to catch us before we got settled. We never did find out why we couldn't park there, nobody else came and we couldn't see any obvious reason for it but as it was we ended up with a perfect West facing pitch taking full advantage of the sun going down and got ourselves and drink and sat outside until the sun disappeared below the tree line and it suddenly turned cold.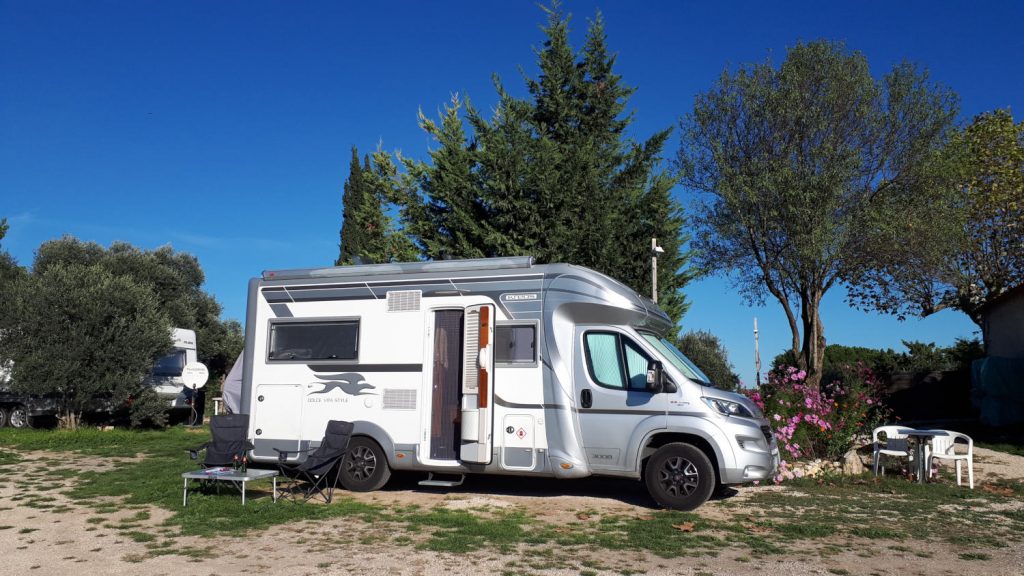 Next morning a 10 minute walk got us to the bus stop and 15 minutes later we were in the town centre, happy to discover that it was market day. Stall after stall lined the streets full of crafts, clothes, fresh produce and bakery. The food stalls were overflowing with fruit and veg, huge heaps of freshly foraged mushrooms and mini cured sausage selections presented in little cornets. The cheeses were extensive as usual and we came across some bright green pistachio flavoured Tomme which we didn't buy but wished we had as it looked really good and we haven't been able to find it since. On one of the bakery stalls a tourist who asked for her bread sliced seemed to be watching with a look of combined amusement and horror as the baker carved it by hand in a selection of widths and handed it over proudly with a firm 'Voila'!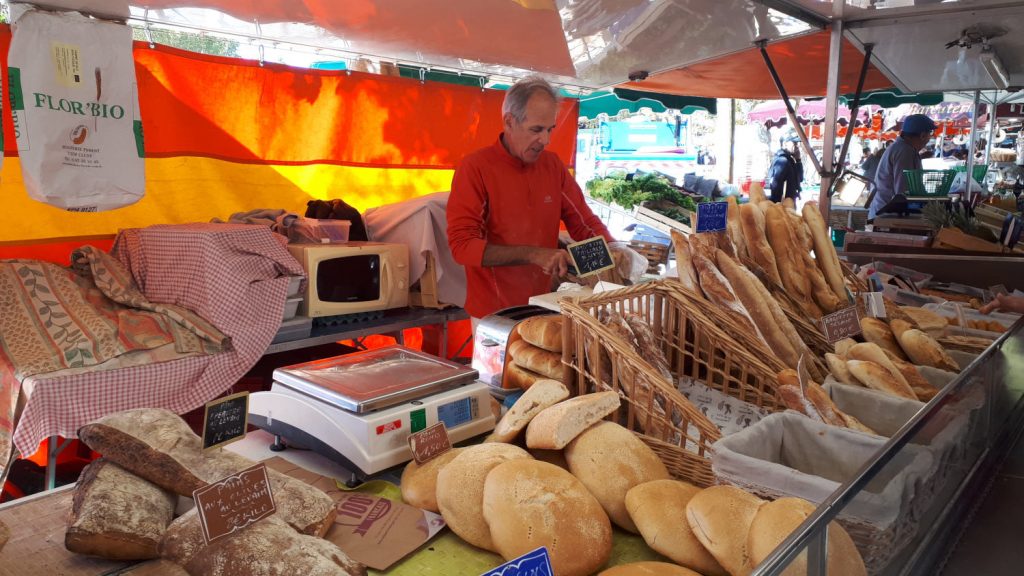 Walking up the main avenue, the Cours Mirabeau, the market stalls were laden with clothes, shoes and scarves which was a bit of a shame because we knew that this was a particularly lovely avenue, lined with magnificent plane trees and it was difficult to see it properly. The atmosphere was good though and the sun was out so we had a pleasant stroll passing by the huge number of restaurants, bars and cafes along one side. On the other side we couldn't help but peer into the patisserie windows admiring the feather light fresh cream sponges and pretty fruit tarts or the specialist chocolate, nougat and sweet shops which seemed to be calling our names. Aix en Provence is famous for its speciality ancestral sweets or Calissons – beautifully crafted ground almond teardrops flavoured with candied orange and melon de Provence with a wafer base and royal icing top. We were more than tempted to try some as they sound delicious but at around 47-68 euros a kilo they were slightly out of our budget! We have also discovered that buying cakes and treats is dangerous because it's often priced per kilo so you might see a nice big slice of something sweet labelled 2.99 but when you get to the counter to pay to have to hand over 7 euros!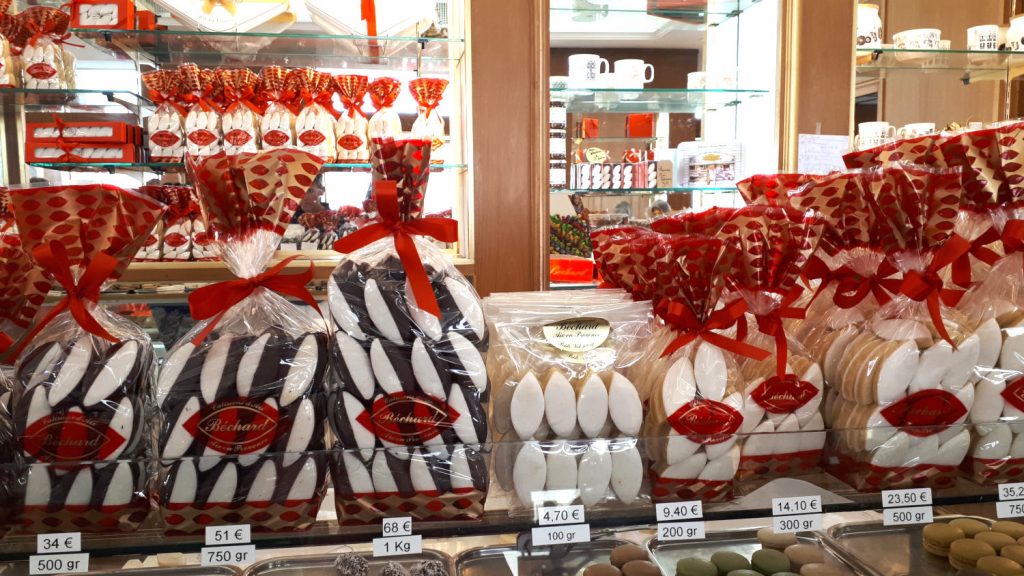 Moving along we came to the bell tower and Town Hall square which is also home to the flower market, a riot of colour, fragrance and people jostling for the best blooms. On the pavements throughout Aix en Provence there is a trail you can follow to walk in the footsteps of the great artist Cezanne and we followed a few of these from his childhood home to his school and studio. There are no less than twelve fountains dotted around the town, the most interesting being the foliage covered Fontaine d'Eau Chaude, which is nicknamed 'Mossy' fed by the Bagniers hot spring.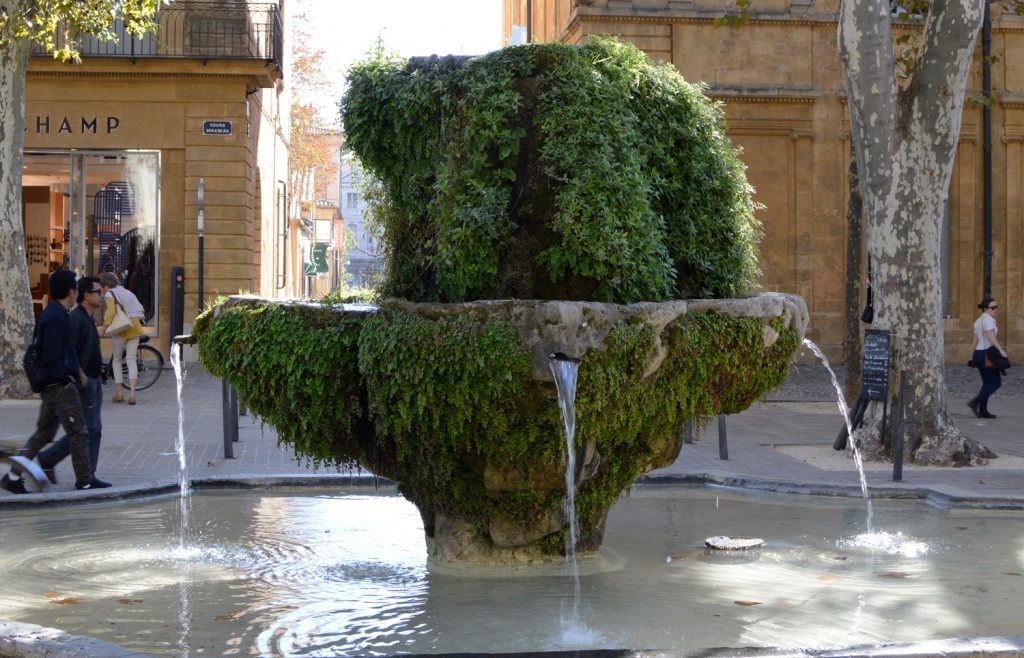 Having explored and seen all we wanted to see we decided on lunch back at Cours Mirabeau where we knew we would enjoy the ambience and a bit of people watching. Picking a casual, cosy restaurant with a table overlooking the hustle and bustle of the market we both ordered a nice cool beer, tasty ham, mushroom and cheese bruschetta and sat back and relaxed. Feeling content and comfortable we sat for quite some time and before we knew it the market was being cleared away and by the time we walked back down the avenue all the stalls had gone and it looked completely different.