After a disappointing market at Greoux Le Bains, the cupboards were still bare so a supermarket shop was order of the day. Sometimes we write a list and sometimes we don't depending on how organised we're feeling, but for the past few weeks since running out of the jar we brought with us from the UK we've been on a fruitless search for a chutney or pickle to have with our frequent enjoyment of fromage!  Every time we go into a food shop, large or small,  we scan the shelves with growing dismay, craving something tangy to go with the cheese but never finding it.  We did buy a jar of olive tapenade one day which didn't really hit the spot and was too salty, and ended up being stirred into a pasta sauce which was a much better match for it.  We also tried some fig confit which was essentially like having a cheese and jam sandwich, quite tasty actually but not quite what we were after, so the search continues.  On the upside though, we did hone in on some lovely big freshly baked burger buns and some nice juicy burgers and decided we would have burger and chips for dinner – the first time we've had either since we set off in July, which for someone like Julian who does LOVE a burger, is a very long time.  You should have seen his eyes light up!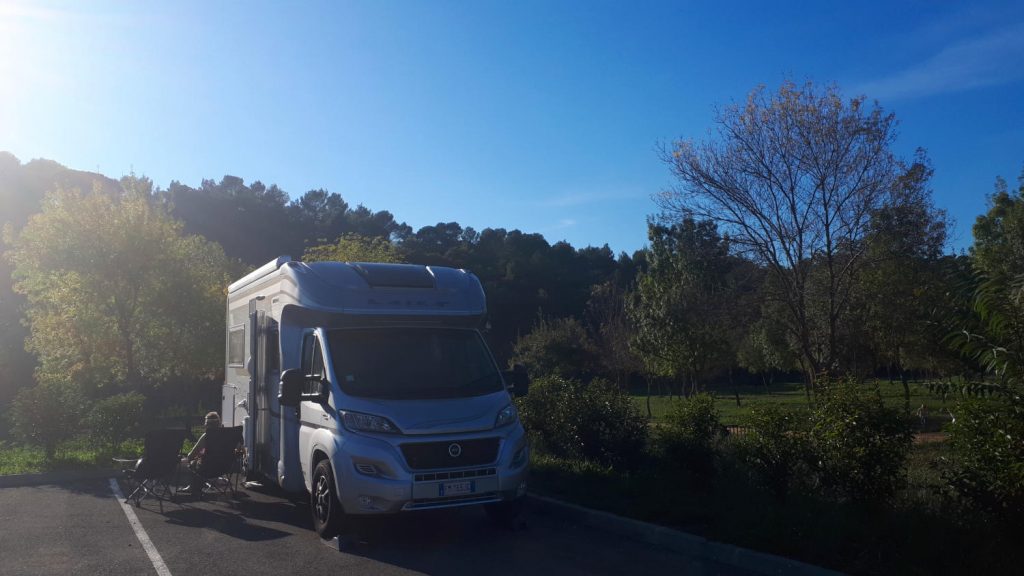 Fridge full and cupboards crammed we made our way to Jouques, a little Provencal town full of fountains on the banks of the Réal river surrounded by lavender fields, olive trees and vineyards. Unfortunately due to the time of year, the lavender fields were green rather than purple but they still looked appealing with their neat rows of trimmed back lavender plants.  There have been many stone age and bronze age tools, weapons and pottery  discovered in this medieval town along with Roman remains and villas which are still in place, dotted around the area.  The town has strong historical links with Aix en Provence (our next destination) and we'd read about it online pleased to find out that it also just happened to have a good little motorhome aire right by the park with free electricity, full services and just a short walk into the town – our kind of place.   Lately we've been arriving at new destinations in the late afternoon and it was the same on this occasion, parking up just in time to enjoy an hour sitting out in the sun enjoying the last warmth of the day before retreating inside the motorhome for a relaxed dinner and evening.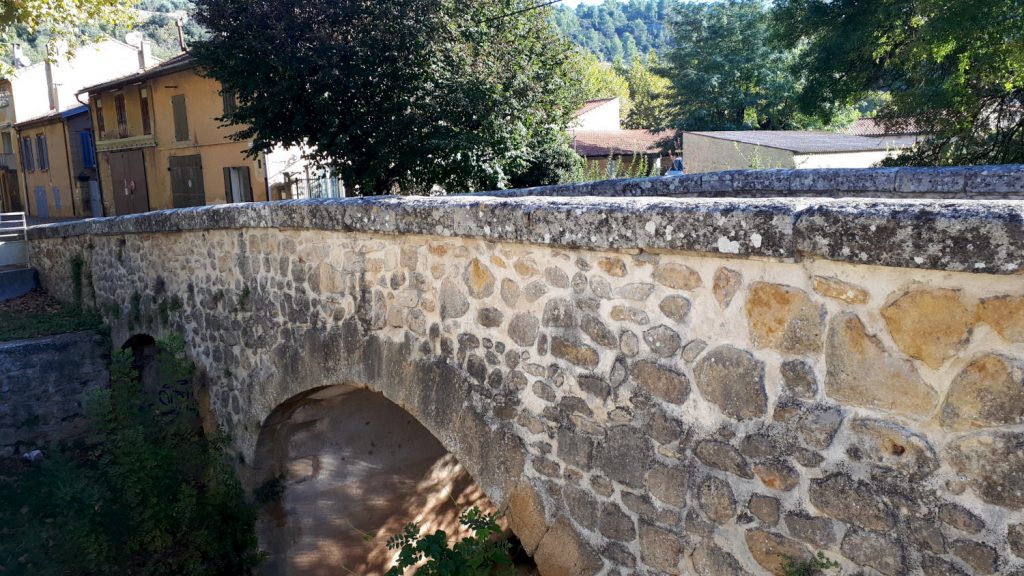 Leaving Buzz at the motorhome aire, we set off in the morning to the town, walking past an ancient triple arched stone bridge over the river with a pleasant leafy walkway along it which used to be the preserve of watermills for pressing grain and olives, paper mills, tanning and wool workshops. This leads to the Grand Pre, a curious grassy meadow area in front of the main street which was originally privately owned having been passed down through generations and used for grazing sheep or cows from the local dairy. It later passed to the municipality during development of the town but was preserved as a green space and is now considered a communal heritage and unique feature of the town to be enjoyed by residents and visitors alike.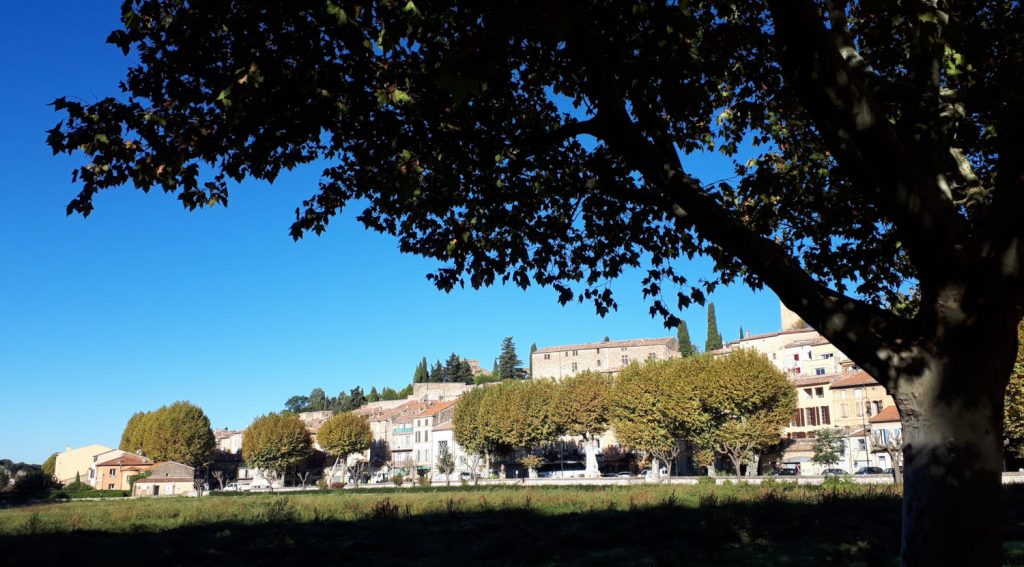 Walking along the main street lined with large leafy plane trees there was a hive of activity with workmen coppicing trees and opposite a line of several small shops and businesses along with the tourist office. The town is arranged in rows with the commercial part opposite the meadow and residential areas behind.  Once in the back streets there was not a single shop or business to be seen, just people going walking to and from their homes, one man furiously welding something on his doorstep and a couple walking their dogs. The pretty narrow lanes are lined with tall houses with shutters in every shade of paint from blue to burgundy and the streets wind around corners, urging you on to explore, which we did.  There was no traffic except for the local police slowly cruising by making sure everything was as it should be, so we were able to enjoy a pleasant and peaceful walk around taking it all in.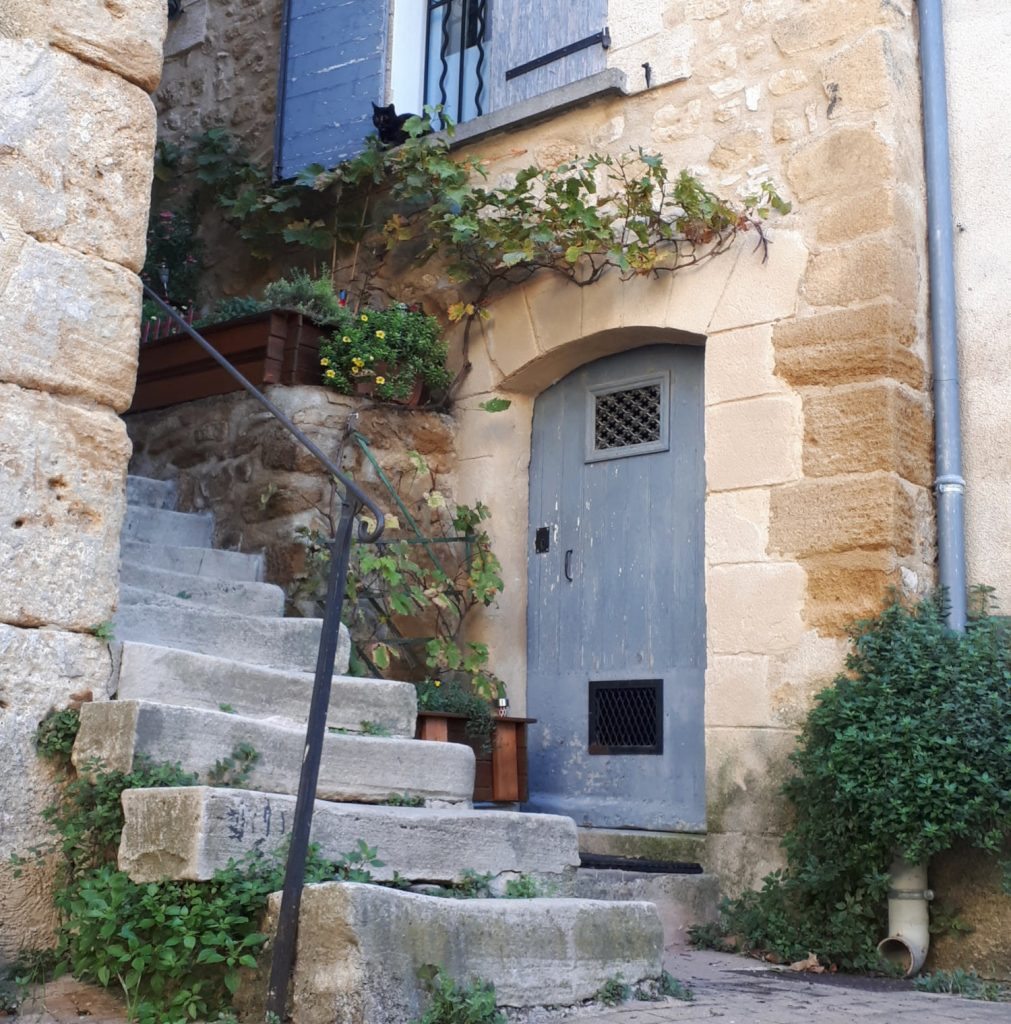 At the top of the town a steep pebble path led us up to the remains of the old 11th century chapel, the Romanesque style Notre Dame de la Roque, dating from 1135, with far reaching views of over the meadow and town rooftops, all the way across to the mountains of the Concors and Ubacs.   The chapel is in ruins but is worth the walk nonetheless offering a historical taste of what used to be.  Further up the hill we could see the medieval Chateau d'If but it is no longer accessible which was just as well because it looked like a pretty steep climb. With a climate of cool summer evenings Jouques was a place of choice for the Archbishops of Aix en Provence to build their summer residences and the main street Rue de Replublique is lined with houses which used to belong to the bourgeoisie who would flock here to enjoy the cooler environment. There are also the remains of a 30km aqueduct fed by the Traconnade spring which used to supply water to Aix-en-Provence along with several ancient fountains so although a small town there was plenty of interest to see and we were glad to have found it.