Scanning the Provence area on the map after our visit to Avignon our eyes were drawn to a place we both instantly recognised and were keen to visit – Chateauneuf du Pape. Any wine lover's eyes would surely light up at that, and just half an hour away too on the left back of the Rhone river. After a bit of online research we discovered to our surprise that you can actually park and stay in the castle grounds overnight free of charge as it is essentially just a ruin and not a chargeable visitor site. The only downside was that it was a grey, cold and drizzly day, not the best for any kind of exploration.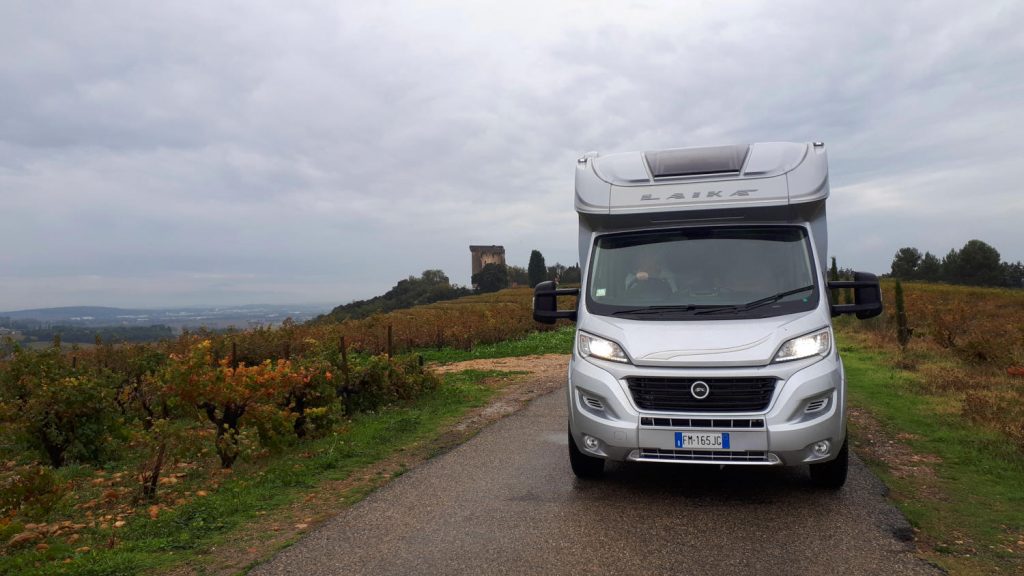 Arriving late in the afternoon we had a very quick walk over to the castle getting completely soaked then retreated back to the motorhome, got comfortable and decided to sit it out until the next day before walking down into the town for a much anticipated tasting. Personally I (M) don't drink red wine so I was particularly delighted to discover that Chateauneuf du Pape is also produced as a white wine. Only 5-7% of the wines are white though so it's not always easy to come across.
Unfortunately the next morning was just as wet and dull as the afternoon before with the rain falling in torrents, so we just had to pile on the layers and accept that if we wanted to go for a tasting in the town we were going to get wet. Having been in mostly warm, if not hot weather for the last few weeks and just wearing lightweight clothing we've both been feeling very restricted and uncomfortable piling on long sleeves, multiple layers and coats but we were undeterred. No amount of rain was going to stop us tasting wine in what has to be one of France's most well known wine regions and a prestigious and respected one at that, high on any wine drinker's must visit bucket list.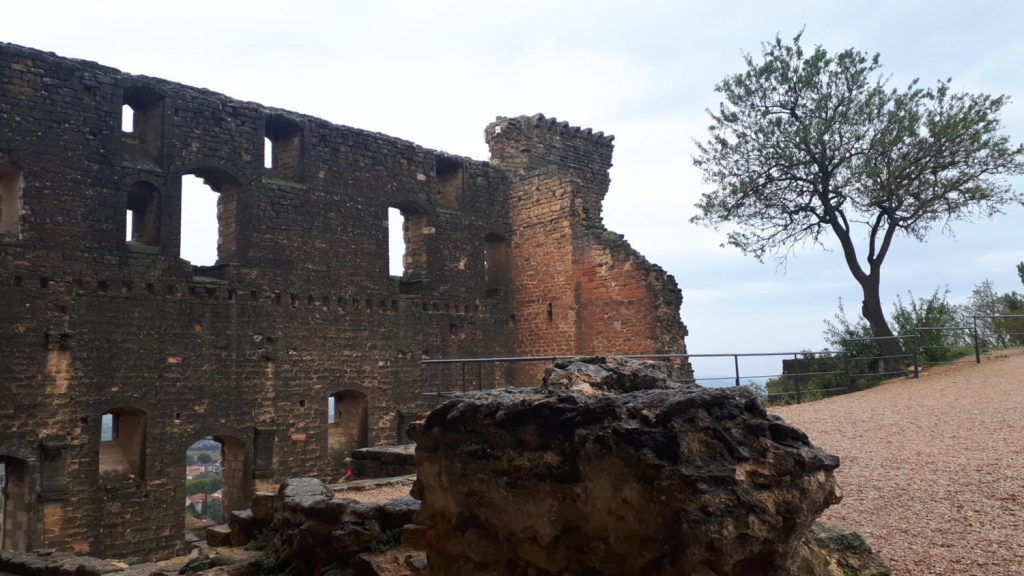 Following the pathway around the chateau it was a shame to see it in such a state of ruin. Built between 1317 and 1333 primarily as a defensive castle by Pope John XXII and then later enjoyed as a summer residence by the Popes of Avignon, very little remains. One complete side wall still stands proudly, its original three storey structure highlighted by windows on each floor. There is also a dungeon and lower Pope's cellar. The castle was partly restored in 1910 and again in 1931 but occupied by the Germans during WW1 who blew it up before retreating after the allied landings, destroying the whole of the northern section. Just enough remains to be able to imagine it in all its glory, high on the hill, with a wide outlook over to Avignon and beyond.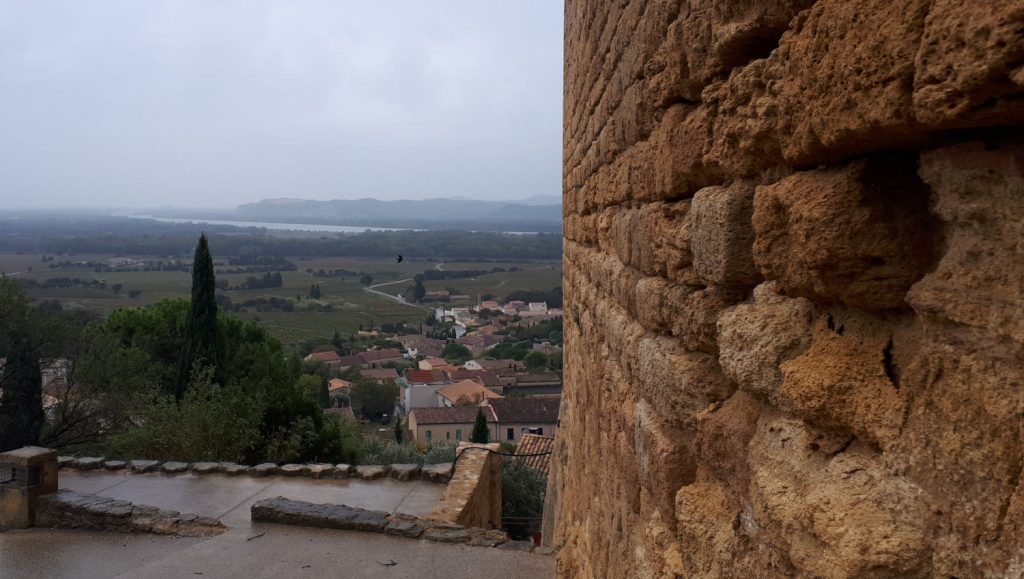 Leaving the chateau, we made our way down the Montee du Chateau cobbled path which wends its way down into the town passing a couple of little restaurants, underground wine caves and old streets with overhead adjoining walkways, small terraced homes and painted wine cellar doors. One particular street caught our eye – Rue du Sommeliers – what a perfect name for a road in a wine town! With just over 2000 inhabitants, Chateauneuf du Pape is an appealing town and ordinarly we would have lingered longer in the streets, perhaps sat at one of the little tables at a cafe in the street and taken longer to dig a little deeper but with the rain getting more persistent and our jackets feeling less waterproof by the minute we honed in on an inviting wine shop we liked the look of to get on with the reason we were here – tasting! Walking into the cosy cavern we were faced with bottle after bottle of Chateauneuf du Pape, row upon row of prestigious wine offerings, organically produced from around 320 vinyeards by 180 vintners who are licensed to produce it here and in the four other towns, Orange, Courthezon, Bedarrides and Sorgues each creating their own magical blends from a selection of 18 grape varieties. One wall was lined with the red wines, the central section with the whites and the other two walls with hugely expensive magnums and wine selection gift sets.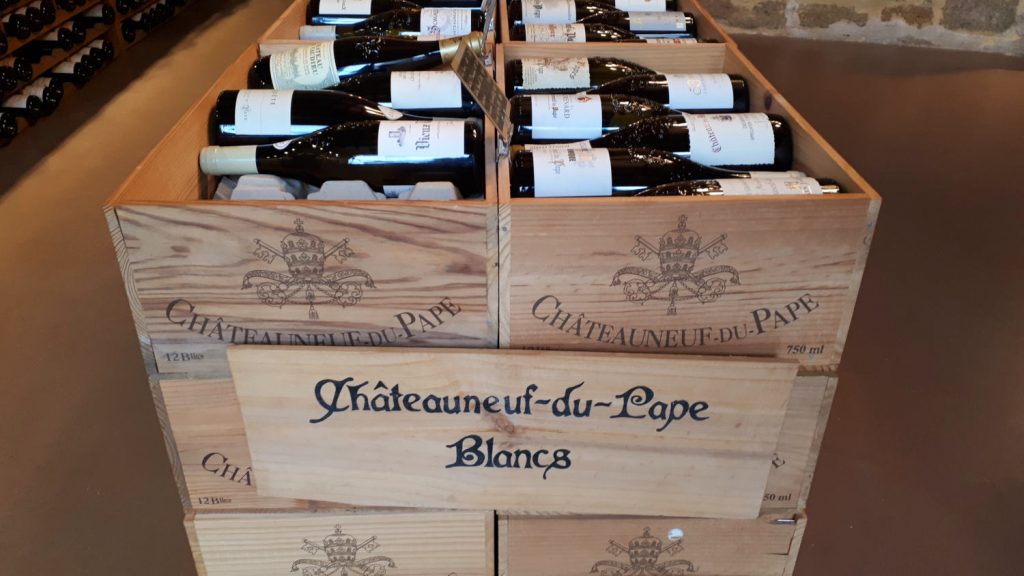 Making our way to the back of the shop, down the steps to the tasting corner a Japanese couple were just ending their session sampling bottles in the 40-50 euro price bracket and ordering dozens of bottles to be shipped 6,000 miles back to Japan, their pockets quite obviously considerably deeper than ours! So, it was our turn to taste and having explained our likes, dislikes, budget etc we were presented with 3 bottles to try, including a white which was perfect and will be gracing our Christmas dinner table this year. The most common grapes used are Syrah, Grenache and Mourvedre, the ratios and combinations affecting the overall finish but all with the distinctive style of the Chateauneuf du Pape 'terroir'. Our host told us that this area was the 1st officially designated wine growing area in France, receiving an Appelation in 1936 with strict rules regarding the production of the wine. She explained to us how the unique environment gives the wine its character, the vines being surrounded by pebbles which absorb the heat from the day and then slowly release it into the ground overnight.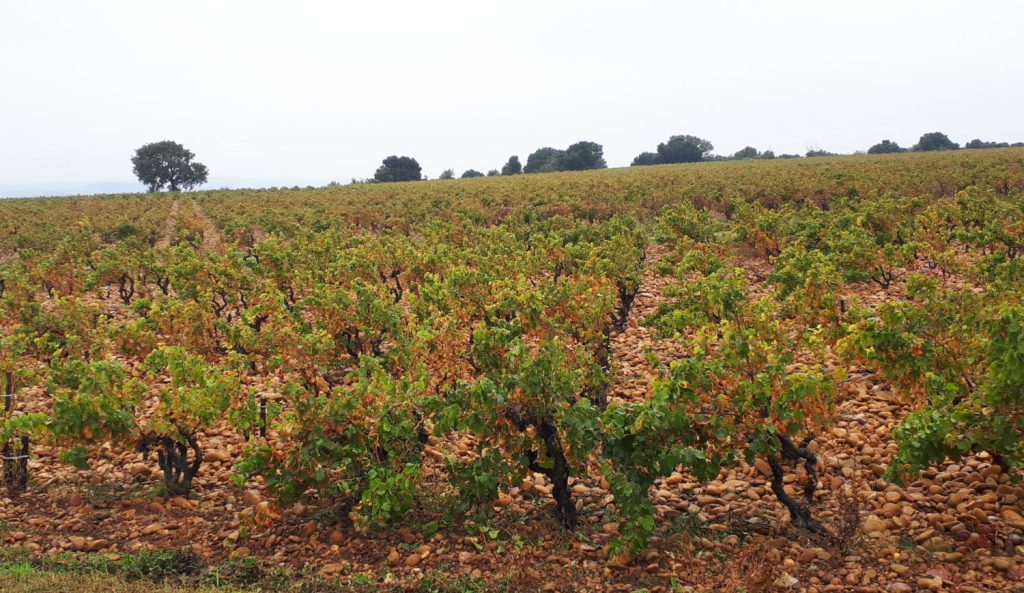 Happy with our selection and now virtually dry, it was time to head back out into the rain up the hill to Buzz, shielding our paper wine bags under our coats to keep them dry. Our cosy motorhome awaited us and the kettle went straight on and coats put in the shower to drip dry. If we're ever in the area again we will definitely return to this charming town – preferably on a day when the sun's out!