Having decided to stay at a canal side aire in Bellegarde we headed into Nimes early to try and park on the outskirts of the city and walk in.  As it happened we were able to park easily for free on the road just outside the city centre a 10 minute walk from the station and after a damp start the sun had decided to show it's face just at the right moment.
Heading into the city was easy, a straight road that led us through train station and onto the Avenue Feucheres with it's wide pedestrianised, central walkway and long flowing water feature opening on to Esplanade Charles De Gaulle with the smaller appropriate Square du 11 Novembre 1918 war memorial, a large clean square with an attractive fountain and a view of the Nimes Roman Arena and the obligatory carousel. The Arena built in the 1st century AD is the best preserved amphitheatre in the world an is in the process of a long and extensive renovation programme to ensure it remains so. The 133 metre long arena features a video/audio guide as well as Gladiators quarters including weapons and gladiatorial combat techniques and is still used today for concerts, plays and other events in particular the annual Les Grands Jeux Romains a 3 day re-enactment of traditional Roman games.  Walking around under the arches outside we were able to through the 'vomitories' – not as bad as they sound, these are the passageways beneath the tiered seating for large numbers of people to enter and leave the arena.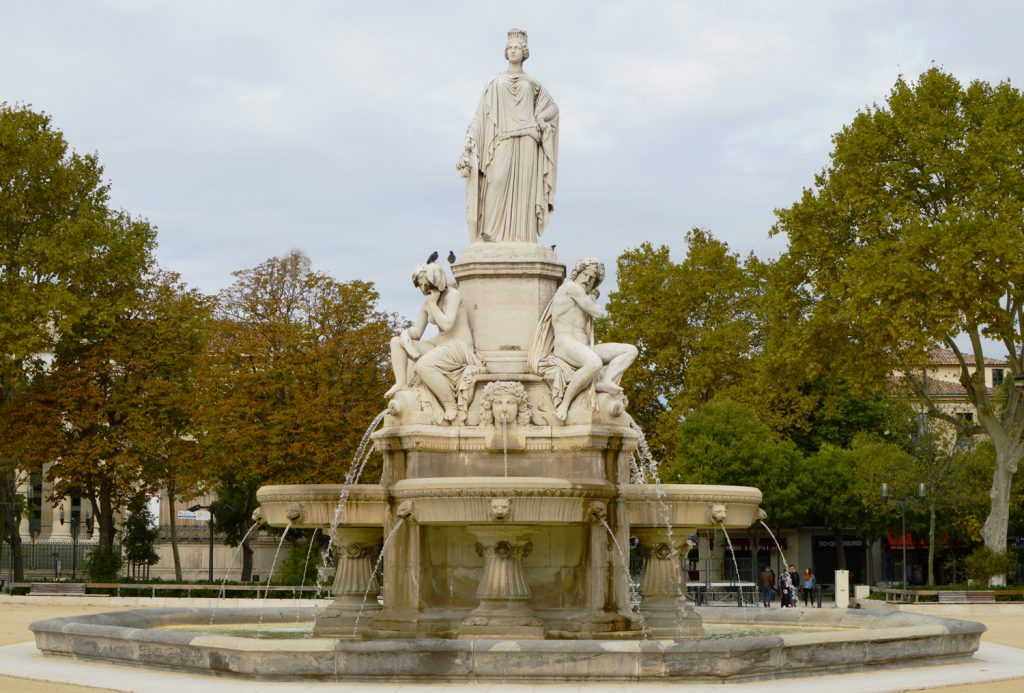 The city was very quiet, in fact virtually empty and as we walked further into the centre it didn't get much better until that is we came across Les Halles, the indoor market housed in a modern looking building.  Walking through the doors we were immediately immersed in the warm, noisy, bustling atmosphere. The place was jam packed with delicious fresh produce and people shopping and congregating around stand up bars drinking wine from very small glasses at 11.00 o'clock in the morning.   It was clear to us that this was the place to be!  As is usual for us we spent a good hour greedily eyeing and tasting the more traditional foods and local produce choosing some very tasty Comte cheese and walnut wholemeal bread and some freshly foraged Ceps/porcini mushrooms for to take back for dinner.  Browsing the cheese counter we also came across some eye-catching brown streaked cheddar and Guinness cheese which looked strangely inviting but didn't make it into our shopping bag. Having thoroughly scoured the stalls we made a beeline for one of the coffee bars to join the crowds and get a caffeine injection while watching the non-stop activity going on all around us, salivating over the giant lemon meringue pie being sliced and fried potatoes being cooked in front of us.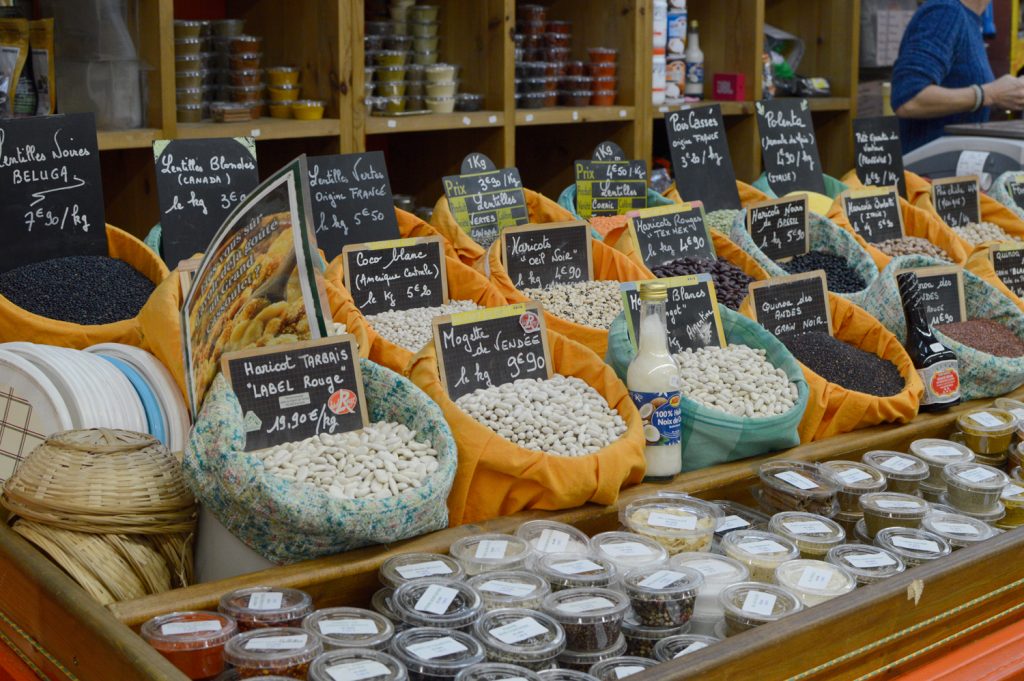 As we left the market the city was really coming to life with more people wandering around, sightseeing or shopping, Nimes is a pretty elegant city with a Roman legacy but full of modern touches in amongst its Roman heritage. The Maison Carree is another unique prime Roman building built a bit later than the Arena in the 2nd century AD, being the only fully complete and preserved Roman temple with it's decorative ceiling and columns.  Visitors going inside the building can see the film Nemausus-The Birth of Nimes.
Strolling on around the city to Cathedral Notre Dame del St Castor we passed through some of the shopping streets rubbing shoulders with ancient monuments having a similar feel (to me anyway) to parts of Paris. The Cathedral although tracing its origins back to the early 11th century externally at least is plainer in look than many of the other City Cathedrals we have visited, the inside reflecting that understated look and feel giving it a different more austere feel than many of the over elaborate buildings we have seen.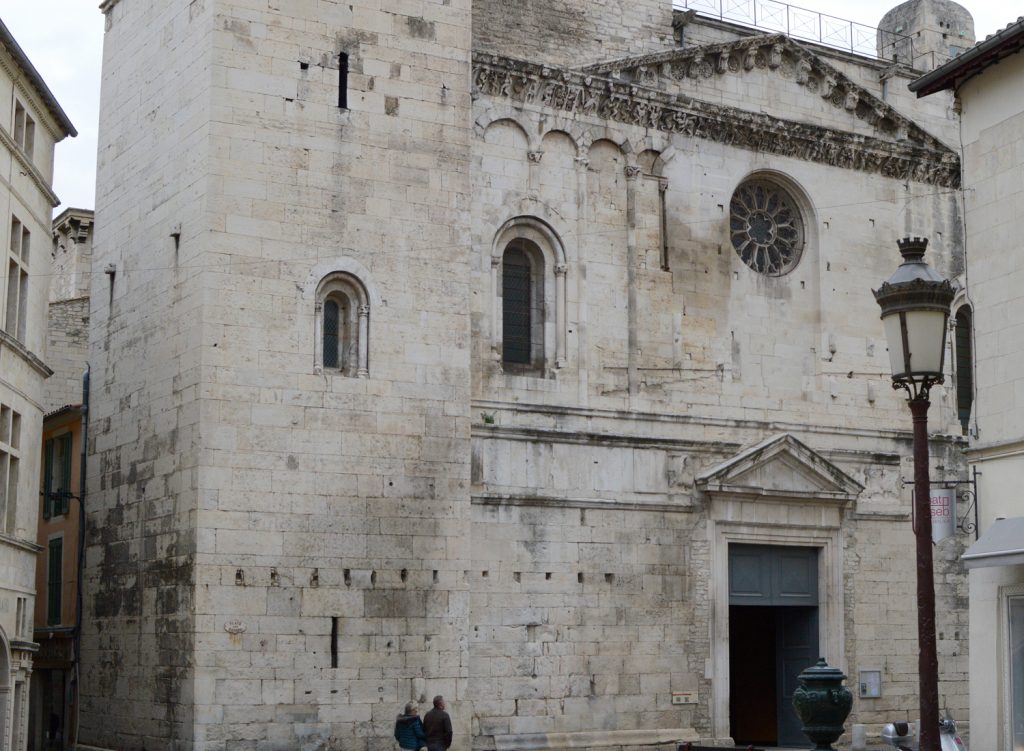 There are several other sights to see which we missed, the main two we felt were the Jardin de la Fontaine and the Tour Magne which sits in the Gardens and today rises to 32m tall offering views over the city. We fully intend to add Nimes back onto our list of places to visit a second time and finish what we started but for now sadly the weather was changing for the worse and we just weren't dressed for it, only just making it back to Buzz before getting drenched and beginning our search for an aire in Arles another city with a Roman heritage.
This turned into a bit of an epic.  Needing to top up our gas and also needing electric we looked up and found a fuel station at an E Leclerc supermarket in Arles.   Having had to ignore the frequent attempts of the Satnav to take us down roads no bigger than alleyways we could barely get our car down never mind Buzz the motorhome we were eventually informed we had reached our destination as we came to a stop next to waste ground.  It could possibly have held a supermarket and garage in the dim and distant past, who knows not us! So still gasless, off we headed to the local aire with electric which it didn't actually have!   A bit more research revealed a campsite just a couple of miles away with electric, so off we went to the campsite except when we arrived contrary to what the book said it looked like something out of a spaghetti western abandoned and closed for the season!  More research revealed another aire further out with electric, so off we went, hoping for 3rd time lucky, arriving at said aire to find it also didn't have working electric! At this point we called it a day and stayed there,  pouring 2 large glasses of wine and cooking dinner while laughing and joking about our epic tour around the outskirts of Arles.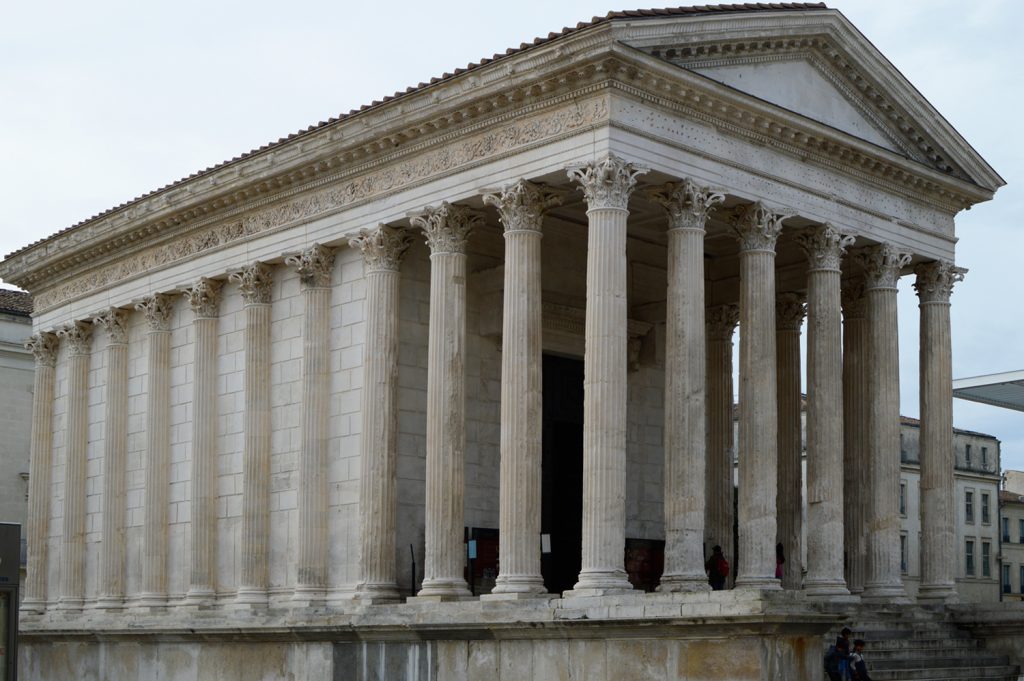 That is one of the wonderful things about being in a motorhome and travelling around Europe, we actually sit and laugh about things that would have had us swearing, cursing and venting for ages before whereas now it just turns into a joke and all part of our extraordinary journey in Buzz Laika our calming influence and home from home.