Since setting off in our Laika Motorhome from the UK last year we've been keeping records of our spending to help with forward planning, to look back on and see how much we spent (which may or may not be a good thing!). We've rounded it all up together in a 24 week review of costings so that if you're thinking of doing a similar trip you can get an idea of how much you might spend. That said we all have different things that are important to us, different budgets and different outlooks so your own breakdown could look completely different.  We could easily have spent half the amount on some things and easily twice as much on others. We haven't included the cost of ferries but everything else including a few miscellaneous bit and bobs, except for a few gifts purchased has been totted up and added to one of the categories below.
FUEL – Total cost – £1949.56  Average weekly cost – £81.23
We've travelled through 6 countries including a quick trip back to the UK for Christmas, driving several thousand miles (currently standing at 10,000). In Italy and France we did quite a bit of mountain driving which is fuel hungry.  Fuel was most expensive in Italy then France and cheapest in Spain, followed by Portugal.   You could easily spend half as much as this by doing shorter hops and not driving up so many hills as we have!  Many people also like to stay put for a few days at a time whereas we like to keep moving.
GPL, LPG, AUTOGAS – Total cost – £156.17  Average weekly cost – £6.50
We have two refillable LPG tanks which each hold 11 litres (6 kg tanks) and we use this for cooking, kettle boiling (constantly!), heating the hot water, running the fridge and heating if we need it. We find it very good value and it lasts a good length of time.
TICKETS & ACTIVITIES – Total cost – £585.20  Average weekly cost – £24.38
This category also covers tickets for wine tasting, horse riding, entering cathedrals, museums, castles etc.  Because we are away for a long time we try to keep ticket spending to a minimum but again you could spend 2, 3 or 4 times as much easily depending on what you want to do.
TRANSPORT – Total cost – £514.00  Average weekly cost – £21.40
Occasionally we have used trains, trams, park and ride buses, even a ski lift especially when visiting busy cities as it is just easier. Cinque Terre was a prime example – parking would have been impossible.
CAMPSITES/PARKING/AIRES (inc elec) – Total cost – £539.00  Average weekly cost – £22.46
Usually we use aires (preferably free) for overnight stops. We have used a handful of campsites and again this is just personal preference. We move around a lot and pitching up at a campsite for us gives it a bit of a permanent feel, as if we have to stay for at least a few days. This is not really the case, you can stay as long as you like but for us an aire or wild camping by a river or something like that just suits us better.   While we were having laptop issues we did need electricity more often so that has put the overall cost up a bit more than it would have been.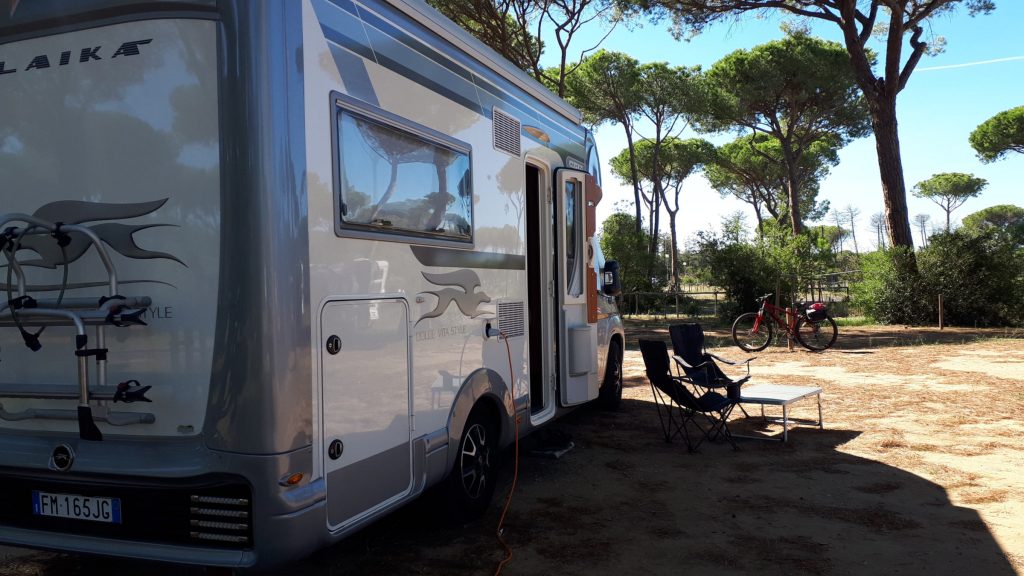 FOOD SHOPPING – Total cost – £1524.19  Average weekly cost – £62.00
We eat quite simple meals in the motorhome, mainly for practicality but have found food shopping to be more expensive than we expected. Most of our shopping is from supermarkets on a weekly basis but if we see a good local market or food hall we try to use those.  The most expensive food (especially meat) has been France, followed by Italy.  We do like to buy regional produce and try out different cheeses, cured meats etc.
FOOD/DRINKS OUT – Total cost – £1258.07  Average weekly cost – £52.41
Often we'll stop for coffee (and cake …shhhhh!) in the morning or a beer/wine and small snack in the afternoon when visiting towns and cities that we want to linger in.  We enjoy sitting, taking in the scene, people watching and if at all possible soaking up the sun while we're at it.  We don't often eat dinner out in the evenings but sometimes have a simple lunch.
LAUNDRY – Total cost – £106.60  Average weekly cost – £4.44
One of life's essentials. We're currently in Portugal and there are laundry machines everywhere which is great. They are harder to find in Italy so we often did small batches of hand-washing.
Average Weekly Spend Pie Chart
Comparison of 2 very different weeks