We were on our way to Mertola in Buzz after our night by the Barragem do Alqueva (dam) but felt that it would be wrong to miss Moura along the way. So we made for there first to spend a couple of hours exploring. Moura as it turned out was a nice town with some smarter, grander houses and as is so often the case in this area a ruined castle. Having made our way to the castle we spent a pleasant hour exploring, looking at the views before going looking for an olive museum and then a nice cool drink in the sun. We walked right past the museum at first as it was in fact a park and more importantly closed anyway, so we went looking for a bar/café with some outside seating in the sun. This turned out to be easier said than done but we eventually found a nice café with a couple of sunny tables and promptly ordered a beer and a couple of mini Pastel de Natas for our troubles. Moura was definitely worth a couple of hours but our main goal was Mertola. This is one of the great things about being in a motorhome, you can stop for a couple of hours in places that you would otherwise never get to see.
Arriving in Mertola fairly late we decided to park up and explore in the morning, and as it was the riverside aire was pretty full. The result of which meant we had to park alongside a large wall, which although we didn't think about it at the time was very dark and hidden away. After a quiet night we woke, had breakfast and got ready, it was only as I was putting our thermal screen away in the garage that I discovered that we had been very lucky.
One of our garage locks had been tampered with, someone had attempted to pull it. Luckily they were either disturbed or just couldn't get it out, so no damage was done and nothing taken. Suffice to say as some motorhomes had already left we moved Buzz into a more prominent position before setting off to explore the town.
Walking up to the castle that is free to visit, we wandered around, negotiating our way past workmen laying a new cobbled path. From there you get a good vista across the town and surrounding countryside. The castle is small but with plenty of character and there are a couple of museum exhibits you can go into including some excavated Roman ruins and a mock up of a Moorish house. We went on down to the Tourist information gathered a few bits including a complete pack of maps for the local walks. The TI is also the entrance for a little 2 room mock up of a non-moorish house. Carrying on down into the old town we came to the market where we heard an English voice pointing out a little café with balcony overlooking the river. So taking their lead, we followed them in for a coffee and as it happens a small piece of cake, they do a tasty looking chocolate salami. Perfect.
While sitting there we got talking to the owner of the English voice Sue, who with her husband Terry are on their regular winter break in their motorhome. A long interesting conversation followed before we carried on exploring.  Although there isn't a lot to see but the town had a nice feel about it and there are a few small museums dotted around so we decided to stay another night. After having lunch sat by the river relaxing in the sun we walked around again finding a bench set into the pavement on a steep hill, which resembled the naughty bench demonstrated by Marcella.
In the evening we chatted again to Terry and Sue by the river as the sun set and then invited them over for a glass of wine in the van.  We had a really nice evening chatting with this interesting well travelled couple, swapping our stories. We were interested in their extensive travels and they in our experiences in Buzz and how we came to have him for so long.
Morning found us heading out to walk what sounded like a good circular walk from Escalda along the Guadiana river to Pulo do lobo falls (jump of the wolf). Named after the legend of a local peasant boy who used to jump the falls to secretly meet a Princess, the boy was cursed so that when he jumped the falls he would turn into a wolf. The information says it is a difficult walk though not that long, with some dangerous elements. So unlike Portofino we both put on sensible walking shoes/boots, but as it turned out it wasn't what we would call dangerous. However there was some scrambling over rocks and up and down the hillside therefore a sensible decision.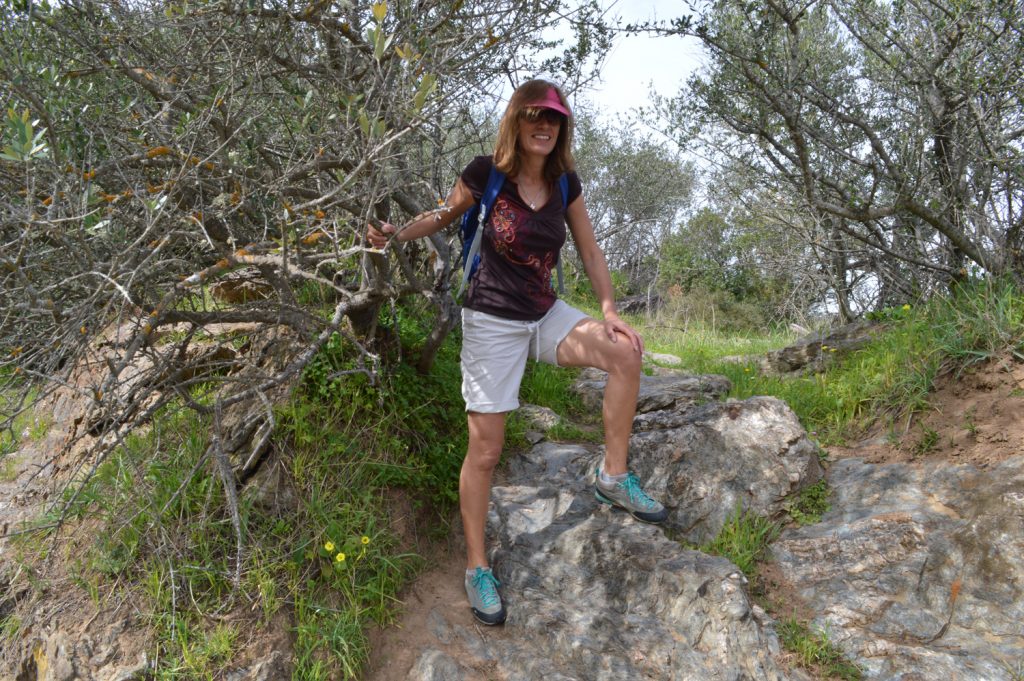 Driving out to the start of the walk there is no where to park but we found a wide verge with just enough room to fit a motorhome on and parked up. Armed with packed lunch and plenty to drink we set off on what was a really pleasant walk through the country down into the valley and along the river, with lots of interest and a very wide rocky stretch stopping at a little white water section for lunch. Some of the rock formations were quite amazing the way they had been eroded by the flowing water and we could imagine just what it would be like when high. Then the walk could have been dangerous but would be an incredible sight. A bit further on you come to a section of cliffs on the opposite bank full of natural caves and openings. There are Lynx in the area and this is definitely a place they would be but despite our best efforts we didn't see anything and shortly after you are at the falls.
The falls are the start of a canyon that stretches away down stream, you could probably walk down alongside but there isn't an actual path to follow. We on the other hand turned and headed back up a long steep hill in fact 1.5km of hill and it was hot by this time. Eventually back at Buzz we sat outside to cool off with a cold drink before setting out for our overnight stop at the Barragem (dam) in Mina de Sao Domingos, parking up and as the sun was going down getting on with dinner.
The morning was cool but sunny and after breakfast we walked down to the lake with our travel mugs full of nice hot coffee walking and sitting around this very peaceful lake. Which is one thing about travelling at this time of year, some things are closed but on the flip side they are quiet and relaxing. The lake is no doubt a hive of activity in the summer with a beach and restaurant but now it was lovely just sitting listening to the birds.
Sao Domingos is an old mining town with several small museums and features associated with its mining past but for us it was time to move. We had done far more in Portugal than intended on this visit and thoroughly enjoyed it but due to the weather further north it was back to Spain for a while.
Having Buzz has given us a freedom neither of us has had before and doing it in such a great quality motorhome as our Laika Kreos makes it even more of a joy and pleasure.