Like the Dolomites and Florence, Verona was always on our list of must see locations, so we were both looking forward to exploring the city and we weren't to be disappointed. Arriving at the well-placed aire surprisingly close to the city centre just after 4pm gave us some time for an initial walk around and recce of the city after getting Buzz level and ready for the night.  We decided to head straight for the Arena, the first century Roman amphitheatre in Piazza Bra and found it cast in a beautiful afternoon sunlight.  The city was still alive and bubbling and more by chance than good planning we stumbled on and burst into what turned out to be a closed tourist information office and despite being closed they took the time to explain the Verona card to us as well as giving us the explanatory leaflet and map. The Verona card has 2 options for either a 24 or 48hr visit (18 & 22euros) allowing you entry to 15 tourist attractions and unlimited city bus travel as well as reduced price entry into 10 other attractions including the open top tour bus, so is good value for money. More than happy with our first impressions we headed back to the aire to be ready for an early start in the morning.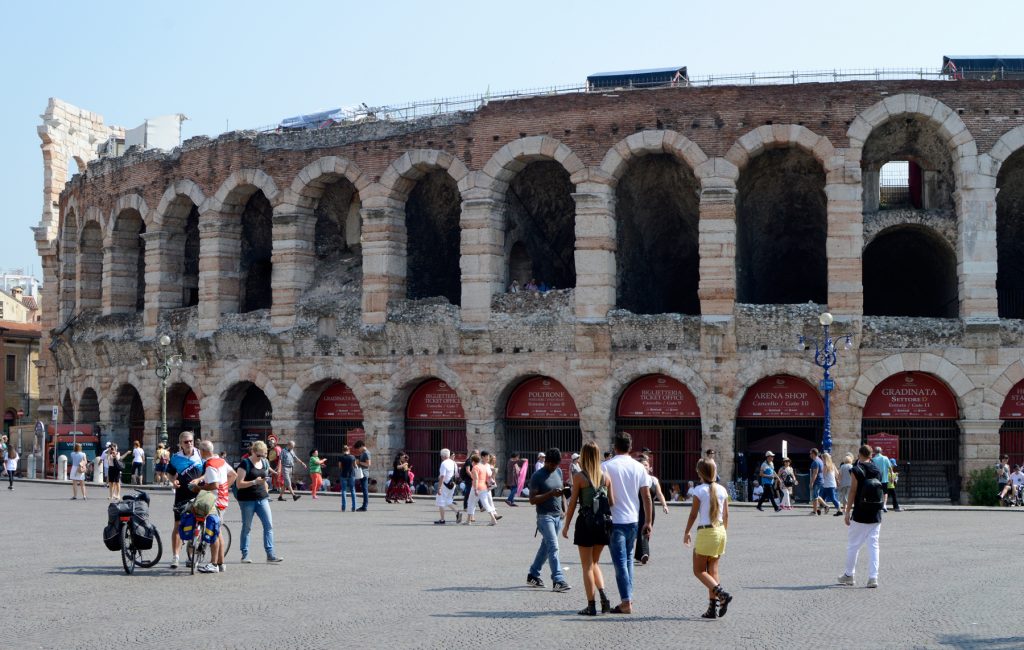 After a good night's sleep and hearty breakfast we felt cycling would give us flexibility to move around the city easily, getting us to the centre in 5 minutes rather than 20 if walking.  We had a long list of places to visit and like to explore all the side streets too which cycling is perfect for, chaining the bikes up now and again if we want to go at a slower pace.   Our first port of call was again Piazza Bra and the Arena, a mesmerising and impressive sight.  Unfortunately it was partially closed due to having staging, seating and all the other paraphernalia that goes with a big televised concert  stripped out after an Andrea Bocelli concert 2 nights before, a concert we would love to have seen. However, that would have required planning months ago to get tickets and at that point we had no idea we would be here.  As for the arena, built in AD30 it is the third largest Roman Amphitheatre in the world behind the Colosseum in Rome and another near Naples and although in terms of size is someway behind the Colosseum it is a fascinating building. Refurbished several times due to previous neglect it is missing the vast majority of it's outer wall, however what there is is pretty much complete and now well cared for, it's just a pity we couldn't see it all.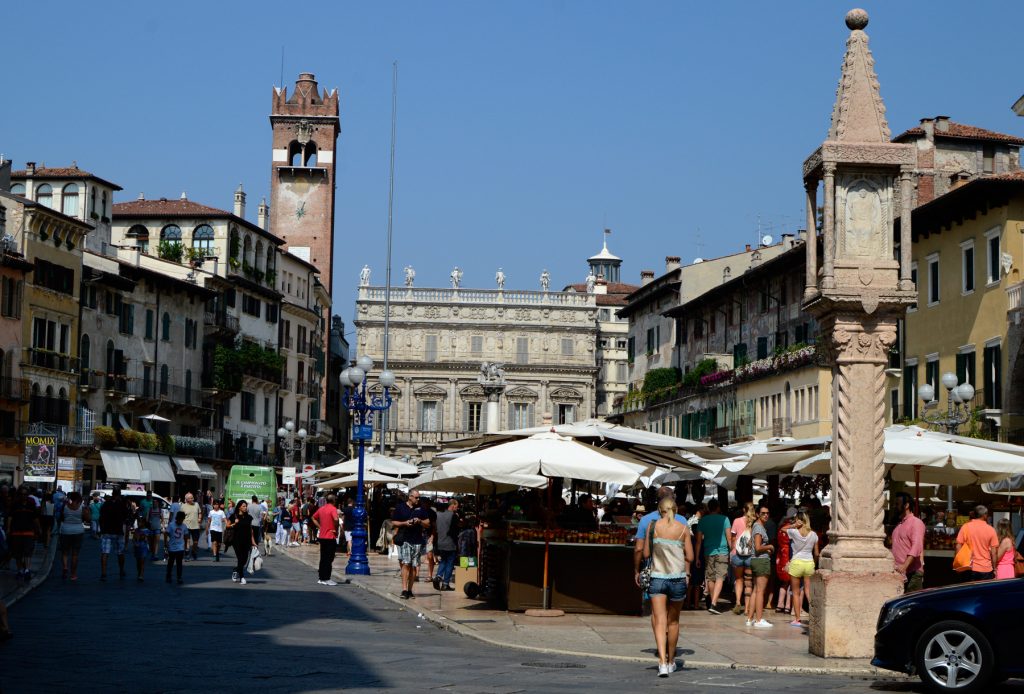 From the Arena we cycled to Piazza Erbe (named after the old herb market) for a walk around the large outdoor, largely food market, which looked good but turned out to be 5 or 6 stalls repeated several times when it could be so much more. The Piazza though is lined along one side with plenty of tempting restaurants to enjoy a morning coffee, tasty Menu del Giorno or sip a cool drink and watch the crowds go by. From there we headed to one of the other main Roman features the Teatro Romano. Even more ancient than the arena it features semi-circular seating facing a stage, a lot of which is no longer there or in ruins. It faces the River Adige and the Ponte di Pietra Bridge the last remaining Roman bridge built in 100bc  – well most of it anyway.  Behind the seating and part of the attraction is a former monastery which houses a museum of Roman and early Christian artifacts over 4 floors.  Again our visit to the Teatro was slightly impaired by a Comedy Central crew readying the theatre for a show, although saying that we were able to enjoy a sound check and music which added to our visit.  There is also the opportunity to walk up some steps (we're suckers for punishment!) outside and next to the Teatro up to Castel San Pietro for a scenic photo opportunity with captivating views over the river, bridge and city.  If you don't fancy the steps (and there are a lot of them) you can take a funicular ride up there but we of course did take the steps and once there a restaurant offered the chance for a refreshing drink which we took advantage of.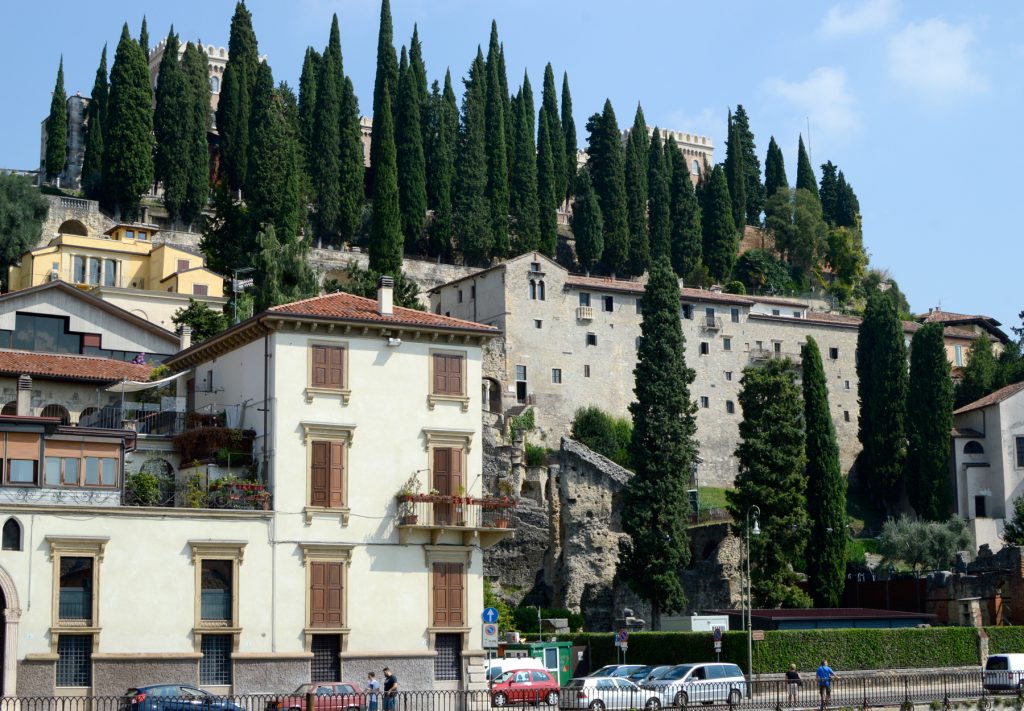 After the Teatro and a drink we headed to the Duomo and the church Santa Anastasia which were large and imposing buildings very different from each other with contrasting styles.  After and feeling a bit 'churched out' we went back to Piazza Erbe and the Torre dei Lamberti (tower) and in this instance we paid an extra euro to take the lift up to the viewing area. Even we couldn't face another 250+ steps up and down!  The tower offers the best views over the city as well as being a working bell tower with the bells ringing every 30 mins so be prepared to be deafened – a fate we avoided, just!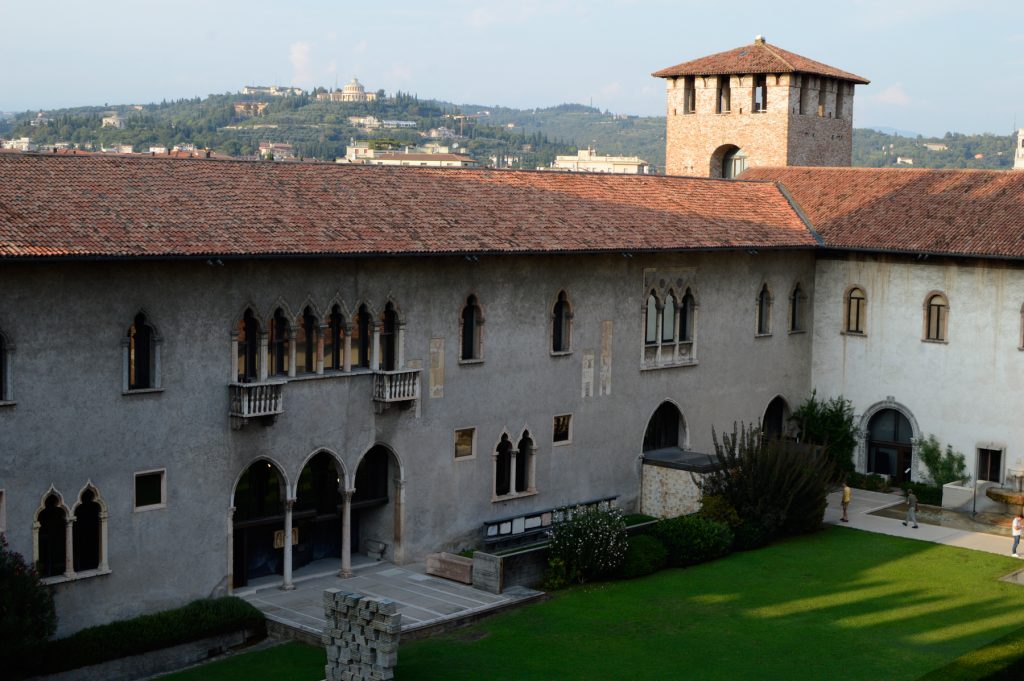 Feeling leg weary and knowing we had another day we decided to return to the aire stopping off at the spectacular Castelvecchio with its art gallery and museum cycling across the red brick walls of the Ponte Scaligero bridge crossing the river Adige which has fine views across the city.   After all this excitement it was time to cool things down with a stop for Gelato (delicious dark chocolate/mango and fig/pistachio) and a slow cycle back to Buzz for dinner and a cold beer (not necessarily in that order) to relax for the evening.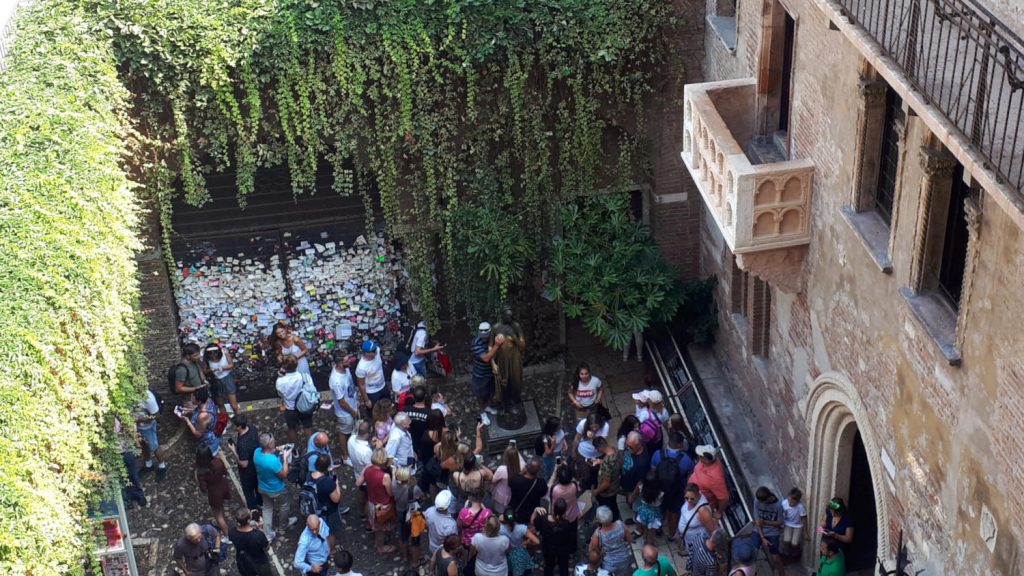 The next morning we decided to use the bus so went to the bus stop right by the aire only to find we had a 15min wait, so set off walking anyway, heading first for Casa di Guilietta (Juliets house) where you can visit the museum and have your photo taken on the infamous balcony.  Now of course this isn't really Juliet's house and in fact has absolutely nothing to do with Romeo & Juliet. What it is, is a converted 13th century inn with a handful of props (some used on film sets) and a fictitious balcony.  What it also bizarre is that is seemed to be just about the most popular attraction in the city, based on the swarms of people desperately trying to get photographed either on the balcony or holding the left breast of a statue of Juliet. Still it was all good fun and you can write your declarations of love messages on giant white boards in the entrance arch and there were dozens of people doing just that, pushing and clambering to get their spot.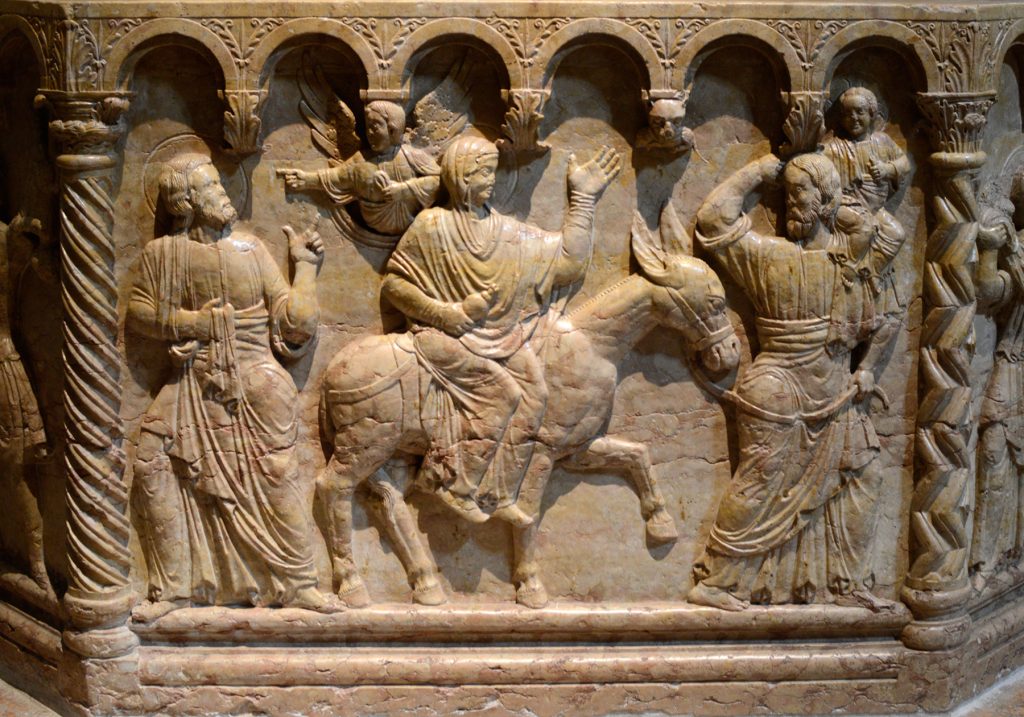 From there we finished off the churches and museums, including The Galleriad'Arte Moderna at the Palazzo della Ragione and San Fermo church which is actually two churches joined together with the very old original church started by Benedictine Monks in 1065 and the bigger later upper church started in 1313. That left just one more thing to take care of, a late lunch of Tagliatelle Carbonara washed down with a cooling beer at a lovely little restaurant by San Fermo.
Verona was all we expected it to be and more – a beautiful, vibrant city dripping with history and charm – put it on your list and go and enjoy it.