I have to say I knew nothing about Montova until the other day.  It's a reasonably sized town sat between Verona and Parma and is approached through the wetlands and over a bridge (the Ponte Legnano) crossing two man-made lakes that were created along with two others to form a defensive moat around the city 1,000 years ago, virtually enclosing it in water.  We found the town listed in our Area di Sosta book noting that it had free parking and a laundrette near the car park.   So we stopped and parked for the night did our laundry and decided it would be rude not to explore the town, so that is what we did.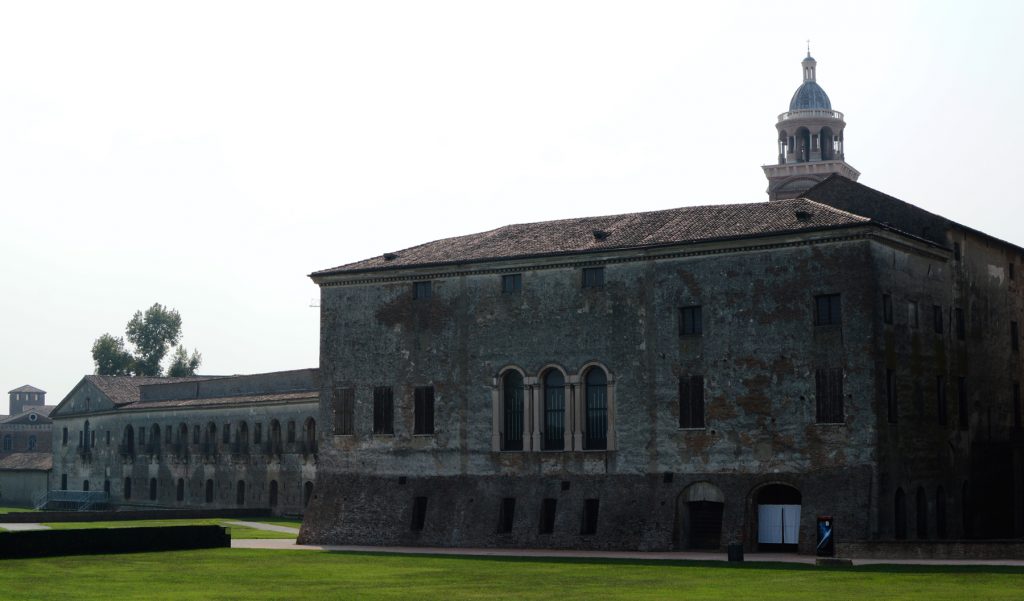 At first we were feeling a little disappointed by what we saw but it improved rapidly when we discovered the San Giorgio castle standing guard over the road and bridge where Lago di Mezzo and Lago Inferiore meet.  The castle is unlike most of those we have seen in that it is all business – there's a dark brooding look and feel to it that says 'here I am if you dare'.   Large and commanding it has an almost menacing look which was sure to have been intended when built as a defense against attack.  In complete contrast, there was a temporary art installation in the moat featuring fairy dresses and horses which was interesting and somewhat strange!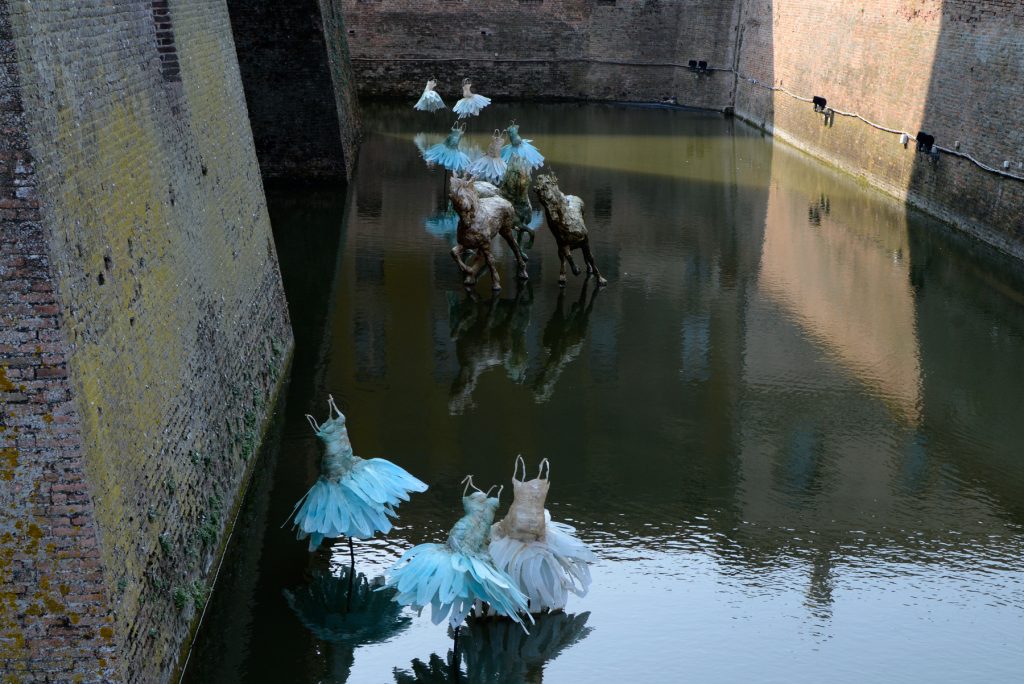 Suffice to say our mood perked up and we started to enjoy exploring this unexpected delight, finding the Palazzo Ducale and it's gardens, originally the royal residence of the Gonzaga family and the vastest museum complex in Europe. Opposite the dazzling white marble Baroque Duomo on Piazza Sordello, the Palazzo houses and archaeological and art museum with some beautiful ceilings and internal features complete the square. At the end of the Piazza we found a Maserati stand with an old 1934 Tipo 6C 34 racing car from the Panini collection in Modena which certainly drew some admiring glances, it therefore seemed like a good place to stop for a drink before carrying on our exploration.  We later discovered that this town was in fact once voted as Italy's most livable city and is famed for the fact that it has hardly changed since the middle ages – the place that time forgot.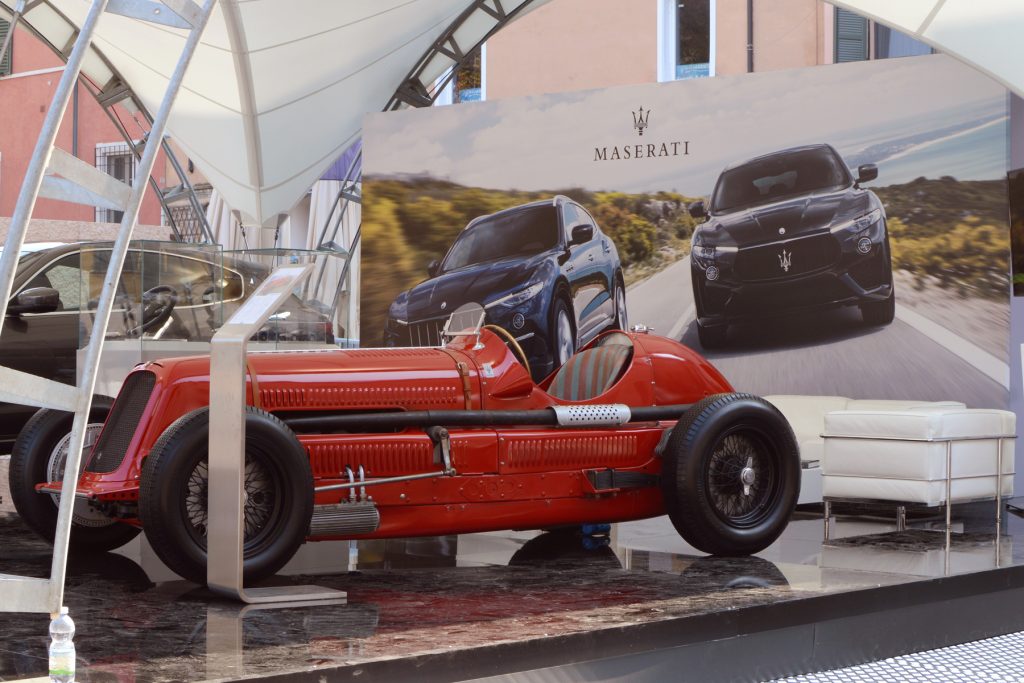 We headed out of the Piazza by Via Broletto a lovely colonnaded road lined with great food stores and restaurants including the historic cafe Caravatti which has been there since the 1800's and is as popular today ever, serving their exclusive, secret recipe aperitif. Another gorgeous feature of the Via is the Torre dell'Orologio with it's stunning clock and sitting behind it the 11th century Rotonda di San Lorenzo an unusual round old church which has been fully restored made of brick both inside and out – a stark and austere building setting it apart from just about every church we have seen so far.  Just to prove the point on the other side of the road sits the Basilica di Sant'Andrea which is far more typical of the churches, that is huge with an overly ornate interior.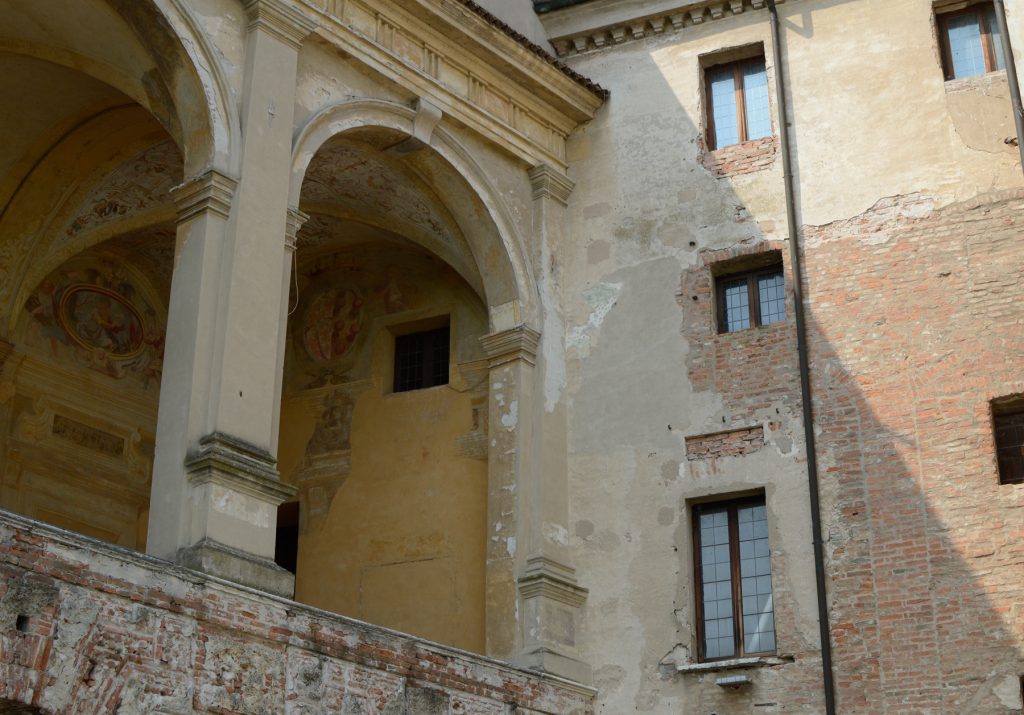 Ever since arriving in Italy we have been looking for fresh pasta, expecting it to be front and centre everywhere we went. Although we had seen the odd tray in the market or shop window we had been struggling to find it but as soon as we walked the streets of Mantova it suddenly appeared in abundance.  Trays and trays of ravioli, tortellini, tagliatelle, gnocchi, tortelli – finally we had found it. What we weren't prepared for though was the cost, with some obviously handmade pasta shapes costing as much as 28 euros a kilo!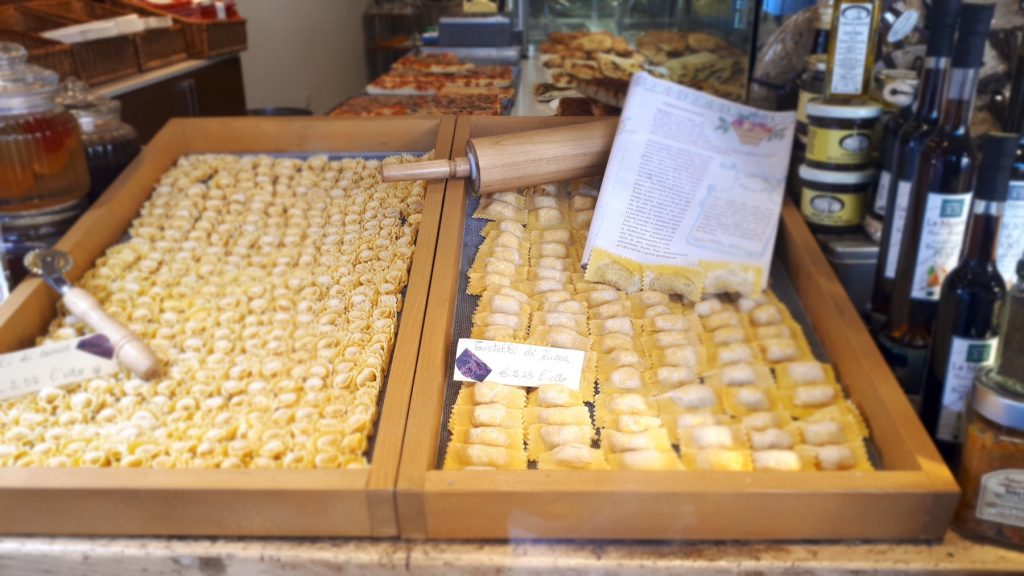 After a leisurely stroll around the pretty streets before heading back to the motorhome to change and come back out for a relaxed evening out at a couple of bars.  We soon discovered that like Granada and San Sebastion in Spain the bars vie for your business by offering food titbits and or buffet free with your drinks. Finding a busy, popular bar we settled down for a drink and a plateful of lovely little snacks very similar in style to Pinchos arrived and tasty they were too. Our second bar and drink was  even better and come the end of the evening we walked back to Buzz feeling well fed and watered having just bought drinks.
Montova was an unexpected bonus visit which we both really enjoyed and would have to say it was worth the time. It is also fair to say the lakes while pretty unlike Como, Maggiore etc do play second fiddle to this interesting town.