Having driven through the Gorge du Verdon then parked for the night at Moustiers St Marie we woke to an un-expectedly sunny, although quite cold morning having been promised rain by the forecasters, so hustling ourselves to take full advantage of this bonus we set off walking up into the village.  First though we had to check the roof.  All evening and night it sounded like something was falling on us every few minutes and we were only part way under a very spindly tree so we couldn't understand it.  Standing on the bed to peer out of the roof window to our amazement there were just 15 small twigs on the roof – strange!
Moustiers is considered to be one of the most beautiful in France but as we approached it didn't give that impression at first,  in fact we felt we had seen many more pretty villages on our travels. However as you get into the village with its waterfall cascading through the centre you begin to realise just why it has that title.  A medieval village sitting 100m up and stepped into limestone cliffs Moustiers has for centuries been the centre of Faience.  This fine tin glazed pottery originated in Faenza in Italy and the village boasts many fine shops selling the pottery in many different styles.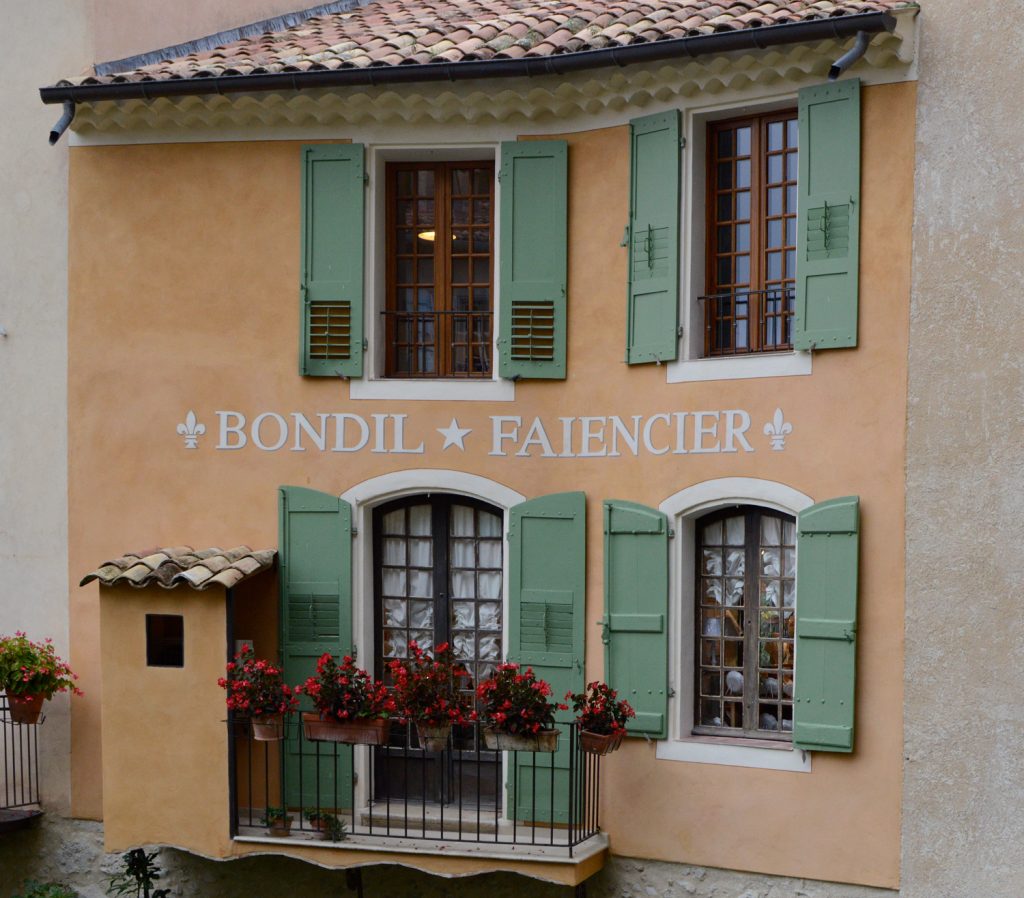 Walking up into the centre you can't help but hear the tumbling water making its way through several drops, fed by a spring rising in the limestone behind the village. It makes a pretty sight with every thing else seeming to radiate from the bridge over the falls and up through narrow lanes and alleyways.  Sitting in the centre is the old 12th century Church of Notre-Dame de l'Assomtion the most important of its old buildings. Having been extensively modified in the 16th century the church has a more gothic style now than when built with a 4 storey bell tower and some lovely stained glass windows. Wandering around you come across plenty of souvenir shops, and pretty cafes to help you while away your time and spend a few euros supporting the local economy, this being France however there is obviously another church and in this case the Chapel Notre-Dame-de-Beauvoir sits on a promontory high above the village. Originally built in the 9th century the current building can only trace its roots back to the 13th century and a slow stroll up reveals some lovely views over the area.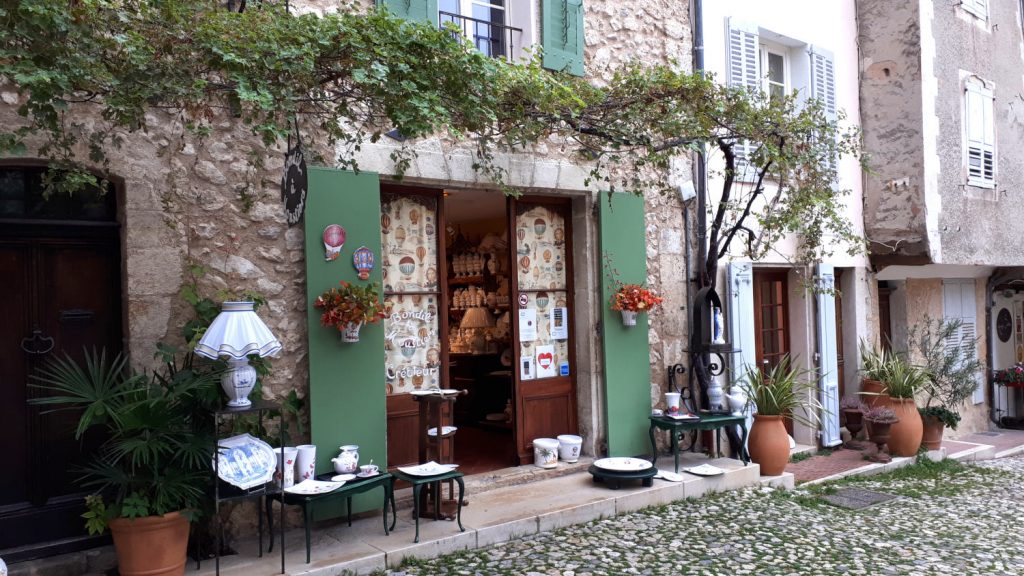 One thing you cannot help noticing is the large gold star suspended between two cliffs behind the village several hundred feet up on a 225m long chain.  There has been a star suspended for at least 200-300 years although there are several legends as to how it came to be there, the oldest going back to the time of the crusades. You can research that if you like and choose your favourite, we are just happy to say it looks nice and creates a good talking point.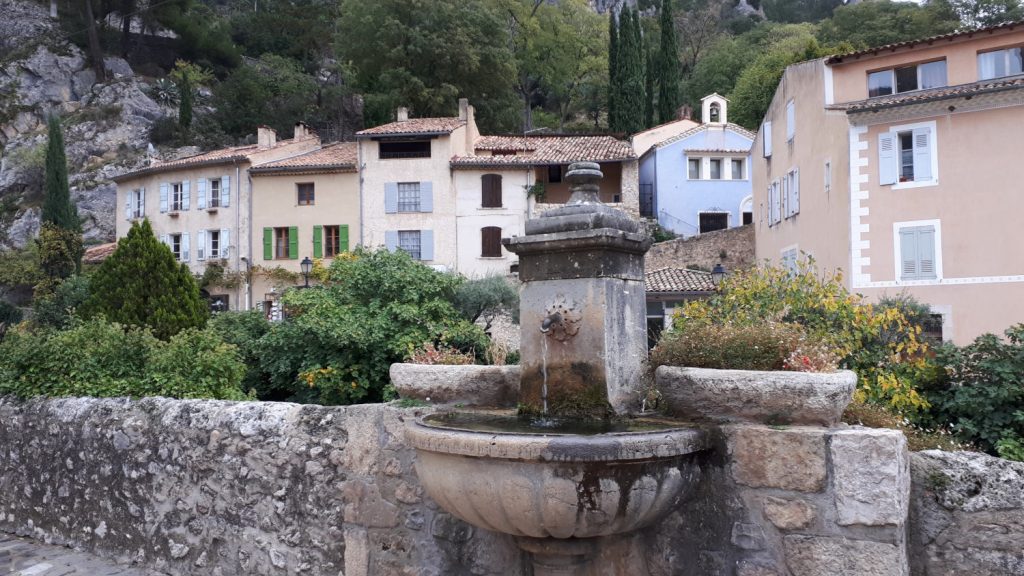 Now as previously noted we had been expecting rain and had been very pleasantly surprised with the day's sunny start, as a result of which one male member of the party had left wearing just a hoody for warmth (well not just a hoody obviously). As is the way with these things the forecasters usually have some grasp on what the weather is going to do, as they did in this case.  With lunch time approaching the sun slowly disappeared and a slow drizzle set in, getting slowly faster and harder at which point we had (well I had) to make a decision as the pavements were getting more and more slippery by the minute. So it was back to Buzz a bit sooner and much wetter (for some of us) than expected. With lunch out of the way we took the decision to move on to our next stop Greoux-les-Bains a small but important spa town, the amazing thing about it being the number of motorhomes there, more than we had seen in weeks parked in many car parks seemingly without any hassle.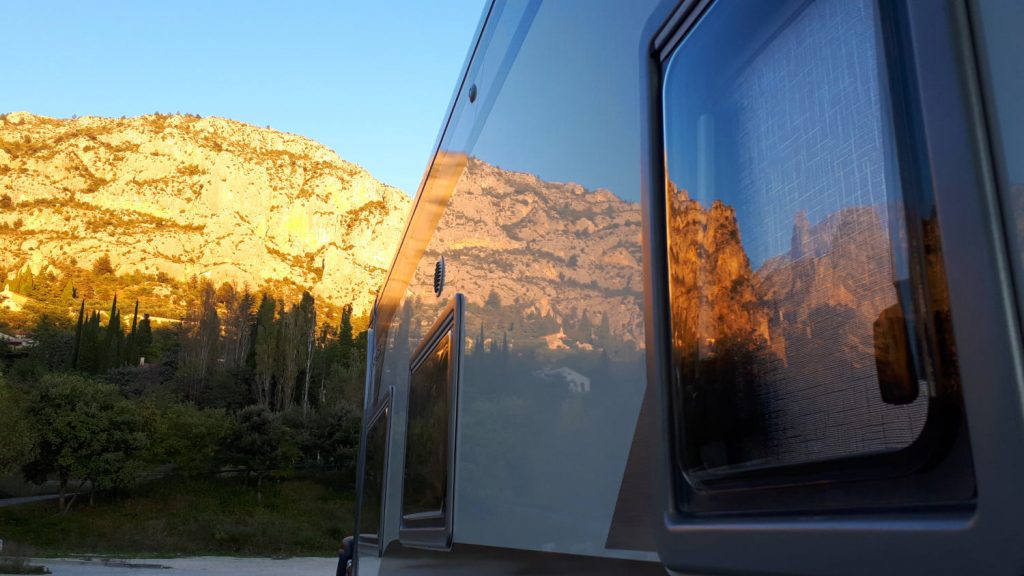 Being in need of electric we chose the Municipal campsite right in the centre of town which was rammed full, luckily we were able to find a spot for Buzz. Having squeezed in we settled down for dinner and a stroll into town for an evening drink. The following morning we had a walk around the nice but un-remarkable town rushing up to the Hotel de Ville town square to the market only to find just a fish stand a few vegetables and some jars of honey and jam.  We took the opportunity to do our laundry in the town, nearly getting into an argument with an Asian looking lady and her French boyfriend (although he seemed embarrassed about the whole thing). The laundrette had 4 washing machines and 3 dryers and spotting 1 unattended machine with just a pair of plimsols in which looked finished we opened it to remove them at which point the woman pounced pointing out they were hers and had not been washed yet. It then became obvious she already had 2 of the other machines, so I asked quite politely if she actually needed a whole machine for a pair of shoes at which point she flew straight off the deep end almost shouting that they had dog sh*t on and asking 'would you wash your clothes with them?' inviting us to put some of our clothes in with them!  At this point I made the comment that actually I'd wash them under a tap and not put them in a public washing machine at all as it wasn't appropriate which resulted in a withering icy glare that could have frozen a new the polar icecap and rather than get into a loud argument we withdrew from the scene choosing to go back later.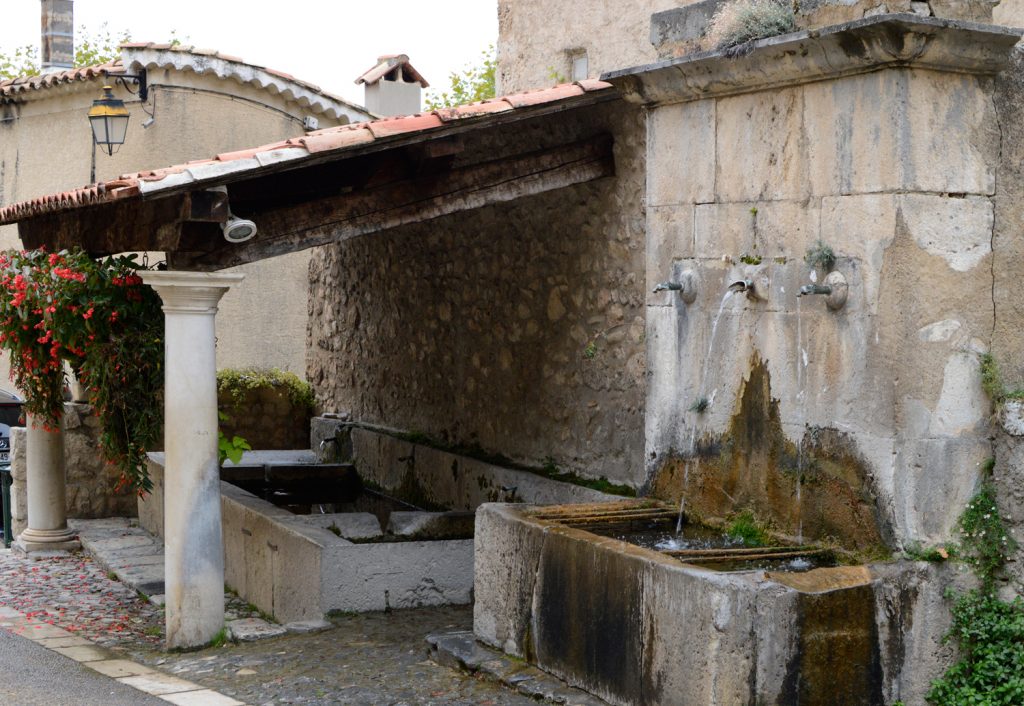 Washing done, during which we had a very nice chat this time with a French woman visiting the town's Thermal Baths, we headed back to pack up and move on to Jouques on our way to Aix-en-Provence. While packing up we got into a conversation with the French couple parked next to Buzz (as much as a non-French and a non-English speaking couple can) during which we discovered that the French get sent here for prolonged treatments at the thermal baths by the health service. Our neighbour was there for 3 treatments over a couple of weeks, which finally explained why there were so many motorhomes and the easy going attitude to parking them. They were also very interested in the story behind Buzz, RH Drive, Italian plates and English drivers and after much gesticulating they were excitedly looking at the blog and telling another French couple about us before waving us off enthusiastically wishing us Bon Voyage.