We're slowly making our way West now to Portugal and somewhere interesting had caught our eye. The Rio Tinto railway running along the river of the same name runs through an old mining area where the river runs red due to the high iron content and we were keen to take a look. We arrived after dark, coming straight from Seville so apart from a few buildings and the car park we couldn't really see our surroundings. There weren't any other cars or motorhomes around and no signs to say overnight parking wasn't allowed so we just drove in, settled down for the evening and had a very peaceful night.  Waking up in the morning it was bright and chilly with a clear blue sky and we could finally see where we actually were. Getting out straight after breakfast for an exploratory walk around we could see all the red rock surrounding us.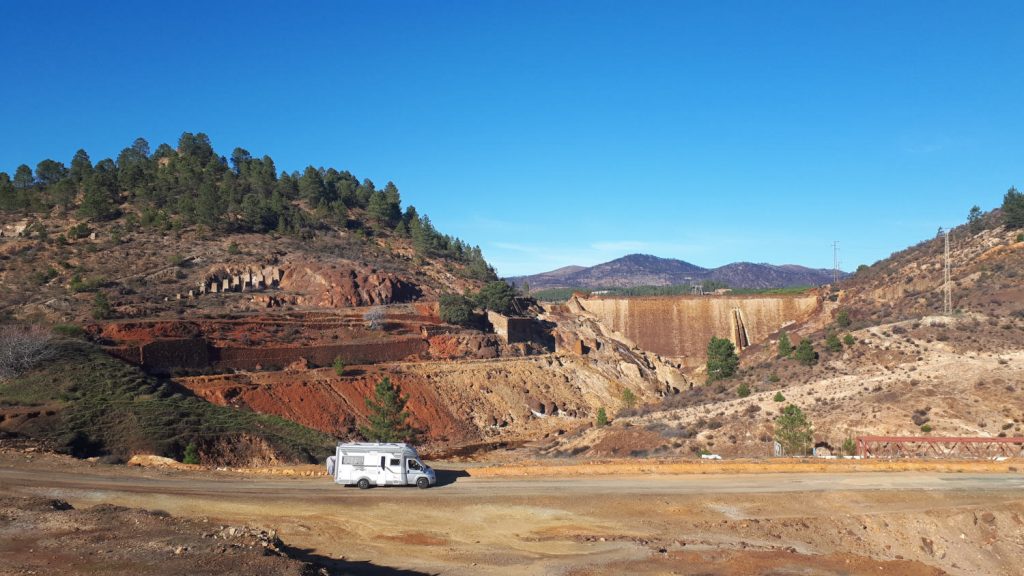 Most people from the UK will have heard of Rio Tinto the huge mining company based in London. Well this is where the name comes from, when in 1873 the Spanish government who were unable to run the mine efficiently sold all the mining rights by auction. An auction won by a British businessman backed by several companies and Rio Tinto was born.
The area has a fascinating history of mining going back around 3000BC and having been mined on and off for over 5000 years. With a range of ores and minerals being mined including Copper, Gold & Silver and at its peak employing over 20,000 people, also running its own railway to the coast. For us it gave us a chance to explore the local man made environment. Firstly walking up a road to an old dam with water cascading down one side. As we walked past the dam we realised it was fully silted or possibly filled in. So the dam was in fact holding back 1000's of tons of silt or mud, it was here we really caught our first good look at the red tinted water that gives the river its name – Rio Tinto – Red River. The colour and highly acidic nature of the water is due to large quantities of dissolved iron, some heavy metals and high acidity both partly natural and partly caused by 1000's of years of mining activity.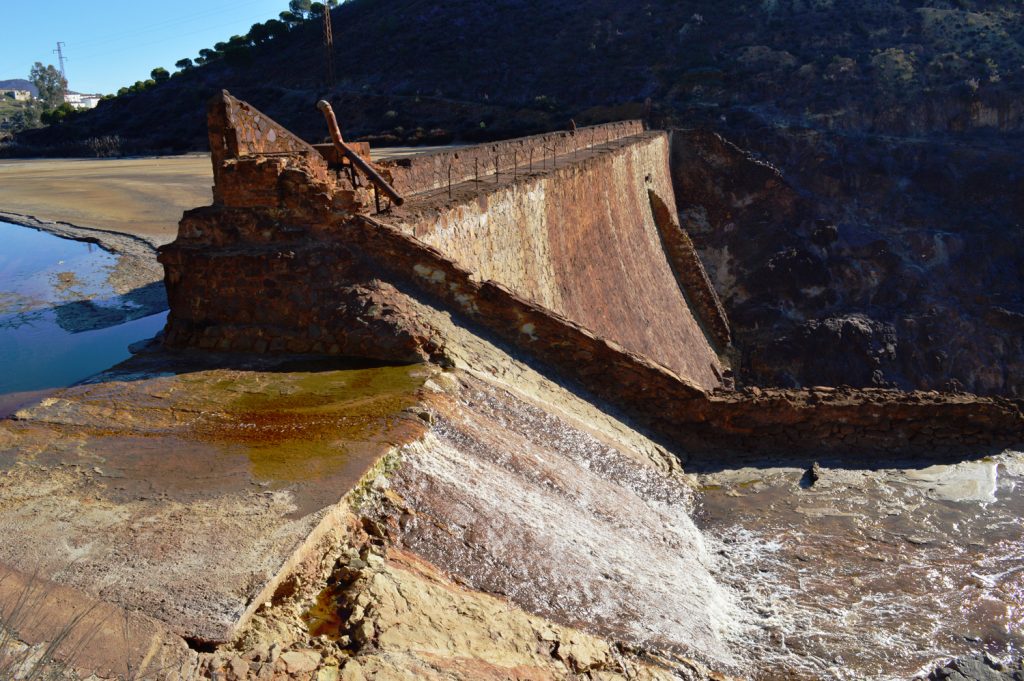 We walked back down following the course of the river for a while when we spotted a shepherd with a flock of sheep grazing near the water. We both looked around and felt we wouldn't fancy any of that lamb for diner. After a nice walk we made our way back to Buzz and still empty station for a brew, choccy biscuit and a sit in the warm sun. With the train not scheduled until 1.30pm we were beginning to think there wouldn't be many people turning up at this time of year but we couldn't have been more wrong. It wasn't long after midday that the cars started arriving just a few to start with so we decided to grab some lunch & get ready for the train ride.  Just after 1 o'clock the car park was virtually full and a whole coach load of people arrived too. Luckily we had already bought our tickets online and managed to get ourselves at the front of the queue. Just before 1.30 we were let through to queue on the steps down to the platform when the train rumbled noisily into the station and we were allowed to board. We'd read a handy tip online which said to sit on the left hand side of the train to get the best view of the river, so we did and we did! The train itself has 5 wooden carriages which rattle and bump along, these are old genuine restored rolling stock from the original rail line which is also true of the the 12km track which was specially restored for the tourist train.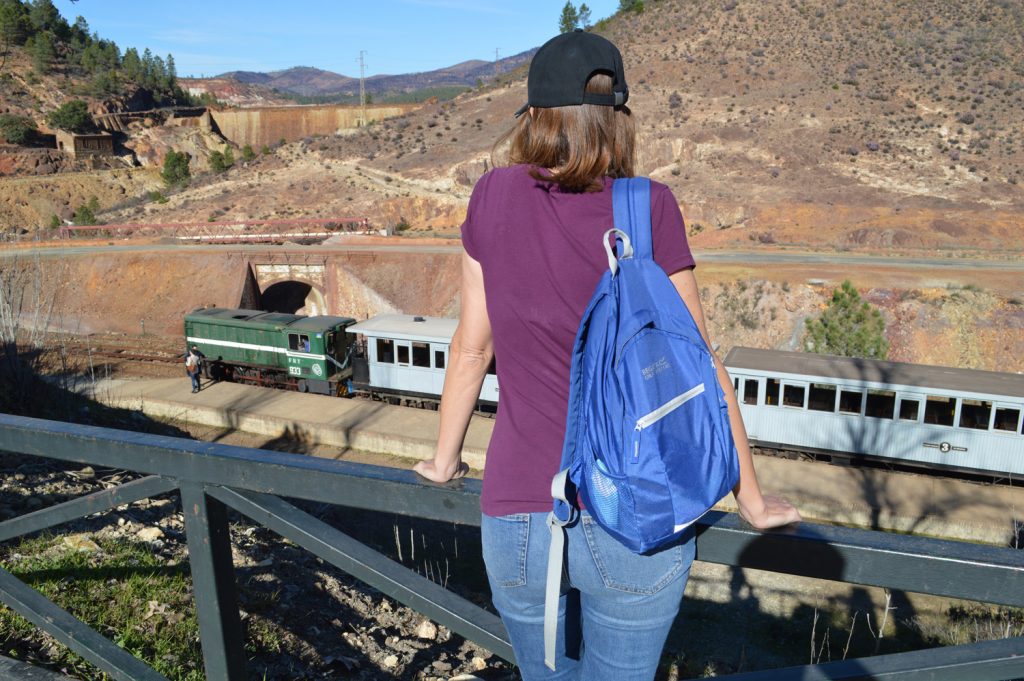 The coaches at best are very rickety with uncomfortable wooden seats as used by the miners, they are however great fun and all part of the experience. It wasn't long before we set off very slowly bumping our way along the narrow gauge line down stream. Accompanied by a Spanish language commentary, which of course we couldn't understand. To be fair whilst we couldn't understand a word of it we did marvel at her ability to speak non-stop for the 30 plus minutes of the journey without appearing to draw breath. On which basis they just could not fit in another language version.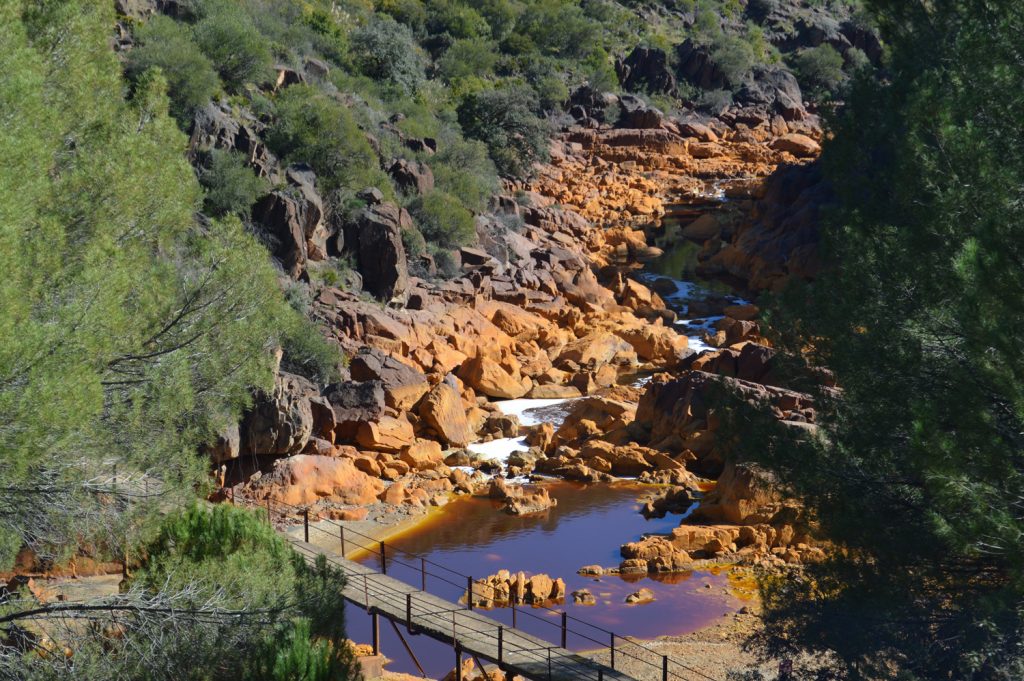 Sitting in the train watching the landscape go by through several abandoned works, the red river and lots of old rusting steam trains, carriages, cargo trucks and various bits of plant was both fascinating and in many ways quite disturbing. We were sitting in what can only be described as an enormous man made scar on the landscape. The blood red river flowing through an open wound, old slag heaps with sulphur still seeping out, abandoned buildings and all the rubbish that goes with 1000's of years of mining.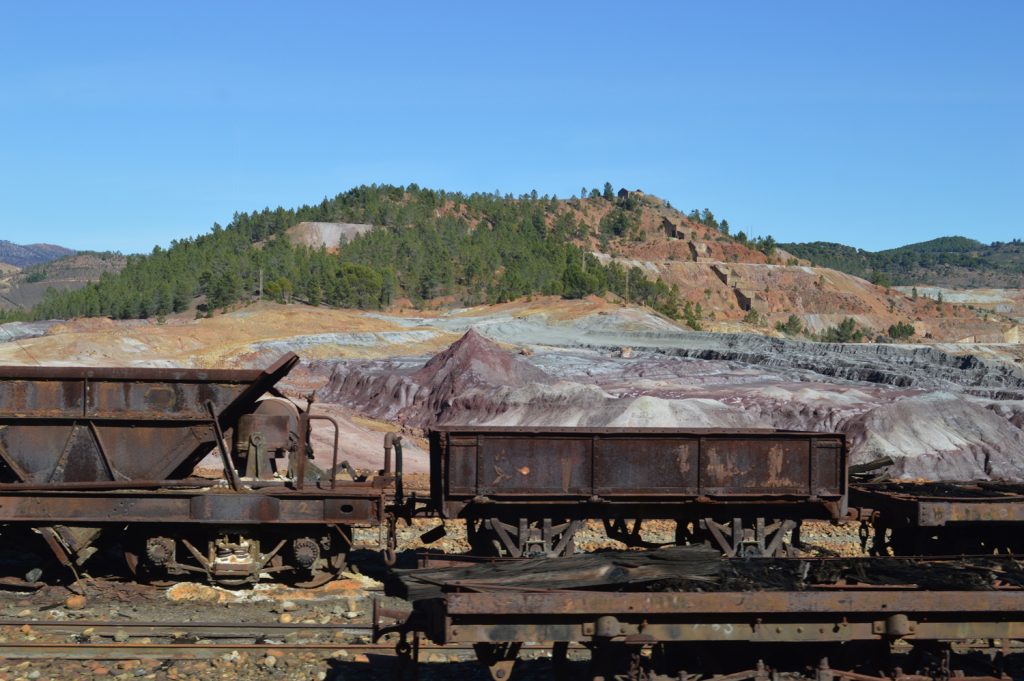 The whole trip lasted 1 1/2 hours including what was meant to be a 20 minute stop at the end to get off and go down to the river. We'd read that the water is toxic and acidic (ph2) plus a few heavy metals and you shouldn't let it splash you because it can burn. That can't be right though because for some bizarre reason we saw several people go down to the water's edge and splash it all over their faces and they seemed ok. Not sure why you would want to do that though, maybe they thought they'd get a special exfoliation or something if it took a layer off! We'd only been down at the river for what felt like 5 minutes when the train's horn blasted letting us know we all had to go back. This time though we were too late to sit on the good side, the trip back noticeably quieter and more thoughtful.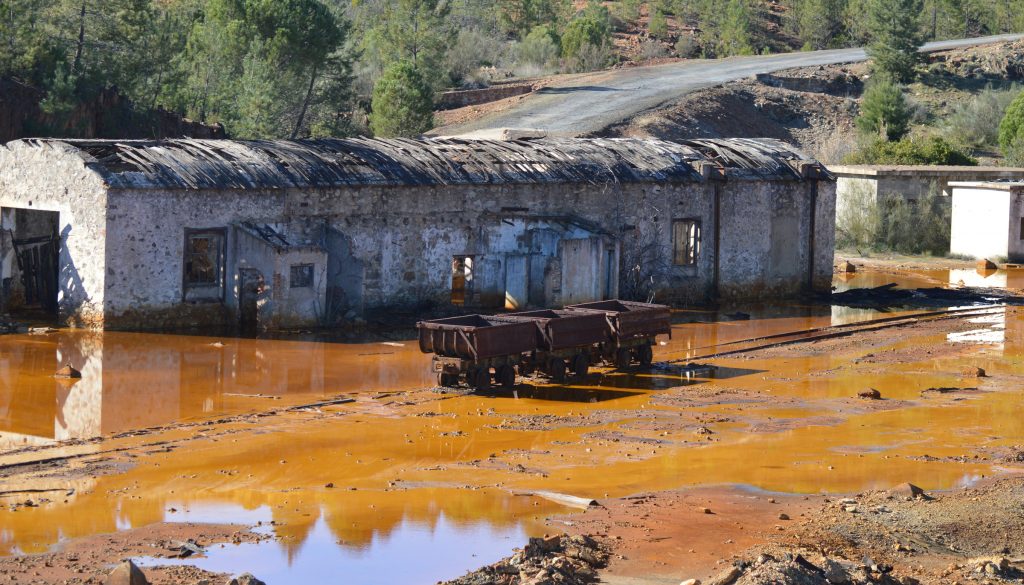 Once back in the station we headed for Buzz and the trusty old kettle while we waited for the crowds to disperse which they did with amazing speed and we were soon on our own again.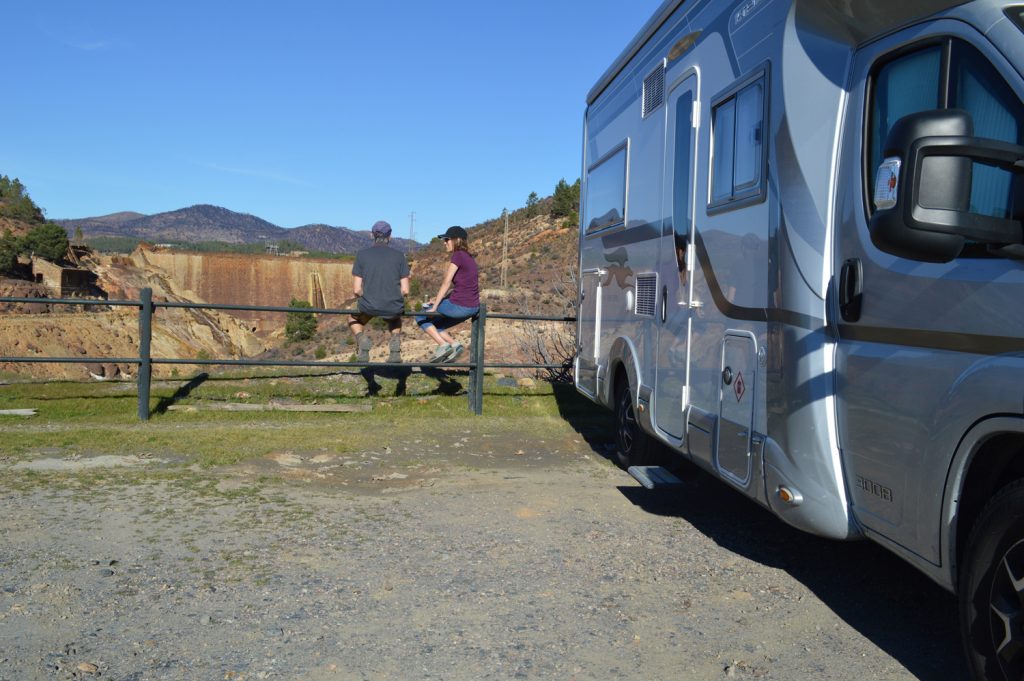 Soon enough we followed suit heading for our chosen overnight stop in the town of Valverde del Camino so ending another interesting visit on our motorhome trip around Spain in Buzz.