Driving South again our motorhome tour took us to Doñana National Park, spending the night at a small aire overlooking allotments in Val Verde del Camino on the way. It had full services we took advantage of these before carrying on our journey the next morning. We'd had a quiet night apart from a 10 minute episode of what sounded like a couple of mewling cats trying to kill each other in the middle of the night!
Following Google directions we drove through the town of El Rocio until we came to a roadblock and couldn't go any further. The town seemed packed with throngs of people everywhere, people on horses and cars and motorhomes everywhere. Utter chaos in fact. Deciding that there must be something going on that we ought to investigate we drove around eventually finding a parking space and went to find out. El Rocio is just the strangest place! All the roads are covered in sand, there are horses tied up everywhere, horse and carriages, tiny ponies, working mules, all sorts! We felt like we'd landed on a Wild Western film set or something. We never did find out whether anything was going on or whether it's always like this. There weren't any posters up or anything about an event, it was just weird. Apparently in May/June there is a yearly festival where a million visitors including 70 brotherhoods of pilgrims descend on the town to pay homage to the Virgen de Rocio, some riding miles on horseback to get there. It was already bedlam, so it must be an utter nightmare then. After about an hour wandering around the wind had got up and sand was blowing in our faces so we left, feeling quite confused and bemused.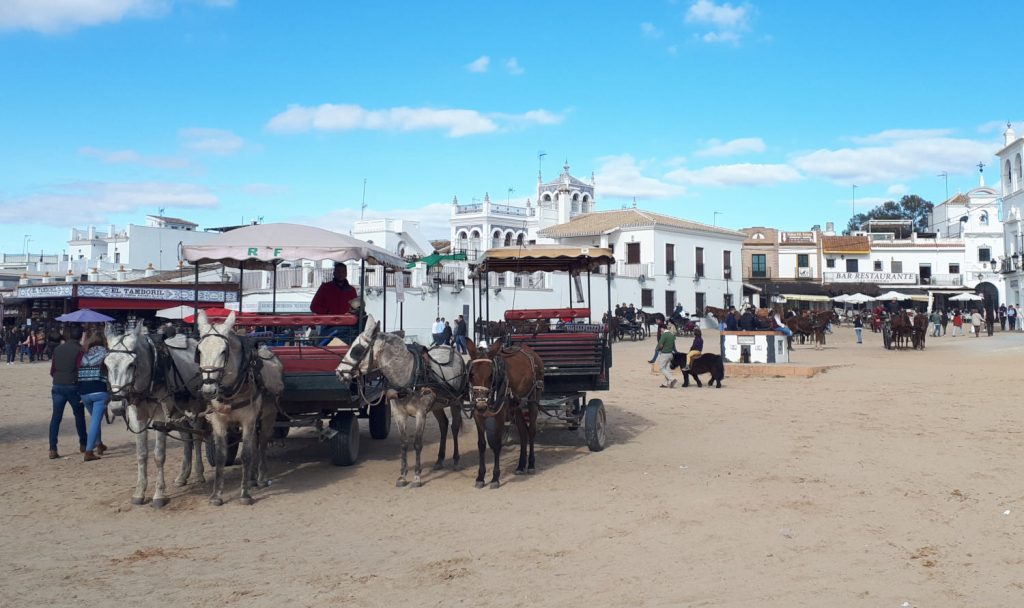 Reaching the El Rocina visit centre, we parked Buzz in the car park, where there was plenty of space for motorhomes and went for a stroll along the boardwalk, winding its way through the marshy land. There are 5 visitor centres in total throughout the park, with marked out trails you can follow. Wandering off the paths is not allowed and access to the rest of the park is strictly limited to authorised trips which you can arrange with a couple of tour companies. There was an assistant in the office who told us the walk was 'half past three kilometres' which was quite funny. It's a lovely walk amongst the pine trees and there were several bird watching shelters along the way overlooking the lagoons and we spotted a few birds here and there but they were few and far between. We came to the conclusion most of them must be having the bird equivalent of a siesta.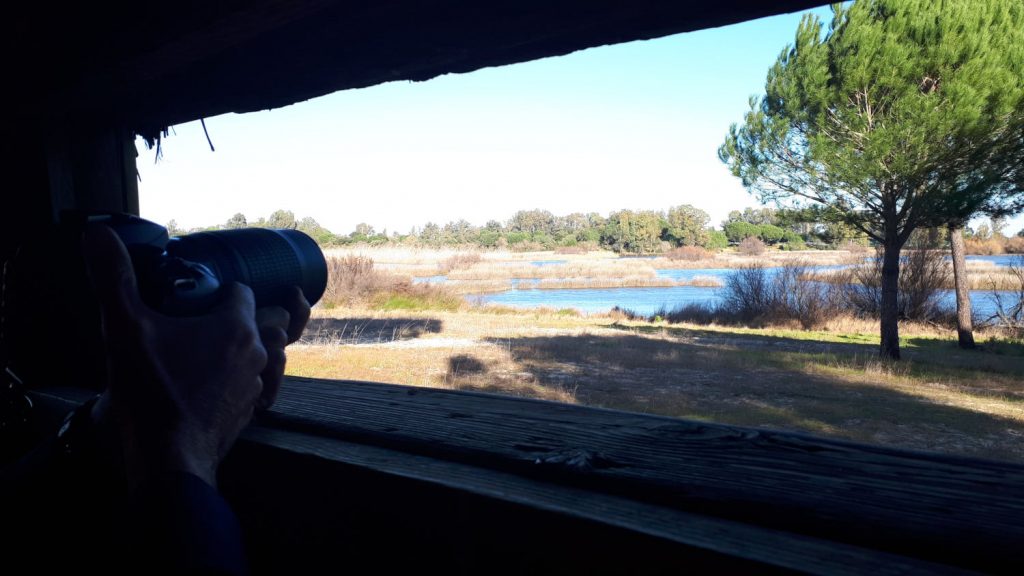 At this point we were going to move on to the next area but also needed fuel and to decide where we would spend the night. We'd past several fuel stations and kept saying 'no, too expensive ….. no… no' but it was getting to the point where we would just need to take what we could find. As we followed the road a long stretch opened out ahead and suddenly the road just ran out. We had got to the very end of the road at Matalascanas and a large sandy car park with a couple of other motorhomes already in situ. It was the ideal place to park for the night, facing the sun, sand dunes and pines, so we forgot the fuel and got parked, pleased with our unexpected find and made dinner.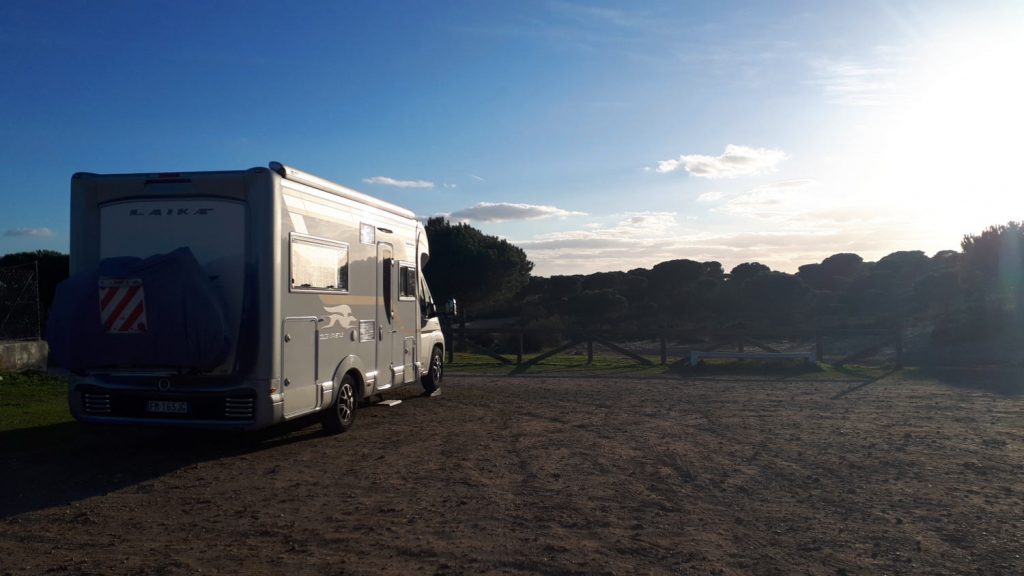 The next morning we realised one of the other motorhomes was British and so before going out for an exploratory walk went over for a chat as we'd seen the man wandering about outside. We found out they were on a long trip, staying in the area until March. He was also able to give us some useful information about crossing the border to Portugal which we'll be doing soon. You can only cross straight over onto the motorway which charges a fee, but if you come off at the first junction you don't have to pay. There's a big 'tourist' sign as you cross the border and a lot of people pull in to the information booth and end up paying motorway fees unnecessarily so he saved us a bit of money letting us know we didn't need to do that. A boardwalk led straight from the car park towards the beach so we started following it when we heard and then saw a big, black, barking dog running up and down. It became clear that he was a bit distressed and obviously lost. We were a bit concerned about him so kept an eye out but couldn't see anyone or hear anyone calling him. Eventually after about a 10 minute walk we got to the beach and spotted a motorhome parked with a woman walking about with an empty lead. In our very best Spanish vocabulary skills we managed to say 'perro?' (dog) and she nodded and we were able to incidate that the dog was 'that way' a long way back. She seemed very relaxed about it and not nearly so worried as either us or the poor perro!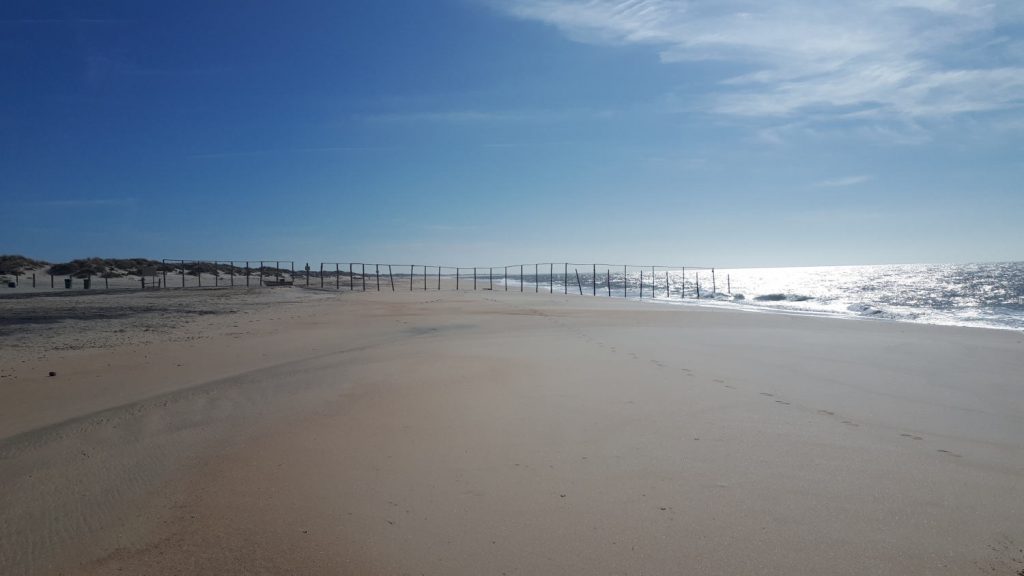 Walking down to the sands we could gaze along the wide, sandy beach, which stretches on for 35 km in total, its dunes constantly drifting and changing shape. The boardwalk was buried in many places and obviously impossible to keep clear but we did our best to follow it and enjoyed the sea breeze and hilly dunes. The dune trail is quite short, just 1.5km so it wasn't long before we got back and set off for the lagoons at the nearby El Acebuche.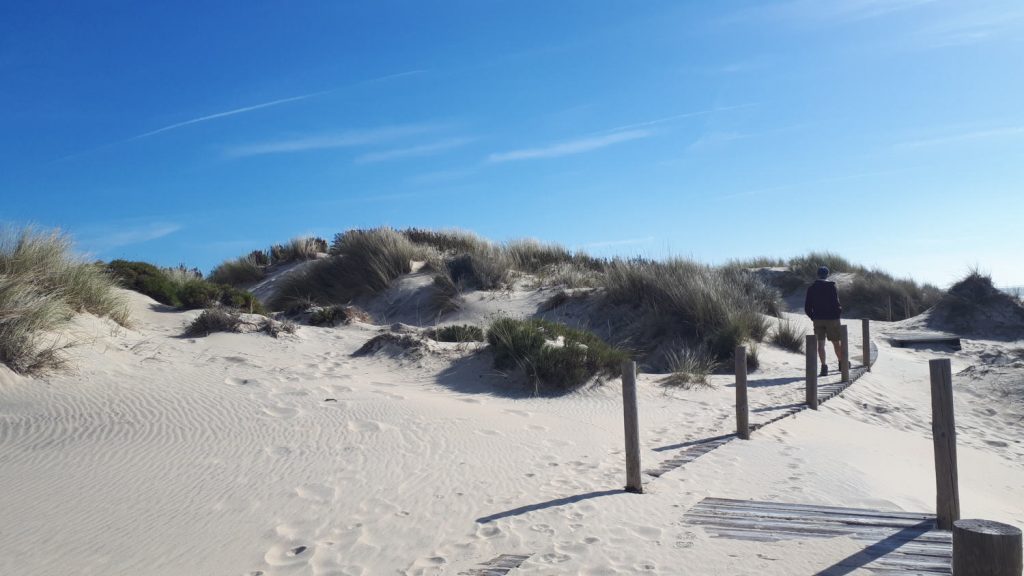 Again there was plenty of space to park and also a large outdoor picnic area so if it's a nice day you can sit around for a while.  We were surprised to see the same woman from the other office, who this time told us the walk was 'half past four kilometres' long! The walk winds its way through the lagoons with several observation points for bird watching. There was also a lynx observation shelter, as there are 30 Iberian lynx in the area, but it was all boarded up and we couldn't see anything. We have seen plenty of deer footprints but no sign of the deer themselves. Storks were circling above us and we saw some birds of prey from a distance and a few birds flitting about around the lagoons but all too far away to identify properly. We did enquire about taking an authorised trip out to some of the other areas like the salt flats, but at around 30 euros each for it all to be in Spanish or over 100 euros each for a private tour in English we couldn't quite justify it so we left it at that.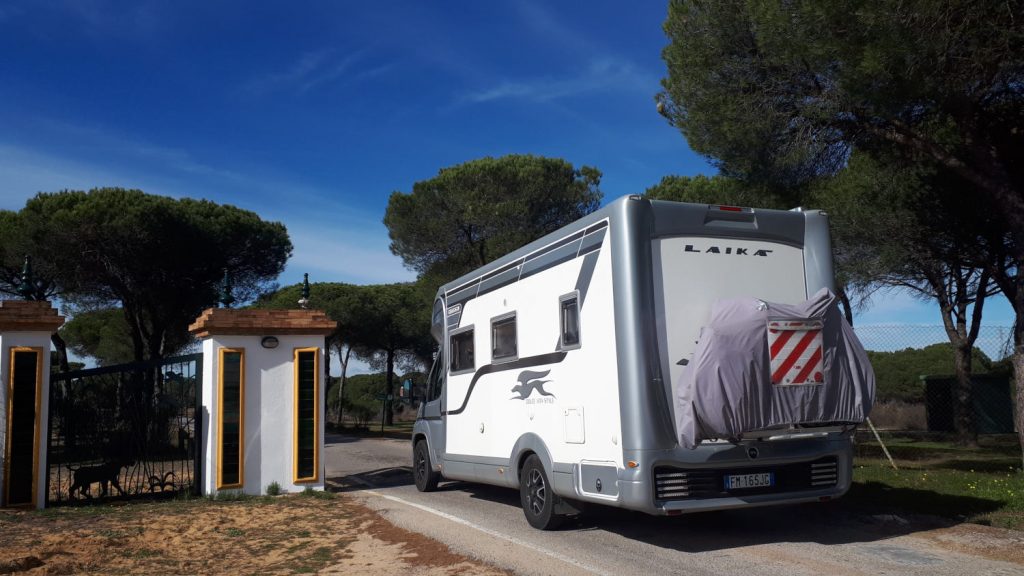 After a cup of coffee we decided to move on. We're gradually making our way West to Portugal so with that in mind we ended up in Gibraleon for the night. No thanks to our Sat Nav though who again tried to fool us! She wanted to 'turn left' down a tiny dirt track, then down a no entry road and we ended up in the middle of a field! We were beginning to think the parking place didn't exist but after a quick exploration on foot found it tucked away behind an auditorium. We should have know better, at an unbelievable 9.30 pm it was time for band practice to start!