Our time in Tuscany has been wonderful, exploring stunning cities, medieval villages and tiny towns but the captivating countryside and picture perfect landscapes have really made it memorable for us. A scenic drive from Taverne d'Arbia to  gave us our first real taste of the area's famously ionic features. Tall cypress trees planted in perfectly straight lines firing up out of the earth like rockets ready to launch, lining magnificent driveways up to palatial properties and food and wine producers.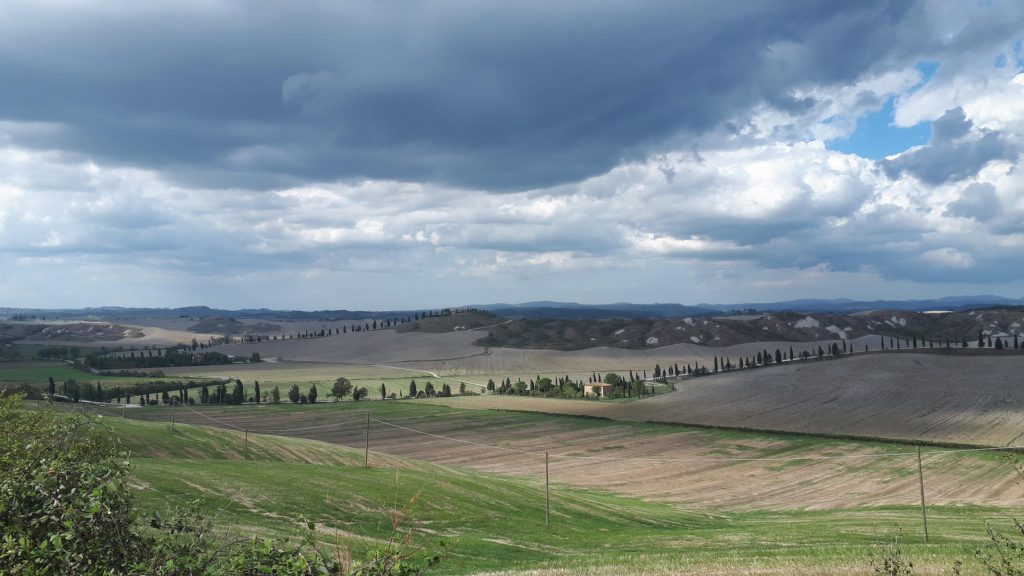 A storm was brewing as we passed through and like a light being switched off the sun abruptly went in and strong winds took its place, nearly knocking us off our feet as we stood on a hilltop surveying the views and watching the many little butterflies floating on the breeze.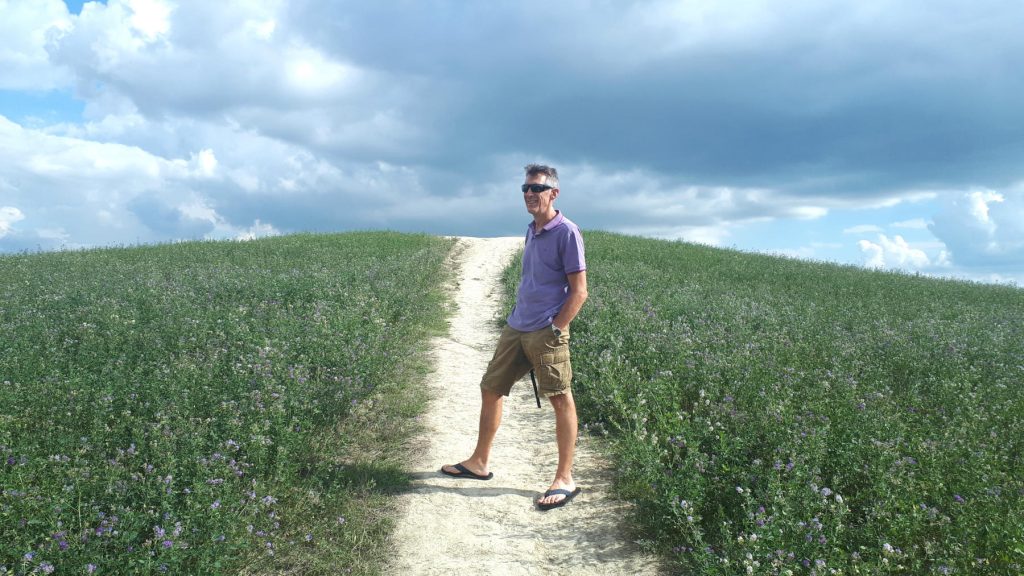 Parking off the road for a while we tried to stop and sit for for a while with a coffee but the wind was so strong it blew our chairs over and sent our biscuits flying! The blue skies were suddenly filled with cloud which was a shame, but while we love a clear blue sky, the clouds do add a bit of drama and character of their own.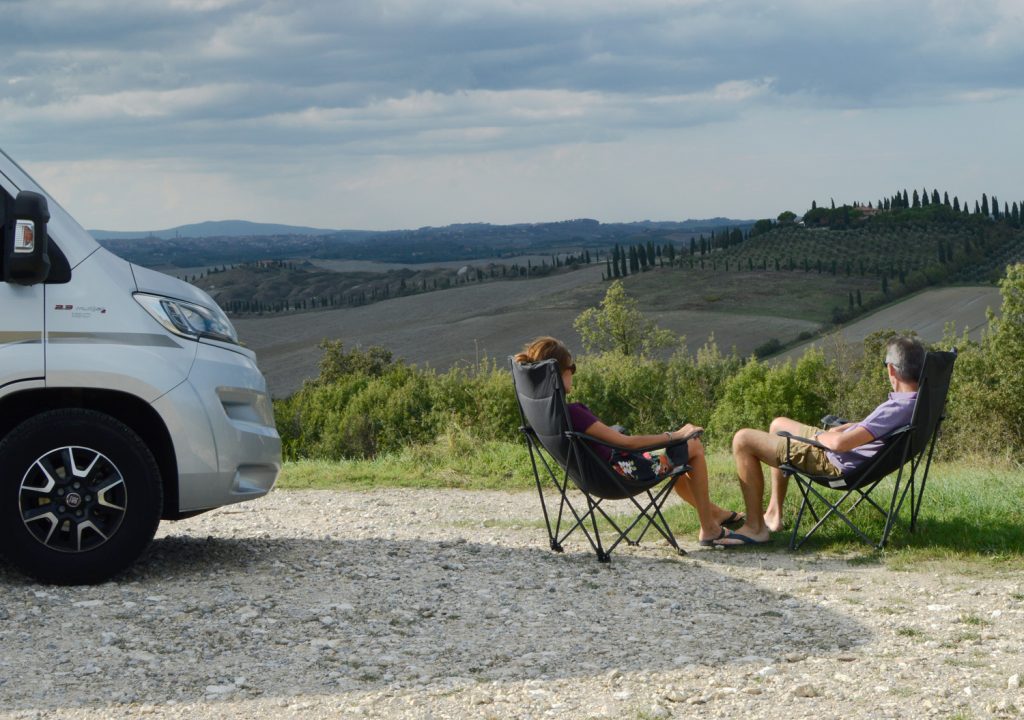 What we weren't really expecting were the enormous recently ploughed fields, durum wheat, maize and barley fields – all of which are grown profusely. We've never seen such a vast, hilly and randomly shaped landscape of fields with huge clods of drying earth. The steep sides and curved shapes must make them extremely difficult to work on. On the hillsides in the distance we could see sandy dunes like mogul fields, with large bare patches created as a result of heavy rain. We drove past fields of dried out, drooping sunflowers having spent the summer dazzling with their dinner plate sized yellow heads, now ready for harvesting for oil or seeds. Now and then we noticed a single tree, planted on the brow of a hill, perhaps as a landmarker, alone in the middle of a vast field. Other fields were stacked high with large round hay bales ready for the coming winter season. We have seen very little livestock on our travels through Tuscany, just the odd field of sheep, presumably kept for the purposes of creating the local Pecorino cheeses.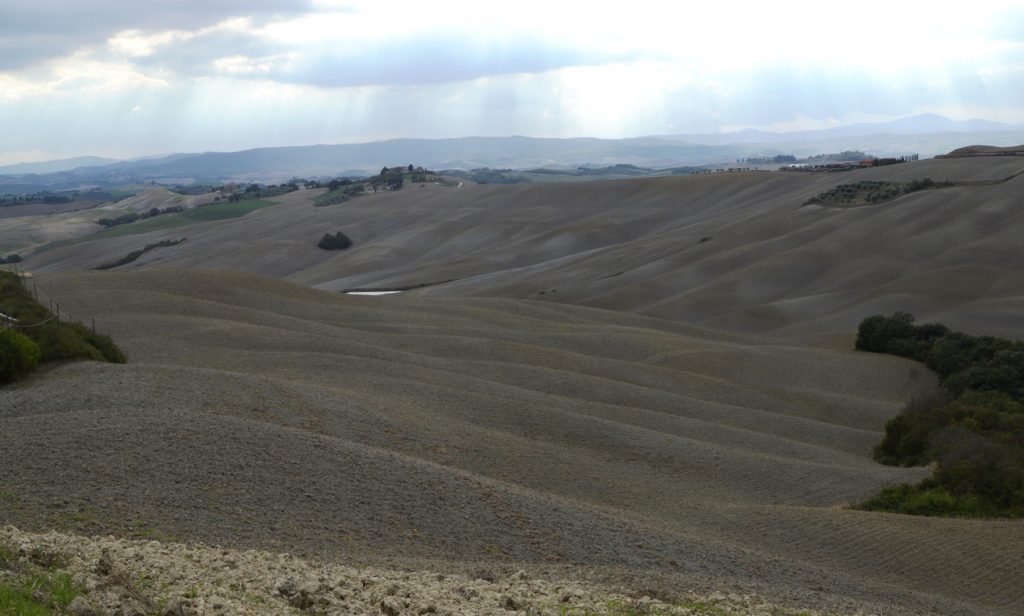 As well as cypress trees we have been amazed at the never-ending miles of beautiful pine trees and some of the biggest pine cones we've ever seen, sometimes so fragrant it smelt like a freshly cleaned bathroom! Oak trees (noticably smaller than in the UK), swathes of bamboo, heavily laden chestnut trees and cork trees are in abundance too, along with thousands of olive trees which are so distinct in shape and colour you can't miss them.
In the evenings the sky has turned orange and given us some beautiful sunsets bathing the countryside in a warm, comforting glow. Autumn is approaching fast too so there are also touches of orange on the trees in some areas, the leaves blowing about in the breeze like orange butterflies.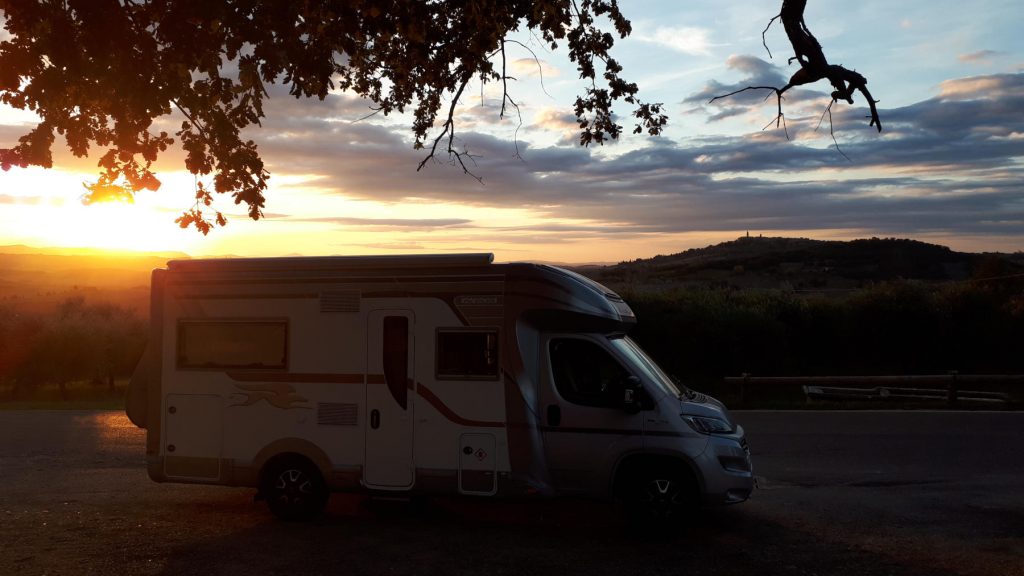 Tuscany is a major vine growing area and home to the Chianti wine region where some of Italy's best wines are produced. Being the end of September it was grape harvest time (the season of 'vendemmia') and we saw plenty of workers picking grapes by hand, loading them onto pallets and awaiting tractors ready to transport them to the local wineries for processing. Many Tuscan families also make their own wine and if you've got a garden, you've got a vineyard. Every spare plot of planted with vines ensuring no small area goes to waste. This is also the time of year when chestnuts are bountiful and market stalls are heaving with beautiful fresh ceps (porcini mushrooms) and other mushrooms, considered a delicacy here, from mid September until the end of November.
Tuscany had been on our bucket list of places to visit for many years and finally making it and having the chance to really explore has been even better than we hoped. The towns we've visited, the countryside we've gazed at, the delicious food we've eaten and the wonderful people we've met – each and every one a Tuscan treasure.