There's only one thing better than discovering a really interesting town and that is discovering a really interesting town that on the weekend that we visited it just happens to be holding its annual chocolate festival – and purely by chance too, honestly! Top that with having the best ice cream we've ever had in our lives and the most delicious cannolis, its a wonder we ever left. Talk about the dolce vita – this was it!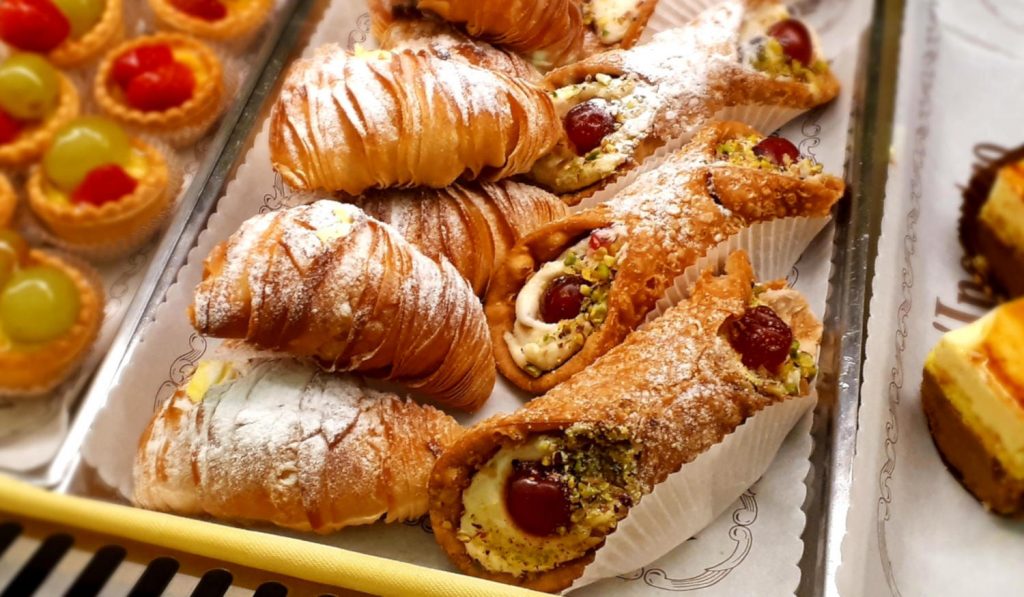 So why did we come here if it wasn't for the pure indulgence? Well, Volterra pops up on just about every travel guide we've seen for places to visit in Tuscany and reading its name on the map, it sounded kind of mysterious and slightly menacing, like something out of Harry Potter. In fact we later discovered that it does indeed have connections with the film industry – Twilight New Moon to be precise. When author Stephanie Meyer's was looking for a setting for her Vulturi family to reside when writing her book, she too came across Volterra on the map and it sounded perfect. Strangely though, although this is the name of the town in the book, the scenes were actually filmed in the nearby town of Montepulciano. Even so, Volterra doesn't miss out on visits from Twilight super fans who still visit both towns equally.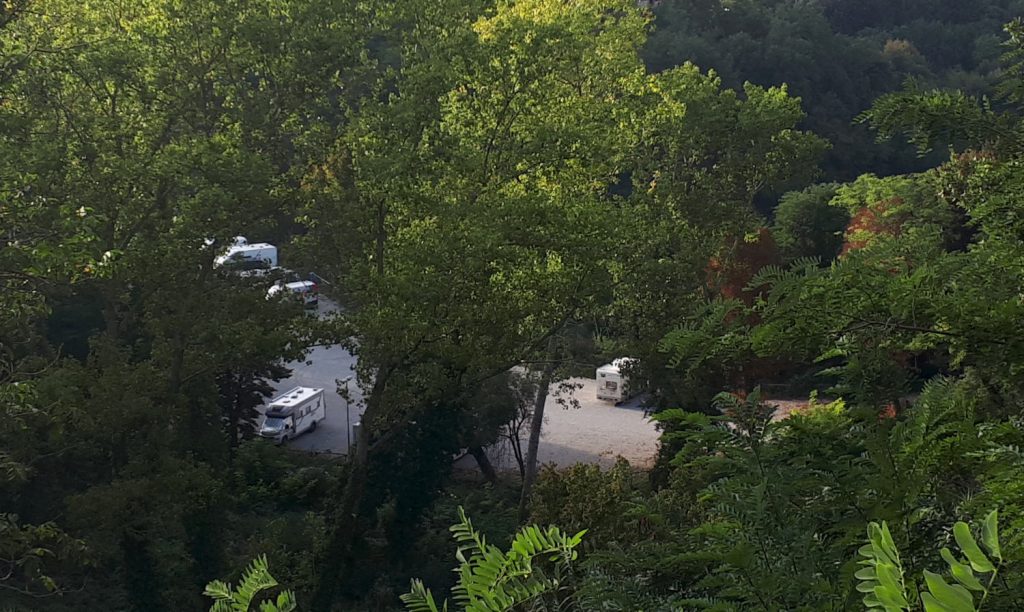 So with Volterra in our sights we consulted our motorhome Sosta book and online resources, coming up with a nice looking aire where we could settle for a couple of days and explore the town at leisure. It was a large, flat, gravelled aire with plenty of trees, right next to the town, just how Buzz likes it, with room for dozens of motorhomes. There were a few campervans there along with a few cars but we had plenty of space, electric hook up, services and a bit of sun and shade to sit out in too – perfect!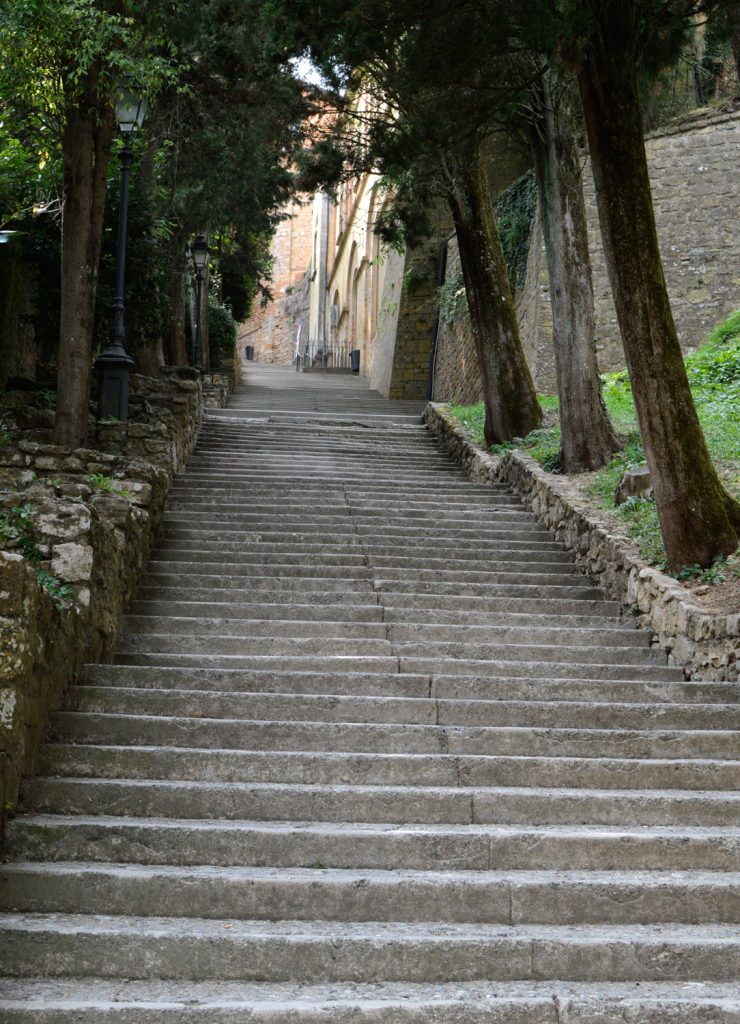 Volterra is an ancient, walled hill town in Western Tuscany set on a high plateau with far reaching views over the surrounding area. It is a town steeped in history and famed for its many Etruscan treasures including a large collection of 1st century BC terracotta cremation urns which are exhibited in the Museo Etrusco Guarnacci. Leaving the aire, we followed the old stone steps up a steep tree lined path and came to the town gateway which led us into the centre and the atmospheric streets. Being a weekend there were plenty of visitors, especially with the chocolate festival on, so there was a lot of hustle and bustle. We took an instant liking to the town which has a really warm feel to it – nothing to do with the weather but more the colour of the stone and buildings, the cosy streets and the overall ambience.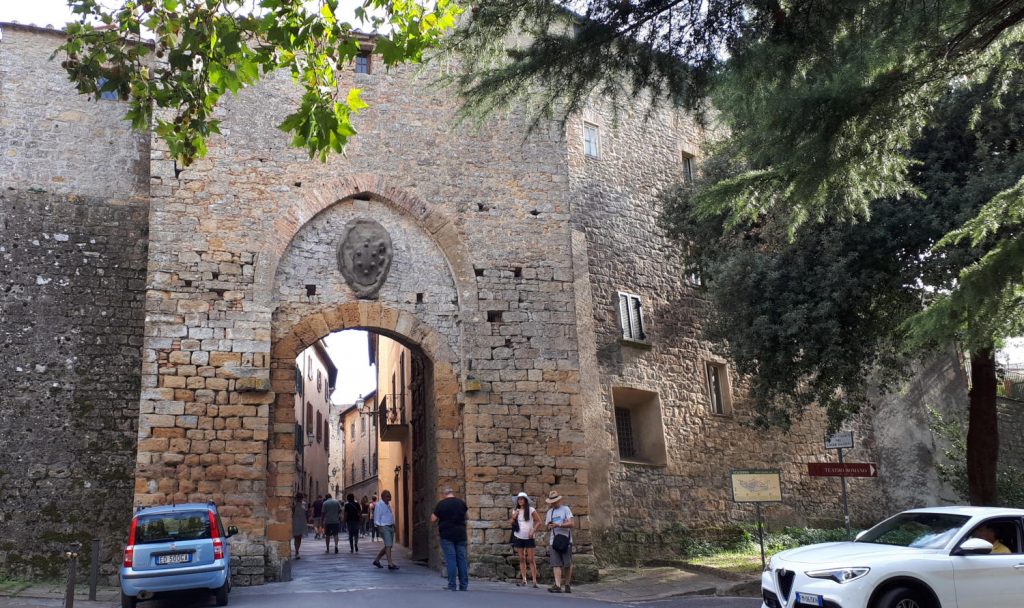 There are the usual shops here selling foodstuffs, local chianti wine and olive oil but the most interesting were the alabaster studios, many with traditional artists at work sitting at workbenches carefully tapping away to create intricate dazzling white designs, sculptures and carvings. Most were understandably protective of their designs and displayed 'no photos' signs. The alabaster is locally sourced and working on it has been a traditional craft in this town for over 2,500 years.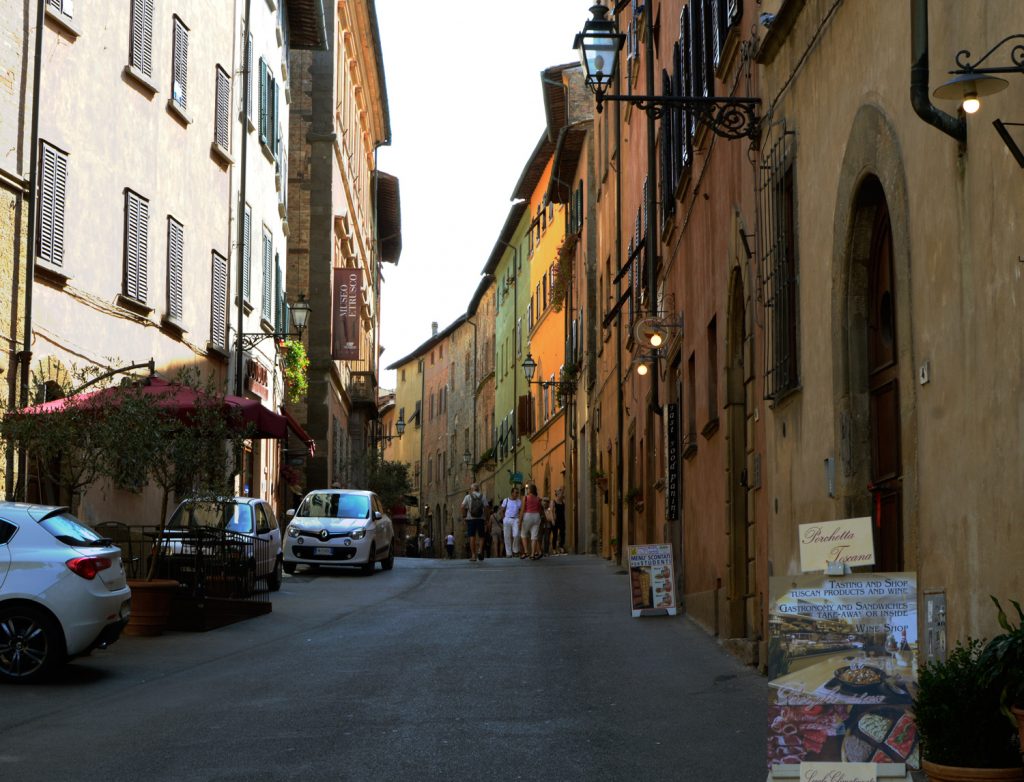 Feeling a little bit parched and an even little bit more peckish, we spotted a pretty traditional looking 'ristorante' on the edge of a breezy piazza with cheerful red and white gingham tablecloths and some tasty pizzas on display. Deciding to treat ourselves to a lazy Italian lunch we took a pew and swiftly ordered a carafe of nice cold Tuscan white wine to enjoy while we pondered over the rest of the menu. Both settling on the lasagne we did briefly mull over the idea of ordering just one to share along with a salad (something with often do with a large pizza) and were mightily relieved that we decided not to when our plates turned up in front of us with a little square of lasagne about the size of a postage stamp! Looking back through the menu we realised we had ordered from the 'starter' section of the menu – yes in Italy they have lasagne for starters! Rather than order something else to go with it we decided to take advantage of the fact that we would now have plenty of room left over for treats.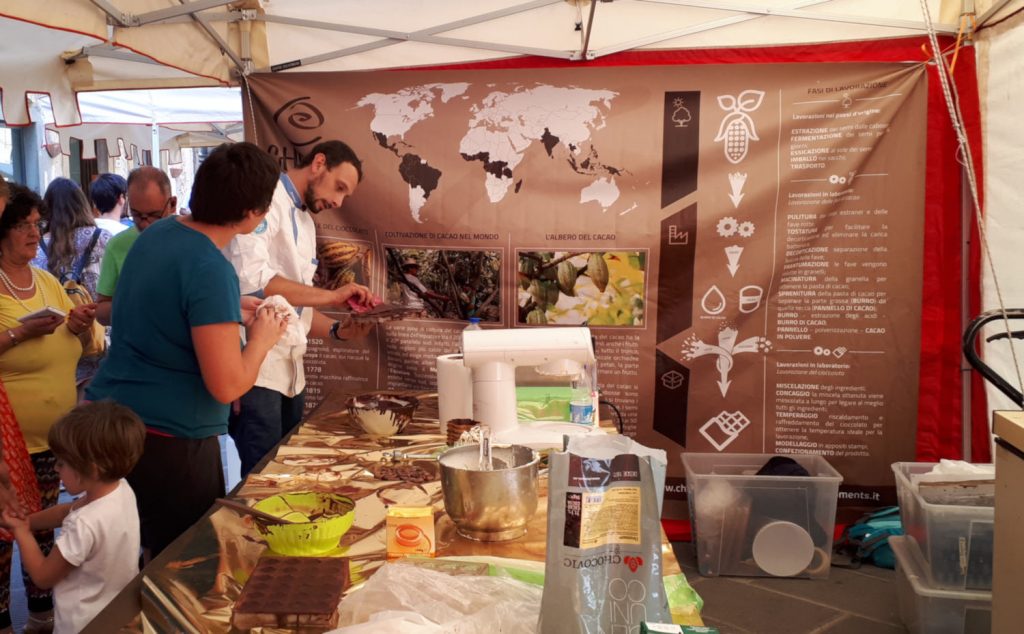 Polishing off our wine and scraping the last morsels of lasagne from our plates we set off in search of a gelateria which is never difficult in Italy. In fact it's far too easy! The mesmerising display of ice-cream in one particular bistro caught our attention and drew us in to its irresistably tempting counter – emerging a few minutes later with not only gelato but crunchy pistachio and cherry cannoli too (for when we got hungry later). For once we both chose the same ice-cream, 2 gustos (scoops) in a cone, one cherry cheesecake and one pistachio, and this is the moment we were transported to ice cream heaven! The first lick and we looked at each other in disbelief – could ice cream really be this good? Yes I know it sounds a bit over the top but it really was 'out of this world'. Miraculously we managed to walk past the chocolate offerings several times without indulging in that too but the smell of chocolate wafting through the streets was delicious in itself.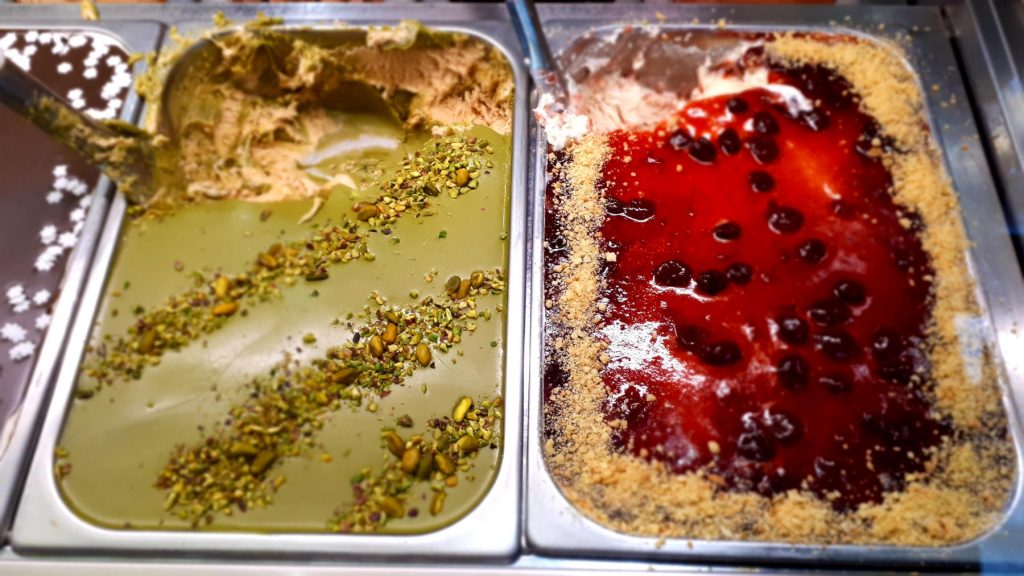 Ice cream devoured and satisfied grins on our faces we continued our tour of the town, coming across the old Roman bath and theatre complex, built after Rome conquered the city in the 4th century BC. We could see an entrance and ticket office with a 5euro entry fee per person (that's enough for an extra 8 gustos!) but peering around the side along the street it appeared that you could just walk along the path and see it from the outside through a chainlink fence – and that is exactly what we did. Once there we could see that we could get an even better view from the street above so we walked up there too and enjoyed it just as much as if we'd gone inside. Apparently this is one of the best preserved Roman theatres in Italy with a tall column still standing along with the curved seating and outline of the stage area still visible. Not quite the amphitheatre of Rome but an interesting sight to see all the same.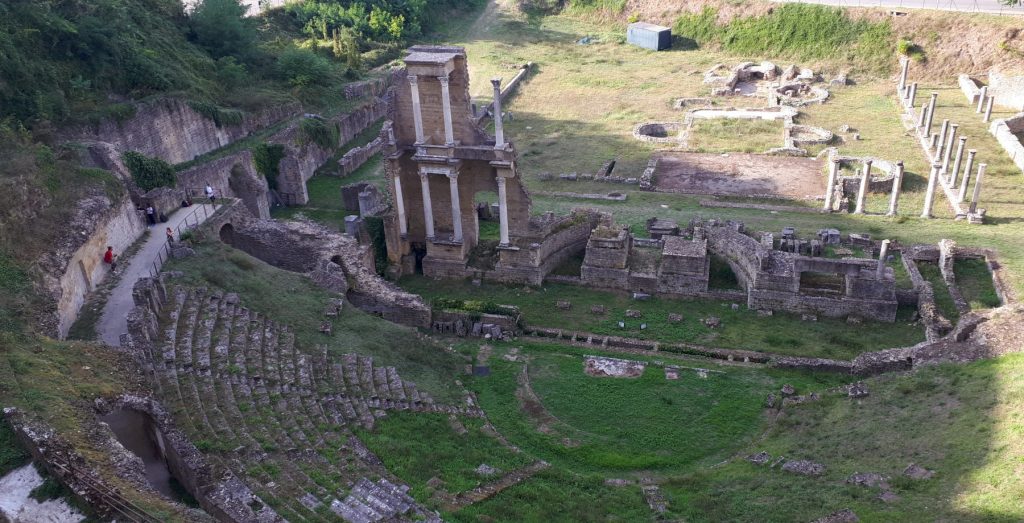 It's sometimes easy to forget that places like this aren't just tourist towns, although tourism is essential to their survival and real people do live real lives here. Walking across the other side of town, through the market square and out the the edges of the walls we had a far reaching view of the surrounding area and also the houses and gardens of residents, out watering plants, hanging out washing or sitting relaxing. Likewise on the other side of town we could see into the backs of gardens with mini vegetable plots, a few vines here and there and signs of normal life. We never tire of these lovely towns, all so individual and each with something special to offer. Luckily there are many more to visit so once this tour is over we still have plenty of excuses to come back.