Leaving Turin around midday with the Italian lakes in our sights, we took a relaxed drive across the Piemonte region to Vercelli, the rice capital of Europe. Miles of paddy fields across Vercelli, lined with rows of poplar trees, are home to rice fields that shimmer like sheets of water when freshly planted in spring and ripple like a green sea in summer when grown and flourishing. Rice is the most prolific crop in the area but there are also fields of beans and corn, woven with pathways and trails with a distant mountain backdrop, popular with walkers, hikers and cyclists.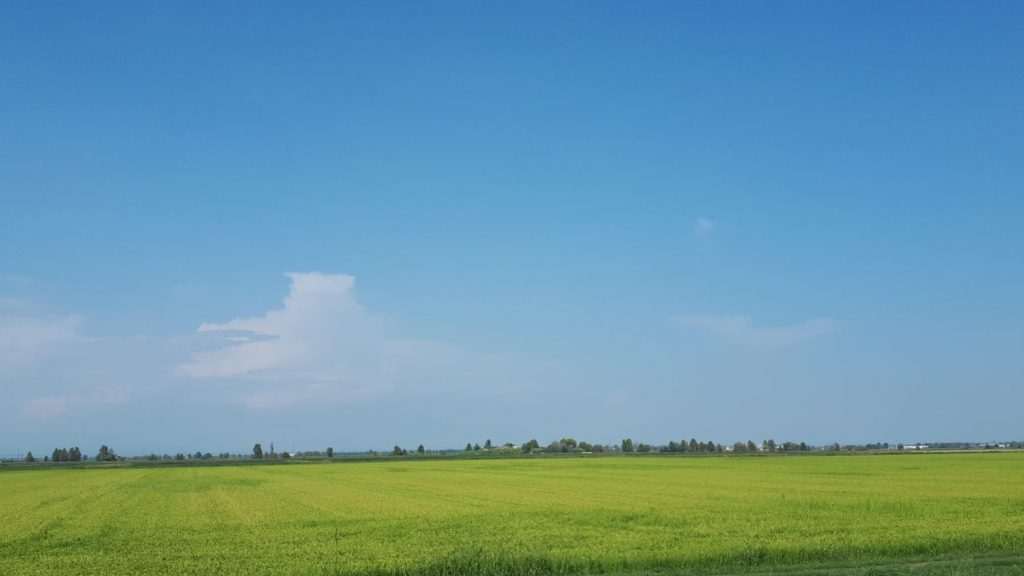 The town of Vercelli has pleasant tree lined walkways, a large town square, the Piazza Cavour with attractive medieval arcades and the impressive Saint Eusebius Cathedral. Apparently the town hosts a food fair every September dedicated to frog meat as frogs are plentiful in the rice fields. Luckily we won't be there for that! We spent the night at a plain, unremarkable aire and then moved on in the morning to the larger town of Novara, stopping at a few little towns on the way if we saw something of interest from the road.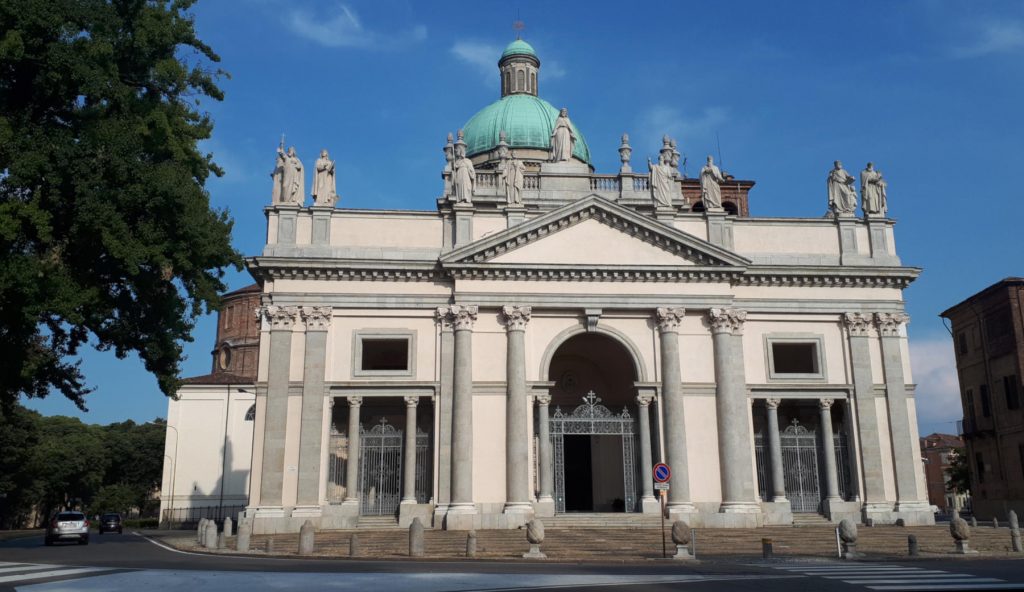 After one stop I decided it really was time I had a go at driving the motorhome. I had practiced in a car park once or twice with the intention of driving properly soon but after that we went to the mountains with their hairpin bends, spent time in small towns with narrow roads and it got a bit forgotten about. Deciding that the road ahead would be wide, simple and straight forward I took the plunge and got behind the wheel. When we first collected the motorhome a few weeks ago it felt like getting in a bus – so big and so wide, but after driving every day, albeit as a passenger myself, I was used to the size and feel of the van and it turned out that driving it wasn't half as scary as I'd feared. Admittedly I didn't get into any difficult situations thank goodness, but for my first real attempt it was quite a confidence boost so I will try to do little and often now until I get really used to it. Reversing, parking and general difficult manoeuvering though will probably remain outside of my remit!
Novara sits in between the Ticino river on one side and the Sesia river on the other and is the 2nd largest city in the Piedmonte region after Turin with a high mountain backdrop of the Monte Mattarone.  The hills around Novara produce many delicious wines such as Boca, Sizzano and Ghemme and we did spot the odd vineyard on our journey. On arrival, to avoid any parking issues in the centre of town we settled on the Novara football stadium which was large, flat and empty and parked Buzz up while we went to explore on the bikes. It was not long before the roman remains of the 14th-15th century Castello di Novara with its vast moat appeared before us. Now an event site and undergoing restoration it was once an important military-administrative base built with a combination of river pebbles and bricks.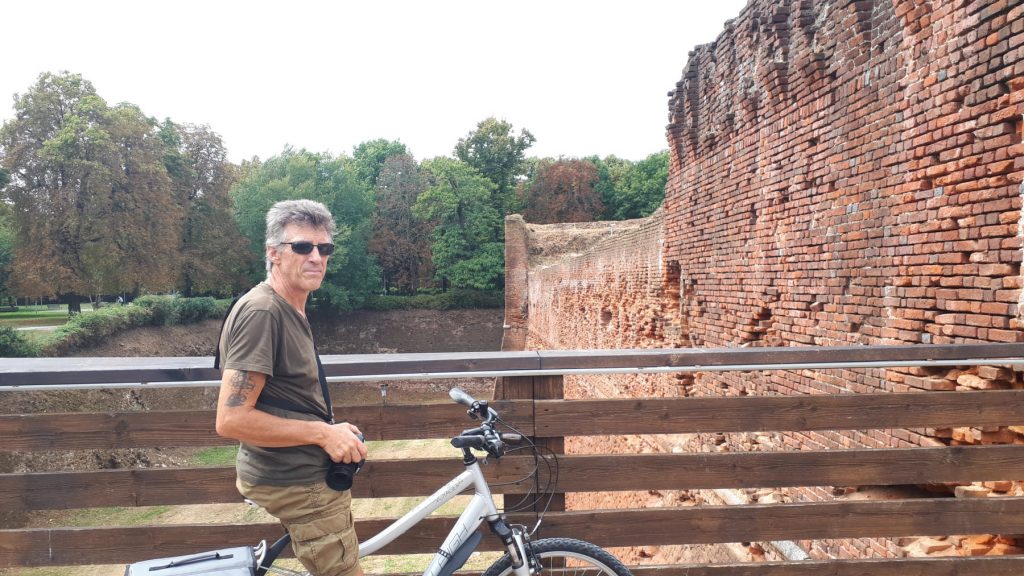 Moving on we came to the beautifully arcaded Piazza Martiri della Liberta, a wide open square with imposing buildings on each side, carrying on to the Broletto complex, comprised of four buildings dating from the 13th century.  Novara  is surrounded by fortresses and dominated by the dome of the twin cathedral, the Basilica di San Gaudenzio – an impressive building designed by Antonelli which has stood for four centuries.  We got a little side-tracked on the way when we spotted a tempting pasticeria displaying countless treats and pastries that we just couldn't resist.  Most of the Italian pastries are quite small which gives you a good excuse to tell yourself that a small one (or two) won't hurt.
Half an hour, a couple of coffees, focaccias and cannolis later we emerged, somewhat heavier to arrive at the Broletto, entering through an archway opening out into an enclosed part-frescoed Renaissance courtyard, an architecturally important collection of buildings in the town.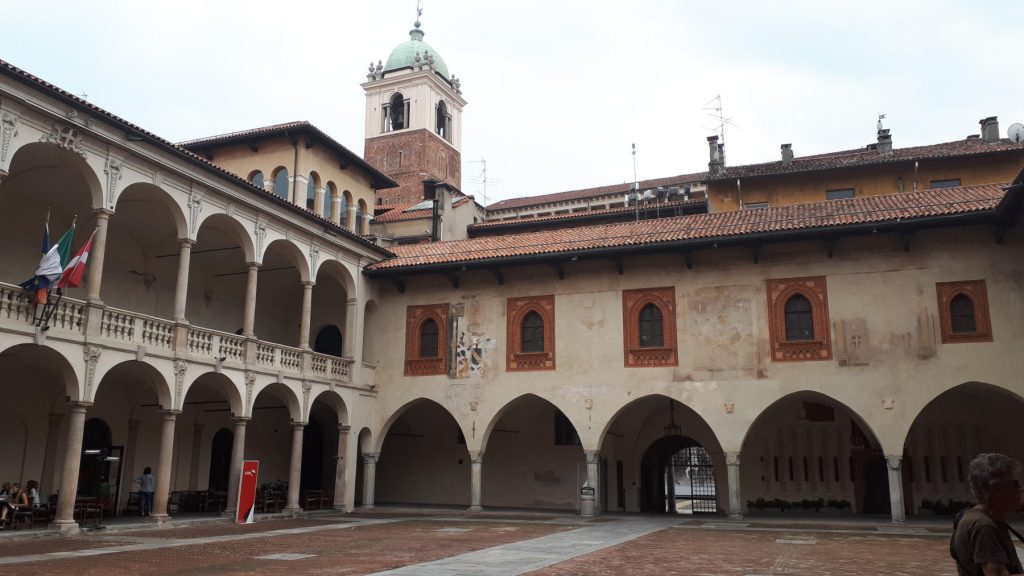 A meander through the arcaded shopping areas in the old town, an architectural mix of 15th century medieval structures and neoclassical architecture, followed before we made out way back to the van for dinner.The car park was still empty and quiet and we realised there was no real reason to move on and decided to stay for the night. We did have thoughts of oversleeping and waking up in the morning to be surrounded by football fans, but luckily that didn't happen and we enjoyed a peaceful night without disturbance.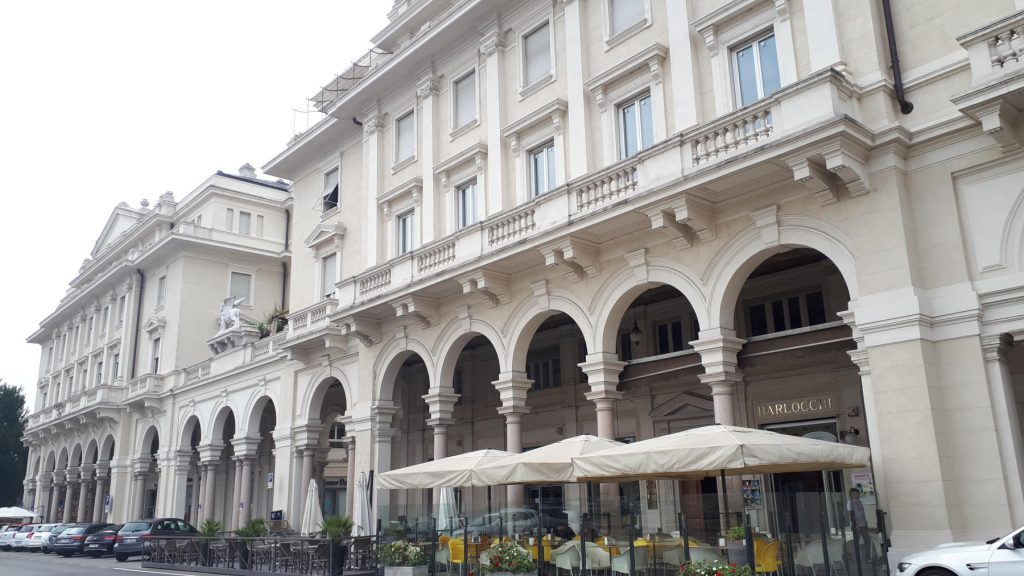 The next morning a breakfast of french toast and nectarines set us up for the day. Driving alongside the Sesia river we made a quick stop at Porta Sesia and took a stroll down the river running through the Sesia valley which is littered with ancient granite rocks from the supervolcano which erupted in this area 282 million years ago.  The perfect spot for our mid morning break, cool drink and relax, listening to the gentle flow of water all around.