Visiting towns is great but now and then we yearn a change of scene.  It was forecast to be a windy, overcast day and the thought of walking down a blustery seafront wasn't overly appealing so looking at our options we decided on a nice long bike ride in the Tomboli di Cecina nature reserve, protected from the wind in the extensive pine woods stretching  for 15km alongside the coast.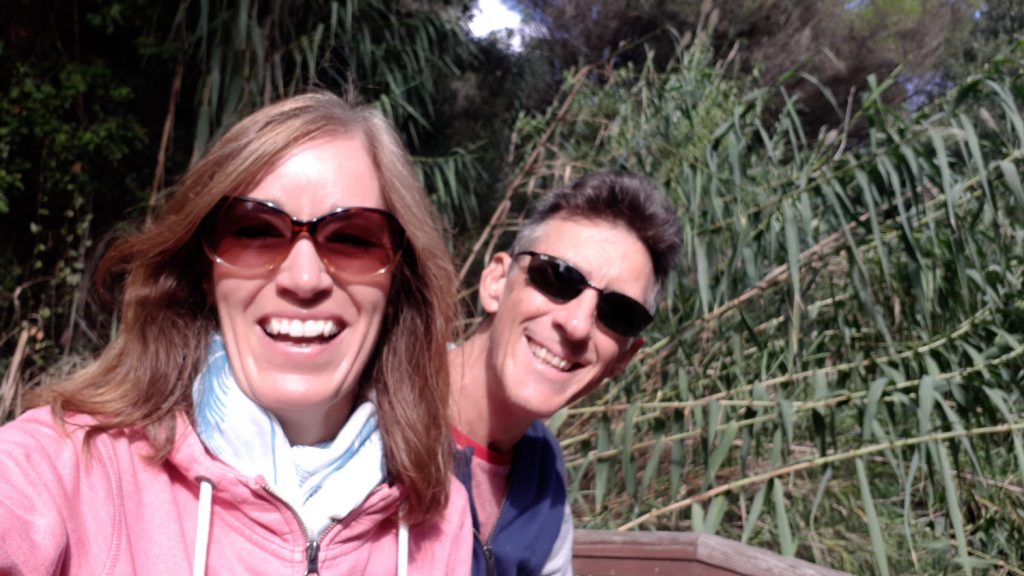 At the last minute we decided to pack a picnic and searching in the fridge we managed to find some tasty cold Tuscan sausages left over from the previous night's dinner, some smoked Scamorzza cheese, multi-grain crackers and giant red grapes from a recent market visit – not particularly gourmet but perfectly okay together with a flask of coffee and a can of coke!  We got the bikes down from the back of Buzz, left him parked in a nice roadside spot and set off into the woods, wearing more layers than we have for weeks!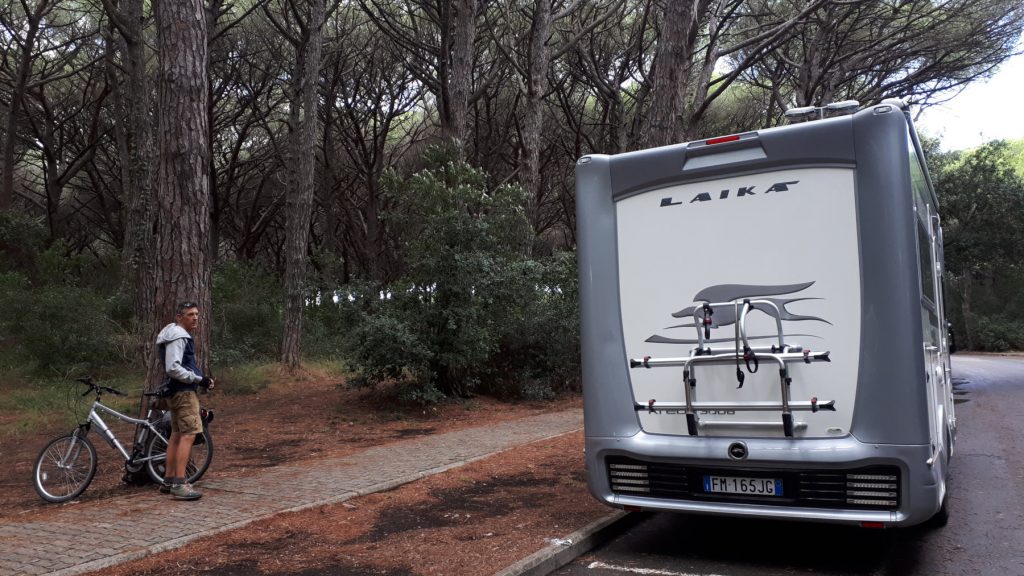 It had been raining the night before so the ground was a bit soft under wheel but nevertheless there was still a satisfying crunch of gravel and crack of pine needles as we cycled along the tracks, breathing in the fresh pine air.  There are several marked cycle trails you can follow in the wood or you can just make your own way, as we did. We weren't in any rush and enjoyed a leisurely pace, stopping now and then to look around, take photos and enjoy our surroundings.  The tall pines create a high canopy allowing through just dappled spots of sunlight and keeping out the breeze so it wasn't long before we were quite warm and no longer needing the layers.  As well as pine trees there is an abundance of bamboo here too, mainly lining the waterways leading to the sea.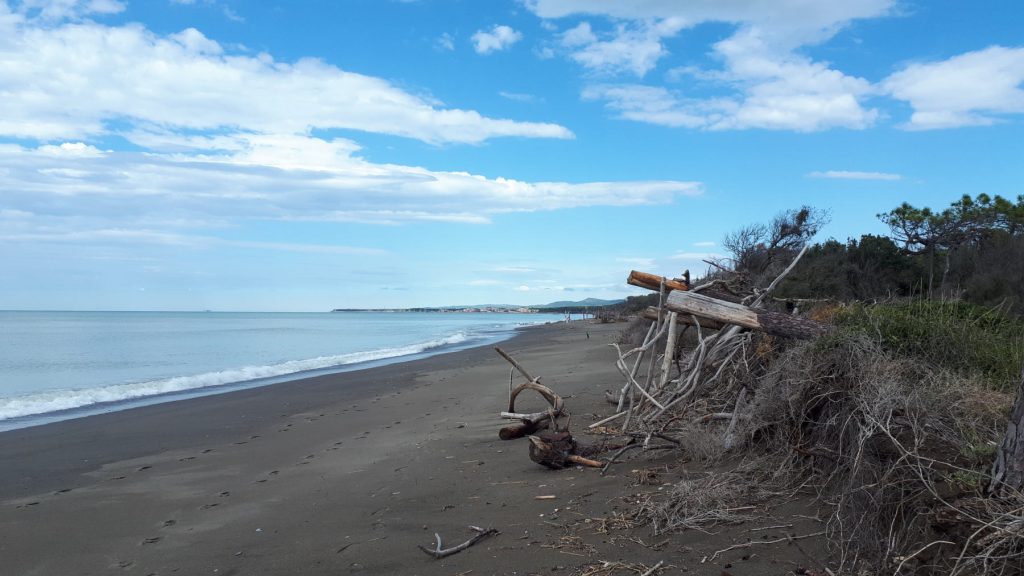 Arriving at the beach front and getting stuck in the sand on our bikes, we walked to the shore on foot to explore what turned out to be an attractive, photogenic coastline. Not what you would call a pretty beach in the resort sense, but a wild, natural environment with washed up weeds and beautiful bleached driftwood.  Enjoying the unexpectedly warm sea breeze we lingered for a while before heading back to the bikes as hunger struck and we set off to find a place to unpack our picnic.  Luckily picnic tables are scattered all over these woods – they are obviously there to be enjoyed – and it took no time at all to find the perfect spot to enjoy lunch under the fragrant pine tree parasol.  It wasn't long before an inquisitive Jay joined us, helping himself to our donations of cracker crumbs which he enjoyed, and grapes which he did not!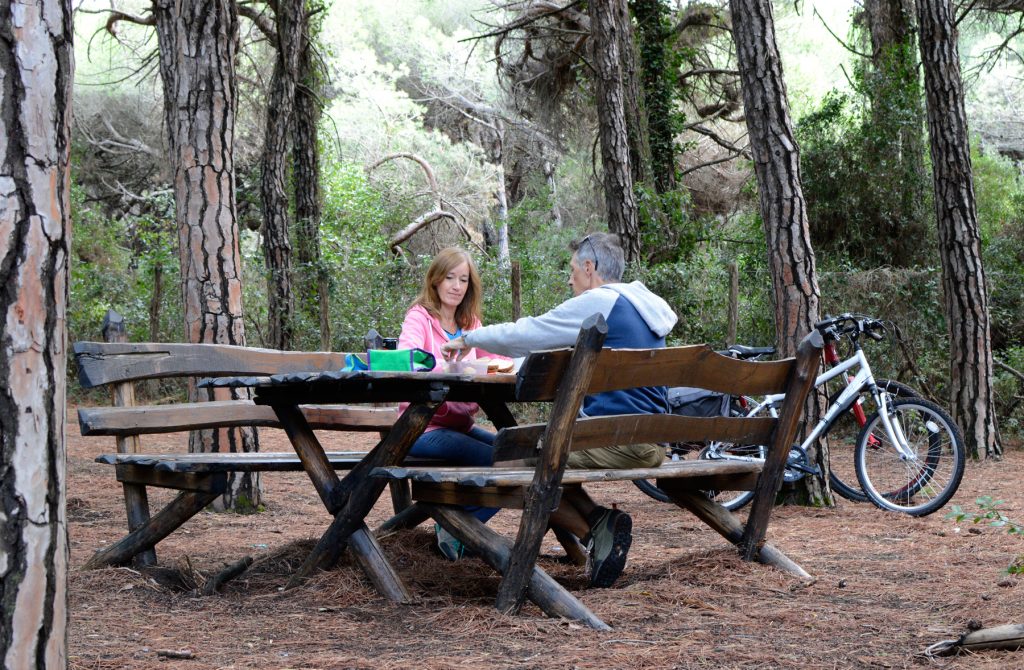 We relished our day out in the fresh pine air, and although it was a bit cool and overcast it didn't matter in the end. After a while we forgot about the weather altogether – we were too busy enjoying ourselves to notice.