As I write this, we're parked by a scenic estuary, on the banks of the river Arade, with an old castle on the hill. We're in the sleepy fishing village of Ferragudo just a stone's throw away from a beautiful long sandy beach. It's February so quiet in terms of visitors but this is a real town, not just a tourist town so all the usual residents are here going about their business and there are quite a few other motorhomers around too. We spent the day walking along the shoreline, drinking coffee, followed later by wine, in the local cafes, having a picnic with a view of the river, listening to the seagulls calling, watching the cormorants fishing and hearing the odd boat chugging along. We read our books in the sun, then closed our eyes soaking up the warmth like chameleons, noticing later that we had pink legs – a first for us on a winter's day! The mornings are cool but the days get warm. The sun doesn't go down until about 6.30pm and we've had some gorgeous red skies so even after the sun goes down we've been able to enjoy it for just a little bit longer.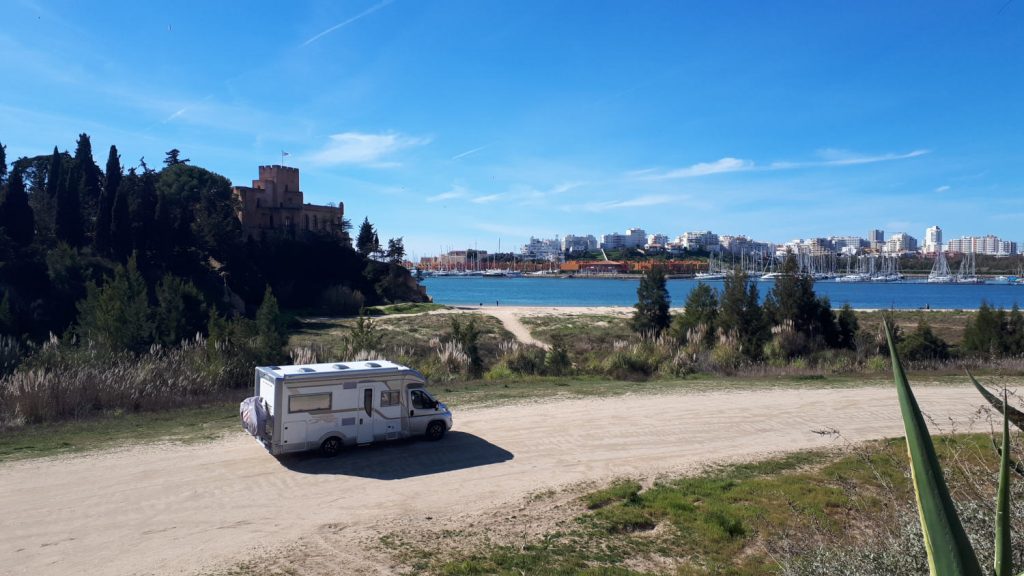 By 10.30am it says it's about 15 degrees, but when you go outside, sit in the sun sheltered from the breeze it's warm enough for shorts and t-shirts, which coming from me as someone who really feels the cold, means it's really warm! The warmer it gets the more relaxed we start to feel. We had our morning coffee outside today while I let my hair dry in the sun while scanning our maps for the next place to visit. But I'm getting ahead of myself. Before we got here we left Faro and drove to Quarteira. There's an enormous aire there which was filled to the brim with dozens of motorhomes and although we're one of them it's not really our ideal set up to be surrounded by so many of them! The skies were clear and blue though and we were feeling like sitting out for a couple of hours so we found a nice parking place along the perimeter and decided it would be ok for the night. We sat and read for a while, phoned home to catch up with family and after dinner decided to wander over to a bar down the road we'd noticed on the way in. We ended up staying for a while enjoying a few drinks, drooling over the tasty looking cheese fondue on the table next door (wishing we hadn't already had dinner) and being entertained by an unlikely looking Portugese crooner in a skull print bandana. There were a good mix of locals and motorhomers all having a jolly good time with plenty of chatter and some dancing so it made a nice change from our usual evenings.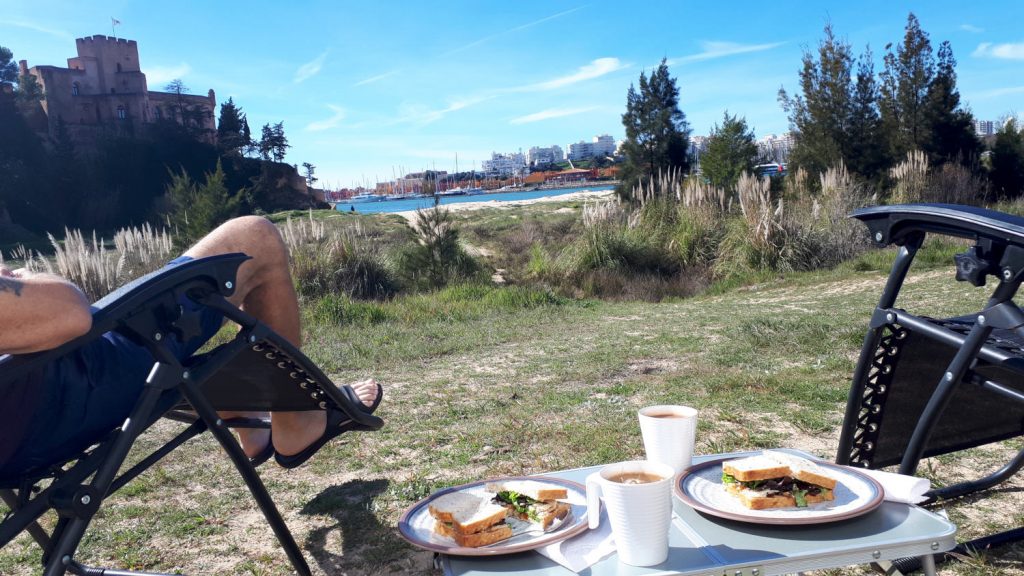 Next morning at 8am it was just 5 degrees out and 7 degrees in – we'd forgotten to set the heating to come on. Luckily it doesn't take long for it to warm up though and soon it was nice and cosy and starting to warm up outside too.  After having breakfast and getting sorted, a short drive later we arrived in Vilamoura, the smart resort and marina where we had a pleasant walk around eyeing up the fancy yachts and drooling yet again, this time at the steakhouse menus. Tourist season hasn't really kicked in yet but it was all systems go for cafe, bar and shop owners who seemed to be out in full force scrubbing, deck cleaning, window washing and generally preparing their premises for the soon to be busy weeks and months ahead.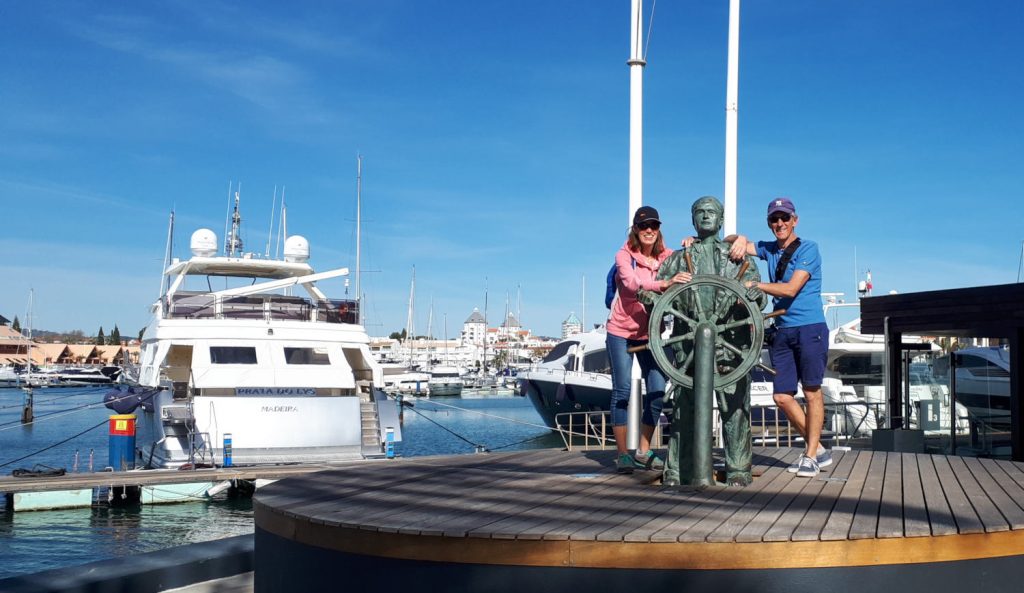 A couple of hours later we got back to Buzz and set off driving for around an hour until we got to the estuary at Ferragudo. There were plenty of other places along the way we could have stopped at but we both just really fancied a longer run. We've done quite a few short hops recently and realised that we were missing just sitting in the van and enjoying the drive. Again, there were quite a few other motorhomes but nowhere near as many as in Quarteira and as we were wild camping along by the river they weren't all packed in but spread out with plenty of space in between. We found ourselves a spot with a view over the water and the castle on the hill which takes me back to where I started writing.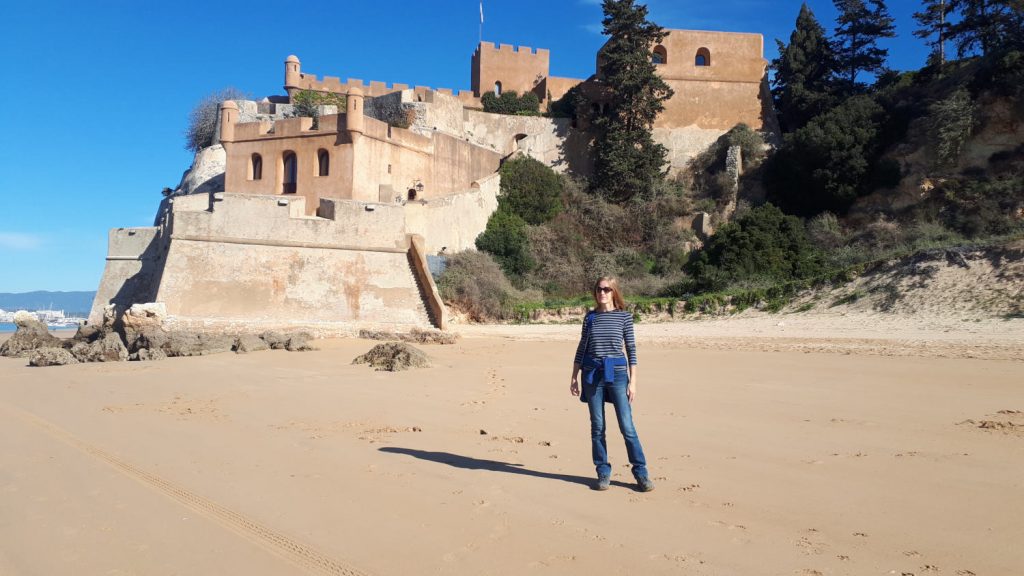 We spent two nights in Ferragudo, loving the area and its warm, sleepy atmosphere and were quite reluctant to move on in the end. Eventually our empty fridge and cupboards gave us the impetus to get going. A quick scan revealed just 2 eggs, half a bag of salad, some remnants of goats' cheese and a red onion – enough for a tiny omelette each but not enough to keep us going for long. So, we set off in search of a supermarket and some much needed supplies. There was a little beach we wanted to visit first though at Caneiros, just around the bay. It was only a 5 minute drive so we drove over to take quick a look. The beach was virtually deserted, wide with yellow sand and a single rock formation jutting out of the sea just offshore. High rocks on either side framed the pretty cove and the turquoise blue sea splashed up against them. What we hadn't known was that there was also access to a cliff top walking trail and it was such a lovely bright day that we decided we would walk it.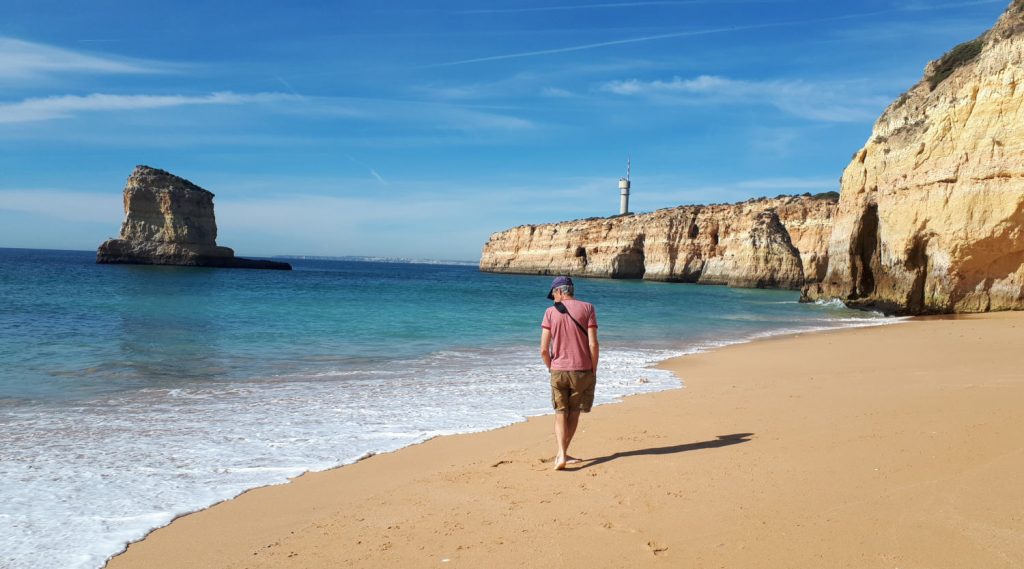 It was about midday by now though and our stomachs groaned at the thought of going for a walk without supplies so we went back to the motorhome and scoured the cupboards again revealing a packet of crackers, some little breadsticks we'd been given with a drink at a bar and a single banana. Deciding that would be enough, we packed it up along with a generous handful of licorice allsorts, got a couple of drinks from the little beach side bar and set off up the rocky walkway. The first part was quite steep and rough, putting us in mind of our walk at San Rocco in Italy, although nowhere near as long or strenuous, but we were glad to be in trainers this time rather than totally unsuitable sandals!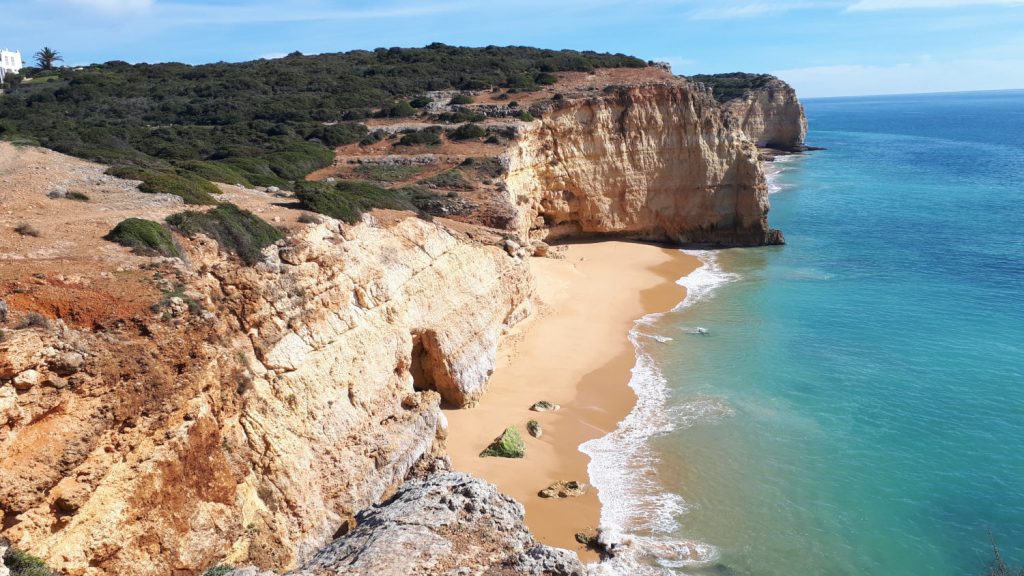 At the top of the cliffs we gazed down at the beach we'd just been on admiring the views and the beautiful blue of the sea crashing against the rocks before carrying on over towards the lighthouse, passing a huge sinkhole on the way. These are the beaches we much prefer to see. A long sandy beach is lovely but it doesn't change. A wild, rugged coastline is much more interesting and the huge limestock rock formations make it very picturesque and interesting. We picked a scenic spot to sit and eat our little lunch, then made our way back topping up with a coffee and a cookie in Buzz before getting ready to amble along the coast to Alvor ……