Portugal and the Algarve suddenly loomed large in Buzz's windscreen.   A country we had both been looking forward to on our motorhome tour, both of us having only been to Lisbon for a day several years before. Crossing the border we headed for the first big town Vila Real Santo Antonio sitting on the coast and west bank of the Rio Guadiana, not really knowing what to expect. Making for an aire on the front at the old commercial harbour, booking in was my first encounter with the Portuguese language, which on the face of it is similar in many ways to Spanish. How hard can it be? Believing at least that I would understand some of it, how wrong was I? I didn't understand a single word! Luckily the lady in the office was an old hand at dealing with bumbling motorhomers of a foreign disposition, guiding me through the simple booking in process. Job done we drove Buzz into his home for the night which was unlike anything we had encountered on our travels so far. It was stuffed with motorhomes of all shapes and kinds with motorhomes from all over Europe, many obviously dug in for the winter. Areas laid out, cars, trailers, motorbikes along with satellite dishes of all shapes and sizes, so we found a slot and got Buzz set up for the night before setting out for our first look around the town.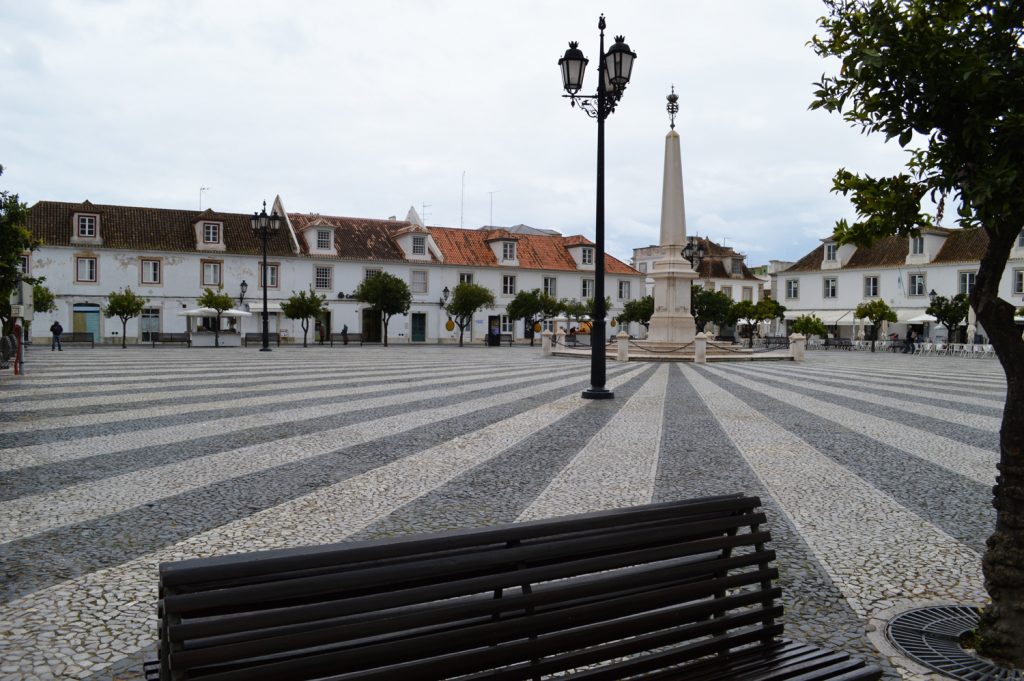 Although it was a bit cool and drizzly, a fairly leisurely walk around the town ensued including a visit to the bank. Followed by a funny little skit as we walked by a sports shop with an enormous poster of Christiano Ronaldo in nothing but underpants. At which point behind us in a loud Rosemary Shrager type voice we heard " and this shop is Ronaldo's pants", "if you ask anyone for directions they will always direct you using Ronaldo's pants as a reference point"!  We gathered the lady was showing some new people (friends) around town. Before heading back to Buzz we stopped in for a coffee by the marina just in time to miss a sudden downpour. Thus began our visit to Portugal.
Vila Real Santo Antonio was a nice enough town but far too many motorhomes and not enough to keep us especially as it was still cool, cloudy and showery. The next morning saw us depart for Tavira just along the coast, a pretty town we had heard. Using Google maps we had found a large parking area next to the indoor market on the edge of the town centre overlooking salt ponds. Once again there were lots of motorhomes but still plenty of space. After getting settled we made for the town via the market which was pretty much finished for the day. So we set off in search of Tavirense instead, a highly recommended Pastelaria café, finding it without difficulty we went straight in for a coffee and our first (but by no means last) Pastal de Nata or the famous Portuguese custard tart. It was delicious, crispy pastry surrounding a luscious deep set custard, yum and once again we missed a sudden downpour while there. Perfect. Before leaving we invested in another couple of their tasty looking cakes for later, well you would wouldn't you?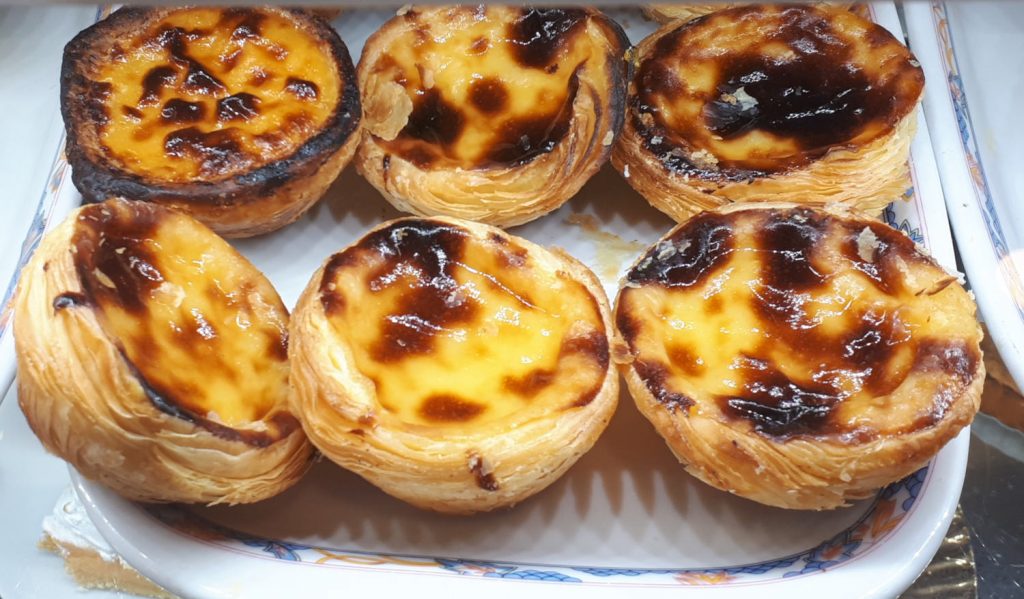 Then we went off exploring what turned out to be a really nice interesting town with lots of history, including the Roman Bridge which isn't actually Roman at all but was built on the foundations of a Roman building. The town is picturesque with nice streets a pretty riverside area and lots of old churches if they are your thing. It also has the remains of a 13th century castle largely we rebuilt after the 1755 Lisbon earthquake, the castle houses a nicely planted garden and you can climb the steps to walk on the walls for some lovely views across the town. There is also a Camera Obscura set up in an old water tower but unfortunately it was closed. After walking around and getting slightly damp we made our way back via a small bar for a refreshing beer before dinner. The next morning after a very wet, wind battered night saw us going shopping in the market, where there was plenty of fresh fruit and veg as well as fish, meat and plenty of spices to choose from. Having spent far too much time looking around with far to much choice we eventually bought what we wanted, including some hot, hot, hot piri piri seasoning, we dropped it off in Buzz and turned to the bikes.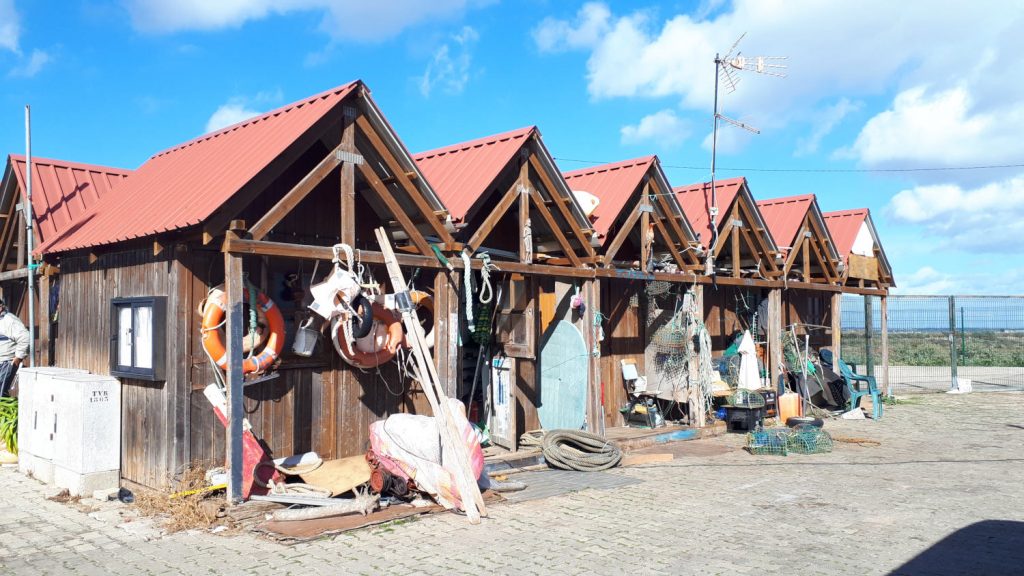 Although the weather was still windy and changeable we decided to go for a bike ride out to and through Santa Luzia to Pedras d'el Rei and a foot bridge across to the Ilha da Tavira and the Praia Barril (Barril Beach) which is all part of the Parque Natural da Ria Formosa. The path from the bridge leads you through the mud flats and dunes to the beach on the other side, you can also take a small train ride for the 1.5km if you prefer. The beach and dunes stretch for miles, there are also a couple of cafes and restaurants there as well as a small museum and a large anchor graveyard, with dozens of old rusting anchors set in dunes. After a short very windy walk and long hat chase along the beach we decided a coffee was needed in the sheltered café, where we drank our coffee with the company of a large number of expectant sparrows waiting for some scraps. On our walk back we were once again subjected to a short shower as we watched the train disappear into the distance, the cycle back was calmer and slightly sunny.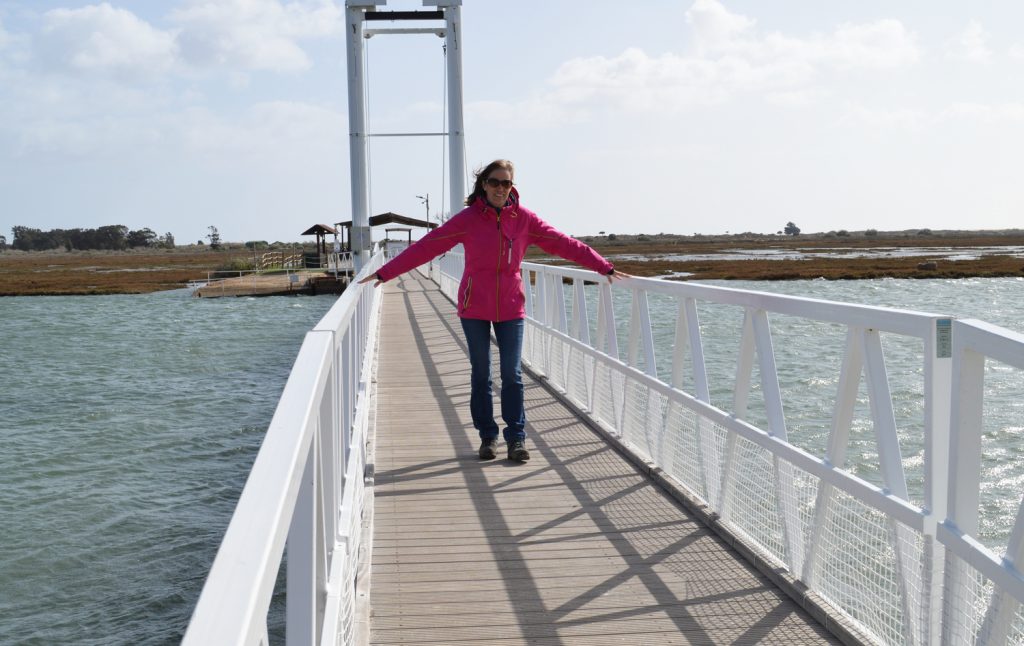 We had intended to stay another night in Tavira but needing services of which there weren't any and it still being windy on the coast we decided to move heading inland to Estoi north of Faro and a free aire with services. Following a peaceful though wet night we headed for Olhao and the Saturday market, intending to move to Faro at some point. At Olhao we headed for a large open area identified on Maps for motorhome parking and so it turned out had dozens of others, we did manage to park and walked the short distance to the market.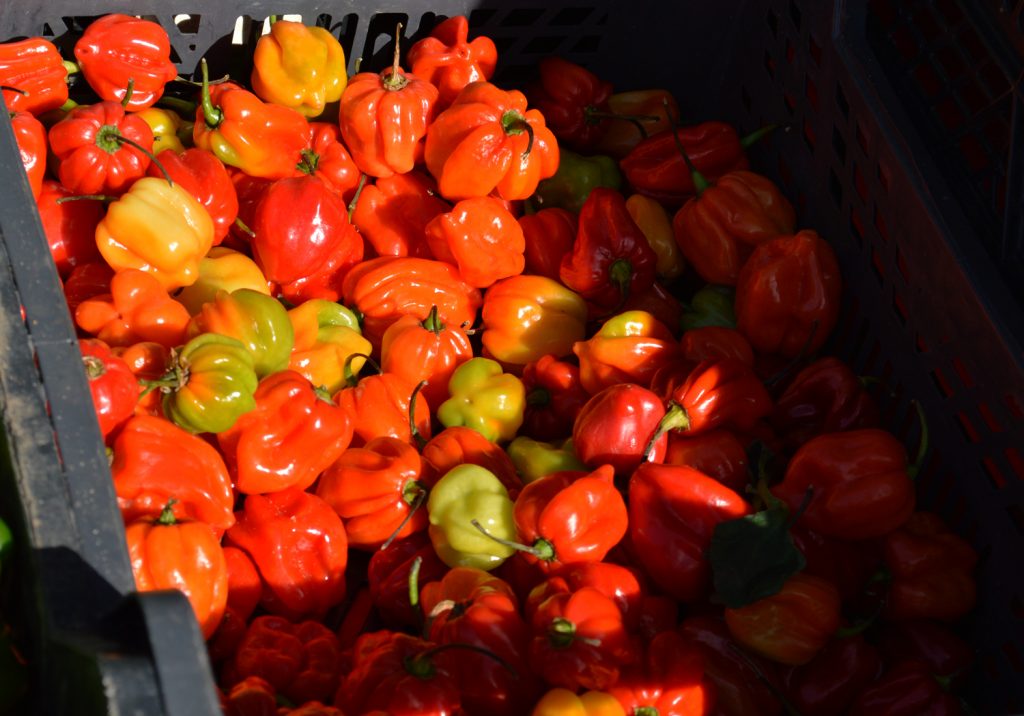 There are 2 newish permanent indoor markets and on Saturday the front is filled with a street market.  We spent some time wandering around though not needing anything having shopped at Tavira. Although we did spot 2 Churros stands selling Churros and Farturas (a big fat Portuguese version of Churros) and at just 50c for a sizable piece we had to try them rolled in cinnamon sugar. Delicious – and we have nothing else to say on that subject!   All there was left to do was find a nice café with sheltered tables in the sun, which we did having an untraditional cheese and ham toasty on homemade brown bread washed down with a glass of wine and a coffee. Tasty and lovely sunny warmth, after which we decided to go straight to Faro.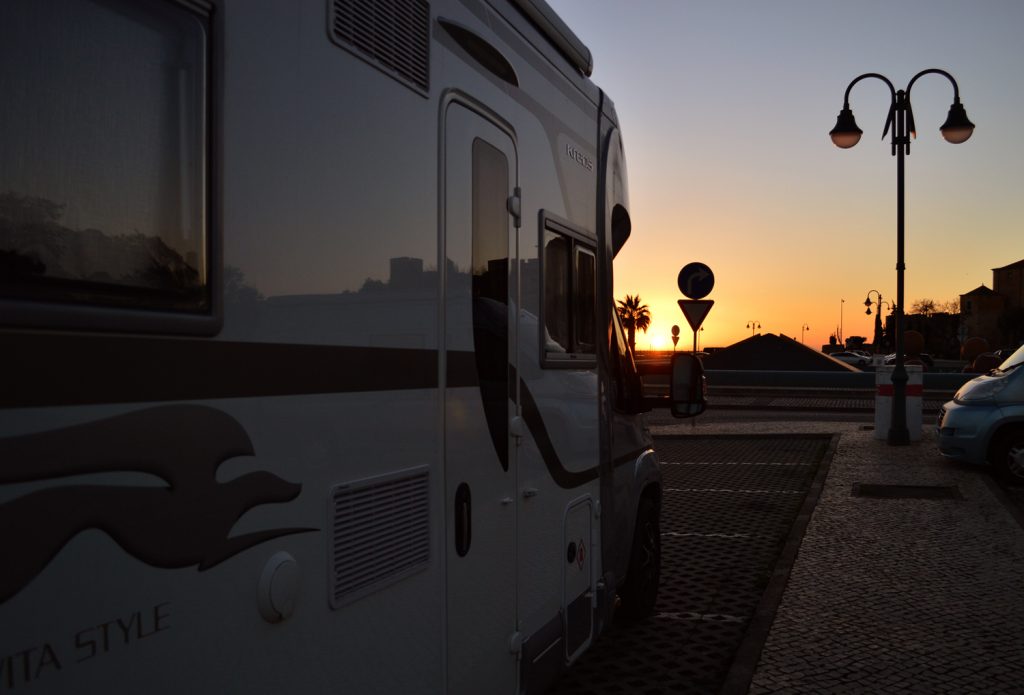 At Faro we parked in a large car park near the citadel just away from the Marina, which was perfect for the night. With a couple of hours of daylight left we went for an early evening stroll into the centre and to find the tourist information which we did. Faro was nice with a few older buildings but once you have been through the citadel area it is all fairly modern, but if you want to shop it is perfect. Which we didn't so decided that we would go for a bike ride in the morning out along the marina and marshes. After another peaceful night and with the weather starting to change for the better we got the bikes off and set out to explore the coastline. Riding into the centre, around the marina and across the railway we cycled up through the marshes stopping regularly to admire the views. Eventually we had cycled right out to the airport, so deciding it was time for a break we found a sheltered table in the sun in an outdoor café on the concourse and settled down to watch the holiday makers coming and going. Eventually having a nice steady ride back to the motorhome, having a late lunch and deciding it was time to move on.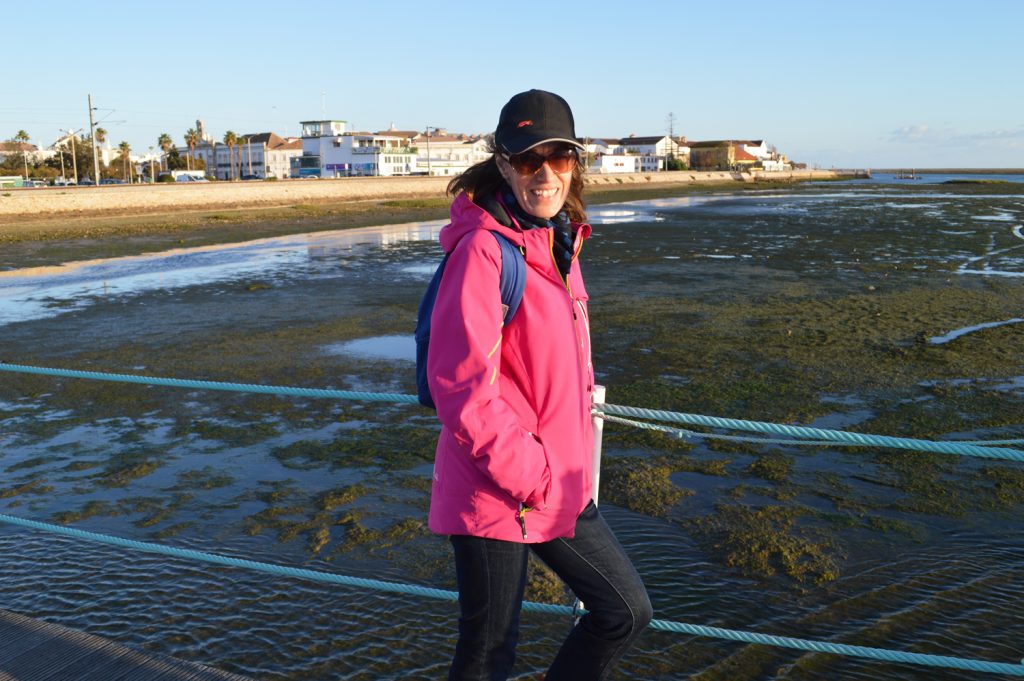 Our first few days in Portugal had been interesting if un-remarkable, having been spoilt by the riches on offer in Andalusia as well as having been cooler, windier and wetter the Algarve has yet to entrance us. We feel we won't get to the really interesting parts of Portugal until we turn north as the weather warms up.