Having travelled across Lorraine we headed into Alsace and a completely different environment. Whilst Lorraine is quiet and slightly plain in outlook, the Alsace and in particular the wine route is the complete opposite. With stunning vistas, gorgeous villages and delicious local produce it couldn't be more different. Driving through endless miles of vineyards topped off on the Vosges side by deep green conifer forests and sweeping hillsides interspersed with pretty villages from centuries past was a sheer delight.  Fortresses and towering castles sit high up on hillsides at strategic points hinting at centuries of strife in the area's history.
The Alsace wine route is around 170km long and as well as never ending vines there are also fields and fields full of corn growing in this area and this is evidenced in the towns where corn decorations hang in abundance.  In particular, driving and parking Buzz, our motorhome, was incredibly easy even through small towns, as was finding somewhere to park up for the night. Aires and accommodating car parks were plentiful as well as municipal and private campsites. We always felt comfortable and at ease wherever we stopped.
Obernai was the first town we stopped at, part way down at the North end of the route, situated at the foot of Mont Saint-Odile with lively street cafes, Renaissance and medieval houses and a rich architectural heritage it was a perfect introduction as to what we could expect.  We spent the night at a France Passion site (N48.46221 E 7.47273) right behind a wine producer shop in a lovely quiet position in the centre of the village.
Each and every village to follow offered picture postcard scenes but our favourite was Riquewihr. Largely pedestrianised this fortified town is known as the Gem of the Vineyards, nestled among the vines with vasts forests in the backdrop and 15-18th century buildings offering a wealth of architectural diversity it was a pleasure to wander through its warren of streets and alleyways.   The vinyeyards themselves are particularly attractive with bright red roses planted at the end of each row both for their eye-catching effect but also as easy to spot early detectors of parasites.
In Barr we stayed at St Martin campsite at the foot of the Barrois vineyard and just a short walk into the centre of town.  It was our first campsite experience, small but perfectly formed and just right for our one night visit.
We meandered down the route stopping for the night at a wonderful France Passion site in St Pierre, surrounded by apple trees on the grounds of a cheese producer.  At St Hippolyte we enjoyed the beautiful vineyard surroundings and a view of Haut-Koenigsbourg Castle.  We then stayed at another France Passion site in Ribeauville in a small garden with a wall of sunflowers and then a not quite so pretty car park in Colmar.
Each of the towns and villages scattered along the route offer both a feast for the eyes and for the taste buds! Half-timbered houses line cobbled lanes and narrow roads, brightly painted and overflowing with fresh, fragrant blossoms and blooms in every imaginable colour. Stone bridges cross little canals and streams, flanked by traditional stone and timber dwellings and waterside eateries with wooden boats quietly drifting by.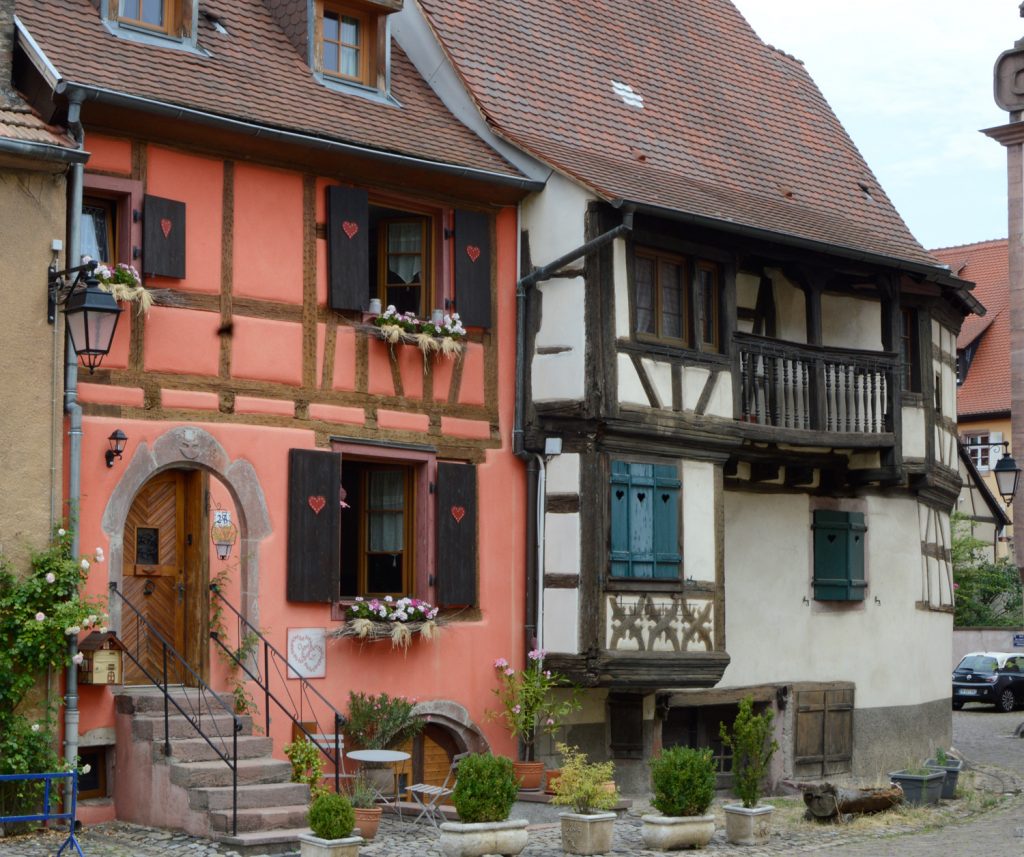 Wine making is a way of life in Alsace and one of the reasons we are here.  Wine producers display the elegant thin necked bottles of their Alsation wines in doorways, and windows quietly encouraging you in to taste or buy. Some seem like museums with cellars stuffed full of ancient tools, barrels and bottles while others offer a rustic charm with cobbled courtyards and stylish displays. From grapes grown on the sun-drenched vines, protected by the natural barrier of the Vosges mountains, Alsation wines are typically floral, ranging from subtle to rich and each vintner is rightly proud of his or her offering.   The Alsace area has a diversity of microclimates and France's lowest annual rainfall creating ideal conditions to produce these popular wines.   For the full experience a degustation is a must allowing you try the full range of wine styles from Gewurztraminer, the most fragrant with a rose-petal character, to Riesling, considered to be the finest, or 'the king of wines' as one producer informed us. Each day on the route we felt it our rightful duty to try and buy a different variety each time and it's fair to say we enjoyed them all!   Well you've got to do your bit haven't you?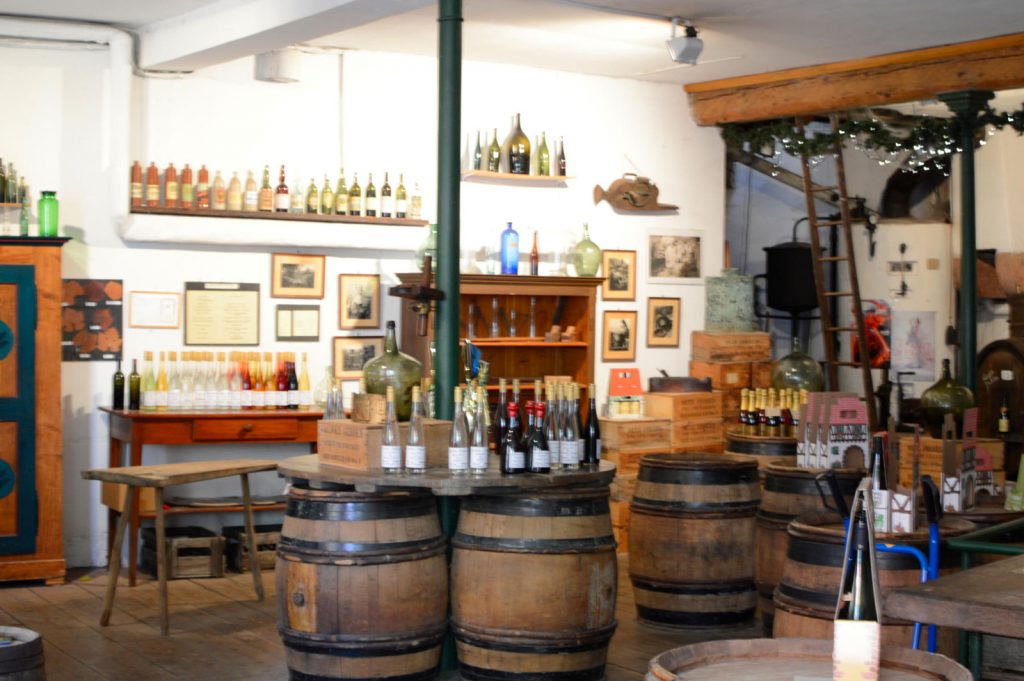 The aromas of freshly baked almond flavoured Kugelhopf studded with myrtilles, sticky spiced gingerbread and nutty nougat emanate out from shop fronts and tiny artisan bakeries, the vendors tempting you in with morsels of cookies and coconut macaroons. On the savoury side, the delicious smell of tarte flambee, generous pots of choucroute and freshly baked bretzels oozing with Munster cheese floats in the air making you hungry even if you've just had lunch!  If you haven't had lunch, do stop off at a cosy Winstub (or wine cellar) and enjoy a leisurely meal and drink in a relaxed and authentic environment.
One of the hightlights of our time on the Alsace Wine Route was our overnight stop on the outskirts of St Hippolyte (N48.23358, E7.36216) surrounded by grapevines and a view of the Chateau de Haut-Koenisburg perched high up on the hilltop in front of us, our target for the next day. The chateau is a masterpiece with 900 years of feudal history behind it and fully restored in the early 1900s it stands atop a rocky plateau at over 750 meters. Built of warm pink sandstone, covering an area of 1.5 hectares, it makes an impressive and imposing site with views over the Alsace plain and a Rhineland panorama. If you only get to visit one castle in the region then this is the one.  There is a large area for motorhome parking part way up the hill but if you get there early keep going right to the top and you will find a nice shady spot on the road and save yourself the walk!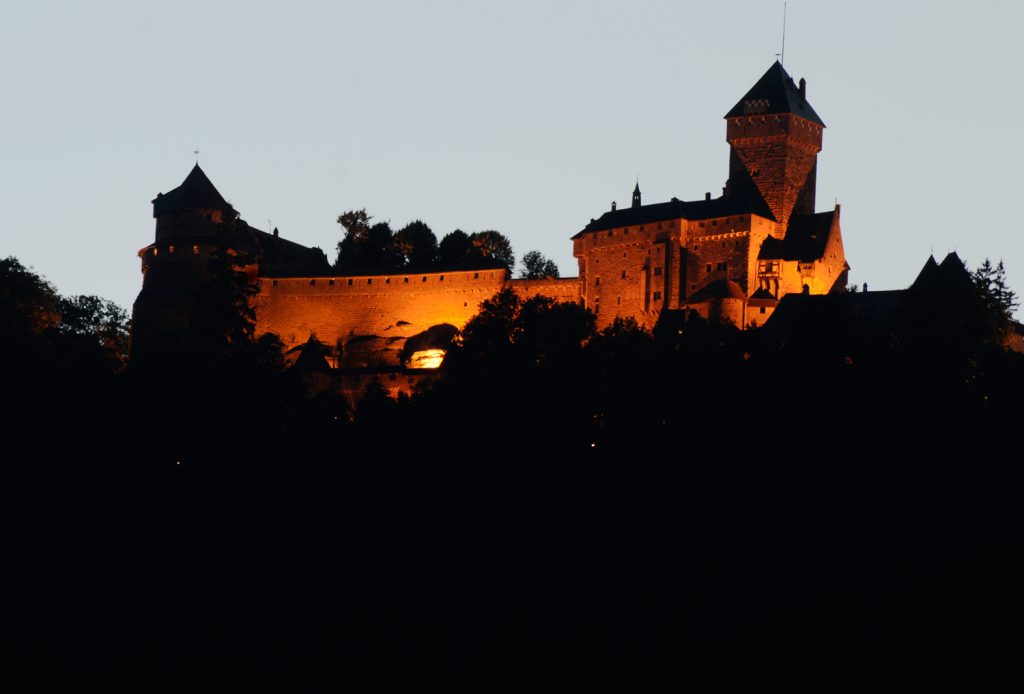 Being the end of July we were expecting this area to be bustling with tourists and while it was busy at times in some places, at others it was surprisingly quiet. If you're a Francophile and/or wine lover and the Alsace region isn't on your radar or list of places to visit, it really should be – and somewhere near the top!