Strasbourg brings together all the best of the Alsace from its blend of French and German architecture and traditions to its appealing cuisine with a modern, cosmopolitan edge. Known for its spectacular cathedral and attractive riverside location we were keen to visit and explore.
Having set off early to get to the motorhome aire in the centre of the city our plans were scuppered when we arrived only to find it closed and no longer in use. Time for Plan B which required parking up at the side of the road (somewhat apprehensively as we were under a tow-away warning sign), putting on the kettle for a brew and having a cogitate whilst consulting Google again.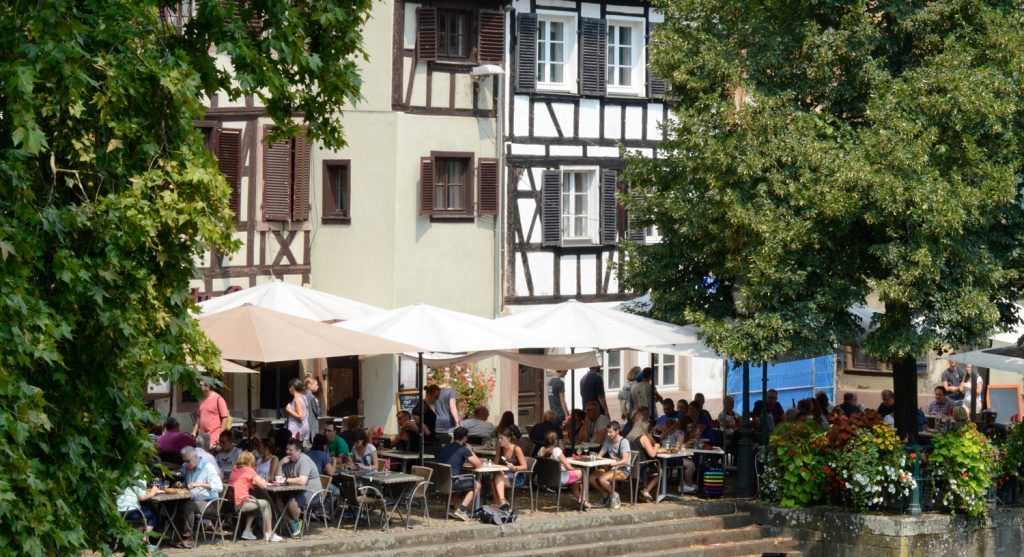 We made the decision to drive to the Park n ride Tram at Elsau where we could safely leave the motorhome all day. It cost just 6.10 Euros to park for the day until 8pm including a return ticket on the tram. The tram was quick, easy and clean and we just picked a random stop in a place we liked the look of and hopped off. As is our usual strategy we attempted to find the Tourist Office. As is the usual case, the signs were easily found but led us on another wild goose chase trying to interpret which direction they were actually pointing in!
Some time later …… map in hand we opted for our next favourite strategy and found a nice riverside cafe for a cup of coffee to get our bearings. Two Grand Cremes later we headed towards Petit-France, a picturesque area on the edge of the old city straddling three waterways. With its own unique vibe this small yet popular area is a delight. We lingered a while on a flower decked bridge to listen to a traditional French accordion player entertaining diners at a pretty little waterside eatery and took in the relaxed, laid-back atmosphere before carrying on.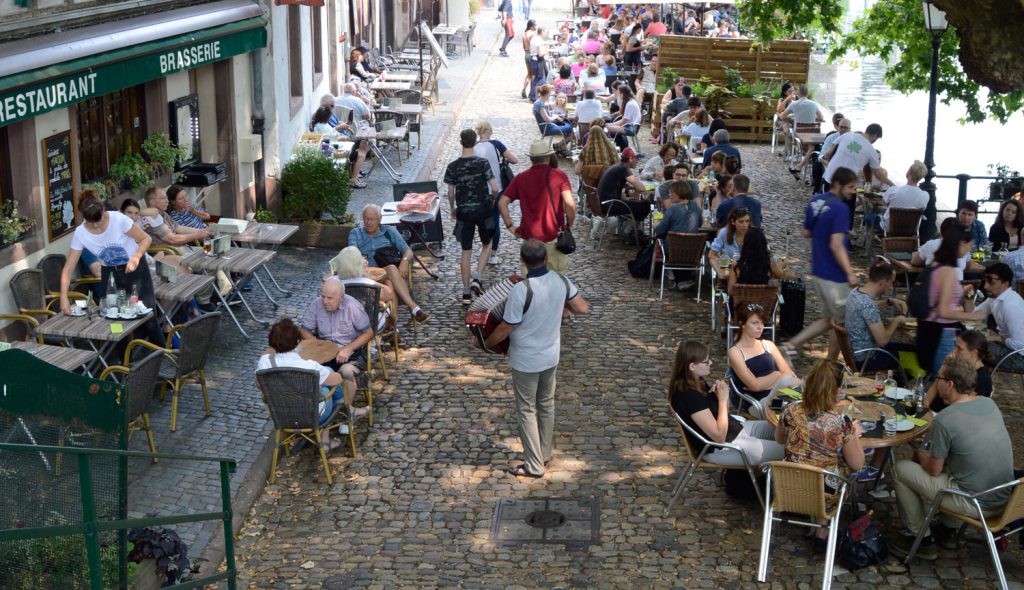 Working our way through the streets along the river we stopped in the shade of the trees to enjoy a quick bite to eat and then made our way to Strasbourg Cathedral. Tall and imposing, although one of its main spires is long gone, the outside the one of the most intricately carved and designed we have seen. Inside is equally hypnotic, its vast expanse reaching high into the vaulted ceiling and the stained glass windows glistening jewel like all around with the Rose Window being particularly stunning. it is also possible to climb one of the towers for a view over the city if you're feeling fit!
Just around the corner, Palais Rohan with its regal facade sits magnificently between the cathedral and river. Originally designed for the Princes and Bishops of Strasbourg in the mid 1700s, it now houses three art and architecture based museums.
There are plenty of other sights and attractions to see and all in all Strasbourg is a wonderful city to visit with its distinctive, charming quarters, a cobbled maze of streets in the old town, flower laden baskets across the bridges and traditional timber framed buildings mixed in with the new. There are eateries galore and many fine shops to spend a penny or two also.
Whilst we walked, cycling is particularly easy here and a good way to cover more ground or you may like to take a more relaxed option and hop onto one of the many river cruise boats, put your feet up and watch the city drift by for an hour.
For the night we drove on to Rothau and an aire outside the municipal campsite.  There are about 8 spaces available all with a marked bay and there's a pleasant green area with picnic tables too.  The sleepy little village was very pleasant and there's a little stream trickling along just behind.  It was the ideal opportunity for us to get out our Cobb BBQ and get some sizzling kebabs on the go.